How Taika Waititi Made His First Movie With Lord Of The Rings' Trash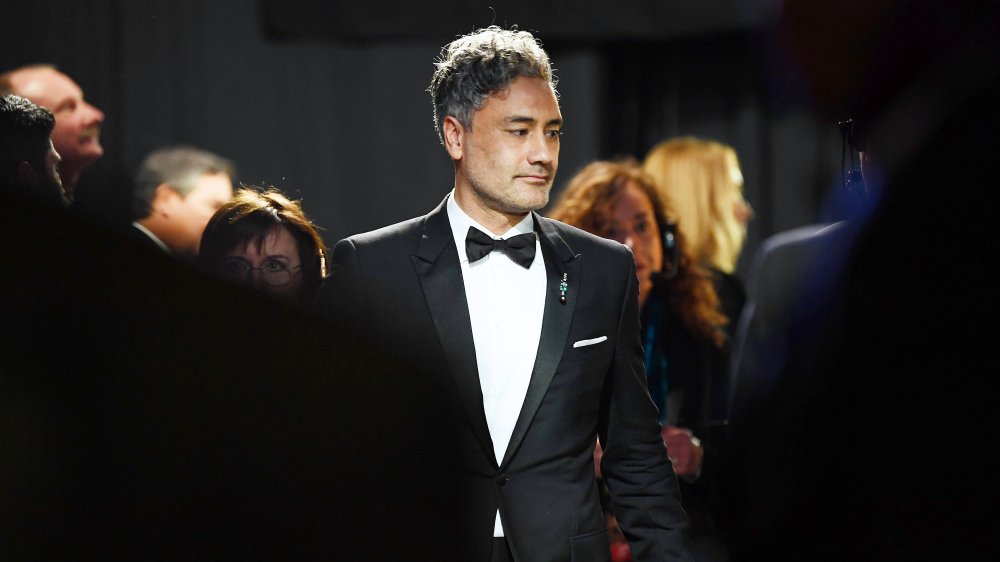 Handout/Getty Images
Every year, on the fourth day of May, Star Wars fans across the globe celebrate "Star Wars Day" by rewatching the classic, beloved films, and repeating the phrase, "May the Fourth be with you." In 2020, Disney+ made this holiday even more exciting with some brand new releases. Not only did the streaming service, which serves as the exclusive home of all Lucasfilm content, release the entire sequel trilogy — meaning that you can now watch 2015's The Force Awakens, 2017's The Last Jedi, and 2019's The Rise of Skywalker from the comfort of your own home — but they also released a documentary series about the making of their flagship Star Wars show, The Mandalorian.
Eager fans have flocked to Disney+ to learn more about their new favorite show, and the platform has already delivered, releasing a first episode packed with huge names and familiar faces, all of whom are spilling secrets about The Mandalorian. One of those stars, Taika Waititi, who plays fan-favorite droid IG-11 in the series and directed the its eighth episode, talked about his time on The Mandalorian, but this unique, funny filmmaker also dished up some details about how he got a boost in Hollywood with the help of some scraps from a very famous film series. Here's how Taika Waititi got started thanks to The Lord of the Rings' leftovers.
How Taika Waititi took advantage of Lord of the Rings' trash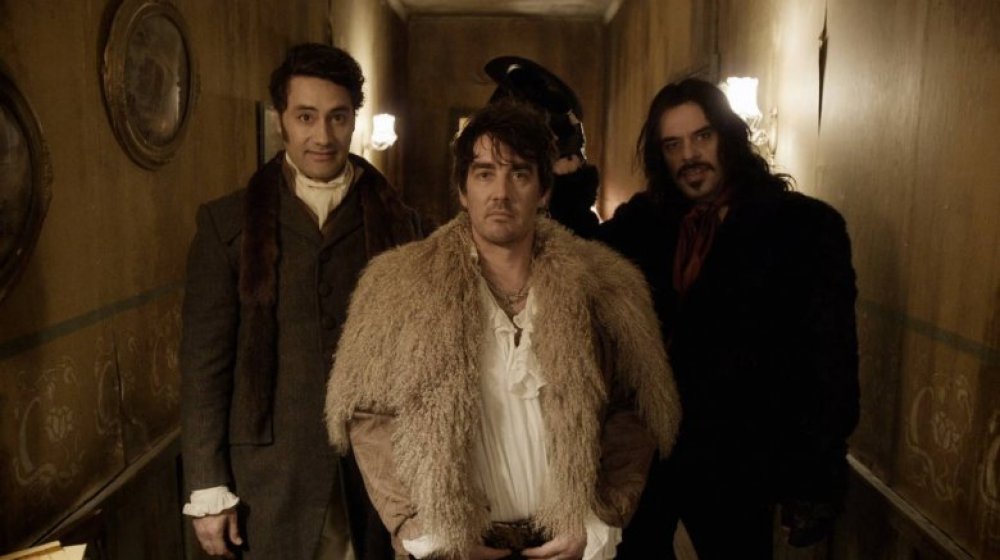 As Waititi recalled in the documentary, "I didn't start directing anything, film-wise, until I was around about 30. So, I stared before that in stand-up and comedy and theater – and writing and directing, so Jemaine [Clement] and I would write and direct each other in things because no one would hire us for any, like, 'real' place. [...] That's how I learned how to write and how to direct. And we would have to make all our own props and all our own costumes; we would be on stage trying to make fishing lines and stuff. My background's painting, so I was already used to composition and art and all that stuff, but I had gotten sort of disheartened and disenchanted by the whole gallery thing, and art, and the art world in general. But then, through film, [I] found a medium which addressed everything that I was into: Music and art and performance, and writing and storytelling, which was actually, ultimately, the thing."
Waititi continued, "My first three films were just super low-budget — [Jemaine and I would be] just talking about recycling things. Like on What We do in the Shadows [released in 2014], we said to Weta Workshops, and I said to Rich and all those guys, 'Is there anything you've rejected from Lord of the Rings? Like creatures you thought you might want to use, and then just rejected them?' And they're, like, 'Yeah, there's actually pieces of crap that we don't want.' So I'm, like, 'We'll take those.'"
According to the director, they managed to grab some "old teeth" and "old elf ears" to use in their project, which became Waititi's cult-favorite film What We do in the Shadows, which eventually earned its own television adaptation.
Taika Waititi's meteoric rise to the top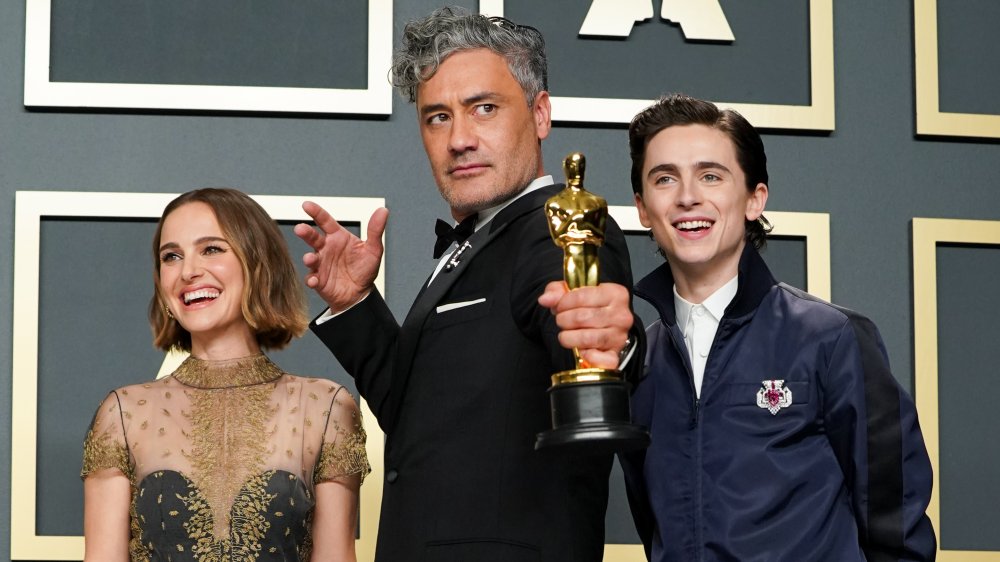 Rachel Luna/Getty Images
Despite his modest start on What We do in the Shadows, Waititi's star has seriously risen over the past couple of years, making him one of the most beloved and recognizable faces in all of Hollywood. After What We do in the Shadows, this New Zealand native made some smaller films, like Hunt for the Wilderpeople, but 2017 brought his biggest opportunity yet in the chance to direct Thor: Ragnarok, which breathed new life into the Asgardian god of thunder. Waititi also appeared in Ragnarok, and several other MCU films, as Korg, everyone's favorite Kronan.
In 2019, Waititi wrote and directed the World War II black comedy Jojo Rabbit, which tells the story of a young boy (Roman Griffin Davis) in Nazi Germany whose imaginary best friend is Hitler (played by Waititi, himself). The film, which was adapted from Christine Leunens' novel, Changing Skies, catapulted Waititi to awards show glory, earning a nomination for Best Picture at the Academy Awards. Ultimately, Waititi made history by becoming the first indigenous person to be nominated for and win the Oscar for Best Adapted Screenplay.
Waititi was already set to return to the MCU for 2021's highly anticipated Thor: Love and Thunder but, in May of 2020, it was also announced that Waititi will direct his own stand-alone Star Wars installment, which he will also write alongside Oscar nominee Krysty Wilson-Cairns (1917). Clearly, the sky's the limit where Waititi is concerned, especially as he lends his signature humor and wit to both the MCU and the Star Wars universe.
You can start streaming Disney Gallery: The Mandalorian on Disney+ now — and May the Fourth be with you when you do.