Superheroes We Lost In 2020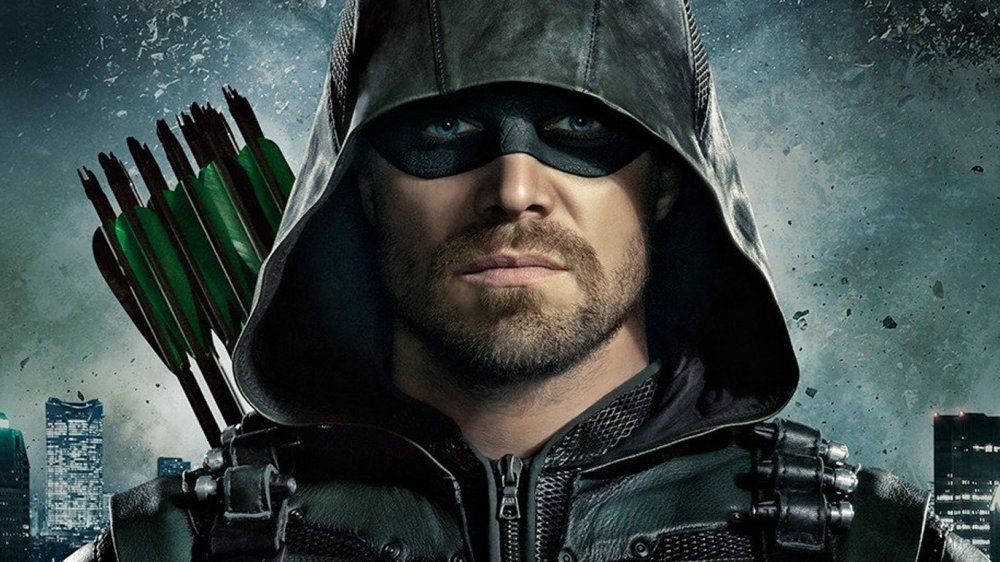 Green Arrow (Arrow, Crisis on Infinite Earths Part 4)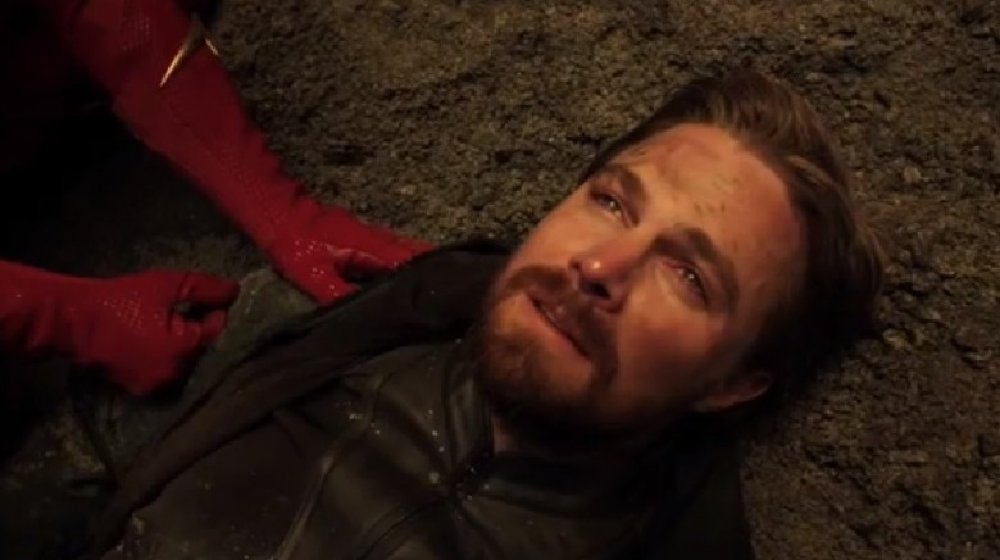 During the CW's huge 2019-20 Crisis on Infinite Earths event, no one had a rougher time than Oliver Queen (Stephen Amell). By the end of the event, he had died twice. Arrow's final season finds the hero falling in battle against the Anti-Monitor's armies. Then, after his body is revived without his soul, it (along with the rest of the multiverse) is destroyed by the destructive anti-matter wave. 
Still, Green Arrow isn't done yet. In Purgatory, Queen is recruited by Jim Corrigan (Stephen Lobo) to be the new host for the Spectre — an immensely powerful being who, in DC Comics, is literally the wrath of God. After using his new abilities to help Flash (Grant Gustin) escape the Speed Force, Queen gives more direct help in the battle against the Anti-Monitor (LaMonica Garrett). His new power allows him to go toe-to-toe with the villain and to help create the new multiverse. Sadly, he doesn't survive the battle for long. Dying, he tells Barry and Sara Lance (Caity Lotz) that he's at peace, and that the new multiverse will need them.
The entire world honors his sacrifice in both the Legends of Tomorrow episode that ends the event and the Arrow series finale. Before the series ends, we see Oliver reunited in the afterlife with Felicity Smoak (marking the return of Emily Bett Rickards, who had departed the show at the end of the penultimate season).
The Justice Society of America (Stargirl)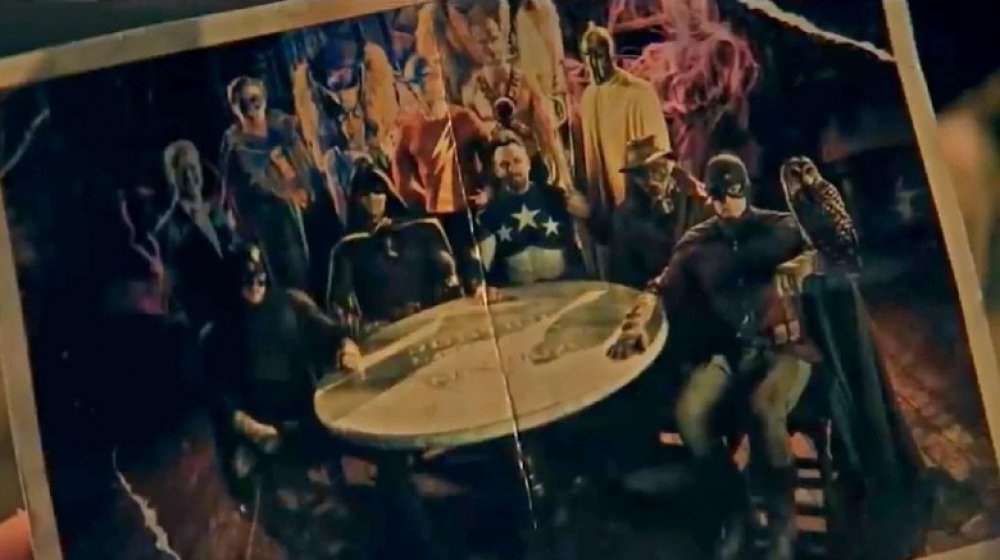 Stargirl debuted in May with an explosive display of superhero carnage. The premiere episode opens a decade before the events of the rest of the series, with the Justice Society of America (JSA) getting wiped out by the Injustice Society. At first it appears the only survivor is the sidekick Stripesy (Luke Wilson), to whom the dying Starman (Joel McHale) entrusts his powerful Cosmic Staff. It's revealed in a subsequent episode that while Hourman (Lou Ferrigno Jr.) survived the battle, the monstrous Solomon Grundy murdered him and his wife a few years later.
Wildcat is killed — hurled from the headquarters — just as Stripesy arrives. Doctor Mid-Nite is killed by an unseen foe. Starman fights off most of the Injustice Society on his own before being dealt a mortal wound by Icicle. Flash's helmet and Sandman's corpse are spotted during the melee. Many of the members aren't seen at all. Stripesy flees the headquarters with Starman, who later dies from his wounds. 
Doctor Mid-Nite's death is interesting, as it suggests there may be an Injustice Society member we don't know about. He's pulled away by a giant hand seemingly made of some kind of shadowy energy, and that doesn't match with the powers of any of the on-screen Injustice Society members. A likely culprit is the Shade, a villain who manipulates darkness and, in the comics, eventually joins the side of the angels. While he isn't seen in the series premiere, he appears in a painting of the Injustice Society members at the end of the following episode.
Chuck (Stargirl)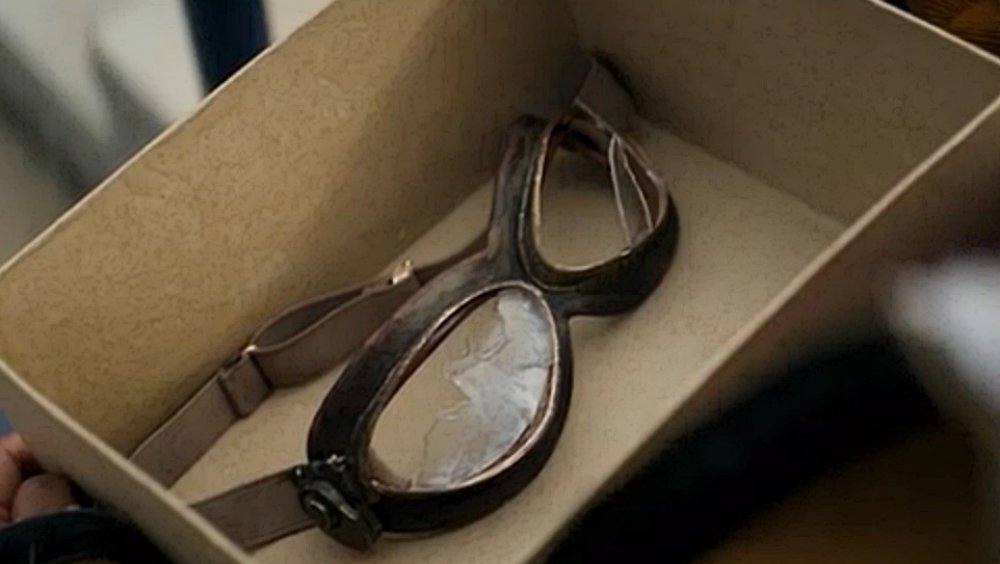 During the first season of Stargirl, the new JSA has included a unique member. While Dr. Mid-Nite is killed along with most of the rest of his teammates in the series premiere, a piece of him survives. Courtney's friend Beth (Anjelika Washington) finds purpose in the JSA with the help of Chuck, an artificial intelligence based on the personality of the late Dr. Mid-Nite and voiced by Henry Thomas (best known as the young Elliott from 1982's E.T.). Chuck lives in the goggles that Dr. Mid-Nite left behind. Sadly, Chuck joins his creator during the season 1 finale of Stargirl.
While we saw Beth take on the role of Dr. Mid-Nite earlier in the season, even wearing the late Charles McNider's costume, in the season finale she doesn't join her teammates physically as they infiltrate the Injustice Society's headquarters. Instead, she stays with Courtney's mother Barbara (Amy Smart) in her office and — with Chuck's help — feeds the JSA intelligence and wages a digital war on the Gambler (Eric Goins). 
All that ends when Icicle (Neil Jackson) arrives in Barbara's office. As Chuck screams to Beth for help, Icicle uses his powers to freeze Dr. Mid-Nite's goggles. Beth is powerless to help and the goggles are destroyed, killing Chuck. Since Chuck is an A.I. it's conceivable that someone could repair the goggles and perhaps revive him, but so far no one on Stargirl — at least, no one among the good guys — has shown that kind of technical know-how. 
Doppelganger (The Boys)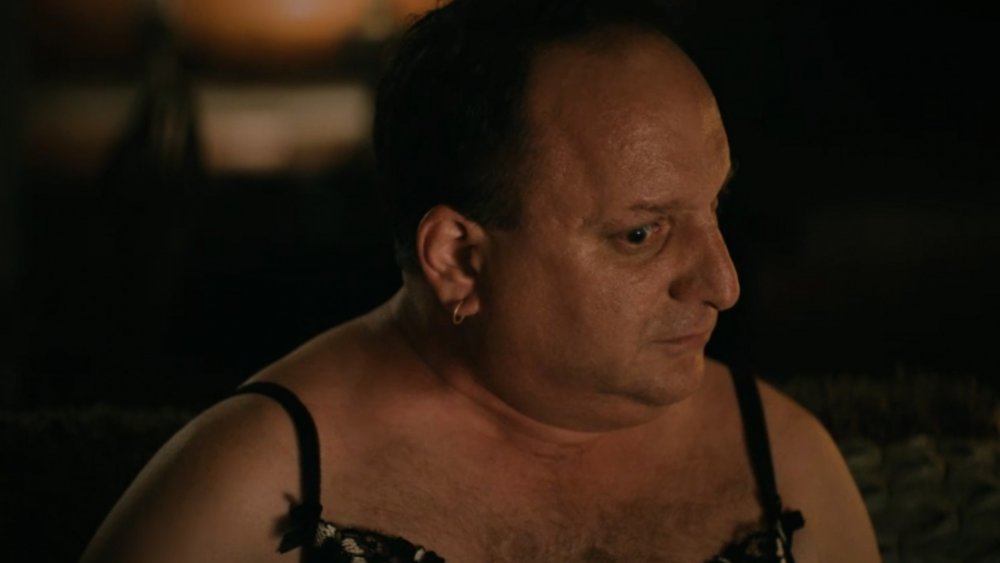 During the first season of The Boys, the shape-changing Doppelganger (Dan Darin-Zanco) proves one of the most useful supes on Vought's payroll. Able to make himself look and sound like anyone he wishes, Doppelganger is a powerful tool when it comes to blackmail. Madelyn Stillwell (Elisabeth Shue) uses his unique talents to get Senator Calhoun (David Andrews) to play ball when it comes to letting Vought's super-powered employees work with the United States military. But in season 2, Doppelganger's tricks come to an end when he has the bad luck of coming under the thumb of Homelander (Anthony Starr). 
To anyone who's been paying attention, it's a little surprising in season 2's "Nothing Like It in the World" when Homelander arrives at a remote cabin to find who appears to be Madelyn Stillwell waiting for him, since the twisted Homelander murdered Stillwell at the end of season 1. Soon we learn it's really Doppelganger taking Stillwell's form at Homelander's insistence — the Vought superstar apparently uses the illusion of his former boss for comfort. Doppelganger briefly changes back to his natural appearance, explaining he can only hold a different form for so long, and the transformation visibly disturbs Homelander.
By the end of the episode, Homelander is no longer happy with the illusion. Doppelganger desperately tries to calm the madman, but it's too late. Homelander breaks the shape-changer's neck with one hand, killing him instantly.  
Kenji Miyashiro (The Boys)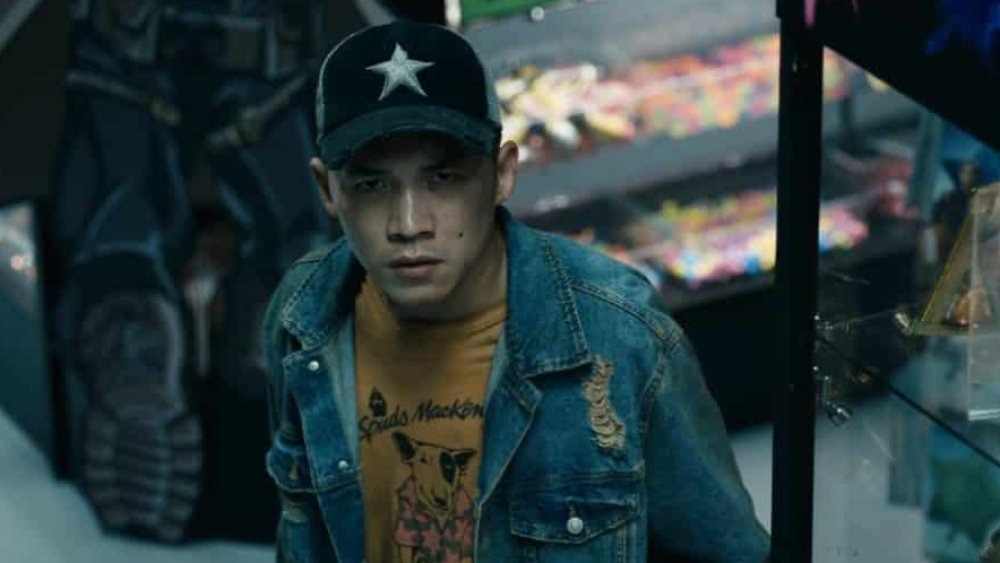 In The Boys episode "Proper Preparation and Planning," we learn that Kimiko (Karen Fukahara) has a brother and, like Kimiko, he has powers. Kenji (Abraham Lim) is a powerful telekinetic. When the Boys first track Kenji down in what appears to be some kind of party supply warehouse, he easily overpowers them, and it's only with Kimiko's help that they capture him. We learn that Kenji is still loyal to the Shining Light — a terrorist group responsible for the deaths of his and Kimiko's parents.
In the following episode, "Over the Hill with the Swords of a Thousand Men," the Boys take to the ocean in a stolen boat with the intention of turning Kenji over to the feds. Their plans hit some pretty big snags, first with Kenji escaping and destroying a police helicopter, and next with the arrival of the aquatic hero the Deep (Chace Crawford) followed shortly by the full complement of the Seven.
After getting grounded and escaping Homelander via a series of drain tunnels, it's the Seven's newest member Stormfront (Aya Cash) who finally brings an end to Kenji. After a battle through an apartment building that racks up dozens of civilian casualties — all caused by Stormfront, but later blamed on Kenji and Kimiko — Stormfront finally claims her victim. Kenji initially escapes to a nearby roof, but returns to save his sister. Stormfront rewards his heroism by breaking his hands off at the wrist so he can't use his powers, and finally breaking his neck.
Lamplighter (The Boys)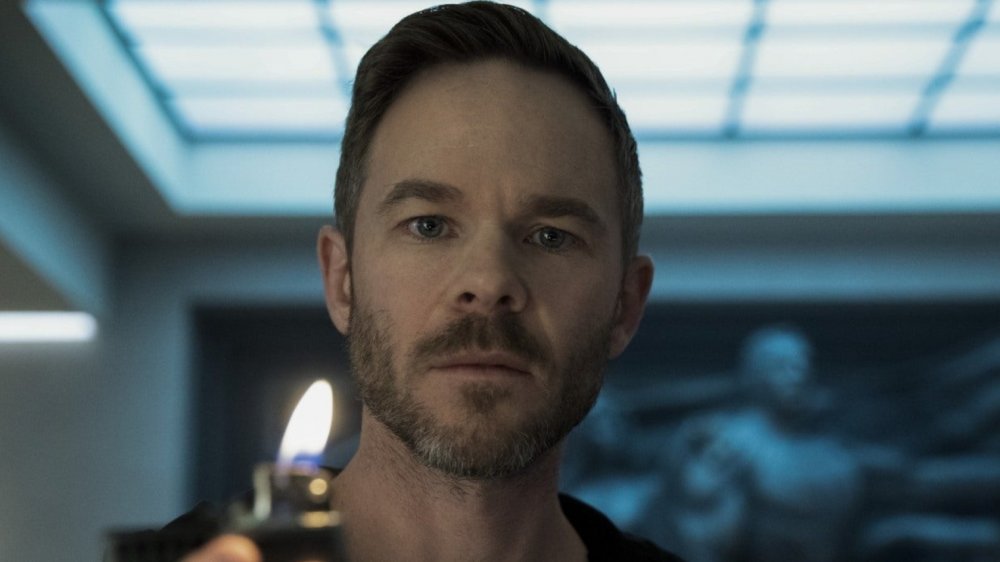 In season 2 of The Boys, we meet the infamous Lamplighter — a supe responsible for, among other things, the murders of Grace Mallory's (Laila Robins) grandchildren. No longer a member of the Seven, the pyrokinetic works as both orderly and executioner at the Sage Grove Center, where Vought is secretly running experiments on patients. In a stroke of brilliance, the disgraced superhero is played by Shawn Ashmore, who previously played Bobby Drake, a.k.a. Iceman, in Fox's X-Men films. 
When the Boys infiltrate the Sage Grove Center in the episode "The Bloody Doors Off" they witness Lamplighter — on Stormfront's orders — using his fire-controlling powers to execute a patient for not cooperating. After escaping the facility with Lamplighter in tow, the Boys convince him to agree to testify against Vought, but as usual things don't work out the way they plan.
In "Butcher, Baker, Candlestick Maker," after learning the Seven has captured Starlight (Erin Moriarty), Hughie (Jack Quaid) believes he's convinced Lamplighter to help him free her. Lamplighter infiltrates the tower with Hughie and heads for the Seven conference room. He notices his statue has been removed, and says he'd hoped to "do it" in front of it. Lamplighter uses his powers to set himself on fire. He's quickly engulfed in flames and dies, though he still helps free Starlight without knowing it. The panicked Hughie hacks off the supe's hand with a broken bottle and uses it to get through the tower's security. 
Shockwave (The Boys)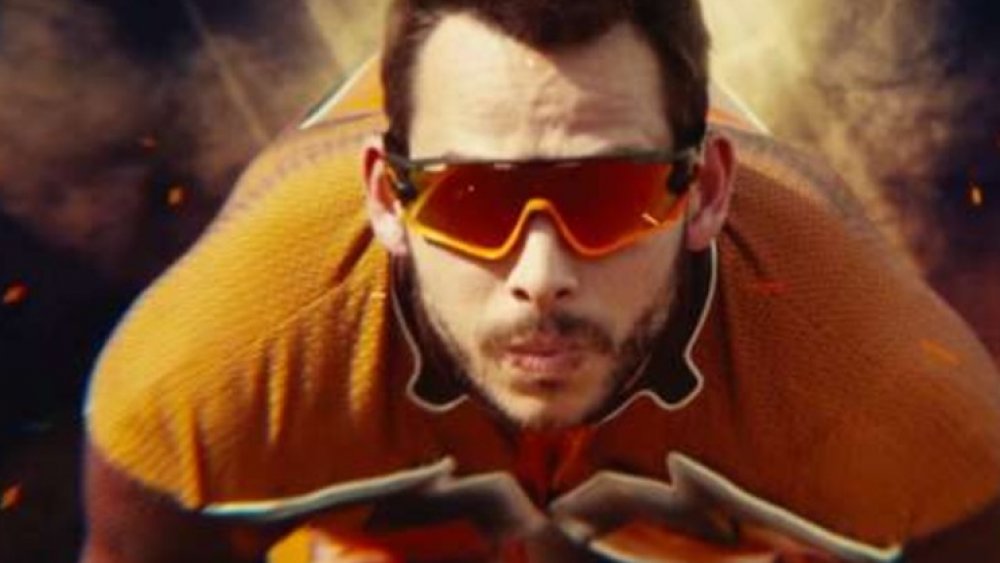 A-Train (Jessie T. Usher) has a rough ride on season 2 of The Boys. After Homelander (Anthony Starr) discovers he hasn't been up to snuff since recovering from his coma, he uses it as an excuse to throw A-Train off the team, though his more likely motivation is that Homelander's new girlfriend Stormfront doesn't want a Black man in the Seven. Regardless of the reason, A-Train is replaced with fellow speedster Shockwave (Mishka Thébaud), and the script of the upcoming film The Dawn of the Seven is changed to make it look like leaving the team is A-Train's idea.
Shockwave's time in the Seven doesn't last long, however. At the end of "Butcher, Baker, Candlestick Maker," Shockwave is present at a congressional hearing where Jonah Vogelbaum (John Doman) — the scientist who created Homelander — is expected to testify. Before Dr. Vogelbaum can open his mouth, heads in the room start exploding. An attacker who doesn't reveal themselves uses an ability to kill senators, witnesses, and random civilians in the hearing by causing their heads to explode. Shockwave is one of the victims of the attack. 
Toward the end of the season 2 finale, it's strongly implied the killer is Congresswoman Victoria Neuman (Claudia Doumit), though her motives aren't clear. 
Number 6, a.k.a. The Horror (The Umbrella Academy)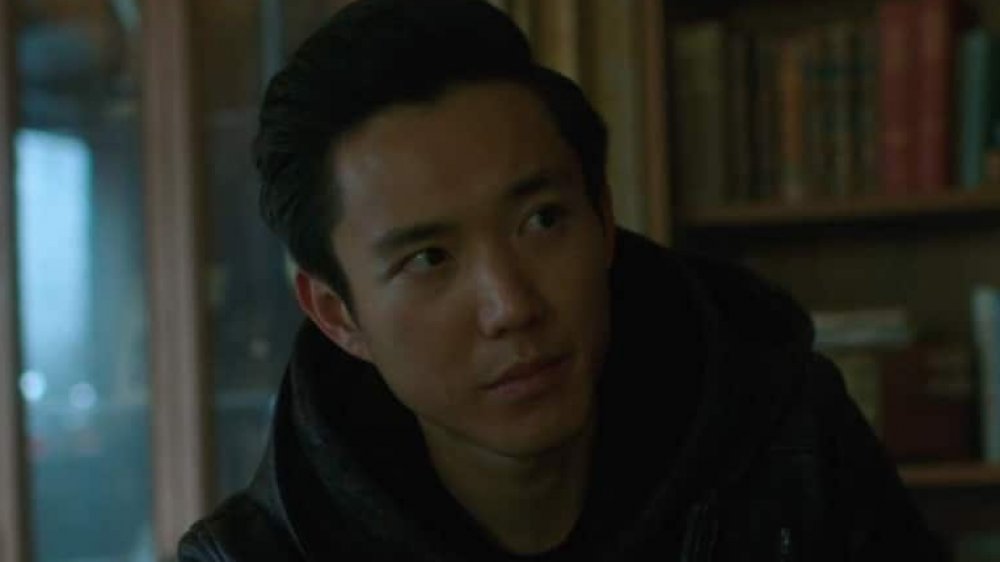 Technically, Ben Hargreeves (Justin H. Min) dies before the events of Netflix's The Umbrella Academy. In spite of his death, he's managed to be a part of the team as a ghost tied to his brother Klaus (Robert Sheehan). But that all ends with "743," the penultimate episode of The Umbrella Academy's second season. 
Knowing an explosion courtesy of Vanya (Ellen Page) is the trigger that causes the apocalypse, Diego (David Castañeda), Allison (Emmy Raver-Lampman), and Klaus infiltrate the FBI office where their sister is being interrogated. None of them are strong enough to withstand the power Vanya's emitting, leaving the world-saving to Ben, whose spirit manages to psychically contact Vanya. Ben is able to reach Vanya through her feelings of self-loathing and guilt, and give her what she needs to take back control of herself. "Dad treated you like a bomb before you ever were one," he tells Vanya. "You aren't a monster. You're my sister." Unfortunately, the strain to save Vanya is too much for Ben's spirit and he's finally forced to untether himself from the physical world and go into the great beyond. 
However, the end of season 2 indicates this still might not be the end for Ben. The final scene finds the team back in the present, but with the Umbrella Academy replaced by a group called Sparrow Academy, and their brother Ben still alive — sporting a facial scar and a different hairdo, and having no idea who his brothers and sisters are.
Forager (Harley Quinn)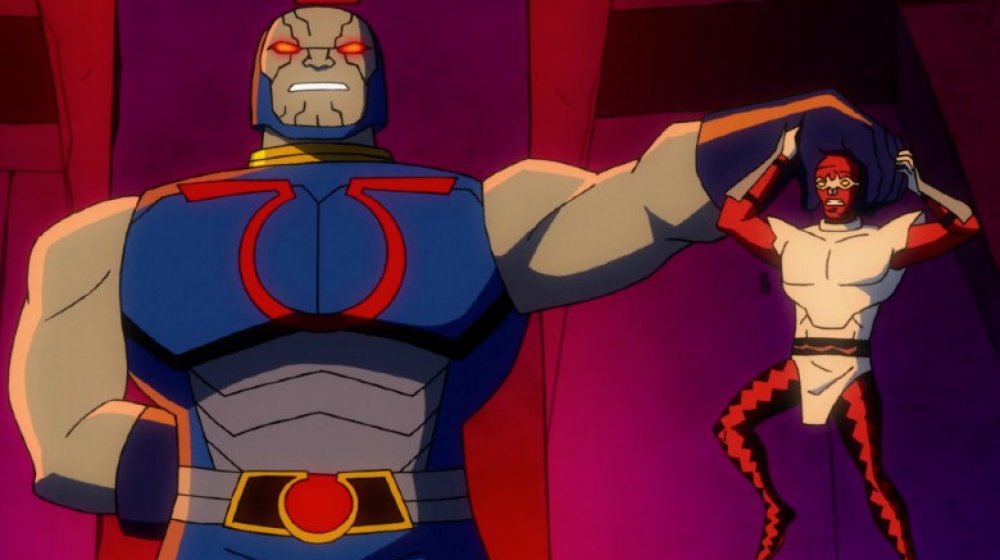 While DC Universe's animated series Harley Quinn has proven a fairly bloody ride, no superheroes bit the big one in all of the series' first season or the first half of its second. That changes with the season 2 episode "Inner (Para) Demons," when the titular Gotham villain travels to Apokolips with her crew to ask Darkseid for an army of parademons. 
Just before Harley and her crew arrive on Apokolips, Darkseid is in his throne room, holding up the New God hero Forager by his head. "There was a war, vermin," Darkseid says, "and I won. Your future belongs to Darkseid now." Harley and her friends exit their boom tube just in time to see Darkseid effortlessly crush Forager's skull.
In the comics, Forager is raised among the species of humanoid bugs of New Genesis. He dies in the 1989 mini-series Cosmic Odyssey, but resurfaces in the 2017-18 mini-series Bug: The Adventures of Forager. 
Darkseid's dialogue in Forager's death scene suggests a whole lot of other heroes could be dead, though there's no way to know for sure. The war Darkseid refers to would seem to most likely refer to a war on New Genesis, suggesting more heroic New Gods like Big Barda and Orion may also be dead. 
The Justice League and the Titans (Justice League Dark: Apokolips War)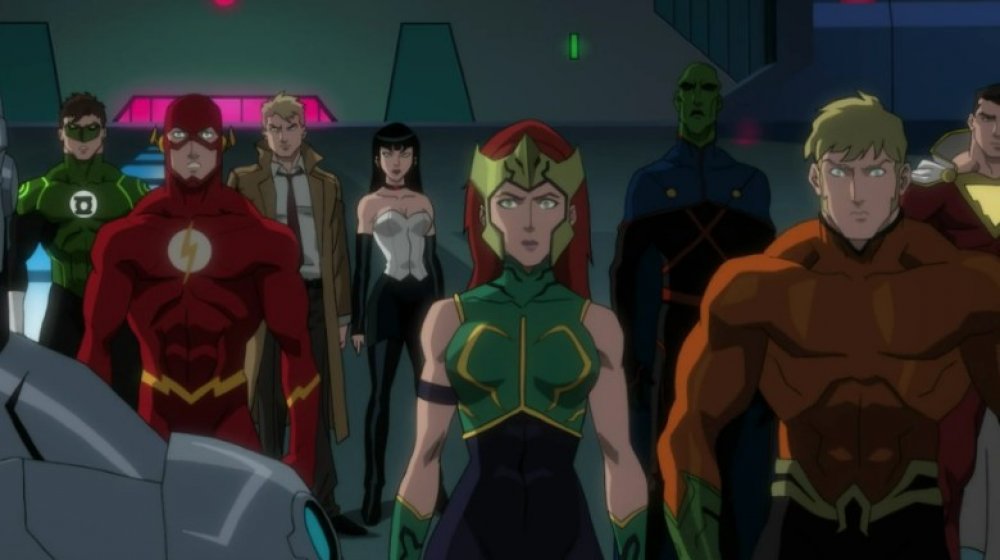 In the animated feature Justice League Dark: Apokolips War, the ranks of DC's heroes are thinned considerably. It all starts when Superman leads an assault on Apokolips, the planet ruled by the evil New God known as Darkseid. After the events of previous films like 2014's Justice League: War and 2019's Reign of the Supermen, Superman is convinced the only hope against Darkseid is a preliminary assault. 
Unfortunately, Darkseid is ready for the attack. Not only has he secretly been monitoring the heroes through Cyborg, but he's developed a new army of powerful Paradooms — parademons infused with the power of Doomsday. Darkseid's forces swiftly and brutally defeat the League. Some Leaguers like Hal Jordan, Aquaman, and Zatanna are killed outright. Many are horribly maimed and enslaved by Darkseid. Shazam escapes to Earth, but later dies fighting in the rebellion against Darkseid along with Batgirl. In a flashback, we see the Titans suffer similar fates on Earth. 
It's possible, however, that all these deaths will be undone. At the end of the movie, after the heroes' costly victory, John Constantine convinces Flash to use his powers to go back in time and change the events. But we never see exactly how the events or changed or how the world is altered. Flash runs from the gathered surviving heroes, there's a blinding flash of light, and the film ends. 
Lady Shiva (Justice League Dark: Apokolips War)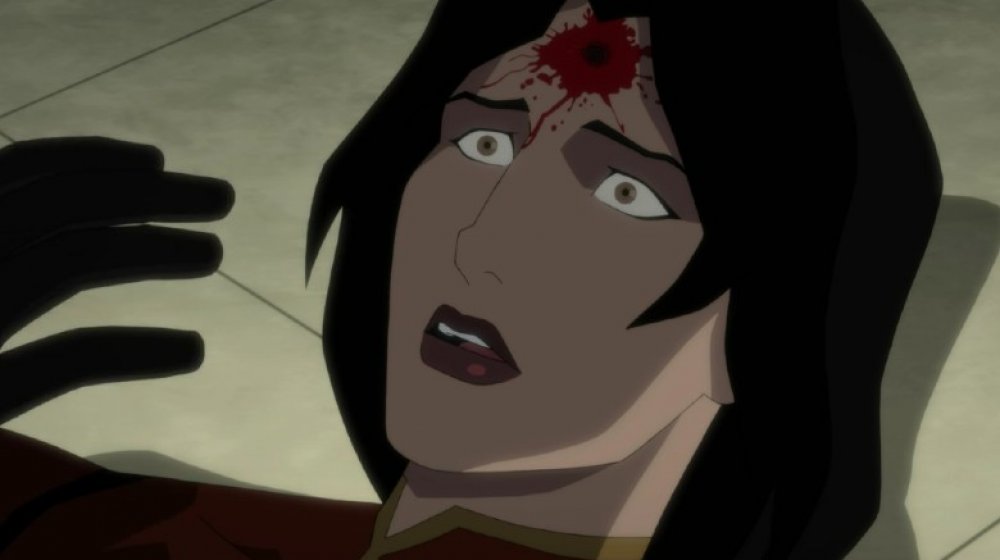 Two years after Darkseid takes over the Earth in the beginning of Justice League Dark: Apokolips War, Raven and a de-powered Clark Kent recruit John Constantine and Etrigan the Demon to their cause: defeating Darkseid once and for all. To that end, they travel to the home of the League of Assassins, where Damian Wayne, a.k.a. Robin, has assumed leadership of the ancient cabal. When Kent and his allies convince Damian to join them, Lady Shiva — who appears to now be Damian's lieutenant in the League — joins her master.
Sadly, the loyal warrior doesn't survive to join Damian on Apokolips. The party travels to Stryker's Island Penitentiary in Metropolis, where Lois Lane recruits Harley Quinn and her Suicide Squad. Together, they assault LexCorp, hoping to use the building's boom tube to get to Apokolips. While the heroes eventually reach their goal, Lady Shiva is shot in the head and killed by a sniper on the way there. Damian tells his fallen comrade, "Rest well, Shiva," and closes her eyes before moving on. 
The Green Lantern Corps (Justice League Dark: Apokolips War)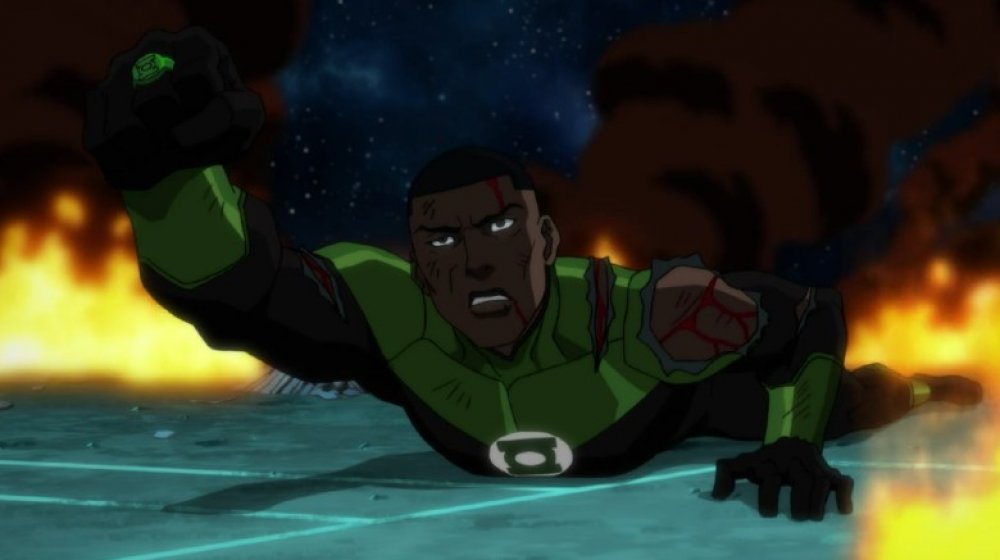 Part of the reason the Earth heroes get as far as they do in Justice League Dark: Apokolips War is because Darkseid is occupied elsewhere. Right after the mind-controlled Batman learns that Lex Luthor has betrayed him and Darkseid, we cut to the planet Oa — home base of the Green Lantern Corps — where Darkseid has already slaughtered the Guardians of the Universe and fires rage everywhere. We see the corpses of Guy Gardner and Arisia among the rubble. A number of Lanterns, including Kilowog, make desperate assaults on Darkseid, but he easily kills them all. 
The final Lantern we see alive is John Stewart. Badly wounded, he drags himself to Oa's main Green Lantern battery, hoping to use its power to defeat Darkseid. The villain barely seems to notice Stewart as he speaks with Batman from worlds away. Just as Stewart is about to finish the famous Green Lantern oath, Darkseid orders a portion of the Earth's molten core to be teleported to Oa. Batman does as ordered, and the molten liquid kills John Stewart and destroys the Green Lantern battery.
Etrigan (Justice League Dark: Apokolips War)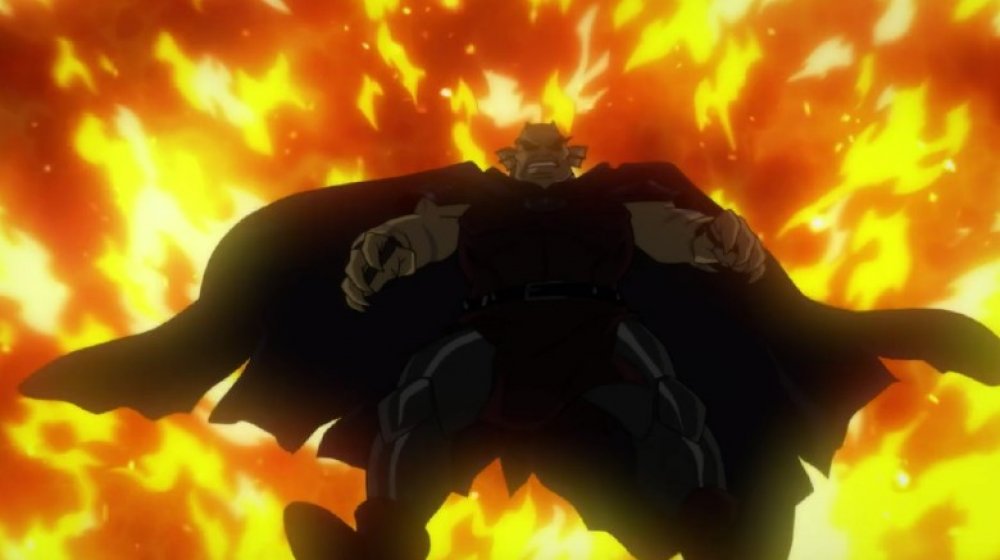 Etrigan the Demon seems to join the heroes in Justice League Dark: Apokolips War out of sheer boredom. While rhyming everything he says is one of Etrigan's signatures, the demon is no longer bothering. The victory of Darkseid over Earth seems to have dampened Etrigan's spirit enough that he's just running on auto.
Once Etrigan and some of the other heroes get to Apokolips, the demon's morale changes for the better. The heroes are confronted by Justice League and Titans members thought killed two years previous who have been cybernetically altered by Darkseid and made into his Furies. It's the altered version of Wonder Woman in particular who gets Etrigan's blood running, as he recognizes her as a challenge. 
Unfortunately, the altered Wonder Woman proves far too much of a challenge. Etrigan gives her a good fight, but ultimately she runs him through with her sword. In his final moments, Etrigan rhymes one final time. "And so it ends," he says, smiling. "My race is run. I regret nothing." Then, as Wonder Woman kicks him into the roaring fires of Apokolips: "It was fun."
The Suicide Squad (Justice League Dark: Apokolips War)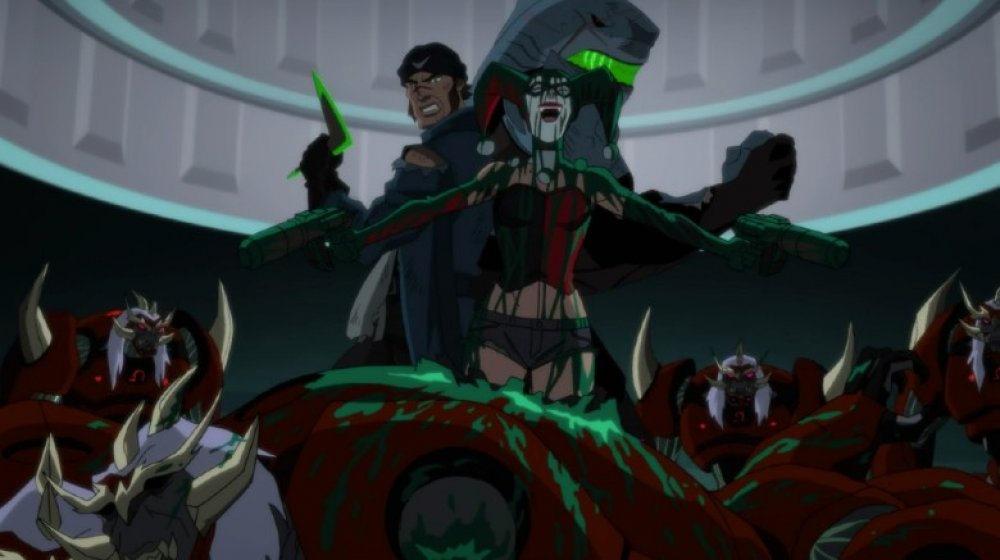 The Suicide Squad truly live up to their name in Justice League Dark: Apokolips War. No longer controlled by Amanda Waller — who Harley Quinn says died of cancer — the Squad agrees to help the heroes take out Darkseid. Cheetah is killed during the initial assault on LexCorp, riddled with bullets by the building's human protectors. 
The rest of the former bad guys stay on Earth with Lois Lane and Lex Luthor to protect LexCorp so the heroes on Apokolips have a way to return, and Lex arms them with Kryptonite-infused weaponry. When Batman learns of Lex's betrayal, he sends hordes of Paradooms to Lexcorp, where the Suicide Squad makes its last stand. 
Bane is devoured by a swarm of Paradooms while Black Manta is ripped in half by one of the monsters. The surviving members of the squad — Captain Boomerang, Harley Quinn, and King Shark — fall back behind a force field with Lane and Luthor. Eventually the barrier fails and Lex Luthor is killed by one of the Paradooms. Lois Lane calls Superman on his signal watch to say goodbye to him as they detonate a bomb, destroying LexCorp and killing everyone inside it. 
Cyborg (Justice League Dark: Apokolips War)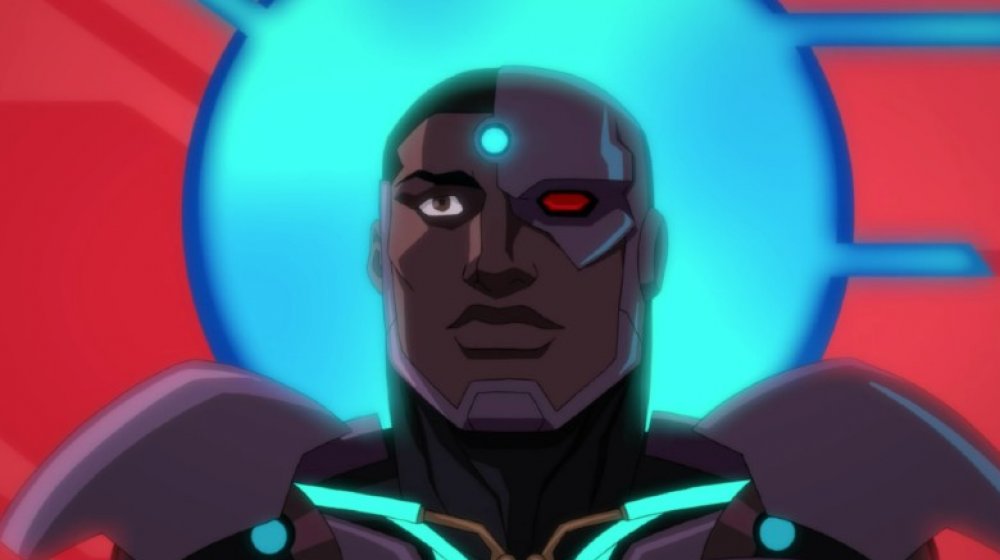 Cyborg is the unwitting key to Darkseid's early victory in Justice League Dark: Apokolips War, but he's also a big part of the villain's defeat. After arriving on Apokolips, the heroes discover that Cyborg survived the first battle with the Paradooms and was hardwired into Darkseid's fortress. They manage to break Cyborg free of Darkseid's control, but he's too deeply integrated into Apokolips to be physically removed. 
Cyborg sacrifices himself to defeat Darkseid and save his surviving friends. While Darkseid is busy battling Trigon, the demon father of Raven, Cyborg teleports the heroes back to Earth. Once they're safely gone, Cyborg says, "Looks like I get the last word. Suck it, b****es." He opens a boom tube large enough to draw in the entire planet. It captures Darkseid and all of his Paradooms, sending them to "no destination at all" and trapping them for all eternity. The boom tube rips Apokolips to pieces and kills Cyborg in the process. 
Witchfire (Justice League Dark #18)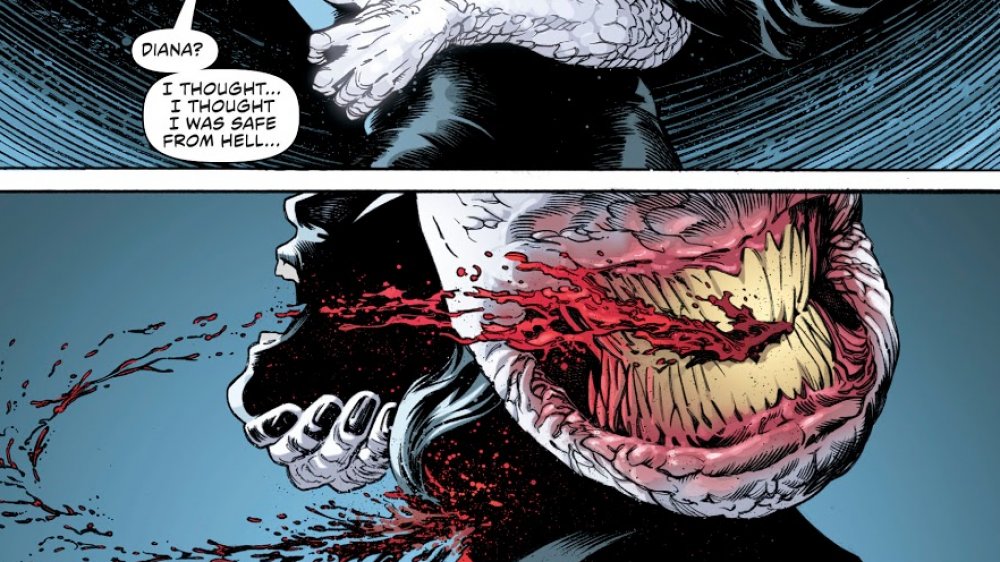 The fiery mystic Witchfire first showed up in 2002's JLA #61, right before the introduction of the short-lived Power Company series. In Power Company, she was one of a group of heroes who decided to monetize their crime-fighting careers. 
Unfortunately for Witchfire, the last few years haven't been a good time to be a mystically-themed hero or villain in DC Comics. Early in the current volume of Justice League Dark, the horrific villain Upside-Down Man — leader of the Otherkind — declares war on DC's wizards and witches while consuming the magic of his victims. 
In Justice League Dark #15, in order to stop the machinations of the witch Circe, JL Dark leader Wonder Woman has Doctor Fate and Zatanna send her spirit to Hecate's realm, where Witchfire is as well. Unfortunately, Circe is prepared for this; she takes over Diana's body while she and her newly formed Injustice League Dark lay siege to Wonder Woman's teammates. Upside-Down Man appears to Wonder Woman and Witchfire at the end of Justice League Dark #17. In the following issue Diana makes a deal with Upside-Down Man so he'll get her back into her own body. Before sending her back, the villain reaches for Witchfire. Wonder Woman protests that hurting her isn't part of the bargain, but before she can do anything to stop him, Upside-Down Man rips out Witchfire's throat.
Alex Winters (Catalyst Prime: Seven Days #4)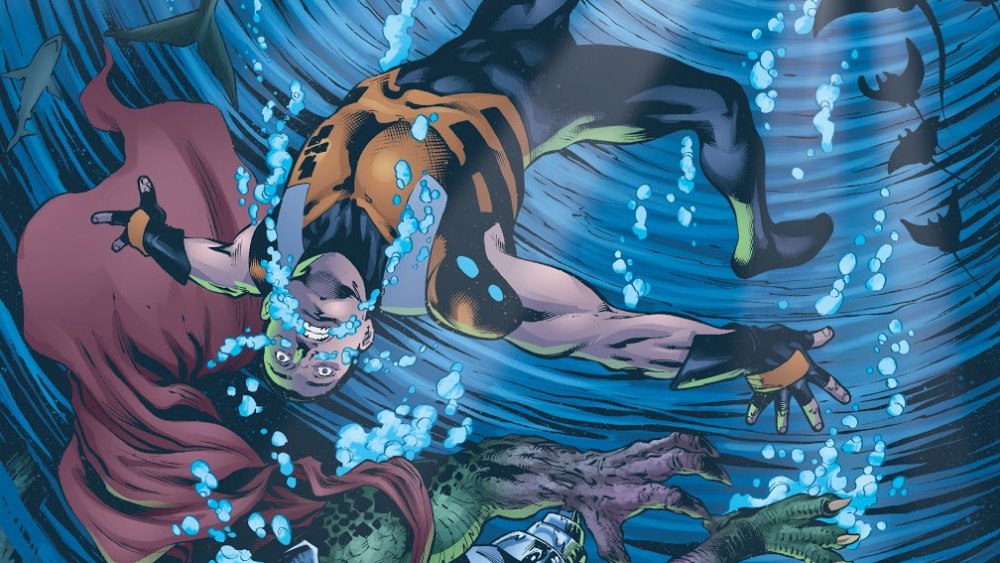 Last year, Lion Forge's mini-series Catalyst Prime: Seven Days opened with aliens landing on Earth and telling the populace they had seven days before the end of the world. At first the metallic, faceless drones landing on Earth seem utterly unbeatable, though as more of the relatively young narrative's heroes enter the conflict, they discover vulnerabilities. Still, things seem bleak by Catalyst Prime: Seven Days #4, when the super team known as the Incidentals hatch a plan to kill the leader of the invasion, the reptilian Khrelan. 
The team psychic Shannon Delgado manages to locate Khrelan's location underground in California's Death Valley. The team travels there by plane, and Alex Winters skydives in, smashing his way into Khrelan's lair as he drops. The rest of the team follows by parachute. While the others distract Khrelan, the teleporter Marko Bressner forms a portal leading to the depths of the Pacific Ocean. The team leader, Bo, intends to sacrifice himself to drag Khrelan through the portal, but Alex stuns him with a punch before he can do it. Alex tackles the reptilian alien and throws himself into the portal with him. On the final page we see Alex's corpse floating next to Khrelan.
Sadly, Khrelan isn't killed by Alex's sacrifice, but by the time the villain awakens in the following issue, it's clear the hero's actions have thrown a wrench in his plans.
Dr. Echo (Weapon Plus: World War IV #1)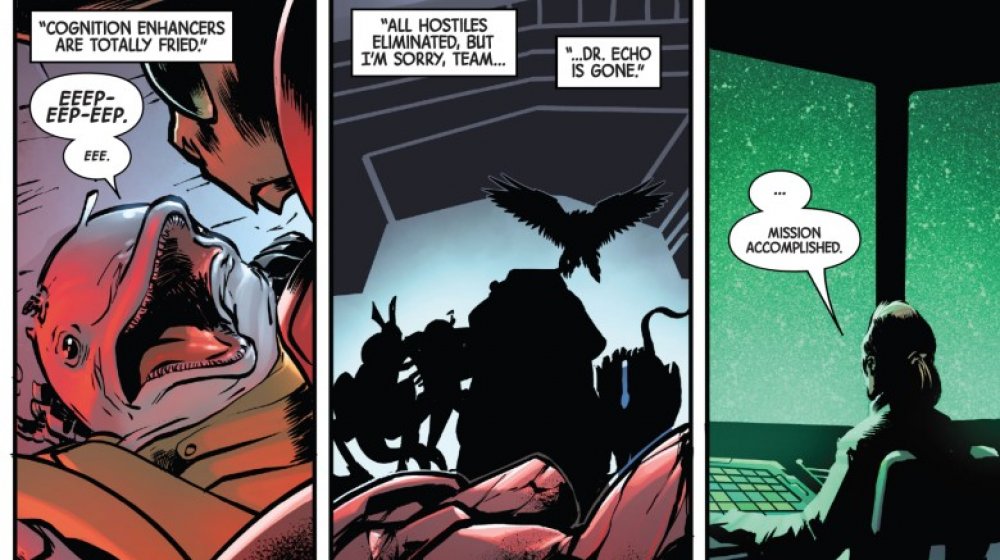 It's been three decades since 1990's four-issue limited series Brute Force introduced a group of intelligent, cybernetically-enhanced animals to the Marvel Universe, and little has been heard from the electronic beasts ever since. But the critters make a return in a back-up story for Weapon Plus: World War IV #1, and sadly one of their number doesn't survive to the end. 
Brute Force is sent to infiltrate and gather intelligence from a supply tanker owned by Orchis — an anti-mutant paramilitary organization. It seems to be a cakewalk as the cyber-beasts easily take out Orchis soldiers, until Dr. Echo finds himself facing what appears to be either a large robot or a human in a suit of power armor — it isn't clear which. Regardless, Dr. Echo is brutally beaten before his comrades show up and pile on his attacker. They make short work of the bad guy, but Dr. Echo dies moments later. 
King Shark (Suicide Squad #3)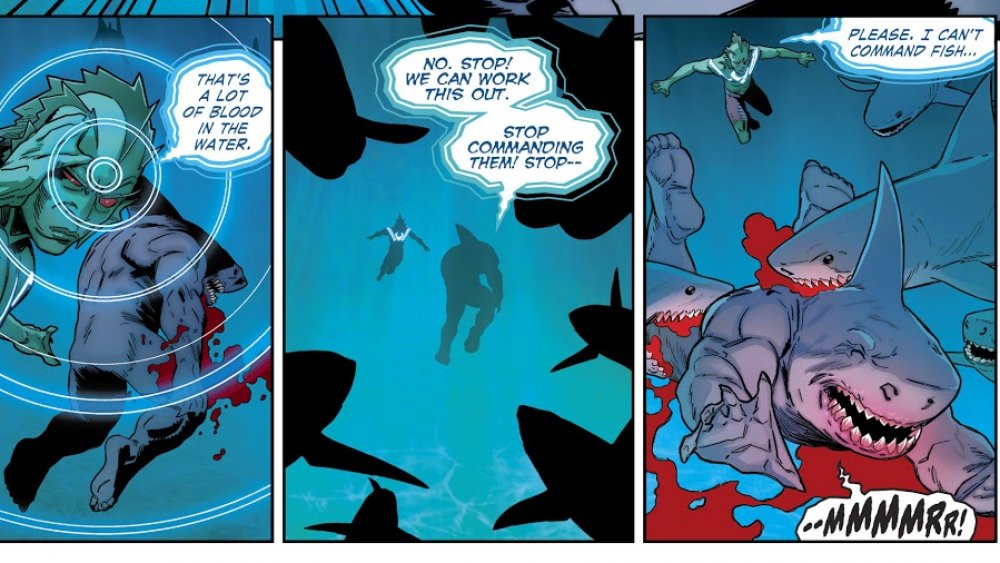 Last year, DC Comics launched a new volume of Suicide Squad, and it's proving to be as blood-soaked a series as you'd expect from the name. As early as its third issue, one of Task Force X's most well-known members bites the dust, and his death comes with a few different levels of poetic justice. 
In Suicide Squad #1, the squad is sent to take down a group of metahumans called the Revolutionaries. After the battle, the Revolutionaries who survive are folded into Task Force X, including the aquatic metahuman Fin. However, before that battle ends, Fin's brother Scale is ripped in half by King Shark. In the following issue, Fin makes it clear he isn't happy about working with the man who killed his brother. He punches the monster, knocking out of one of his teeth. While a few electric shocks from the new team leader Lok temporarily keeps Fin at bay, it doesn't last long. 
While Fin and King Shark are underwater and on their way to another mission in Suicide Squad #3, they pass near a large school of sharks. Fin stabs King Shark, then uses his telepathic abilities to make the nearby sharks aware of the blood pouring into the water. As King Shark is eaten alive by the sharks, Fin uses his psychic abilities to force King Shark to watch his own death through Fin's eyes.
Summit (Catalyst Prime: Seven Days #6)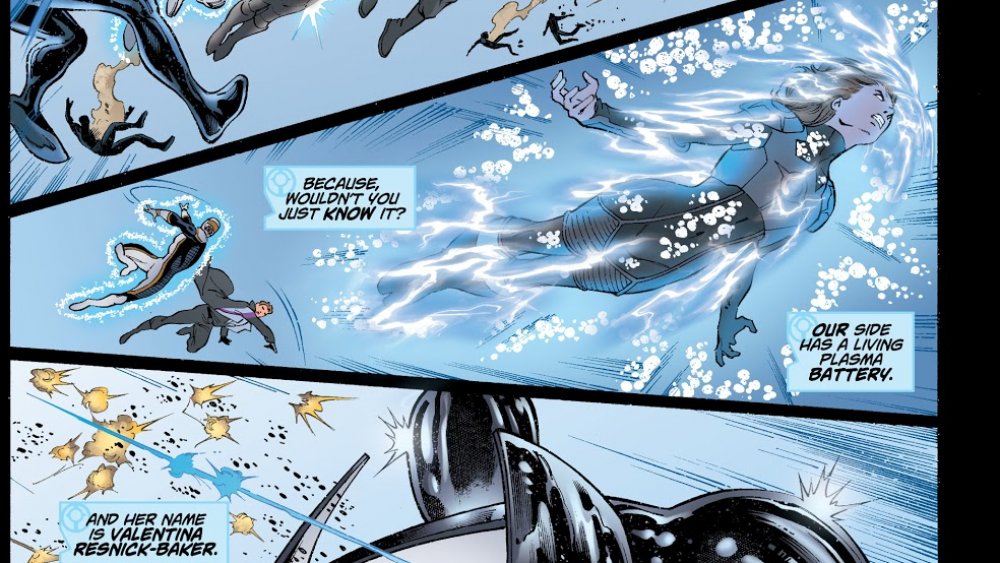 At the end of Catalyst Prime: Seven Days #6, the Lion Forge heroes score a major victory against Khrelan and his armies of Obsidian Men, but one of them falls in order to make it happen. 
Khrelan sends giant Godzilla-sized Obsidian Men to New York City, each of which unleash hordes of terrible reptilian monsters into the metropolis. Just about all the surviving Lion Forge heroes band together to fight back the monsters, but just as things seem to settle down an even more massive Obsidian Man — this one with four huge arms — approaches the city, this one opening up and pouring armies of smaller Obsidian Men into New York. 
Things seem hopeless when the heroes Noble, Kino, and Summit arrive. Noble and Kino fly towards the giant Obsidian Man, carrying Summit with them. They hold off the swarming drones until they're close enough, then hurl Summit towards the monster. The narration explains that Summit is a living plasma battery, which the heroes have pinpointed as the monster's vulnerability. Summit builds up her power and detonates within the monster. Her final thoughts are cut off as she explodes, killing the giant and herself. On the final page, we learn that the destruction of the larger Obsidian Man triggered the destruction of all the smaller ones, giving the heroes of Lion Forge a much better position from which to fight when they battle Khrelan in the final issue. 
Brainwave Jr (Stargirl)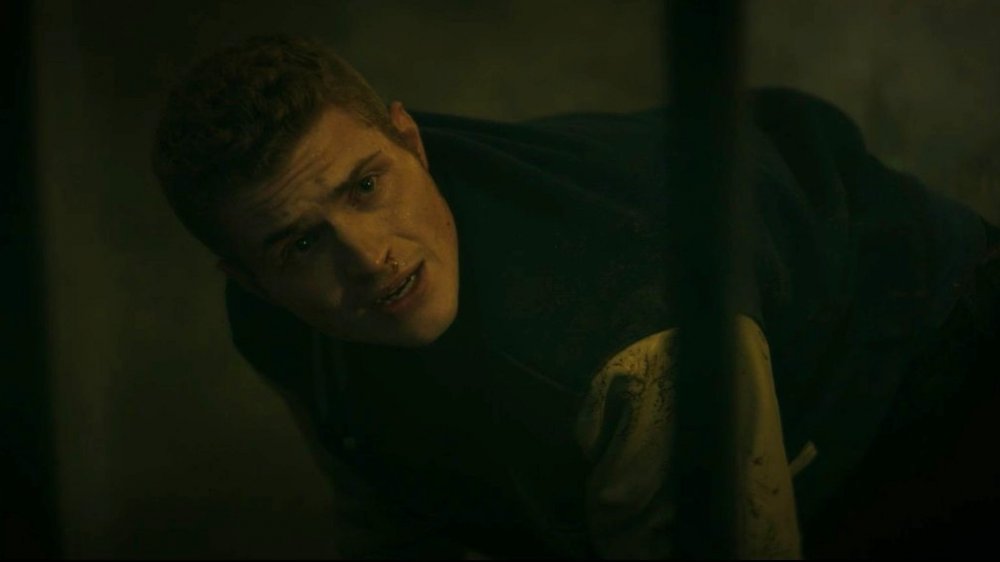 For most of the first season of Stargirl, the new JSA's teenage recruits manage to survive in spite of some dicey confrontations with the Injustice Society of America. But in the episode "Brainwave Jr.," one of Stargirl's allies is murdered by his own father. 
The new JSA infiltrates the Injustice Society's underground headquarters, in part to save Brainwave (Christopher James Baker). Not long before Brainwave wakes from his coma, his psychic powers begin manifesting in his son Henry (Jake Austin Walker). In spite of his father's violent past, Henry is convinced he can get Brainwave to turn against the Injustice Society. Sadly, Henry is wrong about his father's moral compass. As the JSA escape from the Injustice Society's tunnels, Brainwave confronts his son and reveals to him that it was he — not Icicle (Neil Jackson), as Henry believed — who murdered Henry's mother. A brief battle ensues between Henry and his father, and Henry is quickly overpowered. Henry and the rest of the JSA are separated by metal bars, and Henry uses his final moments to apologize to Yolanda (Yvette Monreal) for his betrayal. Brainwave uses his telekinesis to collapse the tunnel on top of his son, killing him.
After Henry's death, Brainwave reveals to Icicle that somehow killing his son amplified his own powers. While the Injustice Society's original plan was to use Brainwave's powers to enslave six different states, Brainwave believes his powers are now substantial enough to take over half the country.
Enoch (Marvel's Agents of S.H.I.E.L.D.)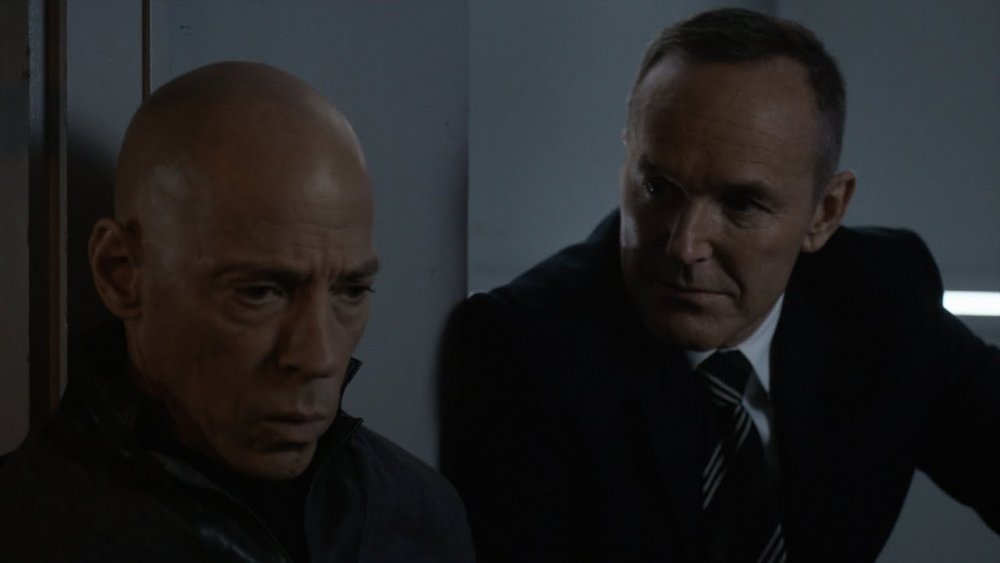 In Agents of S.H.I.E.L.D.'s seventh and final season, the team loses one of its most beloved and unique members. Enoch (Joel Stoffer) sacrifices himself to save the team from oblivion. 
At the end of "After, Before," while Yo-Yo (Natalia Cordova-Buckley) finally manages to reawaken her super speed, it isn't enough to fix the Zephyr's time engine. This leads to the time-loop episode "As I Have Always Been," in which Daisy (Chloe Bennet) keeps waking up and re-experiencing the same few hours. Specifically, she experiences the Zephyr caught in a temporal storm that threatens to wipe everyone on board from existence. Simmons (Elizabeth Henstridge) knows how to fix the time engine, but the knowledge is trapped behind a mental block she created to keep the location of Fitz (Iain De Caestecker) safe. 
When the heroes remove the implant, they discover the only way to fix the time engine is a device inside Enoch, and the removal would mean Enoch's death. When the Chronicom hero learns of this, he doesn't bother to wait while his friends debate the moral quandary — he reaches into his own body and yanks it out. Daisy and Coulson stay with Enoch as he dies. He tells them about his feelings of loneliness and warns them that he has seen the future and that while they will survive their current adventure, it will be their final mission as a team. 
Li (Marvel's Agents of S.H.I.E.L.D.)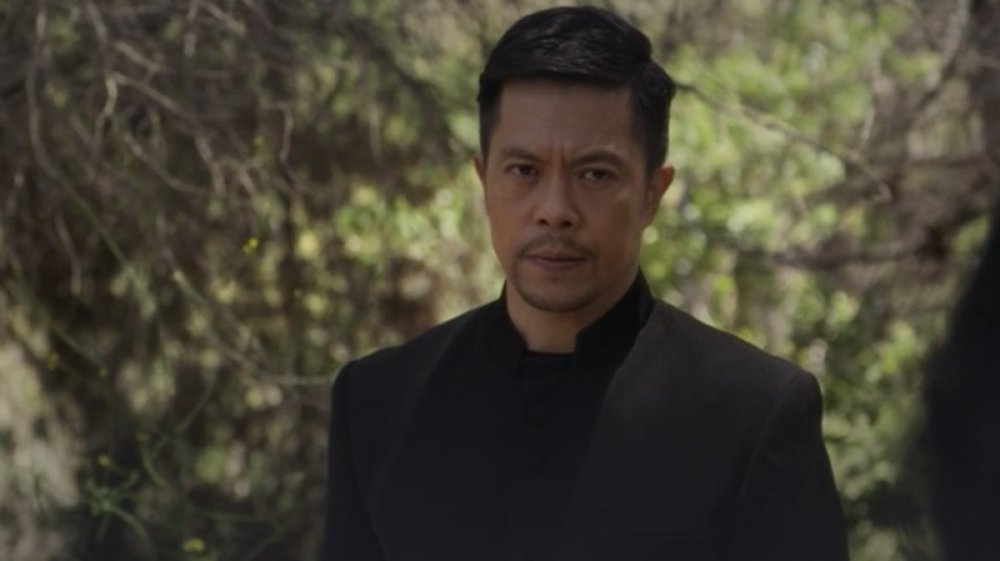 In "After, Before" we meet Li (Byron Mann), an Inhuman with the ability produce menacing-looking knives from thin air and use them with deadly accuracy. Li acts as second in command to Jiaying (Dichen Lachman), the leader of the Inhuman commune known as Afterlife. Yo-Yo and May (Ming-Na Wen) meet him when they travel to Afterlife in 1983 in hopes of helping Yo-Yo to reawaken her speed powers. 
Li is the least welcoming Inhuman to the Agents of S.H.I.E.L.D. in Afterlife, and we eventually learn he's believed for some time that Jiaying's daughter Kora (Dianne Doan) should be killed because of her inability to control her destructive powers. 
Toward the end of "After, Before," Nathaniel Malick (Thomas E. Sullivan) arrives at Afterlife with the plan of using the same bloodletting process with which he took Daisy's powers to imbue his followers with the powers of all the Inhumans at the commune. He also wants to recruit Kora to his team. In "Stolen," we see he's succeeded on both counts. A badly bruised Li is strapped to a chair and his powers have been duplicated in one of the men working for Malick. On Malick's orders, the Inhuman Kora uses her own abilities to murder the imprisoned Li, disintegrating his head. 
Gordon (Marvel's Agents of S.H.I.E.L.D.)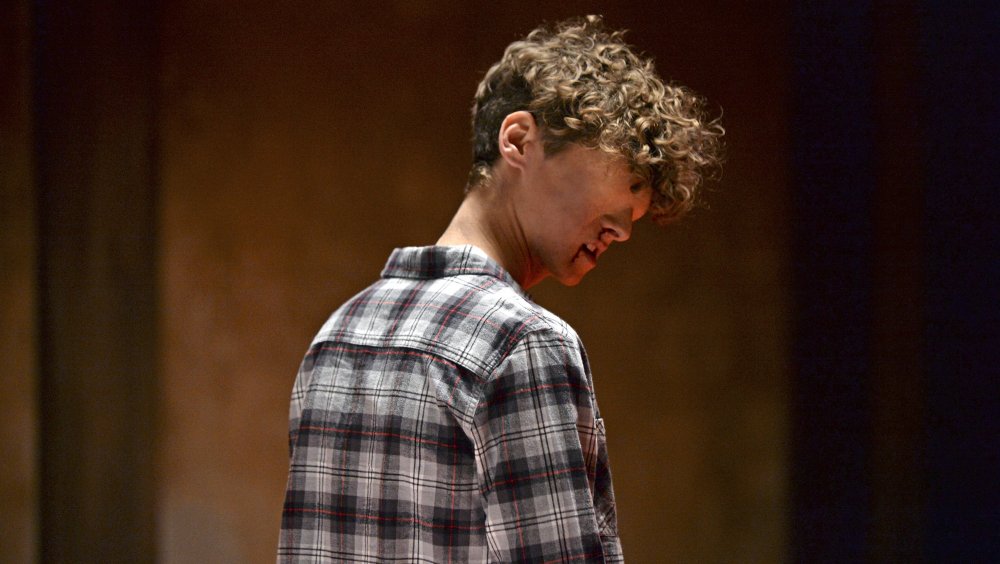 The Inhuman Gordon (Jamie Harris) already died late in Agents of S.H.I.E.L.D.'s second season, but that was an older version of the character. The younger version of Gordon (Fin Argus) meets a much more heroic end in "Stolen."
Once Afterlife is invaded by Nathaniel Malick and his followers, Gordon agrees to teleport Coulson into the commune. Unfortunately, Malick and his followers are expecting them. While imprisoning them both Malick uses his ability-duplicating process to give Gordon's teleportation abilities to the young John Garrett (James Paxton). Once Gordon and Coulson are left alone in a locked room, Gordon volunteers to use his powers to get them out. Coulson objects, saying Gordon's still too weak from having his abilities fed into Garrett, but Gordon grabs Coulson and teleports them out before the S.H.I.E.L.D. agent can stop him.
After getting them free, Gordon collapses. Coulson tries to comfort the Inhuman, telling him he's going to be all right. Gordon speaks his final words — "You're hilarious" — and he dies.
Jiaying (Marvel's Agents of S.H.I.E.L.D.)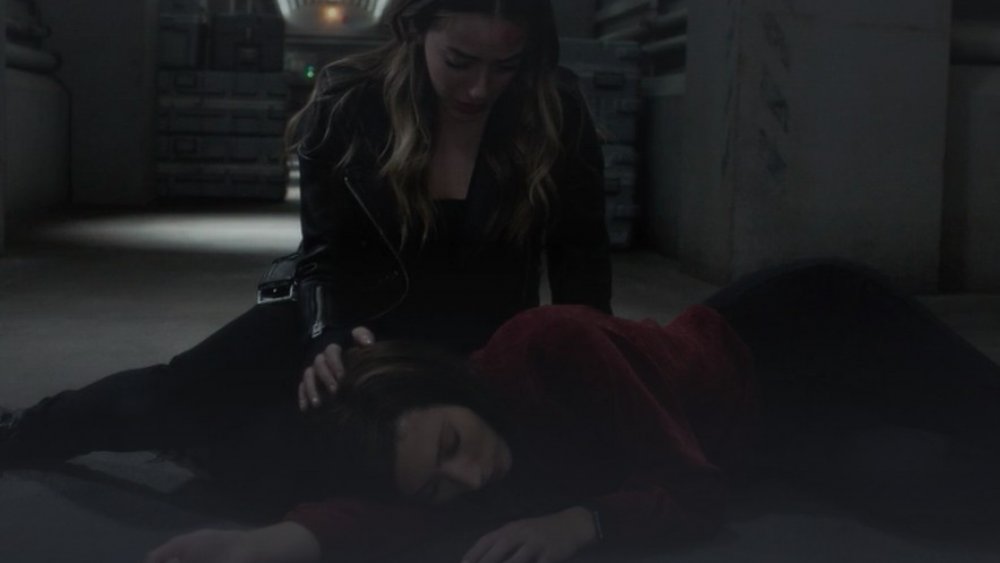 The season 7 Agents of S.H.I.E.L.D. episode "Stolen" has a high Inhuman body count, and the last to fall is Jiaying, Daisy's mother. The older version of Jiaying was killed in the show's second season by Calvin Zabo (Kyle MacLachlan). But while that older version died after turning on her daughter, in 1983 a younger Jiaying dies protecting Daisy. 
Nathaniel Malick locks horns with Daisy and Jiaying aboard the Zephyr, using the Quake abilities he duplicated from Daisy. Pointing out that — because of the time travel Daisy and the agents have been experiencing — Malick has actually been using the Quake powers longer than Daisy, and he's able to initially brush her aside without too much effort. Jiaying jumps in to protect her daughter, using her life absorption abilities on the villain. Unfortunately, Malick is able to resist her powers long to enough to break Jiaying's neck, killing her. 
Daisy rallies after her mother's death, and Malick is frightened at her display of power. When May shows up firing her gun at Malick, he runs away. Sadly, there's no saving Jiaying.
Sentry (King in Black #1)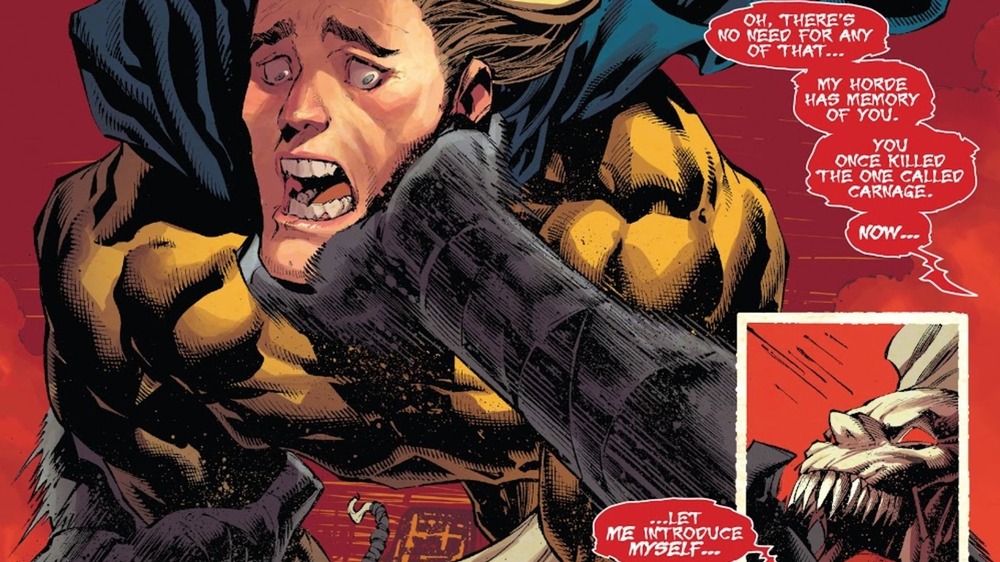 Marvel Comics ended 2020 with the kick-off of the line-wide event "King in Black," accompanied by the King in Black mini-series by Donny Cates and Ryan Stegman. The event brings the evil symbiote god Knull to Earth in King in Black #1, and the superhero Sentry becomes one of his most powerful victims. 
The arrival of Knull forces the Avengers to call Sentry back to Earth, and the heroes are confident he'll be all they need to take out the cosmic threat. When the villain confronts an assembled group of heroes that includes members of the Avengers, the X-Men, and the Fantastic Four, Captain America tells the symbiote god, "Normally, we're the last thing guys like you ever see. But today? We're just here to watch." Sentry enters the battle with an incredible display of power, killing one of the symbiote-merged Celestials with a single blow. 
But the Sentry's fall comes when he tries to make lightning strike twice. He carries Knull into the sky, planning to rip him in half just as he did to the symbiote villain Carnage back in 2004's New Avengers #2. But Knull is ready for this, and instead it's Sentry who is ripped in half by Knull. Sentry's last words are a plea to Knull that killing him will unleash the Void — the powerful villain who lives within him. But in the wake of Sentry's death, Knull is able to simply absorb the Void and add it to his power.