Marvel Star Dishes On Where She'd Like To See Her Character Next - Exclusive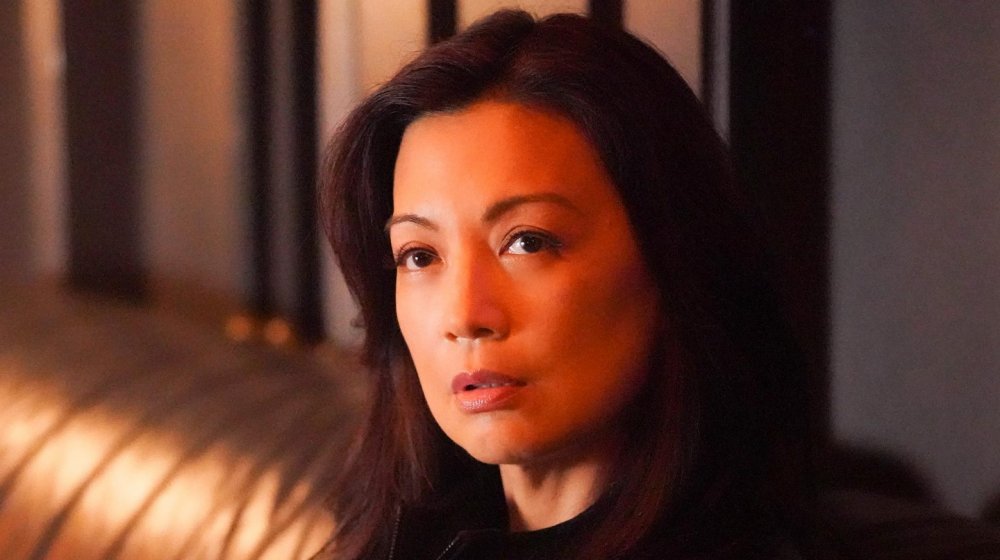 Walt Disney Television/ABC
If Agents of S.H.I.E.L.D. has taught us anything, it's that you don't want to mess with Melinda May. Sure, the S.H.I.E.L.D. agent known as "The Cavalry" doesn't say much, but over the past seven seasons, she's proved that if you're in a fight there's nobody better to have at your side.
That's come as somewhat of a surprise to Ming-Na Wen, the actress who plays May, given that she never set out to be an action star. "In college I studied Shakespeare. I mean, we were all into the theater and plays," Wen tells Looper. "The only thing that we would do would be like stage combat and dance and the kind of physical aspect of acting."
In fact, after her first action-heavy role, Wen almost swore off the genre for good. "After I did Street Fighter, I had said to myself, 'You know what? I'm never going to go and do action again.' Because at that time I was young. I wanted to be a serious actor," she says.
To the relief of Marvel fans everywhere, Wen changed her mind, and we now know that she could easily go toe-to-toe with any of the Marvel heroes who have graced the big screen. Not that she's had the chance, of course. Melinda May, like every member of the Agents of S.H.I.E.L.D. cast (save Agent Coulson, who originated in the films), has yet to make an appearance in Marvel's movies.
But that doesn't mean that Wen wouldn't relish the opportunity. "How wonderful would that be?" Wen says. "I would love it." Wen even has thoughts on who May's potential sidekicks should be — although they won't be much of a surprise for dedicated S.H.I.E.L.D. fans.
"I feel like May and Fury have had such a close relationship," Wen says. "Supposedly it was Coulson that asked her to join the team, when in reality it was Fury who had set all that up. So, they have a very close relationship." For those who are wondering, that's not just Wen's head canon, either. On the first season episode entitled "Turn, Turn, Turn," audiences learned that it was May, not Phil Coulson, who worked with Nick Fury to put the S.H.I.E.L.D. team together, as part of Fury's efforts to keep an eye on the newly resurrected agent.
Wen would also like to see a team-up with Natasha Romanoff, aka the Black Widow, too. "Just to see the Black Widow and May in a fight scene, because both of them don't have any special powers, they just have massive skills, that would be really fantastic," Wen says. Again, there's a precedent for that. "I think May might be friends with Nat, because she had her on her phone," Wen points out, referencing the fourth episode of S.H.I.E.L.D.'s second season.
This is Ming-Na Wen's favorite Agents of S.H.I.E.L.D. fight scene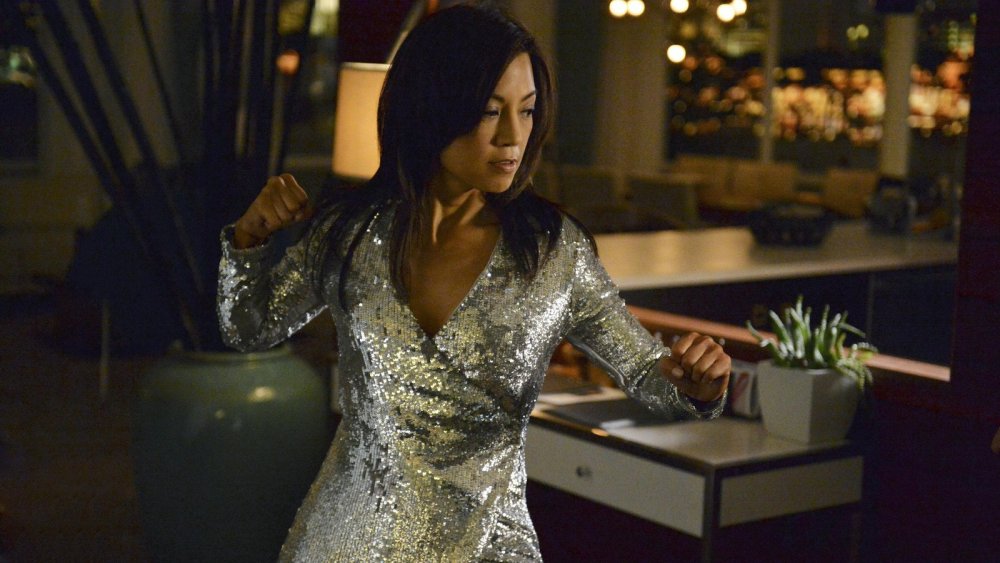 Walt Disney Television/ABC
Not that May needs any help, of course. As Agents of S.H.I.E.L.D. viewers know, the veteran agent can punch and kick her way out of almost any imaginable situation. For Ming-Na Wen, that presented a unique challenge. "I know that I'm very capable because I've had a lot of training in dance and in different forms of martial arts," she says, "but this was really the biggest training for me, working on this show. I mean, learning how to do stunt fighting is an art form in itself."
It was worth it. Wen has starred in many of the show's most memorable fight scenes; so, does she have a favorite? Of course she does. "The May versus May fight," Wen says when asked, adding, "which everybody else loved too."
If you need a refresher, the fight happened on the season 2 episode "Face My Enemy," in which a S.H.I.E.L.D. agent known as Agent 33 is brainwashed by HYDRA, then given a high-tech mask that makes her look exactly like Melinda May. Agent 33 tries to kill May and Agent Coulson and take control of S.H.I.E.L.D., but her plan doesn't quite pan out, and it isn't long before May comes face-to-face with her greatest nemesis — herself.
The fight that follows took a ton of advance planning, which was especially tough given S.H.I.E.L.D.'s notoriously quick turnaround time. A combination of careful fight choreography, some camera trickery, plenty of visual effects, and lots of practice was needed to bring the scene to life. "It was incredibly rigorous. It was tough. It was like three days of fighting," Wen remembers. "I chipped my two front teeth because of it. Yeah, yeah. It was a definite fight scene, man."
Again: worth it. Even all these years later, "Face My Enemy's" climactic battle remains one of S.H.I.E.L.D.'s best fight scenes, and a solid reminder that there's no one in the MCU tougher than Melinda May.
Agents of S.H.I.E.L.D. airs Wednesdays at 10 PM on ABC.