The Real Reason Mr. Turner Disappeared On Boy Meets World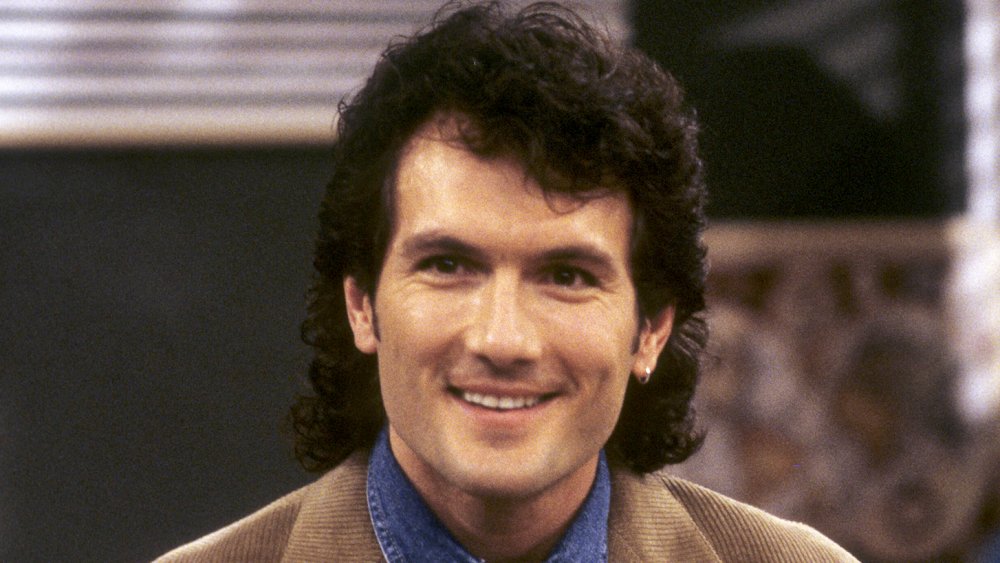 ABC/Touchstone Television
For those who indulged in small screen delights in the early '90s, there were certain narrative elements that popped up in virtually every TV series. For instance, any cop show on television had a no-nonsense veteran detective whose methods were less than above board (see Dennis Franz's Det. Sipowicz in "NYPD Blue"). Likewise, every medical drama found at least one wide-eyed young resident destined to learn the ins and outs of medicine the hard way (see Noah Wyle's Dr. Carter on "ER"). Of course, if shows that featured whip-smart youths trying learn the ways of the world were on your radar, you almost always found those kids interacting with a down-to-Earth, cooler-than-cool young teacher desperately trying to reach his students on a personal level.
And if that sort of story was indeed your bag, you no doubt remember the big-hearted, street-wise teacher Mr. Turner on "Boy Meets World." Played with an endearingly edgy openness by Anthony Tyler Quinn, the motorcycle riding Mr. Turner essentially played spirit guide (alongside William Daniels' Mr. Feeny) to Cory (Ben Savage), Topanga (Danielle Fishel), and Shawn (Rider Strong) over the show's first three seasons, even becoming Shawn's legal guardian at one point in the action. But after the character was nearly killed in a season 3 motorcycle accident (via the brilliant "Cult Fiction" episode), he was never seen again. 
After years of speculation, the actor who played Mr. Turner on "Boy Meets World" has finally offered some insight as to why the character disappeared. As reported by Yahoo! News, in a candid 2013 Twitter Q&A, Quinn answered an inquisitive fan's query about his departure by initially dodging the question, stating, "Not sure I can answer that in only 95 characters." He later offered, "Sometimes they make changes, and can't figure out how to explain them."
Did the show run out of story ideas for Mr. Turner?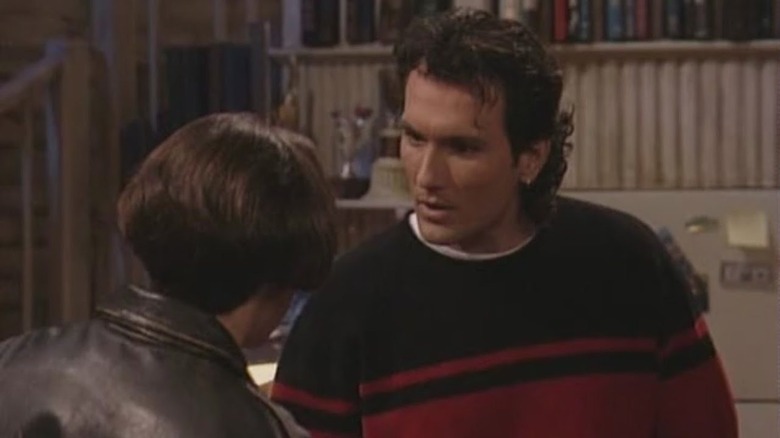 ABC
At least from Quinn's perspective, it sounds like Mr. Turner was possibly the victim of the "Boy Meets World" creative team simply not knowing where to take Mr. Turner after his near-death experience. As you'll recall, the emotional episode found Shawn falling into the clutches of a youth cult, and found Mr. Turner and the gang trying desperately to pull him out. In the end, it was Mr. Turner's accident that finally brought Shawn back from the brink. That is, of course, why it seemed such an odd time for Mr. Turner to go M.I.A.
Still, that episode also came as Shawn, Cory, and Topanga were eyeing their own exit from the school in which Mr. Turner taught them (via graduation, of course). So it's possible that the series' writers just opted to take the character out of the picture before the gang trotted off to college. It's also possible they were running out of interesting things to do with Mr. Turner who, by that point, had really gone above and beyond what any teacher could've been expected to for his students — even in the magical realm of TV Land.
Mr. Turner found his way back into the fold for Girl Meets World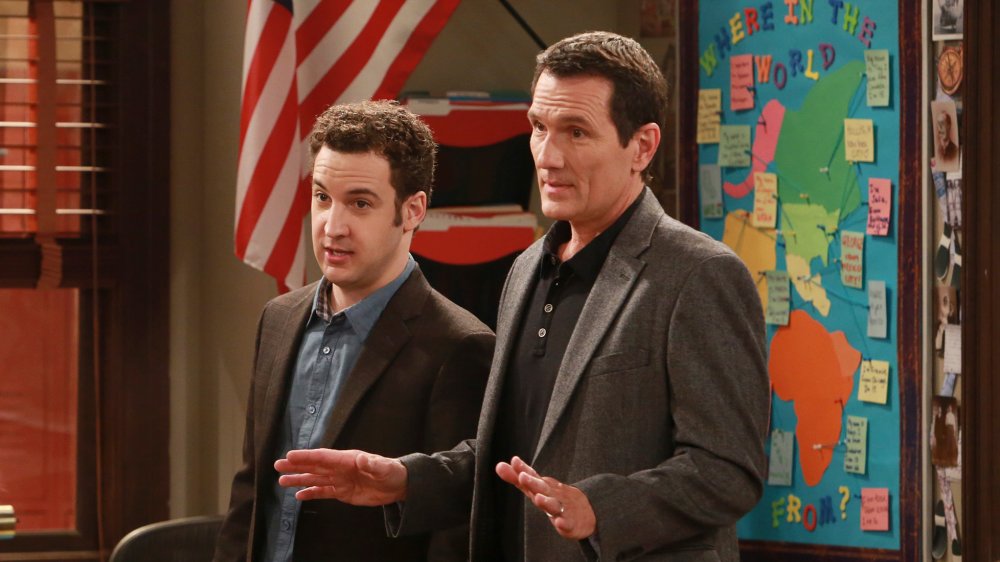 Disney Channel
As it happens, Anthony Tyler Quinn's own work schedule may have contributed to his "Boy Meets World" exit, with the actor landing the lead role in Fox's short-lived comedy "Ask Harriett" at around the same time. 
Quinn has continued to keep himself more than busy in the years since leaving "Boy Meets World," appearing in dozens of small screen programs from "Melrose Place" to "Dexter." He also had roles on shows like "Caroline in the City," "Days of Our Lives," "Pretty Little Liars," and "Feud: Bette and Joan." In 2021, he appeared in the drama "The Man from Nowhere."
Also, Quinn was able to clear his schedule and reprise his role as Mr. Turner (sans mullet) for a three-episode arc when the "Boy Meets World" revival series "Girl Meets World" made its way to the Disney Channel.
Quinn was upset to leave Mr. Turner behind way back when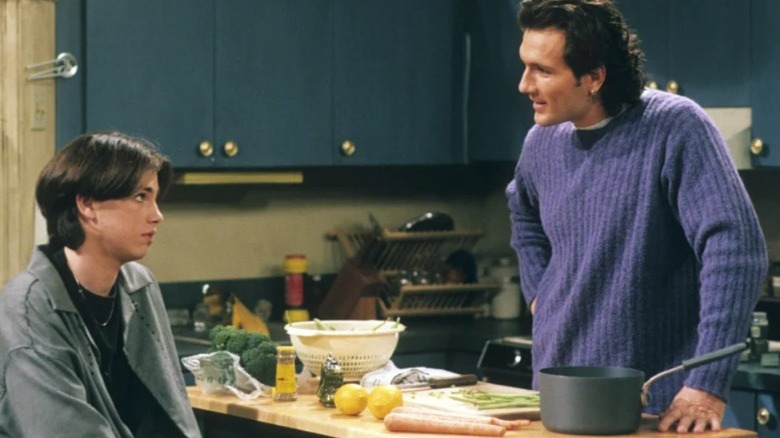 ABC
Bearing in mind how long Anthony Tyler Quinn spent in the Mr. Turner role — 51 episodes, to be exact –, and the devoted fanbase that existed around "Boy Meets World" and still endures to this day, it should come as no surprise that he became quite attached to the part. Turner was far from a minor, throwaway character, giving Quinn the chance to make it all his own and gain traction with fans. Thus, when the time came for Quinn to move on it from it, doing so proved much more difficult than expected.
"I was upset, a little bit because I felt like they were really starting to tap into something that I thought was important," Quinn told The Frack & Friends Show in a November 2021 interview, detailing the potential of Turner and Shawn's budding father-son dynamic that writing off his character made it impossible to fully realize. In his mind, cutting this relationship short was a disservice to the "Boy Meets World" viewer base, and he wishes he could've dug into it more as an actor.
Quinn looks back on Boy Meets World fondly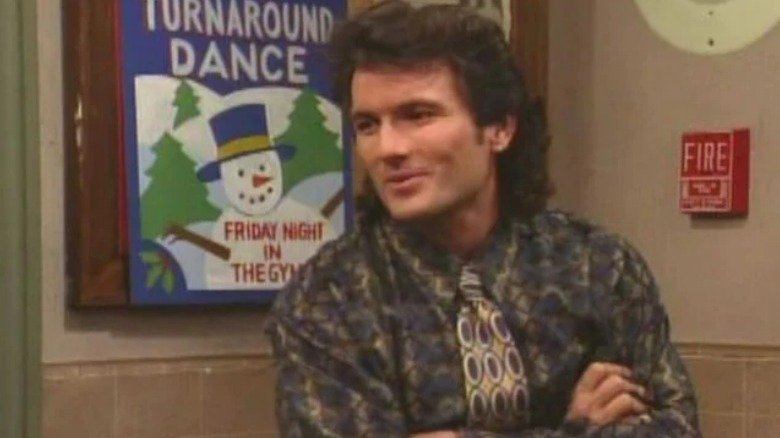 ABC
All in all, it's clear that Anthony Tyler Quinn wishes he got to do more as Mr. Turner beyond Season 3. However, the minds behind "Boy Meets World" had other plans, which obviously involved his premature disappearance from the show with next to no narrative explanation. Being dropped so abruptly from a major series would lead many other actors to harbor negative feelings toward the project in question, but that's not the case for Quinn, who still looks back on his time as Mr. Turner fondly.
As he explained to The Frack & Friends Show, much of what made Quinn's "Boy Meets World" experience so memorable was the time he spent with his co-stars. The kids on the series did a lot of growing up in the time that he spent working with them, so even nowadays, it's an emotional experience watching old episodes back. Quinn adds that despite their age at the time, his younger cast members did an excellent job in front of the camera, hence why "Boy Meets World" is just as beloved today as it was when it first aired.
It's a shame that he didn't get to grace the small screen for more than a few seasons of "Boy Meets World" and a brief arc in "Girl Meets World," but even still, Anthony Tyler Quinn's Mr. Turner will go down in TV history as one of the most appreciated and entertaining fictional teachers and father figures of them all.