Why Cowboy From Yellowstone Might Have More Meaning Than You Realize
Paramount Network
Since making its debut on Paramount Network in 2018, the modern Western saga Yellowstone has quickly established itself as a full-blown small screen success with a devoted following to match. Yellowstone has managed its startling rise by continuing to tease viewers (and test the skill of its esteemed cast) with a compelling, modern narrative about a ranching dynasty fighting to keep its land in Montana — a narrative steeped in classic Western themes and a dash of overt melodrama. It's also continued to populate its Big Sky landscape with intriguing supporting characters who don't always come down on the side of the righteous.
Part of what's made Yellowstone such an addictive watch is the fact that there's not a single character (from ruthless land developers, to callous politicians, to the folks who call the Yellowstone Dutton Ranch home), who hasn't at least dabbled in the darker side of human nature. As it forges ahead with an anxiously anticipated third season, there's little doubt that darkness will continue to shade even the noblest of sorts on Yellowstone.
That tactic served showrunner Taylor Sheridan particularly well in a bracing second season that saw seemingly no end to shady characters working their way into the story. Of those characters, the one we knew only as Cowboy (Steven Williams) was the most enigmatic. He appeared in just three episodes of Yellowstone's second season, but still managed to leave an indelible mark on the action — so much so that fans are now theorizing that his role was bigger than initially thought. A few conspiracy-loving Redditors are even convinced that the stoic old ranch hand was actually a spy for season 2's biggest bads, the Beck Brothers, and was therefore feeding them info about the moves of John Dutton (Kevin Costner) throughout. 
Why Cowboy actually might've been a Spy for the Beck Brothers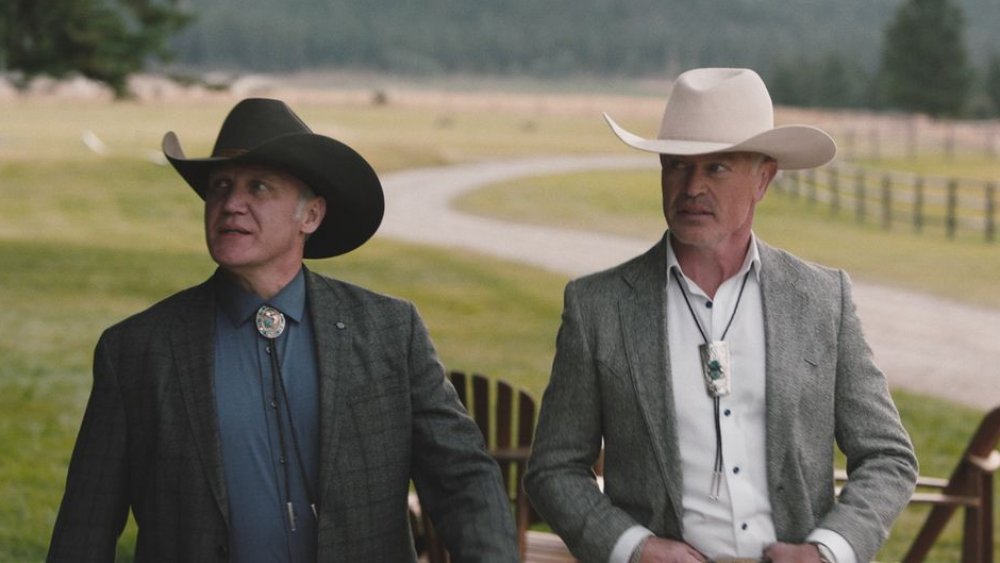 Paramount Network
Now, before we get too far into that juicy theory, we should take a moment to note that Cowboy was seldom seen in Yellowstone's white-knuckle second season. Consequently, we didn't spend much time with the man. As Cowboy exited the show after such a brief stay, the series never really offered legit insight as to where he came from, why he was there, or if he answered to anybody other than the Duttons.
That being said, Cowboy's enigmatic presence alone is enough to make one think he had ulterior motives for joining the Dutton Ranch crew. The character did, after all, arrive at the gate seemingly out of the blue, and gave only the cryptic name Cowboy to his new employers. That he arrived an episode ahead of the Becks (who also never alluded to having a spy encamped with the Duttons) would seem to quash any "Cowboy was a spy" theory, but it's worth noting that Malcolm Beck in particular seemed a step ahead of the Duttons as the season's increasingly violent shenanigans unfurled. Having an inside man would obviously help explain how.
More damningly, those Redditors point out that Cowboy made his Dutton Ranch exit at a peculiar time — right as tensions were coming to a head between the Duttons and Becks — and that his departure was clearly played up by the series' writers. That may not be quite enough to support the "Cowboy was a spy" logic, but we can't help but think that the character had more meaning within the show's narrative than he apparently did, especially as Yellowstone producers cast such a familiar face in the role. Whatever the case, it seems Cowboy will remain one of Yellowstone's greatest unsolved mysteries... for now.