The Best Anime Movies You Can Watch On Netflix Right Now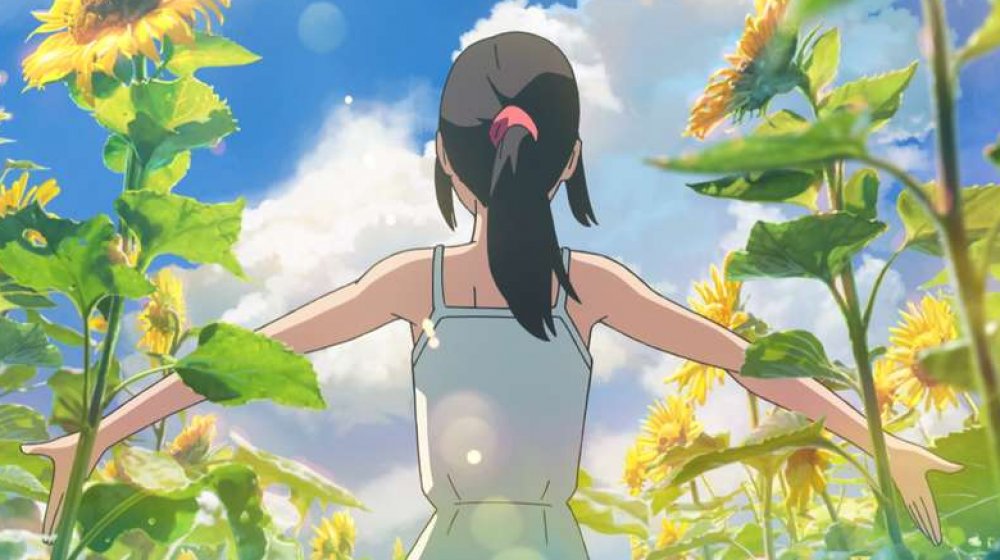 In an age with an almost excessive number of streaming options, it's hard to remember the days when anime was much harder to access. Before shows and films had North American distribution, fans were ripping their own painstakingly subtitled versions onto VHS tapes and selling them to other fans. In the '90s, things got a little easier as shows like Sailor Moon and Pokemon started to air on children's television stations. But anime movies weren't really showing in American theaters yet. Eager viewers had to turn to their local library or to video rental stores. In both cases, the options were limited, and the staff not necessarily knowledgeable about what they were stocking.
Fast-forward to today, and there are anime-specific streaming services like Crunchyroll and Funimation, the latter of which is a long-running North American anime distribution company. But beyond that, streaming services that appeal to a larger variety of viewers than just anime fans have begun to add anime to their rotation, acknowledging that the medium is becoming ever-more ubiquitous in our society. On Netflix right now, there are anime films that run the gamut from old classics to modern hits to works created exclusively for Netflix. Here are some of the best.
Lupin III: The Castle of Cagliostro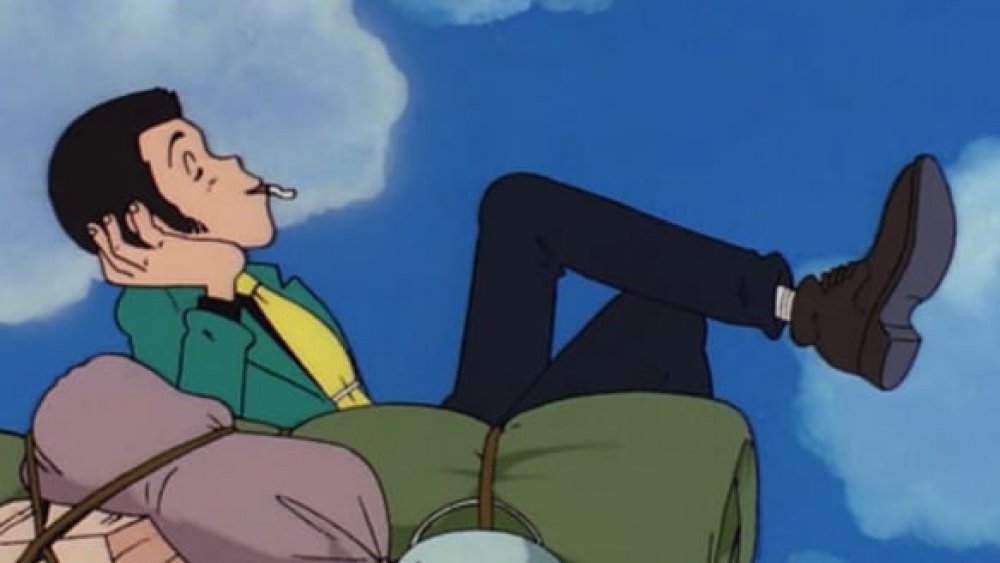 Before Hayao Miyazaki was a household name, he got his start co-writing and directing the 1979 film Lupin III: The Castle of Cagliostro. For this debut, he got to work with the international thief character Arsene Lupin, intellectual property of Kazuhiko Kato (better known as Monkey Punch) who himself "borrowed" the idea from French novelist Maurice Leblanc. Lupin is the cheeky thief who likes to announce his heists before enacting them, dragging his loyal co-conspirators Daisuke Jigen and Goemon Ishikawa XIII into the fray — and getting sidetracked by the sexy Fujiko Mine. 
Those familiar with the Lupin III franchise will readily admit that Miyazaki's take on the character differs hugely from Monkey Punch's original manga, as well as from the countless anime adaptations that followed it. In Cagliostro, Lupin discovers that he recently absconded with tons of counterfeit cash and decides to find its source. Once there, he meets a young lady named Clarisse who is betrothed, against her will, to Count Cagliostro. Lupin strikes a deal with his long-time nemesis, Interpol's Inspector Zenigata, to rescue Clarisse from this dismal fate. Lupin's unselfish actions in this film aren't in keeping with the gentleman thief's usual modus operandi, but it is interesting to see how the film presages many of the themes and techniques Miyazaki will use in his films for years to come.
The Garden of Words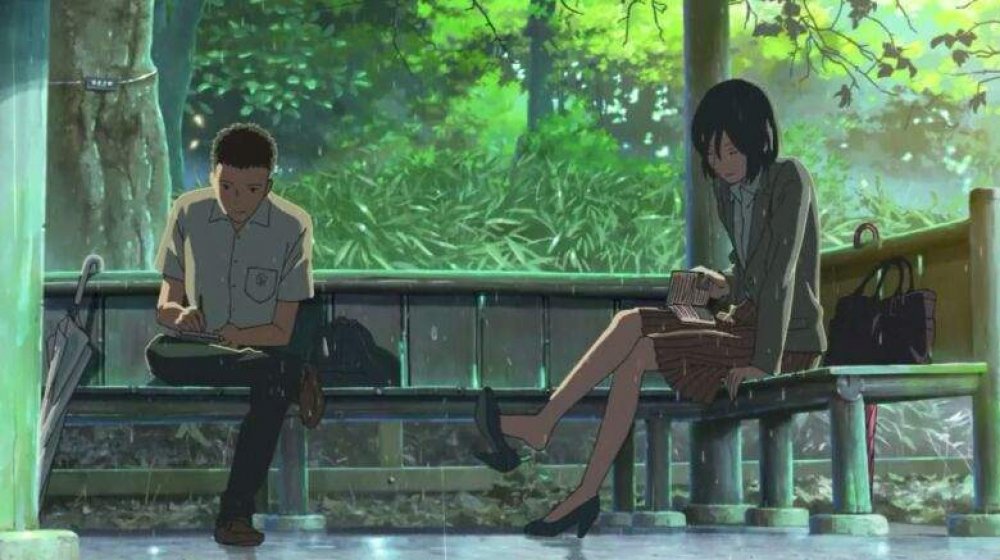 Miyazaki is not the only director whose less widely-known works have found a niche at Netflix. Makoto Shinkai has recently enjoyed fame with his 2016 hit film Your Name. He was directing plenty of films before that, however, including 2013's Garden of Words. At the start of this short, moody film, high school student Takao Akizuki chooses to skip school in favor of sketching shoes in the garden at Shinjuku Gyoen, a large park in Tokyo. While there, he runs into Yukari Yukino, a mysterious 27-year-old woman who is skipping work to enjoy beer and chocolate in the park. 
All through the rainy season, the two meet up and get to know each other, and Takao becomes more and more invested in becoming a shoemaker and making a pair of shoes for Yukari. When Yukari's job — and her reasons for neglecting it — become known, the pair finds themselves being pulled apart by the pressures of society. There's heaps of drama to be had in only 46 minutes, and if you can get over the questionable adult-teen relationship, the film is an absolute treat for the eyes, especially the garden scenery.
A Silent Voice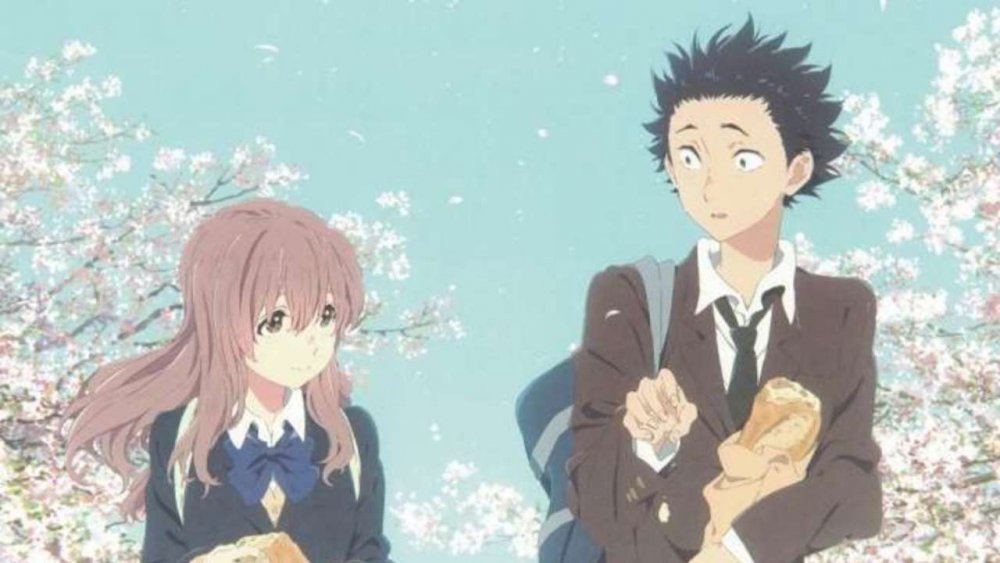 For those looking for a real tear-jerker, Netflix has the exceptional teenage drama A Silent Voice, based on the seven-volume manga of the same name by Yoshitoki Oima. The film begins with protagonist Shoya Ishida as an elementary schooler, learning that his class has a new student, Shoko Nishimiya. He and some other boys in his class begin to pick on her, especially after they all find out that she is deaf. 
Fast forward to high school, and Shoya regrets the selfish actions of his early childhood — actions which ultimately led to him being ostracized in the same way he was attempting to ostracize Shoko. He runs into her by chance and realizes that he wants to make amends for the way he treated her, and as the two begin to navigate this rocky friendship, Shoya is able to learn how to make friends with others, as well. This is a truly beautiful film which tackles big issues like bullying, disability, and suicide, with sensitivity and an excellent sense of narrative drama. Just make sure you have a box of tissues alongside your popcorn — you'll need it for the climax, for sure.
In This Corner of the World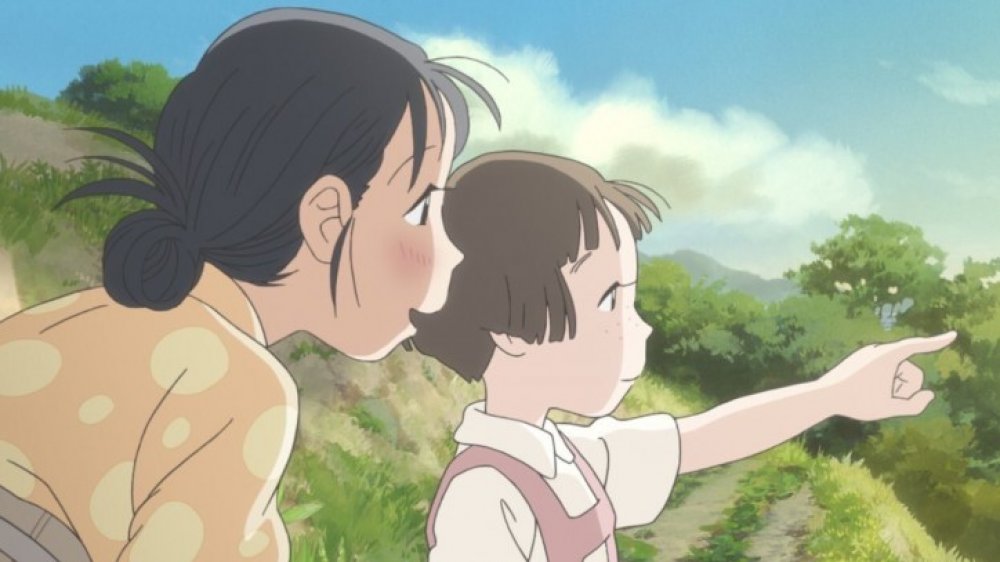 Though high school dramas make up a great deal of anime offerings, there are a fair number of historical selections available, as well. It can be hard now to picture Japan as rural and war-torn when our modern image is of a technological superpower. In This Corner of the World gives viewers a glimpse into how an average woman's life was turned around by war. Suzu, an innocent young woman from Eba in Hiroshima, gets married to a man named Shusaku, a navy civilian. She moves to his family's home in Kure, and there must contend with the rapidly shifting expectations placed upon her as a housewife and as a citizen living during wartime, as well as the return of her childhood friend Tetsu. 
The film largely takes place from 1944-1945, toward the end of World War II, but also provides glimpses of pre- and post-atomic bomb Hiroshima, with the early war years depicted as more carefree and humorous, giving way to a more anxious tone as time passes. The fearsome tools of war — the ships and planes and bombs — are a grim contrast to the traditional, close-to-nature culture of Hiroshima. This is another film where a handkerchief would not go amiss!
Miss Hokusai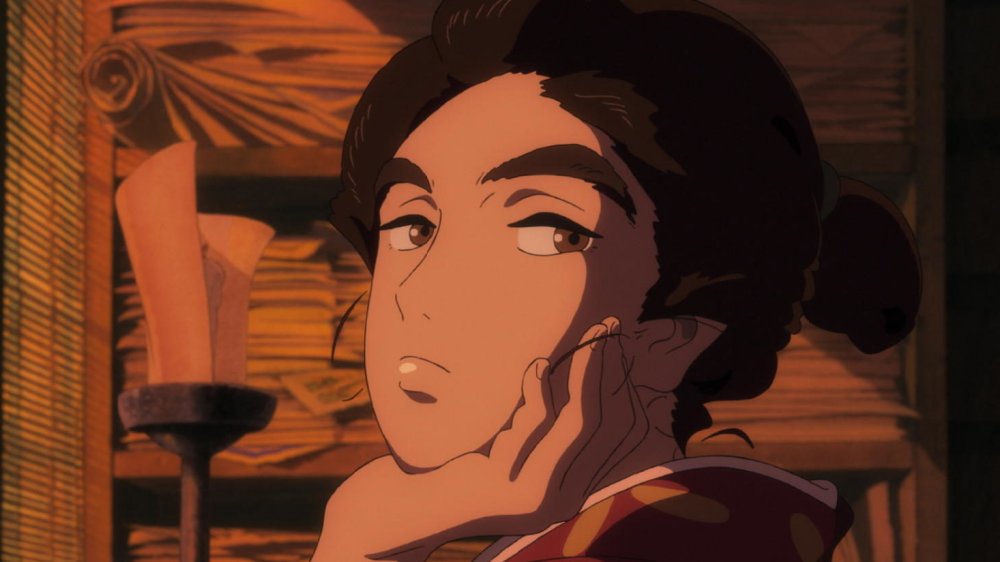 Another historical film, Miss Hokusai, is based on the real-life artist Katsushika Oi, daughter of the famous Hokusai. It takes place during the Edo period, when Hokusai is already in his fifties and considered a renowned artist in Japan. O-Ei is one of his four daughters, and she lives with him and must put up with his many flaws, all while completing many of his commissions without any recognition. The pair live more like roommates than father and daughter, and the film explores their turbulent relationship, as well as O-Ei's relationship with her half-sister, the blind and sickly O-Nao. 
This is one of those movies that is far more about characters than plot, but the characters are so alive, and the animation — especially when bringing the artists' paintings to life — is absolutely lovely. It also provides some insight into the life of a beloved painter through his relationships with others, as well as the all-too-familiar story of a brilliant woman whose work is overshadowed by the important men in her life.
Mary and the Witch's Flower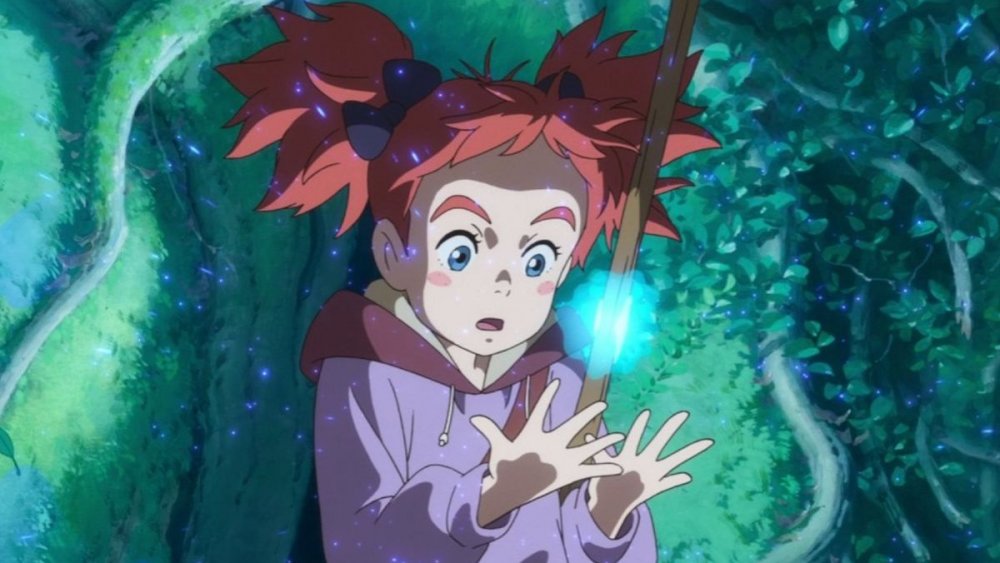 Netflix may not have any of the Studio Ghibli films for North American streaming, but aside from Miyazaki's film debut with Lupin III, they also have Studio Ponoc's Mary and the Witch's Flower. Studio Ponoc was founded by Ghibli alumnus Yoshiaki Nishimura, and this initial work from the studio definitely bears a resemblance to the works of Ghibli, both visually and in tone and theme. The movie, based on Mary Stewart's novel The Little Broomstick, follows the young Mary Smith, who has just moved in to her great aunt Charlotte's very English estate. 
Mary is bored while she waits for her parents to arrive and for school to start, and she unfortunately has no aptitude for helping out with anything around the house. She chooses to explore the estate's grounds and finds herself following a pair of cats into the woods, where she discovers a strange purple flower. This flower grants her the power to fly a broomstick, which whisks her away to a magical school, where she learns that there are drawbacks to wielding magic powers. This is a very fun and sweet film, appropriate for the very young but still enjoyable for adult viewers who retain a sense of whimsy.
NiNoKuni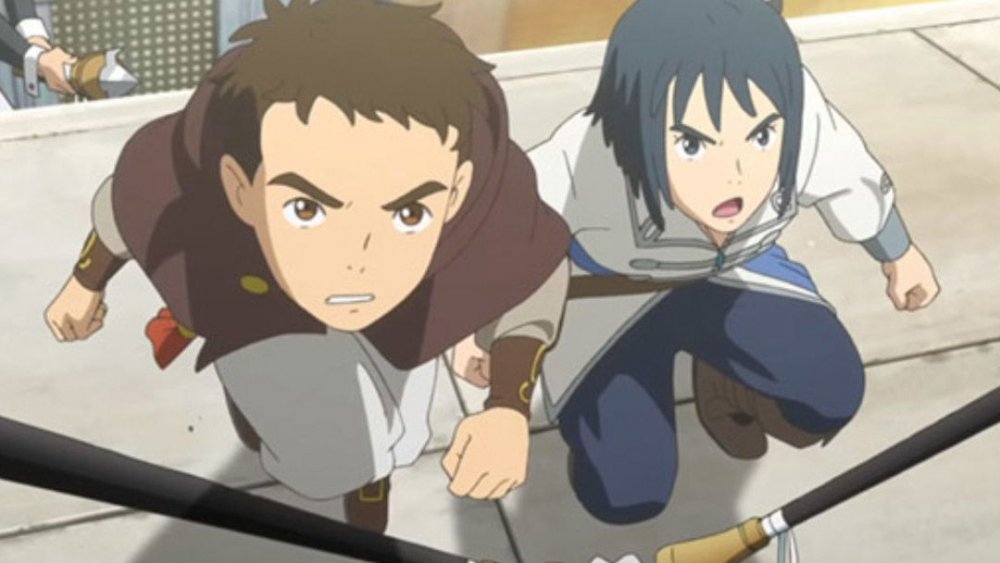 Those who are familiar with video games might recognize the title NiNoKuni, which encompasses several fantasy role-playing games. The film, which was directed by Studio Ghibli animator Yoshiyuki Momose and showcases music from Hayao Miyazaki's long-time collaborator Joe Hisaishi, has a standalone story separate from any of the game plots. In it, childhood friends Yu and Haru travel to a fantasy world to save their dying friend Kotona, who has a counterpart in this world who is likewise in trouble. 
This alternate reality is populated by adorable fantasy creatures, grave dangers, and plenty of magic. So once again, even though Studio Ghibli films are not available on Netflix, those who love the look and feel of works like Howl's Moving Castle or Castle in the Sky will find NiNoKuni provides a similar thrilling magical adventure. It's useful to note that viewers don't need to have any familiarity with the game series in order to enjoy this film.
Flavors of Youth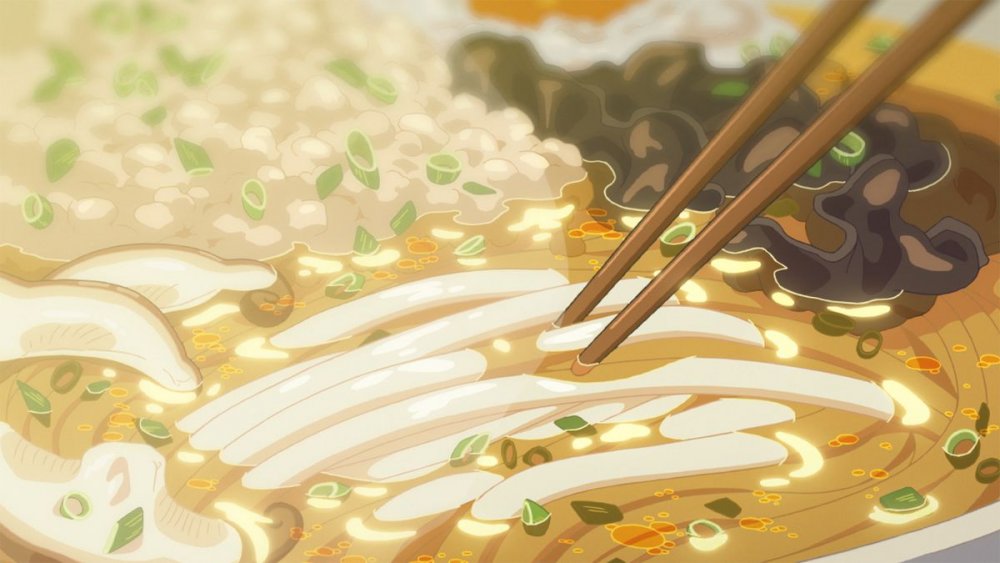 Relationships are at the core of the three stories in the Chinese-Japanese anthology film Flavors of Youth. The movie is split into three vignettes: "The Rice Noodles," "A Little Fashion Show," and "Love in Shanghai." All three are set in different areas of modern China, but they take plenty of time to look into each character's past as well. In "The Rice Noodles," Xiao Ming monologues about time spent with his grandmother while eating San Xian noodles, lamenting his inability to find quite the same flavor since he has grown up and moved out of his parents' home. 
"A Little Fashion Show" explores the relationship between a successful model, Yu Lin, who is providing for her younger sister, Lu Lu, a student with dreams of fashion design. Yu Lin is putting herself under extra pressure, concerned that her aging will get in the way of her career. She starves herself while Lu Lu tries to remind her to take care of herself. 
The final segment, "Love in Shanghai," chronicles the story of Li Mo, a too-serious architect, who discovers a cassette tape from his childhood friend, Xiao Yu, among his belongings after he moves. He had neglected to listen to Xiao Yu's message when they were still kids, and doing so would have changed the entire course of his life afterward. At about 75 minutes, this Netflix original anime film is beautifully animated and touchingly melancholy, ending on an overall positive note.
Inuyasha the Movie: Affections Touching Across Time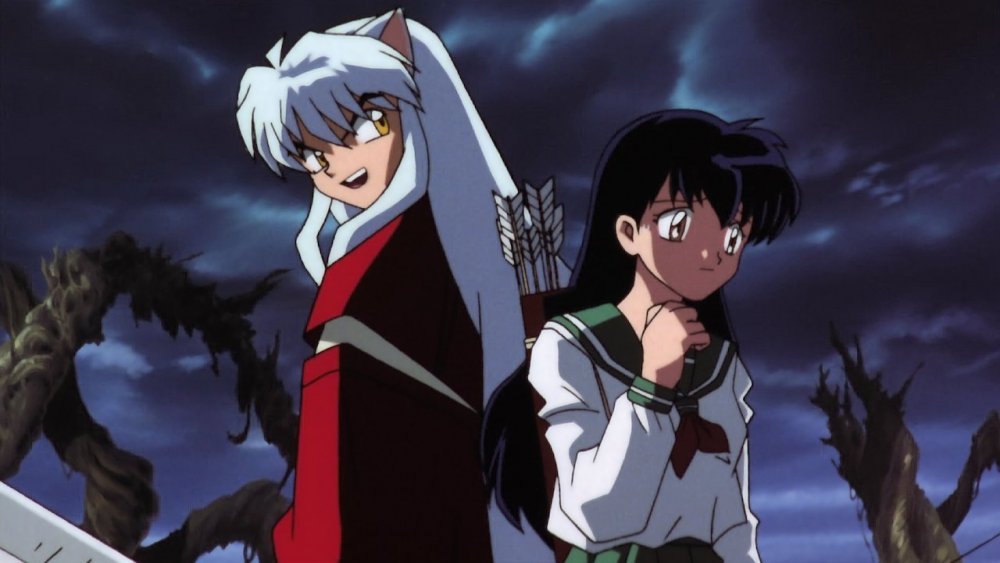 Aside from standalone films, there are plenty of movies that tie into beloved anime series, such as Inuyasha. Fans of Rumiko Takahashi's acerbic dog demon are in luck, because Netflix actually has all four of the Inuyasha films available to stream. It's best to start at the beginning, however, with the first of such films: Affections Touching Across Time. 
In this film, a demon named Menomaru has been released from his imprisonment to take vengeance against Inuyasha, whose father defeated Menomaru's father 200 years previously. Under the enchantment of Menomaru's lackeys, Kagome ends up pinning Inuyasha back to the tree where she found him at the start of the anime series. Her guilt and some prodding from Inuyasha's former lover Kikyo drive Kagome back to her own era, the modern age, where she finds she is still able to communicate with Inuyasha through time, and she finds the strength to return to the Feudal era and help her friends defeat the demon who is threatening them all. 
This is an excellent choice for anyone who is feeling nostalgic for those late nights they spent watching Inuyasha on Adult Swim, rooting for Inuyasha and Kagome to finally come to terms with their feelings for each other — though like the series itself, the film keeps that slow burn going strong.
Berserk: The Golden Age Arc I - The Egg of the King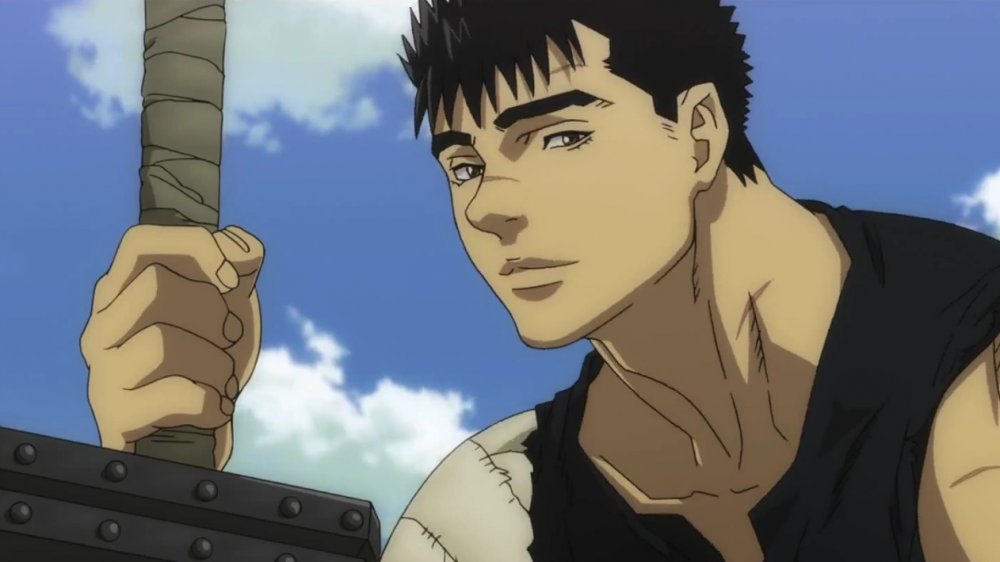 Though the Berserk manga has been running in Japan since the late '80s, and has seen various anime adaptations since the late '90s, there is something about Kentaro Miura's dark fantasy series that keeps cultivating new fans. Those fans can't possibly miss the three films that adapt the manga's "Golden Age" arc, all of which are available on Netflix. The first chapter in this series of films, The Egg of the King, follows series protagonist Guts, who finds himself forced to join the company of Griffith, leader of the Band of the Hawk. 
The two men come across a demon named Nosferatu Zodd, who warns Guts about Griffith. There is plenty of intrigue and violence, as a failed assassination attempt forces Guts to do something that, even though he is a hardened mercenary, fills him with guilt and regret. The Egg of the King sets the stage for the complicated relationship between Guts and Griffith, so viewers will want to follow this installment up with The Battle for Doldrey and The Advent, thus completing the arc.
The End of Evangelion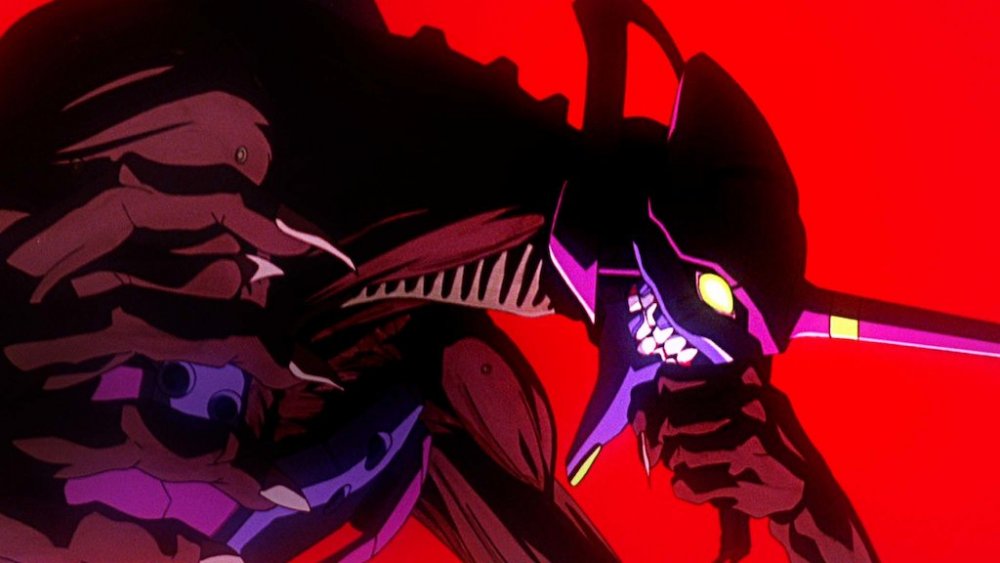 For many people, Neon Genesis Evangelion is synonymous with "anime." It was one of the first series that many North American fans of a certain age saw — and probably when they were a little too young to appreciate its complicated themes and messages. The End of Evangelion is a perfect film for anyone who loved the original anime but was left with questions by the end. The movie picks up, time-wise, where episode 24 leaves off, acting as an extended finale, providing an alternative to the anime's original close. 
As with anything involving Evangelion, the movie has been the subject of controversy among fans. Where the original series ended on a confusing but hopeful note, The End of Evangelion sees protagonist Shinji Ikari falling into an apathy that proves dangerous. This movie will be most appreciated after a marathon viewing of the original anime series — also available on Netflix!
Lu Over the Wall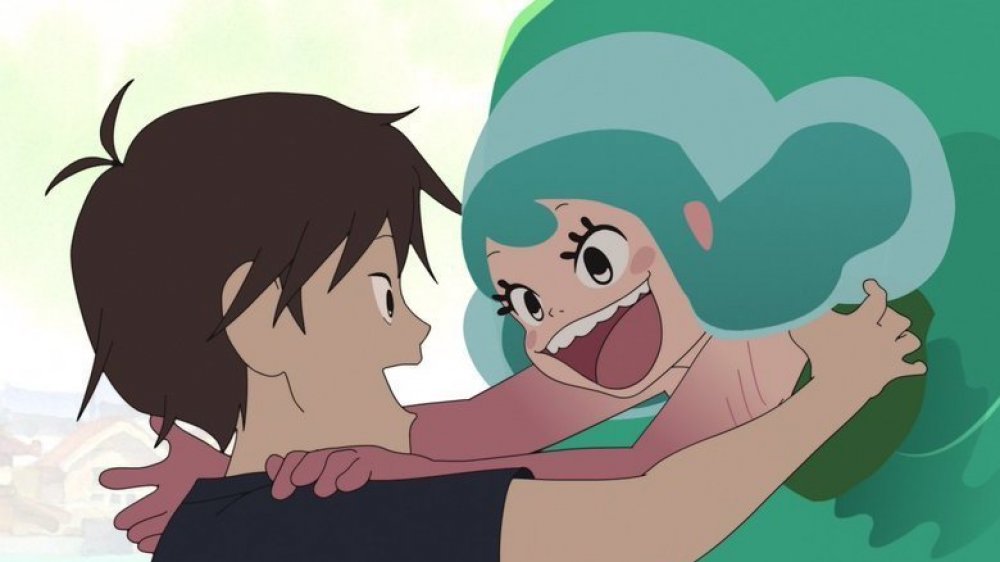 Director Masaaki Yuasa, already an established director in Japan, skyrocketed to Western fame at the beginning of 2019 with his extremely successful adaptation of Go Nagai's Devilman in the Netflix original series Devilman: Crybaby. Since then, his films The Night Is Short, Walk On Girl, Lu Over the Wall, and Ride Your Wave have graced the big screen and movie theaters all over America. Lu Over the Wall is now streaming on Netflix, bringing Yuasa's delightfully strange animation style into living rooms everywhere. 
The film centers on moody high school student Kai, who lives in a quiet fishing village and enjoys mixing music in his spare time. When he posts a video of his work online, a couple of schoolmates, Yuho and Kunio, see it and convince him to join their band, SEIREN. They practice out on Merfolk Island, a place tied to the town's legends about fearsome mermaids. While playing music, Kai hears a mermaid's song and becomes friends with Lu, a tiny mermaid with a penchant for singing. Of course, he tries to keep Lu a secret from the town until she plays a concert with SEIREN and accidentally becomes famous. The movie explores the relationship between Kai and Lu, as well as the harmful prejudices humankind perpetuates. The visuals don't disappoint, with Yuasa's signature stretched-out movement sequences in full force for jazzed-up dance sequences and all kinds of water acrobatics.
Pokemon the Movie: I Choose You!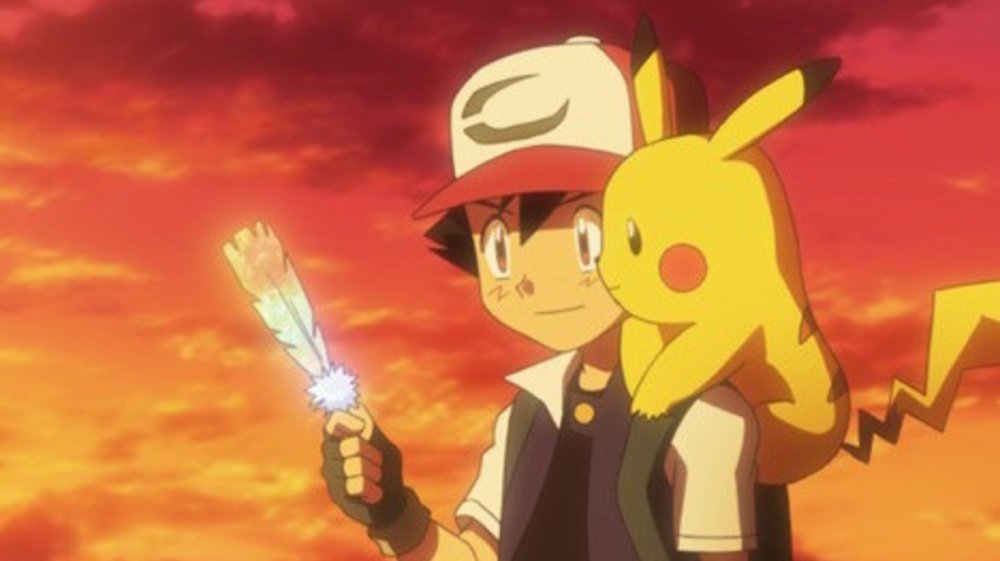 It's hard to imagine a time when Pokémon wasn't the driving media force in every child's life. While the cartoon series and the handheld video games are the most popular products of this franchise, it also boasts a trading card game, a host of adorable plush toys, plenty of clothing, and a gamified pedometer (remember the Pika Pet?). And all this started, at least in North America, with the first episode of the anime series: "Pokemon, I Choose You!" 
In 2017, that episode was remixed into Pokémon the Movie: I Choose You!, which starts off very similar to the anime series as 10-year-old Ash Ketchum sets out to receive his starter Pokémon and, instead of the Charmander, Bulbasaur, or Squirtle that he expected, he receives a recalcitrant Pikachu. Fans know how the story goes from there, but this film switches gears and sees Ash encountering the legendary Entei, a Pokémon that isn't introduced until the second generation of games, fairly early on. The movie continues to introduce newer Pokémon and movie-exclusive characters and adventures, but the throwback setting brings older and newer fans together for an enjoyable ride.