Shows You Should Be Watching If You Love Yellowstone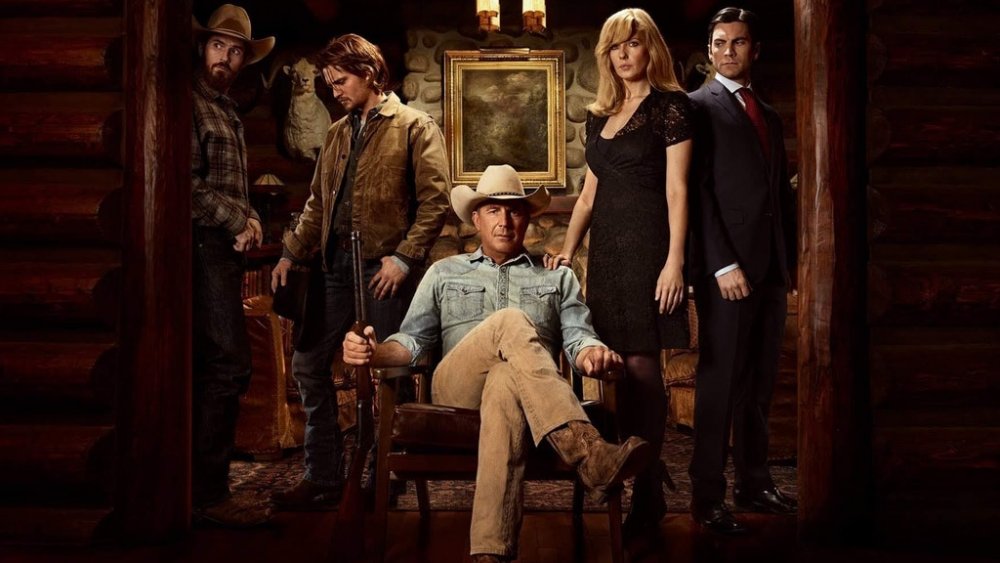 Paramount Network
Paramount Network's breakout neo-Western saga Yellowstone is only two seasons into its run, but it's already made a seismic impression on TV land. The Taylor Sheridan-created series has already scored impressive ratings and legions of fans since making its premiere back in 2018, and the future looks beyond bright for the series as Yellowstone's anxiously-awaited third season is nearing its premiere. 
There are lots of theories as to why the young series has connected so deeply with viewers, but the long and short of the show's runaway success can likely be attributed to Yellowstone's brilliant cast of players, fronted with stoic grace by big screen icon Kevin Costner. If there's another clear reason for the show's popularity, it's likely Yellowstone's uncanny ability to blend classic Western themes into a distinctly modern setting. For the uninitiated, that setting is modern day Montana, and Yellowstone finds Costner's John Dutton and his family defending their sprawling Big Sky Country ranch from all manner of sleazy politicians and greedy business types.
Of course, Yellowstone's success is probably also due to the fact that a lot of folks still really love a good Western. If you count yourself among them, then we've got good news for you, because Yellowstone is not the only great Western-styled series to hit the airwaves in recent years. Here's a look at a few shows you should be watching if you love Yellowstone.  
Godless is a killer classic Western with an amazing cast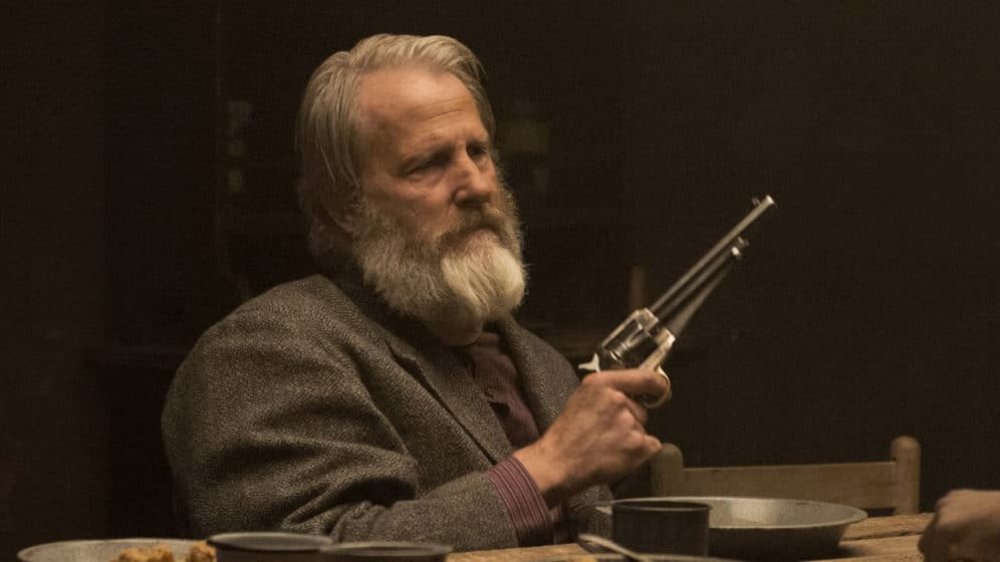 Netflix
Since it began producing original hit series, Netflix has unquestionably been at the forefront of the streaming game. Along the way, the giant has produced everything from teen sex dramas to haunted house chillers to action-packed superhero sagas. In 2017, Netflix decided it was time to venture into the time-honored Western genre, doing so with a mostly fantastic (if tragically short-lived) high-plains drama from the mind of screenwriter Scott Frank (Out of Sight, Minority Report, Logan).
Titled Godless, the series followed a notoriously violent outlaw who is hunting down his former prodigy. That hunt leads both men to the small New Mexico town of La Belle, which is inhabited almost entirely by women after a tragic mining accident. From there, let's just say things get sticky quickly for them as the tough-willed women of La Belle band together to defend what's theirs. Scripted with piercing wit and intellect, and featuring winning turns from Jeff Daniels, Michelle Dockery, Merritt Weaver, Scoot McNairy, and Jack O'Connell, Godless is a searing Western drama that deftly walks the line between true-blooded nihilism and spirited, soul-searching longing. 
Anyone who binged the seven episodes that comprised Godless' first season would likely tell you the same, it's one of the savvier Western series we've ever seen. Unfortunately, nowhere near enough people actually watched the Godless when it premiered, and it was cancelled after that seven episode run. Of course, it's still available to stream, and it's well worth discovering if you find yourself vibing with Yellowstone's darker edges. 
Longmire puts a modern spin on classic Western tropes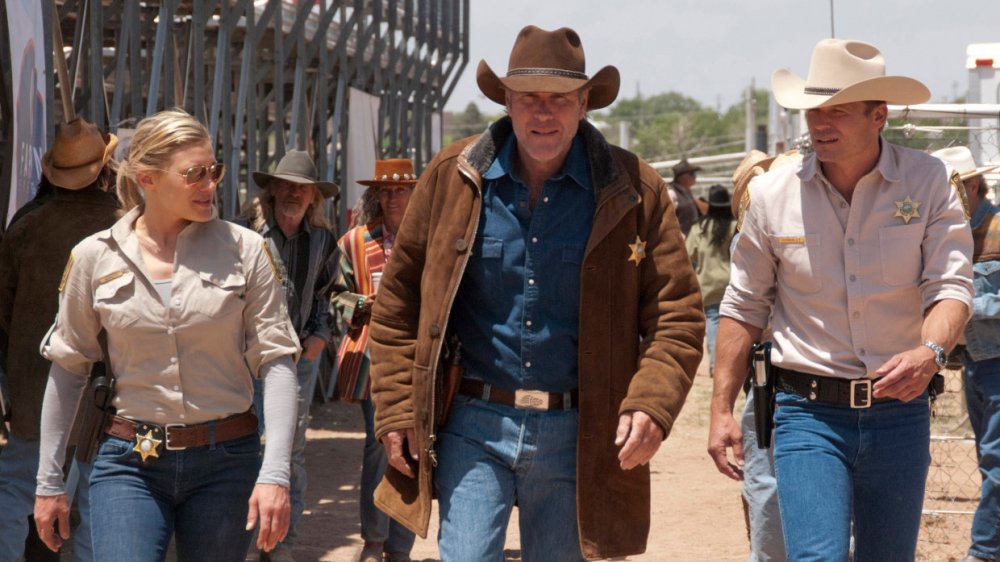 A&E/Netflix
If you're digging Yellowstone's unique blend of present day setting and classic Western tropes, then you really should've been on board with Longmire when it was on the air. Set among the majestic vistas of modern-day Wyoming, Longmire followed the travails of a grizzled, lawman (Robert Taylor) who finds his dedication to his job revived with the arrival of an ambitious young deputy (Battlestar Galactica's Katee Sackhoff). 
Longmire aired its first three seasons on A&E, and found a second life on Netflix after the cable network cut the show loose. The series actually aired three additional seasons once it went streaming, and the quality of the series (both narratively and production-wise) was undoubtedly bolstered after it made the jump. In short, Longmire is one of those rare series which actually improved over its final seasons.
And yes, in terms of style, narrative, and setting, Longmire is a clear precursor to what Taylor Sheridan and crew are now doing with Yellowstone. Longmire often even bests Yellowstone in the "traditional Western vibes" department, with Taylor actually out-Costnering Costner in unabashed cowboy cool and thousand-yard stares. Longmire, though, doesn't boast quite the creative pedigree as Paramount Network's current hit, so it does tend to lean a little heavily on its classic Western roots. (That's not necessarily a bad thing, just to be clear.)
Wynona Earp is the supernatural Western series we never new we wanted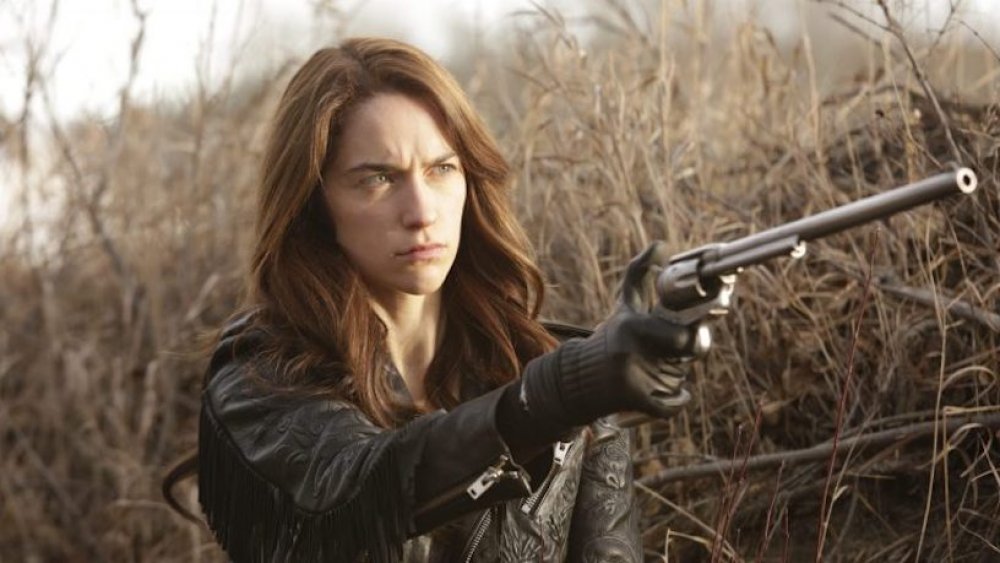 Syfy
For those of you looking for modern Western vibes with a paranormal edge, look no further than Syfy's daring series Wynonna Earp. Based on Beau Smith's popular graphic novel series of the same name, the series follows the titular enforcer (who is the great-great granddaughter of the famed lawman Wyatt Earp) as she tracks down all manner of demons, devils, and evil outlaw spirits (many of whom her famed kin dispatched personally) for the purpose of sending them back to the darkness from which they came.
For lack of a better description, Wynonna Earp is sort of a mashup of TV's long-running fantasy-slash-horror saga Supernatural and the classic 1993 Kurt Russell Western Tombstone, only with an unapologetic air of feminist energy. Yes, that combination of genres is every bit as exciting as it sounds, with Wynonna Earp serving up heaping doses of fantastical chills and full-blown Western thrills with undeniable glee and unflappable devotion. The entire series is anchored by the cocksure work of star Melanie Scrofano (Saw VI, Ready or Not), who imbues the titular character with a steely, Eastwoodian facade that rarely cracks.
Wynonna Earp already has three full seasons under its belt, all of which you can now stream on Netflix. There's a fourth season hitting Syfy sometime this summer, so if you want to get caught up on all the ghostly Western madness Wynonna Earp is bringing, you'd better get to binging.
Succession is another complex look at a deeply dysfunctional affluent family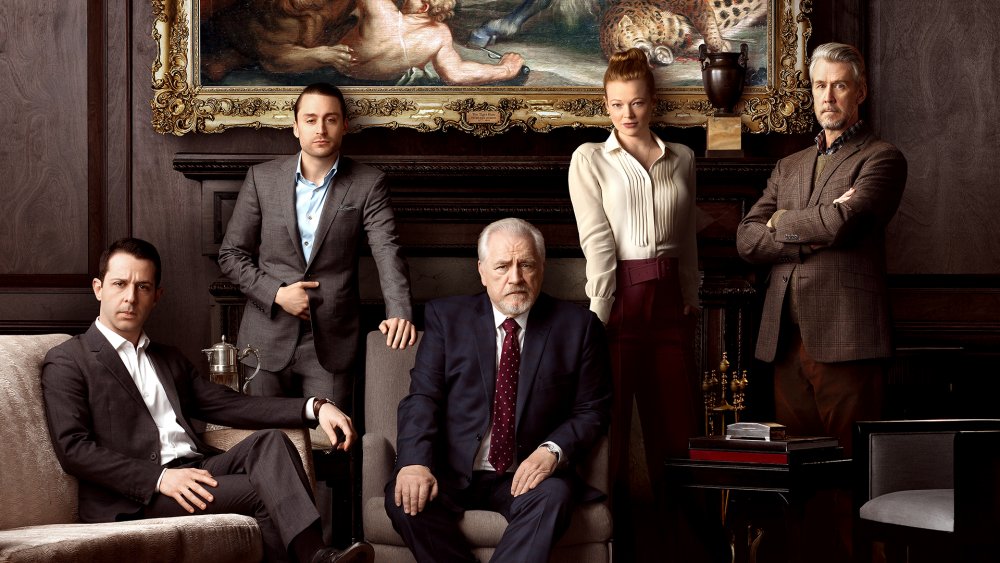 HBO
As much as we'd love to see the entirety of the viewing world get wholly swept up in a new small screen Western craze, we fully understand that many of you have zero interest in the world of cowboys and lawmen and such no matter what era it's set in. The good news is that Yellowstone is far from just a simple tale of cattlemen and land grabs. It also happens to be a compelling study of a wealthy, deeply dysfunctional family trying to cope with dubious outside forces even as they threaten to tear themselves apart from within.
Inasmuch, that makes Yellowstone a spiritual second cousin to another recent cable breakout, HBO's big business tragicomic Emmy winner Succession. In fact, upon initial inspection, the parallels between the two series are a bit startling, with each following an aging head of household searching for a successor to a prominent family business. Factor in a band of bickering siblings with three entitled brothers (we're counting Rip Wheeler as an unofficial Dutton for the purpose of this argument), and one ambitious sister all vying to take over the dynasty, and you've basically got the exact same family dynamic. 
Add in a ceaseless wave of double-dealing big business types, self-serving politicians, and all manner of opportunistic hangers-on, and, well, you've almost got the exact same show. Only Succession is way funnier, features fewer guns, and is set largely within the icy confines if New York's gilded palaces of business. So yeah, for those of you who prefer your backbiting family drama with champagne and finely suits tailored instead of cold beer and cowboy hats, Succession is the show for you.