Shows You Should Be Watching If You Love Yellowstone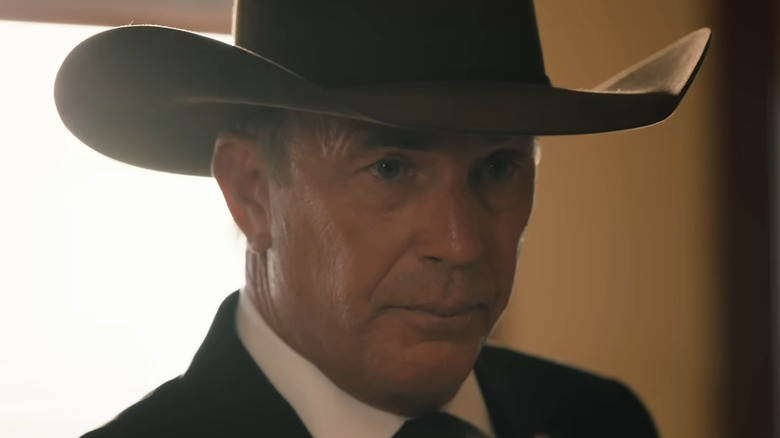 Paramount Network/YouTube
Paramount Network's neo-Western saga "Yellowstone" has made a seismic impression on the TV landscape. The Taylor Sheridan-created series has scored impressive ratings and legions of fans since making its premiere back in 2018, and the future looks beyond bright for the series.
There are lots of theories as to why fans love "Yellowstone" so much, but the long and short of the show's runaway success can likely be attributed to the brilliant cast of "Yellowstone," fronted with stoic grace by big-screen icon Kevin Costner. If there's another clear reason for the show's popularity, it's likely its uncanny ability to blend classic Western themes into a distinctly modern setting. For the uninitiated, that setting is modern-day Montana, and "Yellowstone" finds Costner's John Dutton and his family defending their sprawling Big Sky Country ranch from all manner of sleazy politicians and greedy business types.
Of course, the show's success is probably also due to the fact that a lot of folks still really love a good Western. If you count yourself among them, then we've got good news for you, because "Yellowstone" isn't the only great series of its type to hit the airwaves in recent years. Here's a look at a few shows you should be watching if you love "Yellowstone."  
Joe Pickett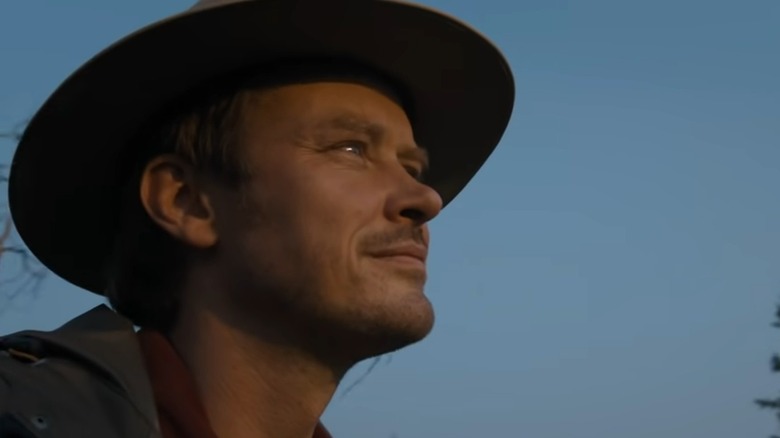 Paramount+/YouTube
If you want a neo-Western set on wide open ranges and centered on a man out to protect the land around Yellowstone — and you like your heroes in cowboy hats — look no further than the Paramount+ original "Joe Pickett." Launched at the tail end of 2021, the series is based on the long-running series of novels by C.J. Box, which chronicles the exploits of the titular Wyoming game warden. In a time of great upheaval in the region, Pickett must keep the peace in his small community. The series stars Michael Dorman and Julianna Guill as Joe Pickett and his wife Marybeth.
A more somber series with a different kind of do-gooder, Pickett is less the brazen firebrand you might find in other neo-Westerns. Instead, he's a cool-headed, calm, and collected justice-seeker who only uses violence as a last resort. when the series begins, he's also something of an outcast in his community for having once arrested the Wyoming governor for fishing without a license. While Pickett is often overlooked, he seems to relish being underestimated, even using it to his advantage when going after dangerous poachers, investigating murders, or digging into local corruption cases.
Joined by his intrepid investigating wife Marybeth, Pickett is a Western lawman for a new generation. An absolutely underrated crime drama, "Joe Pickett" is definitely worth the watch.
Mayor of Kingstown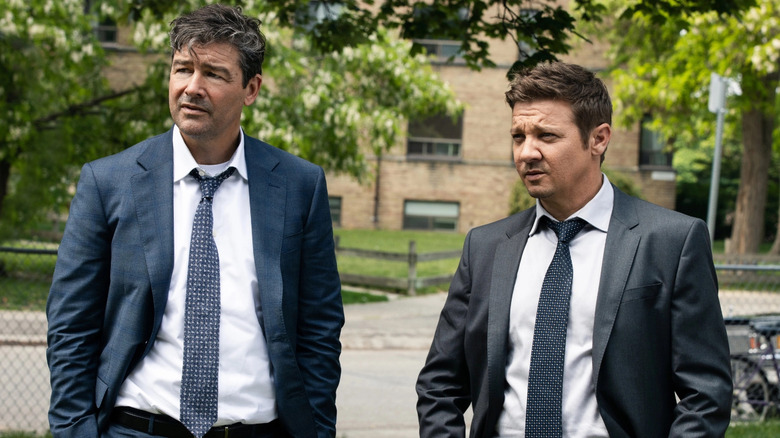 Emerson Miller/ViacomCBS
"Yellowstone" was the first major TV series for creator Taylor Sheridan, and with its success came a quick order for the producer to develop a new show. The result was the Paramount+ series "Mayor of Kingstown," a crime drama with a very different setting from "Yellowstone," but with all of the same high levels of suspense, drama, and excitement. Debuting in 2021, the series has an all-star cast led by Jeremy Renner, Dianne Wiest, and Kyle Chandler.
"Mayor of Kingstown" puts a spotlight on the American legal system, with a focus on the political side of things. Like "Yellowstone," it centers on a single influential family, the McLusky clan, whose power seems limitless in an area that feeds the industry of incarceration. Renner stars as Mike McClusky, a former felon himself who rises through the ranks to become the eponymous but figurative mayor of Kingstown, Michigan. As the prisons have long since become the only source of revenue, he and his family serve as a conduit between law enforcement, politicians, convicts, and employees of the prisons, and they manipulate every aspect of the system.
Touching on topical and sensitive subject matters, "The Mayor of Kingstown" examines racism, prejudice, and corruption within America's prisons, and has been hailed as another triumph for "Yellowstone" creator Sheridan.
Blood and Oil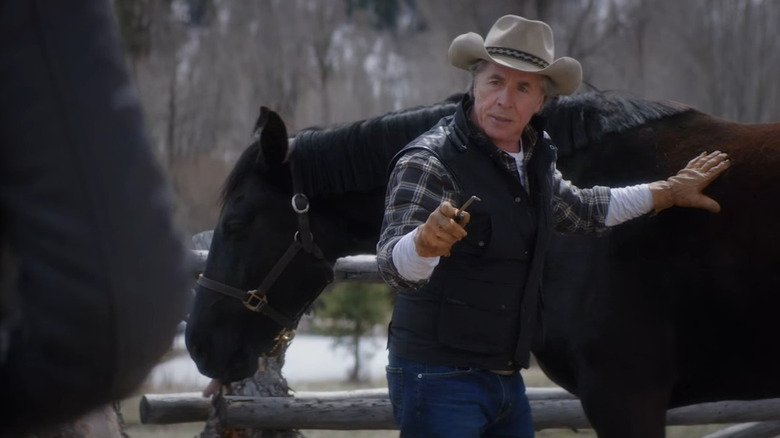 ABC/YouTube
If you like the family drama in "Yellowstone" and its big-name star as the family patriarch, don't miss out on "Blood and Oil," the series that stars Don Johnson ("Miami Vice") as the head of a powerful oil clan. A bit lighter on the action, "Blood and Oil" brings the family problems front and center in what is admittedly more like a soap opera than a crime drama. Though the rest of the cast isn't as famous as Johnson, some recognizable names include Chace Crawford ("The Boys"), Delroy Lindo ("The Good Fight"), and Peyton List ("Star Trek: Picard").
In the series, Crawford plays Billy LeFever, a young newly married man who takes his wife to North Dakota to start their new life. But when an oil boom hits the area, Billy is convinced to seek his fortune by wealthy tycoon Harlan "Hap" Briggs, who begins to see him as a surrogate son after his own child, Wick Briggs, has a fall from grace. A new rivalry begins between Briggs, LeFever, and former beloved son Wick, who wants back what he believes is rightfully his.
Often compared to a modern-day take on the prime-time classic "Dallas," this 2021 series only ran for a single season. But its short run serves it well, as its soapy melodrama may have gotten old if it had gone too long. Instead, as a limited series of sorts, it should appeal to fans of "Yellowstone" who love the bitter feuds within the Dutton family.
Justified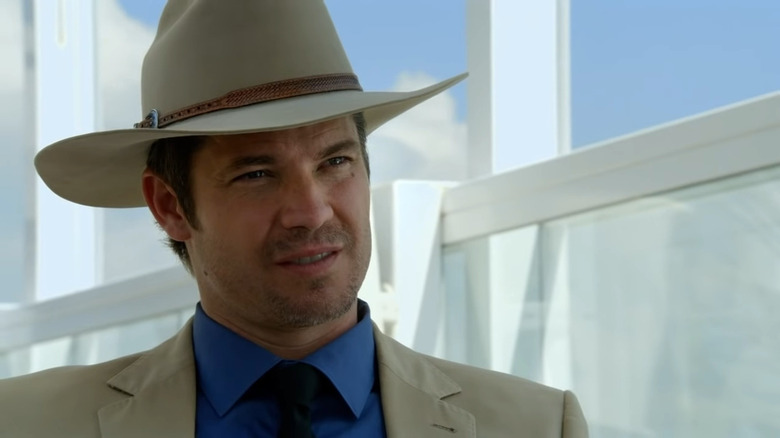 FX/YouTube
Starring Timothy Olyphant, the acclaimed FX series "Justified" is based on the works of crime fiction luminary Elmore Leonard, set in the rural outskirts of Kentucky where drugs, corruption, and criminal mischief run rampant. Olyphant plays Deputy U.S. Marshal Raylan Givens — a smooth, fast-drawing agent who takes on the toughest federal fugitives.
Reassigned to his old stomping grounds after a questionable fatal shooting in Miami, Givens quickly comes up against gangster Boyd Crowder (Walton Goggins), who's both married to his old flame Ava but the leader of some drug-slinging thugs who have their eye on ruling the backwoods of Harlan County. While Crowder is an ever-present thorn in his side, he's not the only danger Givens must contend with. He also comes into conflict with the Dixie Mafia, gets drawn into a decades-old gangster feud, goes to war with a rival family, and even goes up against his own former felon father Arlo.
Fans of "Yellowstone" will no doubt love the show's fast-paced action and adrenaline-pumping thrills, but there's plenty of family drama and local politics that cause Givens even more grief. Plus, keep an eye out for actor Neal McDonough — Malcolm Beck on "Yellowstone" — who shows up in "Justified" Season 3 as the similarly ruthless mafia madman Robert Quarles.
Godless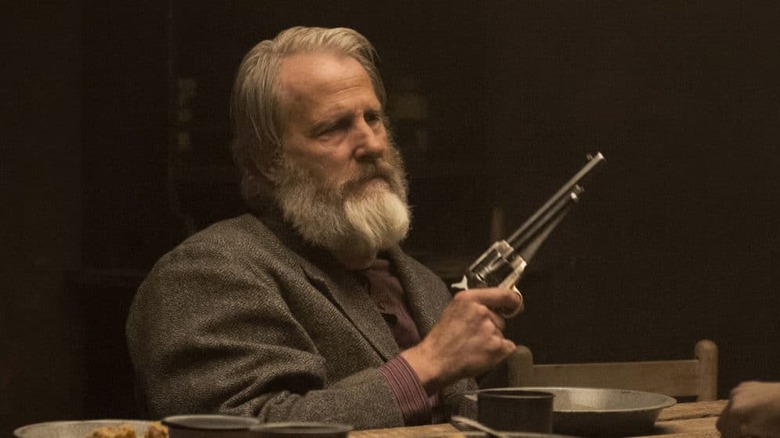 Netflix
Since it began producing original hit series, Netflix has unquestionably been at the forefront of the streaming game. Along the way, the giant has produced everything from teen sex dramas to haunted house chillers to action-packed superhero sagas. In 2017, Netflix decided it was time to venture into the time-honored Western genre, doing so with a mostly fantastic (if tragically short-lived) high-plains drama from the mind of screenwriter Scott Frank ("Minority Report," "Logan").
Titled "Godless," the series followed a notoriously violent outlaw who is hunting down his former prodigy. That hunt leads both men to the small New Mexico town of La Belle, which is inhabited almost entirely by women after a tragic mining accident. From there, let's just say things get sticky quickly for them as the tough-willed women of La Belle band together to defend what's theirs. Scripted with piercing wit and intellect, and featuring winning turns from Jeff Daniels, Michelle Dockery, Merritt Weaver, Scoot McNairy, and Jack O'Connell, "Godless" is a searing Western drama that deftly walks the line between true-blooded nihilism and spirited, soul-searching longing. 
Anyone who binged the seven episodes that comprised "Godless" Season 1 would likely tell you the same, it's one of the savvier Western series we've ever seen. Unfortunately, nowhere near enough people actually watched "Godless" when it premiered, and it was canceled after that seven-episode run. Of course, it's still available to stream, and it's well worth discovering if you find yourself vibing with the darker edges of "Yellowstone." 
Longmire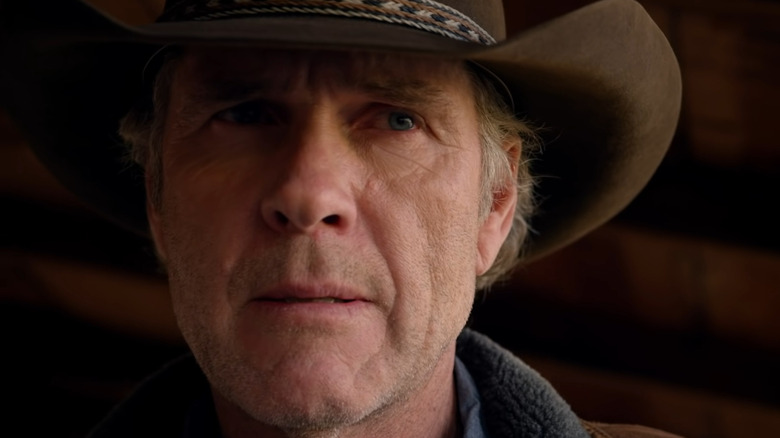 Netflix/YouTube
If you're digging the unique blend of present-day setting and classic Western tropes in "Yellowstone," then you really should've been on board with "Longmire" when it was on the air. Set among the majestic vistas of modern-day Wyoming, "Longmire" followed the travails of a grizzled, lawman (Robert Taylor) who finds his dedication to his job revived with the arrival of an ambitious young deputy (Katee Sackhoff). 
Longmire aired its first three seasons on A&E, and found a second life on Netflix after the cable network cut the show loose. The series actually aired three additional seasons once it went streaming, and the quality of the series (both narratively and production-wise) was undoubtedly bolstered after it made the jump. In short, "Longmire" is one of those rare series that actually improved over its final seasons.
And yes, in terms of style, narrative, and setting, "Longmire" is a clear precursor to what Taylor Sheridan and crew are now doing with "Yellowstone." "Longmire" often even bests Yellowstone in the "traditional Western vibes" department, with Taylor actually out-Costnering Costner in unabashed cowboy cool and thousand-yard stares. "Longmire," though, doesn't boast quite the creative pedigree as Paramount Network's current hit, so it does tend to lean a little heavily on its classic Western roots. (That's not necessarily a bad thing, just to be clear.)
Wynona Earp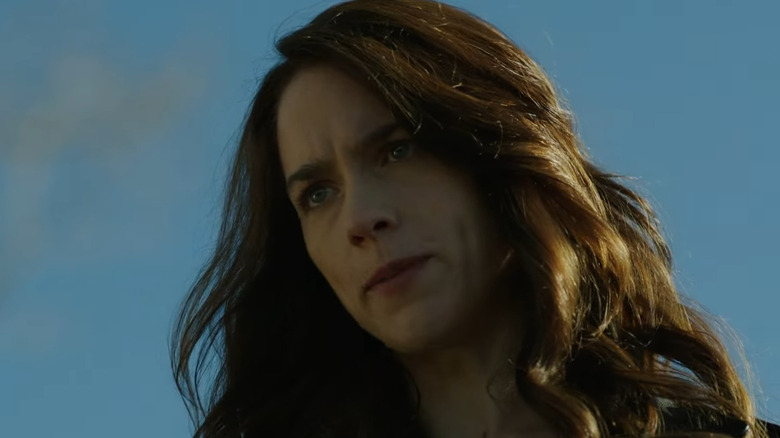 Syfy/YouTube
For those of you looking for modern Western vibes with a paranormal edge, look no further than Syfy's daring series "Wynonna Earp." Based on Beau Smith's popular graphic novel series of the same name, the series follows the titular enforcer (who is the great-great-granddaughter of the famed lawman Wyatt Earp) as she tracks down all manner of demons, devils, and evil outlaw spirits (many of whom her famed kin dispatched personally) for the purpose of sending them back to the darkness from which they came.
For lack of a better description, "Wynonna Earp" is sort of a mashup of TV's long-running fantasy-slash-horror saga "Supernatural and the classic 1993 Kurt Russell Western "Tombstone," only with an unapologetic air of feminist energy. Yes, that combination of genres is every bit as exciting as it sounds, with "Wynonna Earp" serving up heaping doses of fantastical chills and full-blown Western thrills with undeniable glee and unflappable devotion. The entire series is anchored by the cocksure work of star Melanie Scrofano ("Saw VI," "Ready or Not"), who imbues the titular character with a steely, Eastwoodian facade that rarely cracks.
"Wynonna Earp" already has three full seasons under its belt, all of which you can now stream on Netflix. There's a fourth season hitting Syfy sometime this summer, so if you want to get caught up on all the ghostly Western madness "Wynonna Earp" is bringing, you'd better get to binging.
Succession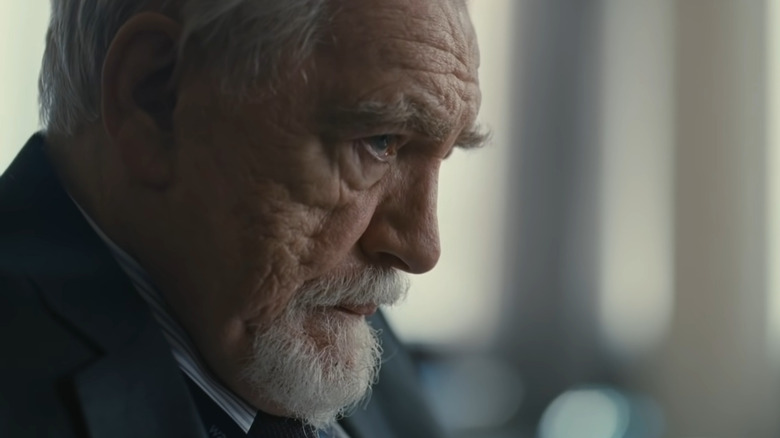 HBO/YouTube
As much as we'd love to see the entirety of the viewing world get wholly swept up in a new small-screen Western craze, we fully understand that many of you have zero interest in the world of cowboys and lawmen no matter what era it's set in. The good news is that "Yellowstone" is far from just a simple tale of cattlemen and land grabs. It also happens to be a compelling study of a wealthy, deeply dysfunctional family trying to cope with dubious outside forces even as they threaten to tear themselves apart from within.
Inasmuch, that makes "Yellowstone" a spiritual second cousin to another recent cable breakout, HBO's big business tragicomic Emmy winner "Succession." In fact, upon initial inspection, the parallels between the two series are a bit startling, with each following an aging head of household searching for a successor to a prominent family business. Factor in a band of bickering siblings with three entitled brothers (we're counting Rip Wheeler as an unofficial Dutton for the purpose of this argument), and one ambitious sister all vying to take over the dynasty, and you've basically got the exact same family dynamic. 
Add in a ceaseless wave of double-dealing big business types, self-serving politicians, and all manner of opportunistic hangers-on, and, well, you've almost got the exact same show. Only "Succession" is way funnier, features fewer guns, and is set largely within the icy confines of New York's gilded palaces of business. So yeah, for those of you who prefer your backbiting family drama with champagne and finely suits tailored instead of cold beer and cowboy hats, "Succession" is the show for you.  
Outer Range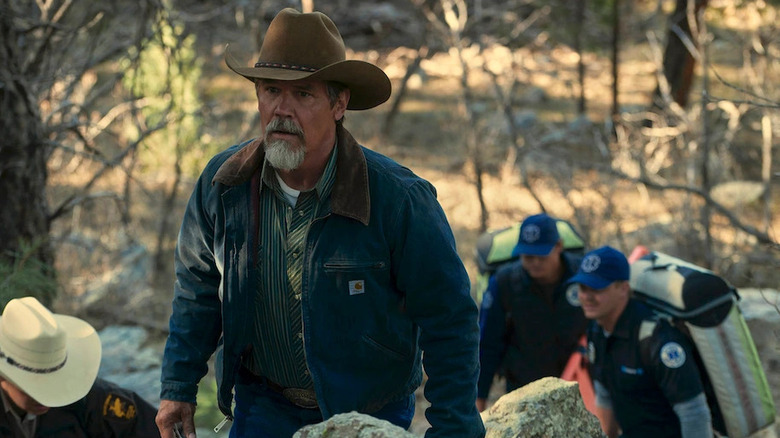 Richard Foreman/Prime Video
If you want a show with warring families in the West and heroes in cowboy hats on horseback — and you want something a bit more fantastical — check out Amazon's "Outer Range," which debuted in 2022. Often compared to "Yellowstone," the series is also led by a big screen star in Josh Brolin, whose daughter Eden coincidentally stars as Mia on the Taylor Sheridan series. But while there's plenty in common between the two shows, "Outer Range" diverges fairly quickly, mixing in some surprising science fiction elements.
In "Outer Range," Brolin takes on the role of Royal Abbott, a rancher on the frontiers of Wyoming who's perplexed by the sudden appearance of a large and unexplainable hole in the ground. At the same time, a young woman named Autumn drifts into town and comes to live with the Abbotts, and her intentions are anything but clear. But as Royal looks to solve the mystery of their strange discovery, they must also contend with the Tillerson clan, a family at war over their land and willing to do anything to get what they want.
An engrossing, action-packed thriller with a stunning mystery at its center, there are plenty of shades of "Yellowstone" here, with criminal rivals and family drama. But with a unique sci-fi twist and more than one major revelation, "Outer Range" also offers up plenty of its own flavor to become something entirely unique.
Big Sky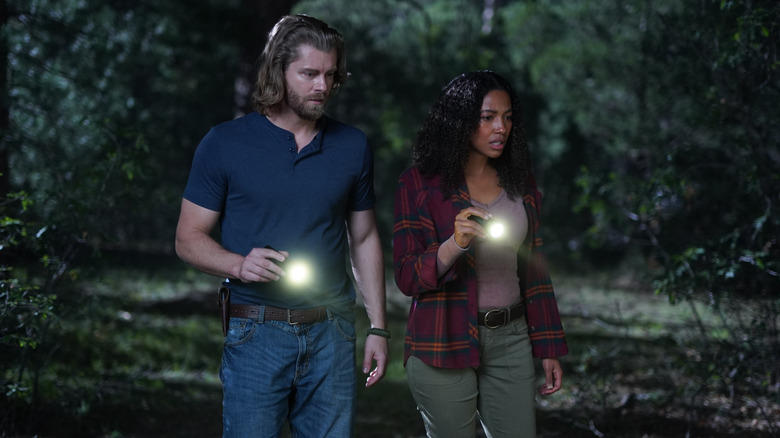 ABC/Michael Moriatis
"Big Sky" is another family-focused crime drama like "Yellowstone," but it also shares its setting, from where the show takes its title. From the mind of TV producing legend David E. Kelley — the man behind iconic shows like "Doogie Howser, M.D.," Chicago Hope," and "Big Little Lies" — this sprawling epic takes place in Lewis and Clark County, Montana, just a few hours north of the Yellowstone Dutton Ranch. 
The all-star cast of "Big Sky" includes Jensen Ackles, Katheryn Winnick, Reba McEntire, Ryan Phillippe, Logan Marshall-Green, and Michelle Forbes, as well as standout performances from new stars Kylie Bunbury, Jesse James Keitel, and Brian Geraghty. Primarily a detective series, it begins with a private investigator looking into a string of highway kidnappings that unfurls a web of lies and murder, threatening to expose some of the dark secrets hidden by those involved.
Based on a series of novels called "The Highway" by C.J. Box — the author behind "Joe Pickett" — the series is full of twists, turns, and strong performances. Loaded with high-octane run-and-gun action and a surprising amount of violence, it's a great next watch for anyone who loves "Yellowstone."
American Rust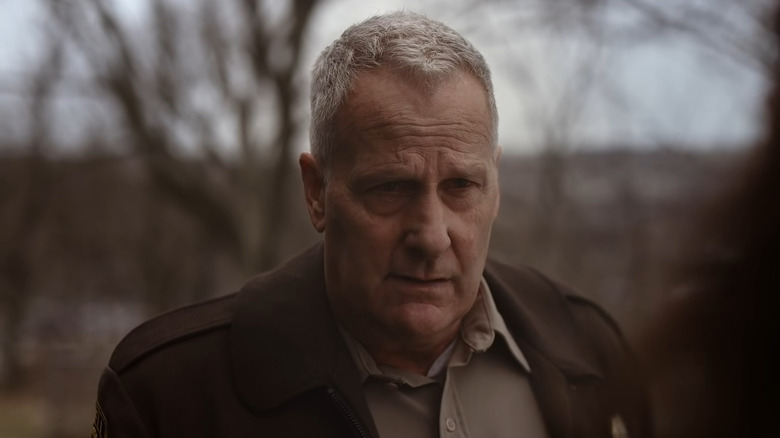 Showtime/YouTube
Another neo-Western led by a major Hollywood actor, "American Rust" stars Jeff Daniels and is based on a novel by author Philipp Meyer (whose book "The Son" was also adapted into a modern TV Western starring Pierce Brosnan). A crime drama centered on a chief of police in a small town in Western Pennsylvania, "American Rust" shares many of its themes with "Yellowstone," as it examines the loss of the American dream and the socio-economic and political changes in the Midwest. But this time, that all serves as the backdrop for a grizzly murder investigation.
Centered on chief of police Del Harris (Daniels), the series sees life in Buell, Pennsylvania turned upside down after a violent murder. But when a suspect in the killing turns out to be Alex Poe, the son of Harris' lover Grace (Maura Tierney, "ER"), the chief finds himself searching for new answers. The real star of the show is the town of Buell itself, a run-down burg far removed from the vibrant midwestern cities that many may be more familiar with. Here, the town's population is falling, its people are losing hope, and some have gotten desperate.
A grim portrayal of a town in dire straights and a man looking for a killer, "American Rust" has split critics and audiences, some of whom couldn't reconcile with its bleak tone. But just as John Dutton wants to save the beauty of the Yellowstone Ranch, Harris hopes to hold onto his dwindling way of life in this captivating murder story. 
The Red Road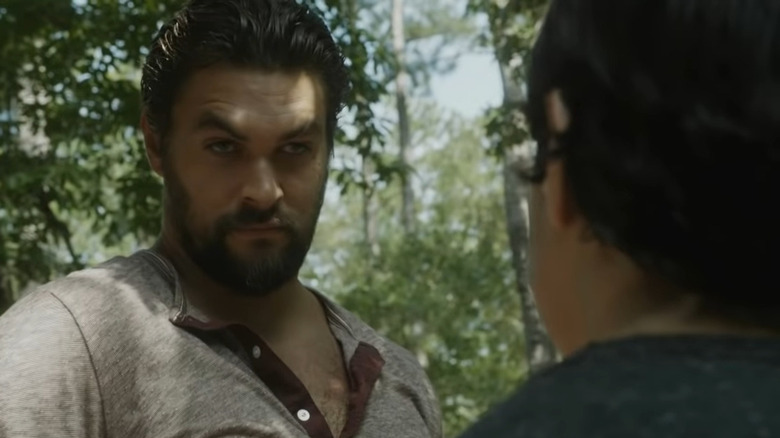 SundanceTV/YouTube
A major element of "Yellowstone" is the precarious nature of the Broken Rock Indian Reservation situated next door to the Yellowstone-Dutton Ranch. With its people struggling to survive, they often clash with the surrounding regions. On "The Red Road," superhero star Jason Momoa carries those themes forward, leading a series that focuses on the problems faced by the very real Ramapough Lenape Nation located in Northern New Jersey.
Martin Henderson ("Grey's Anatomy") stars as Sheriff Harold Jensen, a white police officer in the fictional town of Walpole, NJ. He's investigating the disappearance of a local man in the Ramapo Mountains that crisscross the border between New Jersey and New York when he encounters Phillip Kopus (Momoa), an ex-con and member of the Ramapough Lenape Nation. As Jensen deals with his own fractured family life, he's challenged with maintaining the peace between the two neighboring communities. But when circumstances conspire against them both, Kopus and Jensen must put aside their differences to work together, and neither of their lives will ever be the same.
A stark reminder of the real issues that still plague indigenous peoples, "The Red Road" is definitely worth a watch.