The Reason Kevin Costner Thinks Fans Love Yellowstone So Much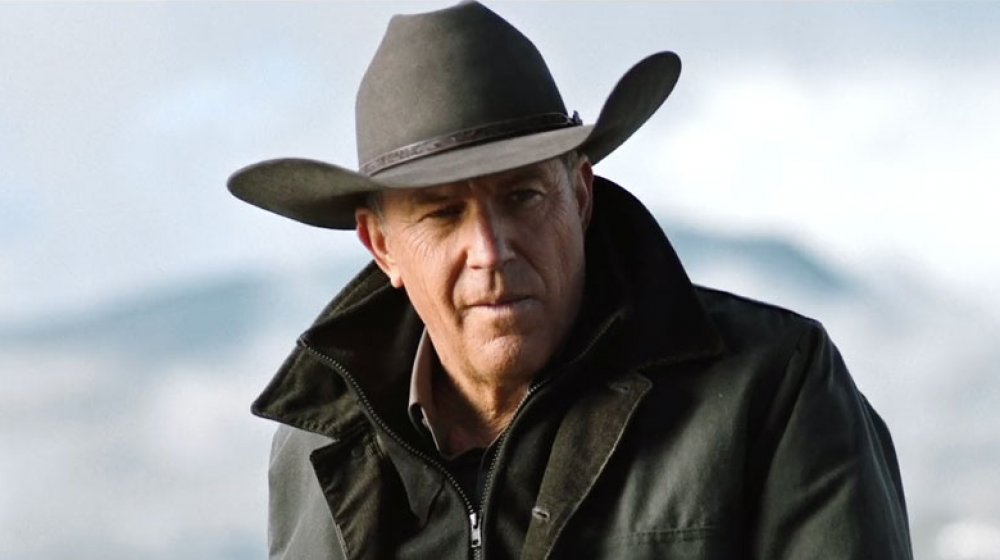 Paramount
There's a reason that Kevin Costner is so good in the Paramount Network series Yellowstone; he has a personal connection to the material, and he's pretty sure that its fans do, too.
Two seasons in, Costner has had plenty of time to reflect on how the show has become so popular among viewers. According to CinemaBlend, there's an extra feature on the DVD and Blu-ray set for season 2 of the show in which the actor, who plays rancher John Dutton, talks about what he thinks fans love about it. 
"When you combine story and drama... set against the image of the American West, set against a lifestyle that's still going on to this day, which is the harvesting of cattle, in places that are still pristine, still beautiful, and actually sit right on top of a great American tragedy in terms of history, the image of somebody making a living on a horse with the idea that almost everything he owns is on that horse, there's something kind of free about it," the actor said. "People are drawn to that. And if you put a story inside that, you hear the heartbeat of a show that is catching the imagination of the people." 
The actor has talked about this before, notably in April 2019, in advance of the debut of Yellowstone's second season. "The idea of seeing wide open spaces, when the land was almost like the Garden of Eden," Costner told Deadline at that time. "To know that places like this still exist in our country, adding drama against its backdrop, and actually understand in the realest terms that the meat that arrives on our table is still coming from somewhere. It's coming from people that are getting up early in the morning and work really late... I am drawn to that, and I don't know many people that aren't."
Costner took a risk on Yellowstone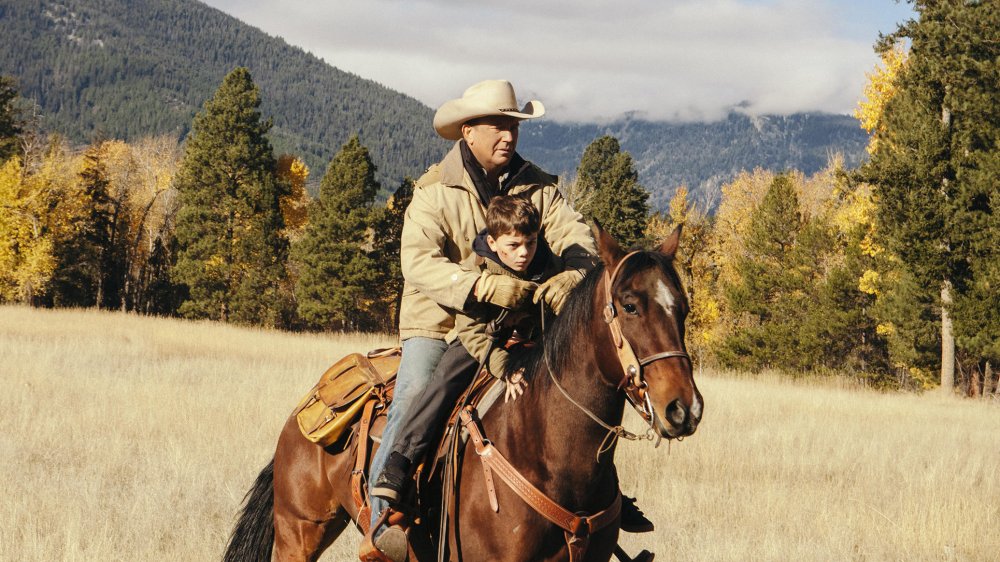 Paramount
Costner isn't kidding about those stunning places. The series follows a family in Montana running their ranch in the shadow of Yellowstone National Park' with a location like that, the views are indeed idyllic and peaceful. Of course, there's much more to the story than simply a great view. The land surrounding Yellowstone is prime real estate, and the show follows the Dutton family as they fight to keep their land out of the hands of developers, major corporations, and even politicians. 
It's easy to believe that those picturesque, scenic views are part of the reason Costner agreed to get on board with Yellowstone, and the modern twist on a classic wild west story also wouldn't have hurt for an actor who has played the cowboy before. But Costner has admitted that he was a little leery of taking on such a significant commitment with no guarantee of success, eventually agreeing simply because he felt the show needed to get made. "I felt like in a way a lot of it had been put together because of me agreeing to do it," he told Good Morning America in June 2019. "I thought actually if I would have said that I wouldn't do it, it would have crumbled before it got started. I took the weight on of emotionally not wanting to have the show crumble."
Fortunately for Costner, his risk has paid off. The show grew from strength to strength, with season 2's rating and viewership only improving on the first season's. As a result, Yellowstone's third season was already announced back in June 2019, a year ahead of its release date. 
As he hinted at while speaking to GMA, Costner's name alone could be credited with bringing a great many fans to the series in the first place, so it's easy to justify his rather sizable paycheck. All things considered, Costner has earned his $500,000 payday for each episode of Yellowstone. The actor is easily the biggest name on the cast list, bringing a wealth of experience in the genre with him as well. Being the patriarch of the family, he also spends the most time on camera of the entire cast. 
"A more vulnerable way to go through life"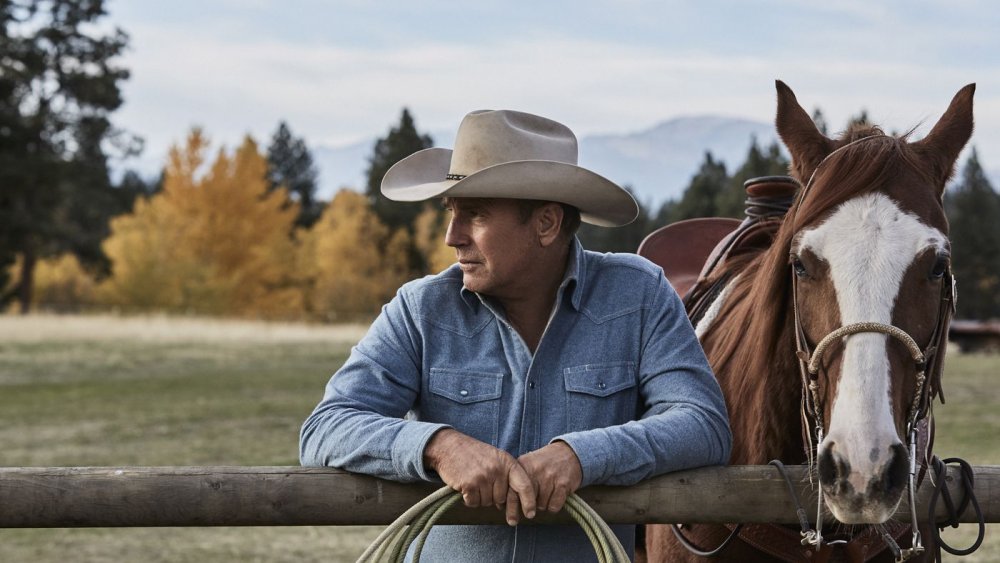 Paramount
Costner has previously portrayed the old cowboy lifestyle in Open Range, Dances With Wolves, Silverado, and Wyatt Earp. The major difference here, of course, is that Yellowstone is not a historical look at the West and a farming lifestyle, but is set in modern day America. The lifestyle, though, is clearly one that appeals to Costner, who actually owns his own ranch in Aspen, Colorado.
Despite his experience with that lifestyle, however — both on-screen and in real life — Costner admits that it's been tough getting used to life as a series actor after spending most of his career on the big screen, even telling IndieWire, "It hasn't been an easy adjustment for me. I don't like it too much."
Part of what has been so difficult for the actor is not knowing where things are going. Whereas a movie script normally lays out the whole plot for the cast to familiarize themselves with before filming starts, that's not necessarily the case when working on a series. "I'm not always privy to it," he said of the plot's twists and turns. "Sometimes with [John's] sons or wife or whatever, that's been really kept in a creative ball. That's a more vulnerable way to go through life as an actor." 
After a violent second season with plenty of lives shattered, season 3 has plenty of ground to cover as the Dutton family tries to repair the damage. Costner admitted that Dutton himself has some changes to make in the upcoming season, although how many of those changes will actually be made —and whether Costner even knows what they entail at this point — is a mystery. 
With the season 2 finale leaving a number of questions left unanswered — and scoring the highest ratings in the series' history — it seems likely that Yellowstone is poised to enjoy continued success. The third season premieres on Paramount Network on June 17, 2020.