Live-Action Rapunzel - Will It Ever Happen?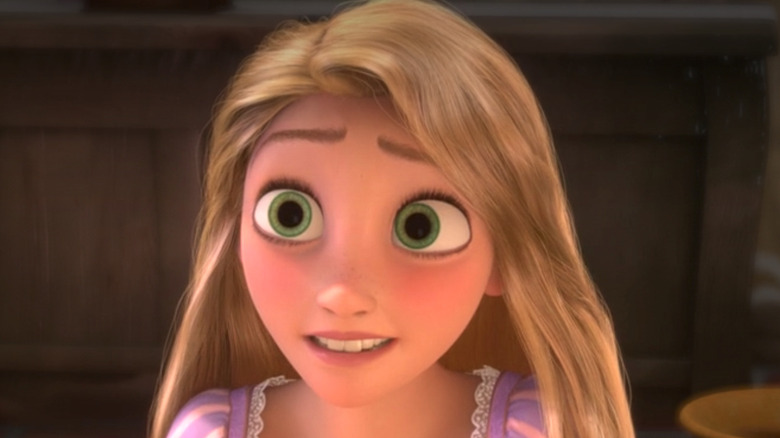 Walt Disney Studios Motion Pictures
The charming 2010 Disney animated feature "Tangled" follows Rapunzel (Mandy Moore), a princess stolen as a baby by Mother Gothel (Donna Murphy) in order to help the villain maintain her youth. She's locked in a tower, but as her 18th birthday approaches, she escapes her confinement with the rascal Flynn Rider (Zachary Levi) and embarks on an adventure wherein she discovers who she is and finds her freedom. She ultimately hooks up with Flynn and is reinstated as a princess.
The story is fun, light-hearted, and proved to be a hit with critics and audiences following its release. Packed with whimsy, magic, and humor — not to mention a truly stellar voice cast — it's no wonder the House of Mouse pegged the fairytale at the heart of the story as the stuff worthy of a live-action remake in 2020. The studio has trotted out a slew of live-action remakes and spin-offs of their animated classics in recent years, including "Dumbo," "Cruella," "Lady and the Tramp," "The Lion King," and "Aladdin," with the last two titles in this line-up cracking the billion-dollar mark at the box office (via The Numbers and Box Office Mojo, respectively).
With so much box office success, it comes as no surprise that the studio is busy planning as many live-action remakes as possible — a list that now appears to include the long-haired heroine Rapunzel. According to an exclusive report from fansite The DisInsider published in February 2020, the studio greenlit development on a live-action version of this, ahem, hairy-tale. Here's what we know so far.
A live-action Rapunzel movie is still in the development stage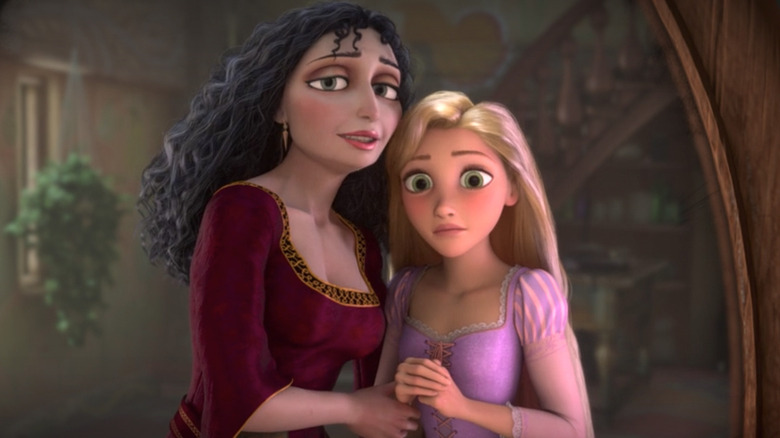 Walt Disney Studios Motion Pictures
It's unclear how active development on the live-action Rapunzel movie is as of early February 2022. At the time of this update, a release date has not been announced for Disney's live-action Rapunzel movie. These days, Disney may be juggling a multitude of projects at any given moment; it's difficult to pin down when to expect recently-announced releases like Rapunzel. Even if a date is revealed, one can never be sure it will stick due to concerns related to the COVID-19 pandemic's impact on prospective audiences. (For further proof, see also: "Black Widow," "Soul," and "Shang-Chi and the Legend of the Ten Rings.")
Just like the release date, we still do not know who will be headlining, supporting, or doing the antagonizing in the live-action Rapunzel film. In August 2020, rumors swirled that "Spider-Man: No Way Home" actor Tom Holland may have been tapped to play a live-action Flynn Rider, but the actor put that speculation to bed while on the "Capital Breakfast with Roman Kemp" radio show.
In their original report, The DisInsider included some details about the production team. The report named Ashleigh Powell, who contributed to the script for Disney's "The Nutcracker and The Four Realms" as a screenwriter. Michael De Luca ("The Social Network," "Moneyball") was reportedly on production duties, as was Kristin Burr, whose past production credits include two other Disney live-action films: "Christopher Robin" and "Cruella." Executive producers Zoe Kent, Jessica Virtue, and Lucy Kitada were attached as of February 2020.
Previous live-action remakes set an interesting standard for the planned Rapunzel movie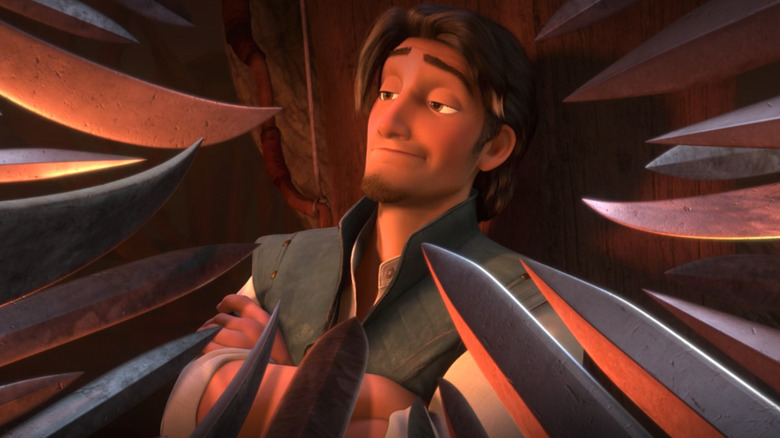 Walt Disney Studios Motion Pictures
Even with a distinct lack of concrete information about the live-action Rapunzel movie as of early 2022, an intriguing precedent has been set by past Disney live-action remakes when it comes to the rating, the genre, and even the version of the story being told. Where the rating is concerned, the animated classics have typically been rated G or PG. They were family-friendly, light on the violence, and only occasionally intense or scary. However, the live-action "Mulan" officially broke this trend by cracking into PG-13 territory (via CBR). If you're considering the "Tangled" version of the tale, the light yet action-packed narrative has some rough-around-the-edges moments. However, it never pushes the PG-13 envelope.
As for the live-action Rapunzel movie's story, past remakes have taken some unique approaches. Films like "Beauty and the Beast," "Aladdin," and "The Lion King" have faithfully remade the music from their original animated inspirations. However, other features — notably "Mulan" — seem to be purposefully shunning the musical element in favor of a different, more dramatic storytelling vibe. With this in mind, having a live-action Rapunzel movie turn into a musical or remain a straightforward tale are both viable options.
In terms of fidelity to both the original "Rapunzel" fairytale and Disney's "Tangled," the live-action Rapunzel movie has a lot of flexibility there, too. The House of Mouse has taken a few different approaches to its live-action remakes. "The Lion King" story is remarkably close to the original animated version. Remakes like "Beauty and the Beast" remain generally faithful to the original plot but also include new additions. Elsewhere, features like "Maleficent" take a whole new approach to a cherished story.