Small Details You Missed In The Candyman Reboot Trailer
With his hook for hand, he's coming to scare the pants off of a new generation of moviegoers.
The trailer for producer Jordan Peele's Candyman, a "spiritual sequel" to the 1992 horror classic of the same name, has finally been released online. It promises plenty of cerebral thrills of the kind which we've come to associate with Peele, not to mention an inspired take on a story that sent chills down the spines of horror fans three decades ago.
That film, based on the short story "The Forbidden" by Clive Barker, dealt with graduate student Helen Lyle (Virginia Madsen) as she investigates the urban legend of the Candyman, a vengeful ghost with a hook affixed to the bloody stump of his right hand said to haunt Chicago's infamous Cabrini-Green housing projects. According to the legend, saying his name five times while facing a mirror will cause him to appear, and he's not there to sell you any delicious candy.
Helen eventually digs up the root of the legend: the story of Daniel Robitaille (Tony Todd), an artist and son of a former slave who was brutalized and lynched for impregnating a white woman in 1890. His ashes were scattered were Cabrini-Green stood, and Helen comes to learn that there is more to some urban legends than she ever would have thought.
The new film, co-written by Peele and directed by Nia DaCosta (Little Woods), looks to sport an unsettling and ominous tone very similar to that of the original, and it's stocked with a talented cast that includes Yahya Abdul-Mateen II (Aquaman), Colman Domingo (Fear the Walking Dead), Teyonah Parris (Mad Men), and the veteran actress Vanessa A. Williams (The Flash). Here are a few things that may have slipped by you in that excellent new trailer.
The main character of Candyman has a significant profession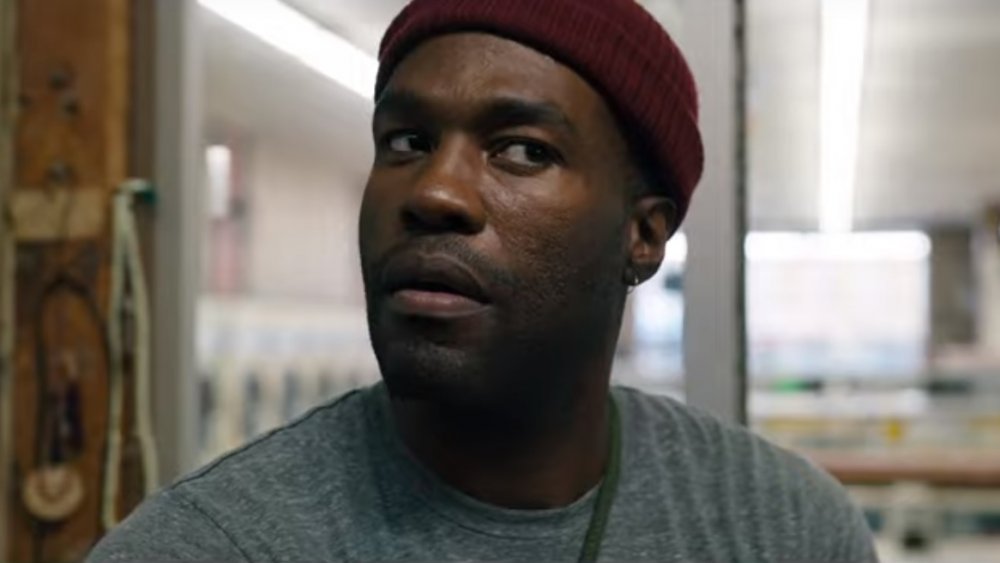 Universal Pictures
Abdul-Mateen portrays Anthony McCoy, who moves into the area which was once terrorized by Robitaille's hook-wielding specter. These days, though, it looks a little different; the area has become near-completely gentrified, with most of the buildings comprising the old housing projects having been demolished (in the real world, this process was completed in 2011). In their place are ritzy high-rises, houses, shops, and art museums — the latter of which may be what drew McCoy to the area.
McCoy, you see, is an artist, just like Robitaille himself; apparently, he's a pretty talented one, as the trailer implies that it doesn't take him long to score an exhibit in his new neighborhood. It looks like Candyman will see McCoy becoming just a wee bit obsessed with Robitaille's legend, which is the focus of the exhibit (it even includes an arrangement of mirrors which "[invite] you to summon him.")
The spot reveals that McCoy begins to identify with Robitaille just a bit too closely, and their shared profession raises the question of how else they might be connected. Is McCoy a descendant of Candyman? Or even the reincarnation of the doomed artist? (In the original film, it was heavily implied that Helen may have been Caroline Sullivan, Robitaille's lover, reincarnated.) It's not clear what the connection is — but it seems certain that there is one.
The Candyman trailer features callbacks to Cabrini-Green's past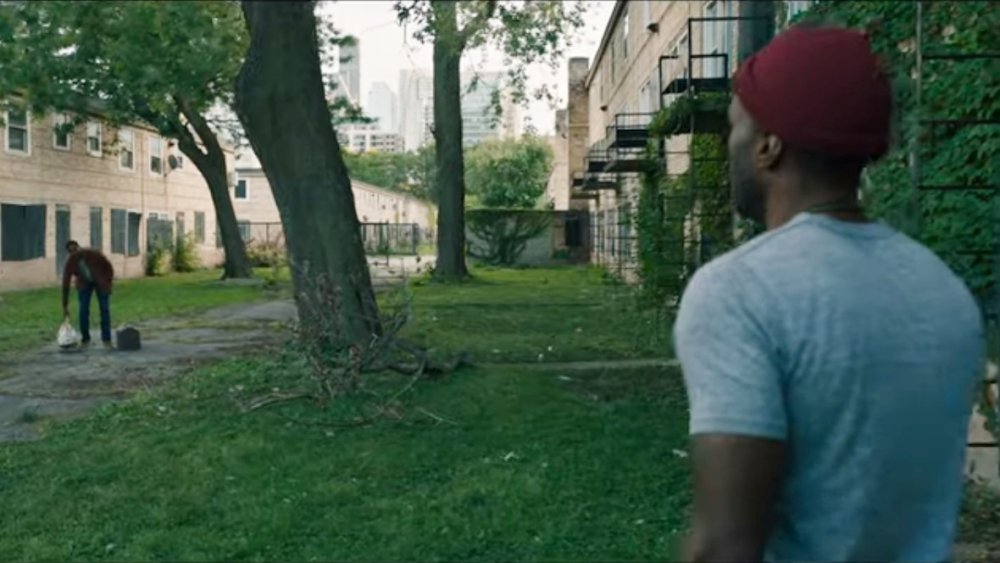 Universal Pictures
The fact of Cabrini-Green's gentrification is a fascinating aspect of this new Candyman's plot, and one which Jordan Peele is sure to mine for a truckload of thematic resonance. Interestingly, though, the trailer makes it plain that while the area has undergone quite the "revitalization," its past isn't completely buried; fragments of it remain, such as the old, boarded up buildings where McCoy first encounters William Burke (Domingo), who appears to be a long-time resident.
Traces of the area's past can also be seen in brief flashes, as we see McCoy investigating some of those old structures and finding some unsettling, Candyman-themed graffiti in the process, and as we get a look at the inside of an old, decrepit church with its own sinister graffiti problem (emblazoned above the altar: SWEETS TO THE SWEET, a phrase which figured prominently in the original film). The idea here seems to be that a troubled, violent past can never truly be buried... not even by pricey condos and upscale restaurants.
An interesting choice of song for the Candyman trailer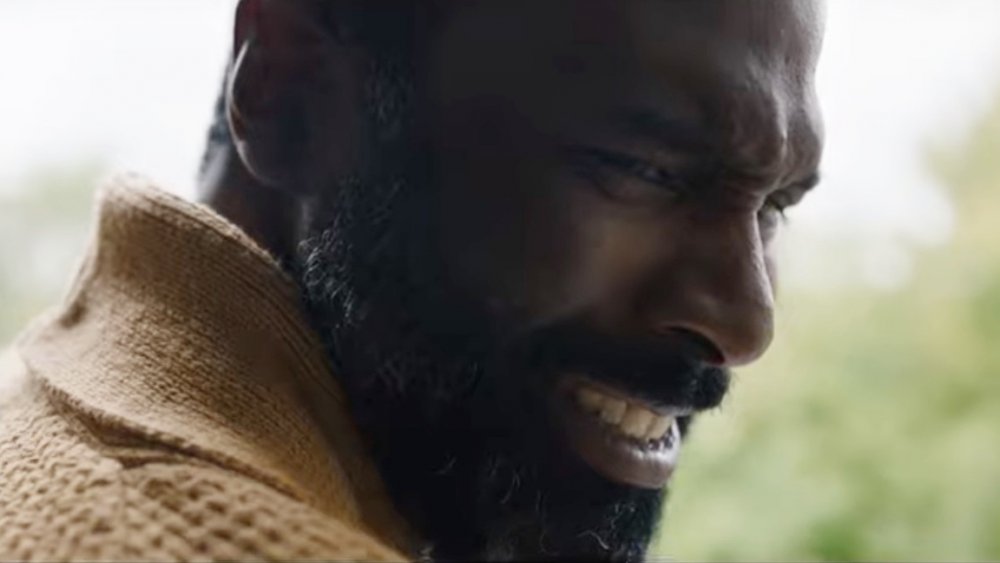 Universal Pictures
The latter half of the spot is soundtracked by an eerie, melancholy tune which may seem a bit familiar. If you can't put your finger on it, it may be because it's a cover of a song that was neither of those things: the 1999 hit "Say My Name" by Destiny's Child. (For those of you too young to remember, this is the group that was fronted by Beyoncé before her transformation into Queen Bey, Ruler of All Pop Music.)
Obviously, this could only be more on-the-nose if the title of the song was "Say My Name Five Times, and I'll Appear to Kill You." But the use of the tune is also a continuation of an interesting theme that's beginning to develop among works with which Peele is associated: the use of bubbly, upbeat pop songs which have been rendered near-unrecognizable by way of startlingly gloomy cover versions. The trailer for Peele's 2019 fright-fest Us employed a similar tactic, with a downright creepy version of the Luniz' 1995 hit "I Got 5 On It."
An important player is heard, but not seen, in the Candyman trailer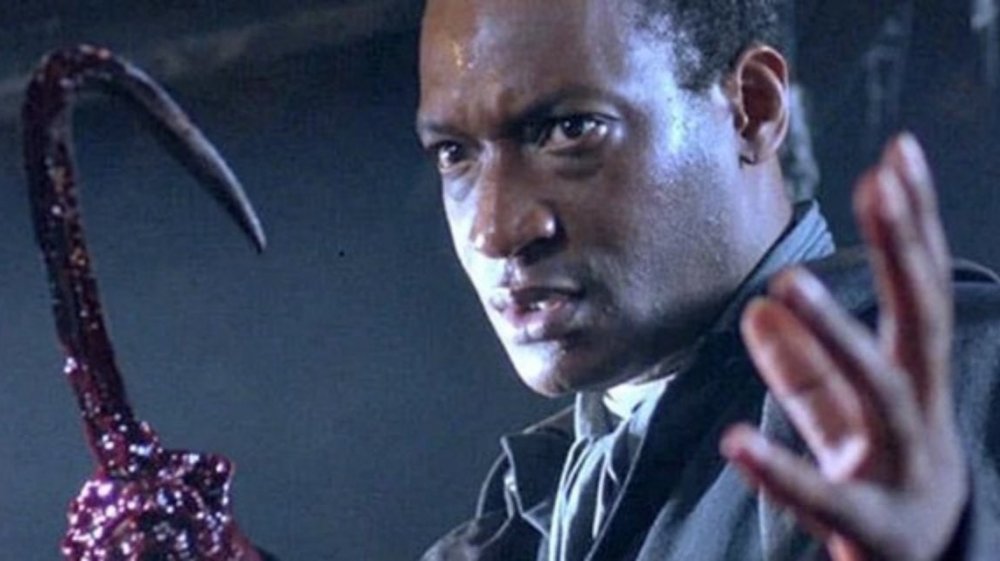 Sony/TriStar
Near the spot's end, as it really starts to pick up steam with the lightning-quick edits and disturbing imagery, a voice creeps in on the soundtrack — and if you're a fan of the original movie, you recognized it immediately. "I am the writing on the wall," it says. "The sweet smell of blood. Be... my victim." Yep, it's the man himself: that's the voice of Tony Todd, whose restrained yet intense performance made Candyman such a frightening presence in the 1992 flick.
For a good chunk of the time the film was in production, it was thought that Abdul-Mateen would be replacing Todd as Candyman; obviously, this isn't the case, but DaCosta isn't particularly keen to let us known just what the case is, or exactly how large a part Todd will have in the new film.
Speaking with Collider in March of last year, the director said, "It's been slightly misreported. I can't say what's happening in the film because we want it to be a surprise, but [Abdul-Mateen is] not replacing Tony Todd. That's been reported, and I was just like, 'I don't know what to say about this. This is not right.'"
Since we never see Candyman's face in the trailer (only his bloody hook), we can't say with certainty that Todd will reprise his role. But he is definitely involved (he's even listed among the cast on the flick's IMDb page), and that can only be a good thing.
We'll see just what Peele, DaCosta, and company have cooked up for us when Candyman hits the big screen on June 12, 2020.