The Truth About The Famous Horse In Yellowstone Season 3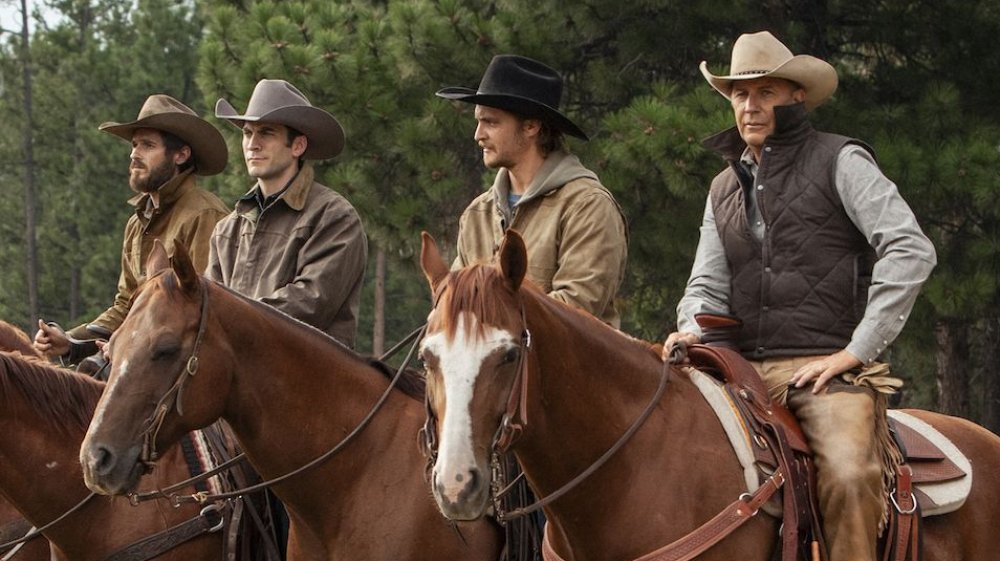 Paramount Network
In just two short seasons, Paramount Network's pulse-pounding neo-Western drama Yellowstone has become the toast of the cable television world, earning raves for its originality and staking out a dedicated fan base. It's also reignited the career of series star Kevin Costner, and helped raise the profile of its lauded cast of supporting players. 
Created by Hollywood up-and-comer Taylor Sheridan, Yellowstone has also had little trouble attracting talent to its Montana set for even the most limited of roles, with the likes of Gretchen Mol (Manchester By The Sea), Josh Lucas (Ford v Ferrari), and Dabney Coleman (Boardwalk Empire) already appearing on the series with short episode runs.
The upcoming third season of Yellowstone will be no different, with Lost alum Josh Holloway, Color Out of Space star Q'uorianka Kilcher, and more set to take on supporting roles in the Big Sky Country drama. As it happens, those famous faces will be joined at some point in the new season by a less familiar, if no less famous co-star — although one who's likely to take a slightly less active role in the show's narrative. That new Yellowstone cast member goes by the name of Metallic Cat. If you're not familiar with the name, we'll go ahead and assume you're not a follower of the "cutting horse" circuit, because Metallic Cat is a legit living legend among those ranks.
If you're wondering what a "cutting horse" does, they're known for exceptional athleticism and agility that's most often used to isolate a single cattle from a herd. And if you're wondering why such a horse might be joining the cast of Yellowstone for a guest appearance, we'll also assume you've never actually seen the show, which is centered around a cattle ranching dynasty in Montana.
Metallic Cat's owners paid quite a price for the horse to appear on Yellowstone
We're not exactly sure what Metallic Cat will be doing in his Yellowstone cameo, but thanks to the folks at Quarter Horse News, we do know how the prized sire earned a spot on the series. As it happens, the coveted cameo spot on the Western saga opened up after Yellowstone creator Taylor Sheridan donated the opportunity to a charity auction benefiting the National Cutting Horse Association Charities Foundation. While we're certain that bidding for the prime time guest spot on Yellowstone was frenzied, the winning bid eventually came via Metallic Cat's owner Bobby Patton. 
That bid was surprisingly robust as well, with Patton ponying up (no pun intended) a staggering $165,000 to get Metallic Cat his chance at Hollywood stardom. After submitting the bid and securing Metallic Cat's slot on Yellowstone, Patton reportedly thanked Sheridan for the "generous and fun" donation. Patton went on to note that he and Metallic Cat's team were looking forward to "an exciting adventure," before saying of his winning bid, "That this donation came with the opportunity for Metallic Cat to be included in an upcoming episode of Yellowstone was icing on the cake."
Metallic Cat's Yellowstone appearance won't be tough work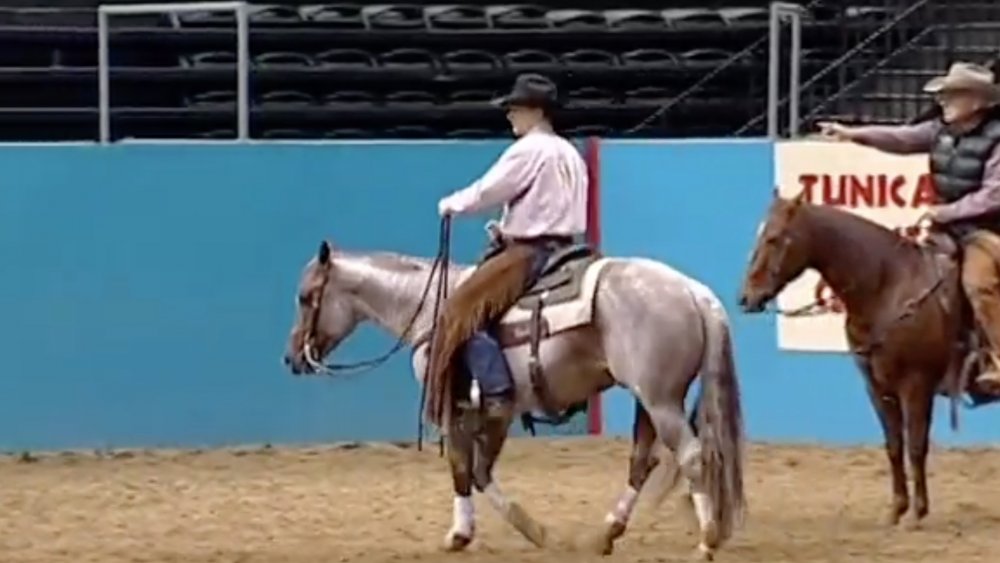 Given the horse's background, it would seem logical that Metallic Cat would indeed be corralling a cow or two somewhere on the Dutton Ranch in Yellowstone's third season. However, not long after Patton secured the sire's spot on the show, his representative Debbie Roberts issued a statement saying, "He [Metallic Cat] will not be put into a competition-type situation during filming of the show."
There are a couple of good reasons that Metallic Cat will apparently not be working too hard during his guest spot on Yellowstone. The first is that the famed horse is, in fact, retired from competition. Though Roberts' statement made clear that Metallic Cat "retired sound and is regularly exercised," it's also clear that his owners do not want to push the sire too hard in his old age. It's also worth noting that Metallic Cat is an invaluable sire on the "cutting horse" scene whose offspring have netted a reported $31.4 million. So clearly, Patton and his team are going to do all they can to protect their prized horse.
As it happens, it's important enough to Patton for his prize horse to take it easy that he will not be making the trip to Montana at all. Metallic Cat is currently calling the Brazos Valley Stallion Station in Texas home, and it appears that Sheridan and his Yellowstone team will need to make a trip to the Lone Star State to shoot the horse's scenes. Whatever the case, Metallic Cat should make quite the impression on the Dutton clan when he makes his debut in Yellowstone season 3.