Why The Invisible Man Is Rated R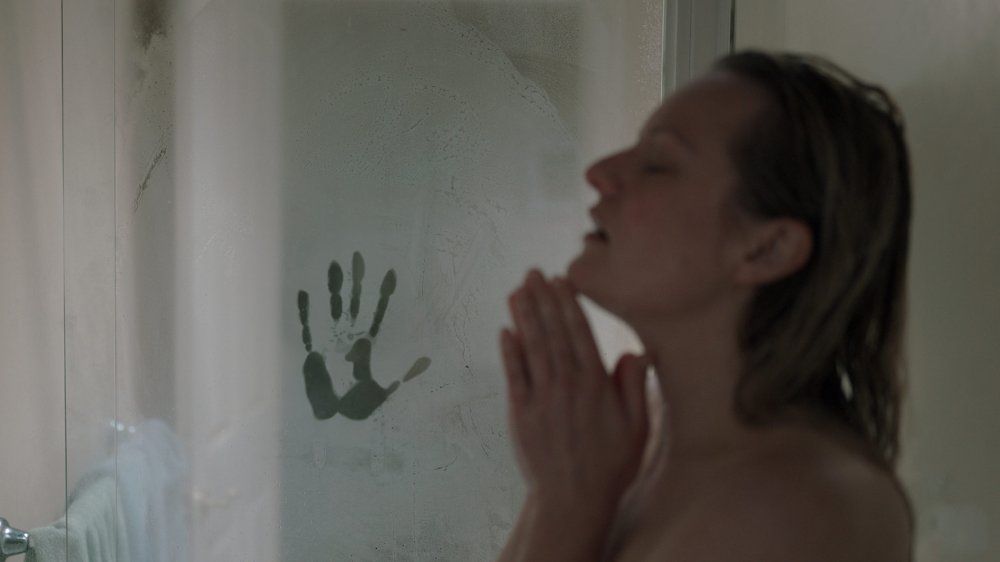 The tagline for Universal and Blumhouse Productions' latest take on The Invisible Man teases that "what you can't see can hurt you." Translated for audiences? Be prepared for a gruesome and scary time. Critics have basically confirmed this, with one early reviewer describing the movie as "a tension filled thrill-ride from start to finish." And if that isn't enough to convince you, just take it from star Elisabeth Moss, who said the film will "scare you to death." 
The first chapter in a reimagined and horror-driven monster universe following its aborted plans for a Dark Universe, Universal's The Invisible Man is described as "a terrifying modern tale of obsession inspired by Universal's classic monster character." Plot details further confirm how much this latest spin on the tale of a scientist-turned-maddened-monster diverges from the somewhat tamer original story of H. G. Wells 1897 novel and its 1933 cinematic companion. 
2020's The Invisible Man stars Elisabeth Moss (The Handmaid's Tale, Mad Men) as Cecilia Kass, a woman trapped in an abusive relationship with genius scientist Adrian Griffin, played by The Haunting of Hill House actor Oliver Jackson-Cohen. After escaping his clutches, Cecilia is told Adrian died by suicide and left her a chunk of his fortune. Her former partner's death doesn't add up, and Cecilia's suspicions are only confirmed after a series of eerie coincidences turn lethal. But how can Cecilia protect herself, the ones she loves, and her sanity when she's being hunted by something ⁠— or someone ⁠— no one can see?
As if that isn't enough to sell this film's dedication to a darker telling, the movie has earned an R-rating. The reason? The Invisible Man is rated R for "some strong bloody violence, and language." The Classification and Ratings Administration handed down the restricted rating — which, between intense scenes teased in the film's trailer and the fact that Leigh Whannell is at the helm as the director of The Invisible Man, seems appropriate. 
Director Leigh Whannell is know for his gut-wrenchingly graphic horror style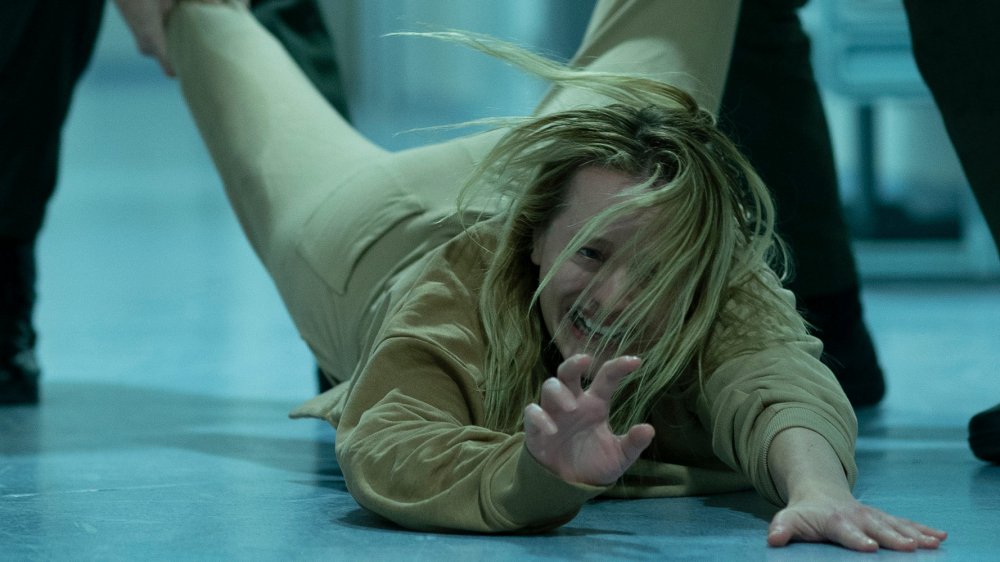 Universal Pictures
Horror's renaissance following the release of films like Get Out, Hereditary, and A Quiet Place has enticed into theater seats many of those who don't normally interact with the genre . But it's important to understand that not all horror is created equal, and with a film created by someone like Leigh Whannell, The Invisible Man won't be for the faint of heart. 
The Australian writer, producer, director, and actor penned the first three Saw films, the equally acclaimed and gruesome 2018 sci-fi horror Upgrade, and all four Insidious movies. He also pulled double-duty as director of Insidious: Chapter 3. So while The Invisible Man's R-rating for language is pretty straight-forward in terms of audience expectations — you'll hear some vulgar and/or intense profanity — the "strong" in "strong bloody violence" might not be strong enough to prepare viewers for what is coming. 
Whannell is loved for his signature style of violence, which is often graphic, fleshy, and gut-wrenchingly torturous. Anyone looking to see The Invisible Man should know there is potential for extreme gore. That might not just include hyper-realistic or excessively bloody imagery, but also some emotionally unsettling visual sequences. Some of what audiences can expect has already been teased in the trailer for The Invisible Man, which features a scene depicting an invisible Adrian Griffin forcing an officer to shoot himself in the kneecap. Trailers are designed to not give away a film's best — or in this case, bloodiest — parts, so be prepared for The Invisible Man to really earn its R-rating. 
The Universal and Blumhouse production will finally reveal itself when The Invisible Man hits theaters on February 28.