What The Rotten Tomatoes Reviews Are Saying About Onward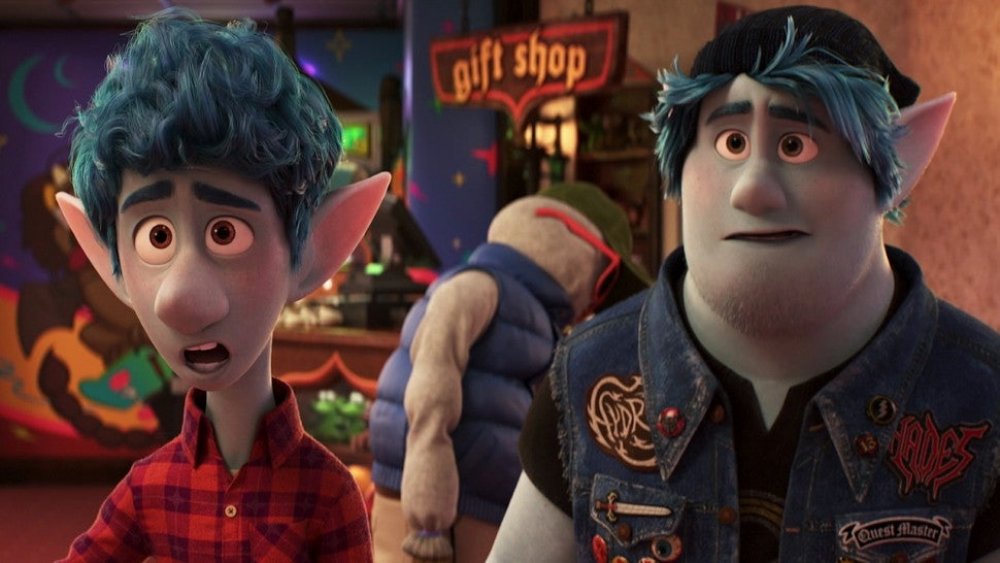 Disney/Pixar
Pixar is moving Onward, and critics are pretty much on board.
Reviews are coming in for the venerable animation house's latest offering, and the general consensus is that while it may not be quite on par with some of the studio's classics, it's still packs plenty of laughs, charm, and eye-popping animation.
Onward tells the story of two brothers who happen to be elves, and who inhabit a once-magical world that seems to have lost some of its luster. Together, they embark upon an epic quest to discover if there is indeed any magic left in the world, magic which might help them resurrect their departed dad long enough for them to give him a proper goodbye — and if we know our Pixar, it's sure to be a quest with something of an unexpected ending, populated along the way with memorable side characters and a plethora of inspired sight gags.
The flick was directed by Dan Scanlon (Monsters University) from a screenplay he co-wrote with Jason Headley (A Bad Idea Gone Wrong) and Keith Bunin (Horns). Starring as Ian and Barley Lightfoot, respectively, are a couple of guys Pixar must have recruited from across the hall: Marvel Cinematic Universe alumni Tom Holland (Spider-Man: Far From Home) and Chris Pratt (Guardians of the Galaxy). Among the supporting cast are Julia Louis-Dreyfus (Veep), Octavia Spencer (The Shape of Water), Mel Rodriguez (Better Call Saul), Ali Wong (Birds of Prey), and — get ready for this — Tracey Ullman, whose Fox variety show introduced the world to The Simpsons in 1987.
Let's dig in to what the critics have to say about Onward.
Onward's positive reviews call it fun, funny, and entertaining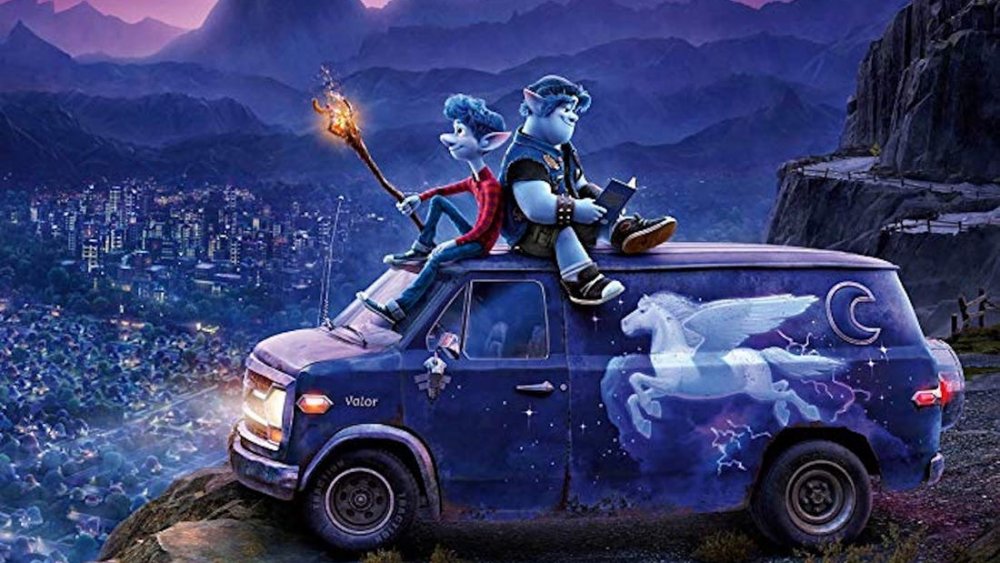 Disney/Pixar
Of course, it can be effectively argued that even the flicks that don't live up to the greatest entries in Pixar's catalog are still going to be a cut above your average animated fare, and the majority of critics felt that Onward was a perfectly fine animated comedy with the requisite amount of heartstring-tugging. Also, obviously, it looks spectacular; nobody ever accused Pixar of cutting corners when it comes to animation.
"Scanlon has crafted an adventure that gleefully flies high with its fantasy elements, yet never loses touch with its grounded family tale," wrote Kristy Puchko of IGN. "Plus, it has a sensational pace that keeps the adventure rollicking and keeps the audience on the edge of their seats... a terrifically entertaining tale filled with humor, heart, and allusions that are sure to delight fantasy fans."
Many reviewers were a bit more reserved in their praise, alluding to Onward's failure to hit the storied heights of Pixar's greatest while still acknowledging its strengths. "Onward simply doesn't have the same emotional, dramatic or comedic power as the best of Pixar," wrote CBR's Cynthia Vinney. "[It's] a minor entry in the Pixar canon... a perfectly pleasant way to pass the time."
Overall, though, Onward received kudos for the performances of Holland, Pratt, and Spencer in particular, and for eventually hitting those familiar, emotional notes we crave from Pixar. "Whatever its shortcomings, Onward is still an amusingly clever piece of family entertainment with a tangible heart at the center of its book of spells," wrote Den of Geek's David Crow. "This might be Pixar on an off-day, but even then it feels like spending quality time with a dear loved one."
Onward's negative reviews call it underdeveloped and plain weird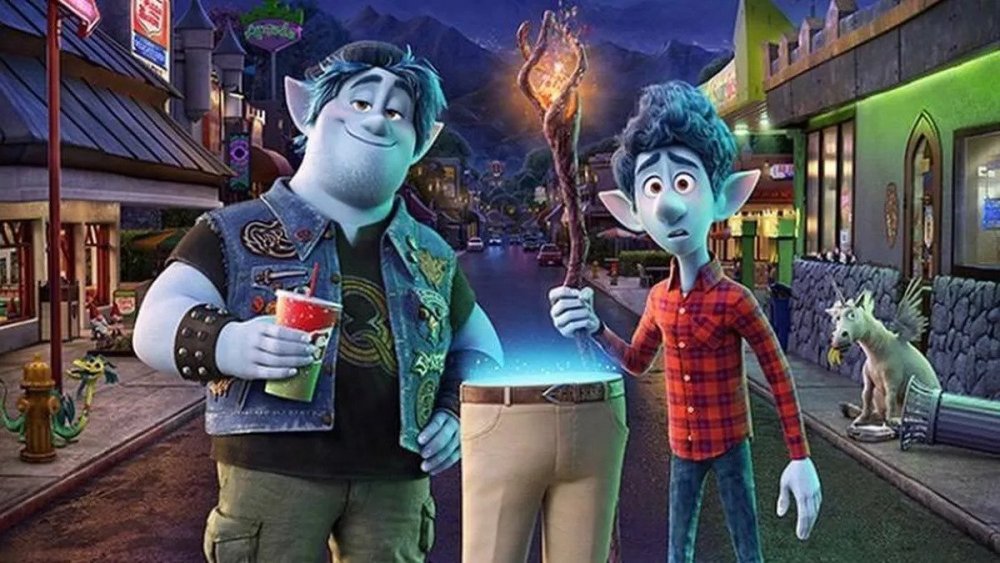 Disney/Pixar
A fairly strong contingent of reviewers were quite a bit less forgiving. They tended to peg Onward as half-baked, too long, and... well, extremely weird in an off-putting way.
"Onward looks great, and it has a couple of strong scenes that are gripping and even ingenious," wrote Mick LaSalle of the San Francisco Chronicle. "But as a whole, the movie is misbegotten, overlong and altogether unconvincing as a story of familial love... Long before its 114-minute running time has elapsed, it has overstayed its welcome."
Mike Ryan of Uproxx was even less kind. "This is a movie about two kids resurrecting their dead dad's crotch and it's just the WEIRDEST thing," he wrote. "At one point in this movie I literally tried to get emotional. If I'm watching nothing I can make myself get there. Watching Onward, I couldn't do it. Every time I felt even a hint of emotion, here comes the walking crotch."
Other reviewers slapped Onward with labels such as "undercooked," "flattened and diluted," and "disappointingly pedestrian." The consensus of Onward's negative notices was summed up nicely by Josh Spiegel of Slashfilm: "Onward occupies a very strange spot for Pixar," he wrote. [It's]... OK. The problem with Onward is that Pixar's original films are incredible. OK is, simply, just not good enough."
We suppose that when you're known for home runs, batting a triple is bound to feel like a letdown. The majority of critics, though, found Onward to be a satisfactory-if-unspectacular addition to Pixar's catalog. You can see for yourself whether the flick hits your own personal mark when it drives into theaters on March 6.