Why Joel McHale Could Never Be On Saturday Night Live
Who would've thought that one of the wittiest men in Hollywood felt he could never fit in on Saturday Night Live?
Joel McHale — best known as the former host of The Soup, the current host of The Joel McHale Show with Joel McHale, and the lovable-but-cynical ex-lawyer Jeff Winger from NBC's Community – recently appeared on an episode of Hiking with Kevin, a digital series in which SNL alum Kevin Nealon takes his guests on hikes through Los Angeles and asks them intriguing questions along the trail. While chatting with Nealon, McHale opened up about how he couldn't have landed a job on Saturday Night Live, though he would have loved to have that opportunity. The reason? His dyslexia would have caused a major problem, since the SNL utilizes cue cards during its live sketches.
"Here's what intimidates me: reading teleprompter... I was so bad at it when I started The Soup. That's why I was like, 'Oh, man, I'd love to be on Saturday Night Live, and then the panic, I can just feel it rising in me," McHale shared. "I thought about being on SNL. And if I had to read cue cards that way, live — that pressure."
He continued, revealing how much his dyslexia impacted his work when he began hosting The Soup back in 2004. "When I started The Soup, it would take me like two hours to get through 20 minutes of teleprompter," said McHale. "But the anxiety lessened as I got better at it. And then I got to the point where I could [do] the show live with a teleprompter. And I would promote it by saying, 'Hi, I'm Joel McHale, I have dyslexia, and I'm doing the show live, so I have no idea what I'm about to say."
Joel McHale's candidness about his dyslexia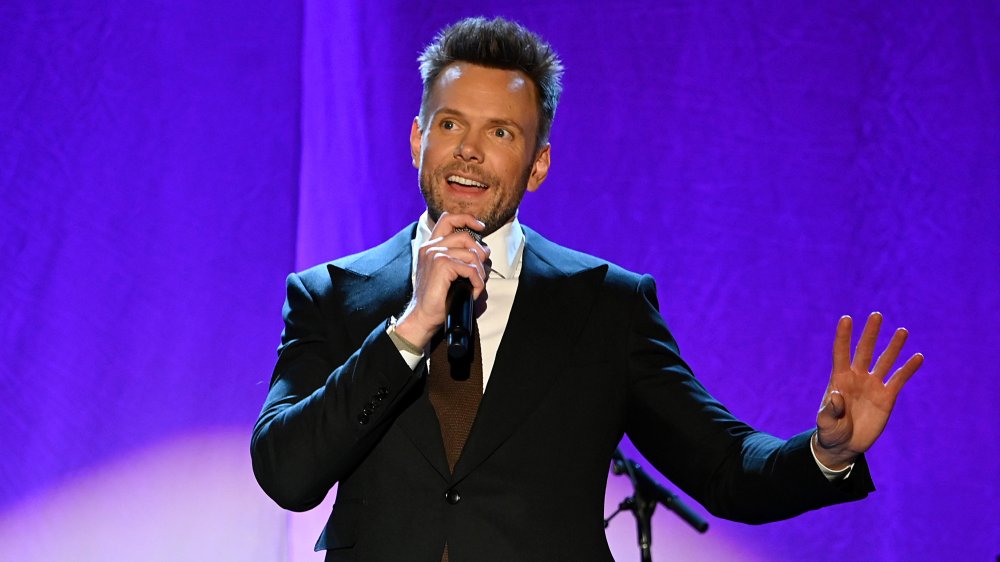 Jamie Mccarthy/Getty Images
McHale's Hiking with Kevin appearance is far from the first time he's openly discussed his dyslexia. 
During a June 2014 interview with NPR, McHale admitted that he "really [has] to concentrate" while reading teleprompters, and tried to hide any struggle he had while promoting The Soup on various different talk shows. He elaborated, "It might not look like I'm concentrating and I'm just screwing around, but I really do have to concentrate while I'm reading. And half of the time I'm getting it wrong, but you can't tell because I'm just making up different words for it. It's smoke and mirrors."
It wasn't until a few years later that McHale revealed how exactly he discovered he has dyslexia: when one of his sons was diagnosed with it. He shared during a May 2018 appearance on Dax Shepard's podcast Armchair Expert (via PEOPLE), "My sons are also dyslexic. One was being diagnosed, and the doctor [...] was describing all of the symptoms and I was like, 'That's what I have.' And she goes, 'Oh I was wondering which [parent] it was because it's passed down.'" 
Growing up, McHale didn't realize he was dyslexic, as he never received a formal diagnosis and had to "repeat grades" in school. "They literally diagnosed me [as a] slow-starter," McHale told Shepard, adding that his father "clearly has dyslexia" and likely passed it down to him.
Though his personal anxiety about his dyslexia kept him from Saturday Night Live, McHale has let nothing else stop him from success. To date, the actor-comedian has two Critics' Choice Television Award nominations and a Primetime Emmy Award nomination under his belt — plus a lengthy filmography that includes The Great Indoors, The X-Files, Santa Clarita Diet, The Masked Singer, Card Sharks, The Happytime Murders, and even Rick and Morty and Mortal Kombat Legends: Scorpion's Revenge.
Find new episodes of Hiking with Kevin on Kevin Nealon's YouTube channel.