The Real Reason Why John Krasinski Returned For A Quiet Place 2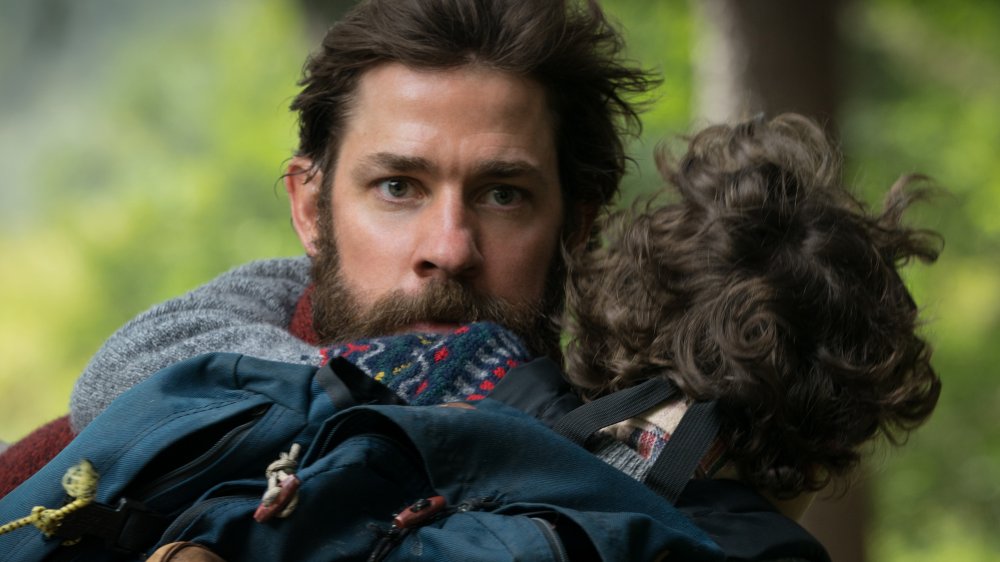 Paramount Pictures
John Krasinski is breaking his silence about his upcoming appearance in A Quiet Place: Part II, the highly anticipated follow-up to the hit 2018 post-apocalyptic horror film. 
Questions about Krasinski's role in the sequel to A Quiet Place, which he wrote and directed in addition to starring in, initially arose after viewers glimpsed him in the first trailer for the film. Set in a near-future in which society has all but been abandoned following an invasion of killer monsters highly-sensitive to sound, A Quiet Place ended on a cliffhanger – but the fate of Krasinski's character Lee Abbott was one thing that felt pretty definitive. Until now. 
During an interview with Ellen DeGeneres on her daytime talk show, Krasinski explained how and why fans would see his character, who died near the end of A Quiet Place, once again. After initially joking that his return is "what ego is," he went on to clarify that his appearance in A Quiet Place: Part II isn't a resurrection of his character ⁠— nor is it a retcon of the first film's outcome. Instead, Krasinski's Lee will appear in one of the sequel's flashbacks, which are used to help explain how the world went silent. 
"It's one of those things where I wasn't really going to do a second one because the first one was such a personal experience. It was my love letter to my kids, which looks insane now that you're watching that," Krasinski explained. "It was really important for me to continue the metaphor, and so we actually start dealing with how this all started." 
Fellow A Quiet Place: Part II star Emily Blunt further explained the flashback sequence, which was shown as a clip on the Ellen Show, to Entertainment Weekly. As Blunt noted, through this new scene, "you really get a sense of what the world was and what the family was before it all happened."
The reappearance of Krasinski's character, who plays the on-screen husband to his real-life wife Blunt in the film, was almost as much of a shock to him as audiences. In fact, all of A Quiet Place: Part II was an unexpected turn for the actor-director.
The studio behind A Quiet Place had to convince John Krasinski to direct the sequel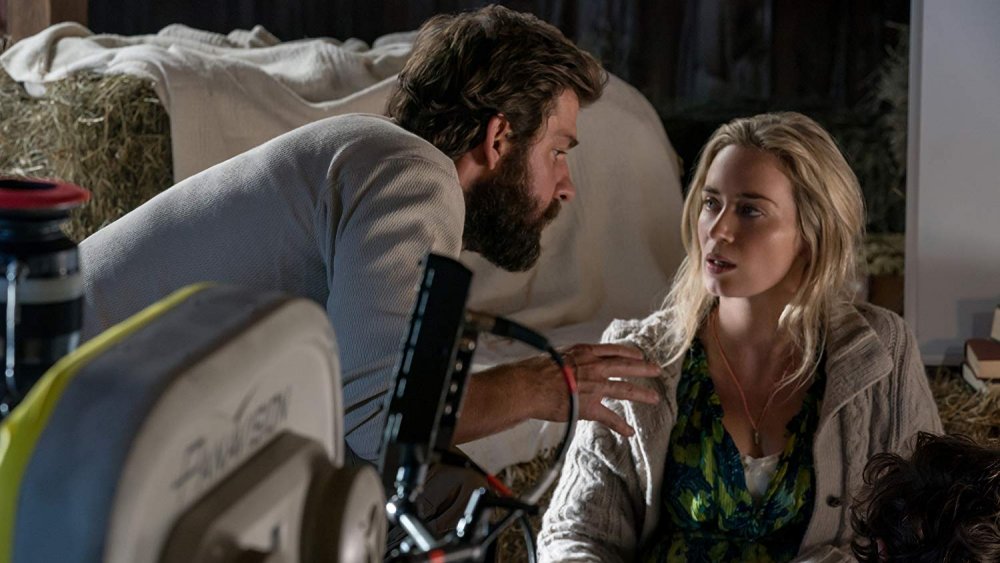 Jonny Cournoyer/Paramount Pictures
During his Ellen Show interview, the former Office star touched on the fact that he had no plans to direct or star in a sequel to A Quiet Place, which grossed a whopping $340 million worldwide on a $17 million budget. In a subsequent chat with Entertainment Weekly, Krasinski explained why he was so disinterested in helming a second chapter and expanding the Quiet Place universe. 
"I totally understood why the studio wanted to do a sequel for financial reasons," he shared. "I didn't want anything to do with it because, weirdly, as much as I'm the writer-director, I'm also a huge fan of this movie. I didn't want to be a part of anything that would be viewed as a cash grab."
After Krasinski turned down the opportunity to make a sequel to A Quiet Place, the film's studio, Paramount Pictures, began to move forward on it without him. Krasinski told Business Insider, that A Quiet Place producer Drew Form even reached out to him for creative guidance on who might replace him and where the story might go. It was that nudge that helped persuade the actor-director to rethink his initial position. 
"Drew was very smart and said, 'Think on it some more while we have these meetings with other people,'" Krasinski said. "Then he threw the Jedi mind trick of asking me to just write the sequel, and he sucked me in."
Krasinski doesn't regret his decision to write and director another chapter of the A Quiet Place story yet, but he does hope fans will have the same change of heart he did: "Me going from not wanting to participate in a sequel to doing it is the same reason I hope people will want to see one. My hope is people want to revisit this world and revisit those stakes and those rules to have to abide by."
A Quiet Place: Part II is set to open in theaters on March 20.