Is Kevin Costner's Role On Yellowstone Based Off A Real Person?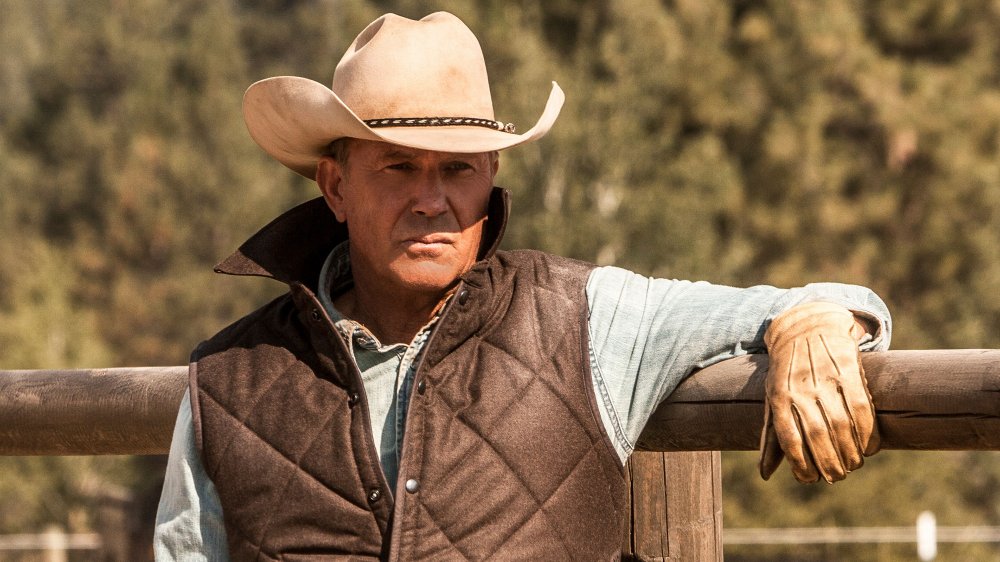 Paramount Network
For the past couple of years, big-screen icon Kevin Costner has been making quite the name for himself on the small screen. He's done so by getting back into the saddle and returning to the cinematic genre that helped make him famous. That genre is, of course, the Western, and the saddle-bound venture that's helping Costner become a television sensation is Paramount Network's modern cowboy drama Yellowstone. 
In just two short seasons, Yellowstone has become one of the most watched shows on cable television — second only to The Walking Dead. The series is proving itself an engrossing-if-soapy melodrama with intensely cinematic aspirations and a rangy narrative steeped in classic Western themes that are constantly war with its modern setting.
That narrative finds a tough-as-nails Montana family, the Duttons, battling all sorts of baddies in hopes of keeping their ranching land, which borders the titular national park, in the family. As the Dutton's paterfamilias, Kevin Costner's John Dutton is frequently in the middle of the chaos — or masterminding it himself. In Costner's hands, the steely-eyed, strong-willed rancher feels so authentic that many Yellowstone fans have questioned whether or not John Dutton might actually be based on a real person. 
While there's little question that fevered land battles have ensued all across North America over the years, it seems the answer to that question is a resounding no, with history books reflecting no actual persons by the name of Dutton defending themselves and their property. But while Kevin Costner's character on Yellowstone doesn't have a one-to-one non-fiction equivalent, there's a chance he could be inspired by several real-life people.
There's probably some historical basis for Kevin Costner's Yellowstone character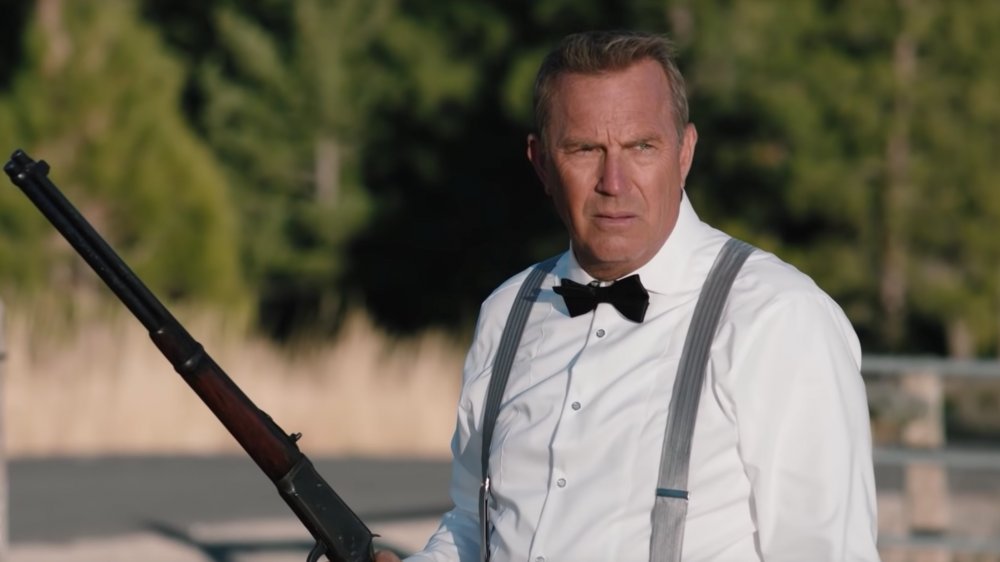 Paramount Network
Yellowstone creator Taylor Sheridan continues to build a stoic authenticity into Costner's character by portraying John Dutton as a sort of abstract montage of real-life ranchers. 
Of the key figures who may have helped inspire John Dutton, it's a safe bet that W.T. Waggoner is among them. Established in 1849 in Northern Texas, the Waggoner Ranch is the current title holder for America's biggest ranch – a title also held by the Dutton Yellowstone Ranch on the Paramount Network series. Like the Duttons, W.T. Waggoner was keen on keeping the 510,000-acre ranch in the family; the land passed on to Waggoners and their descendants for almost two centuries before it was sold in 2015.  
If you're looking for more modern inspiration for John Dutton, Bill Galt, who owns Montana's 248,000-acre Galt Ranch, is likely your man. He's a Montana-based rancher, reportedly keeps an eye on his land via helicopter, and has been known to take meetings with a politician or two between cattle drives. Galt has also been hailed as "The Last American Cowboy," which is a label we can all agree is equally suited to John Dutton.
As for Costner, it seems the actor has woven elements from his own family's tragic farming past into John Dutton's fabric, using his father's real-life 30-30 rifle as a prop on the show. Nothing says "legacy matters here" like taking up your father's gun and fighting "the man" — even if "the man" you're fighting is fictional.