All The Oscars That 1917 Won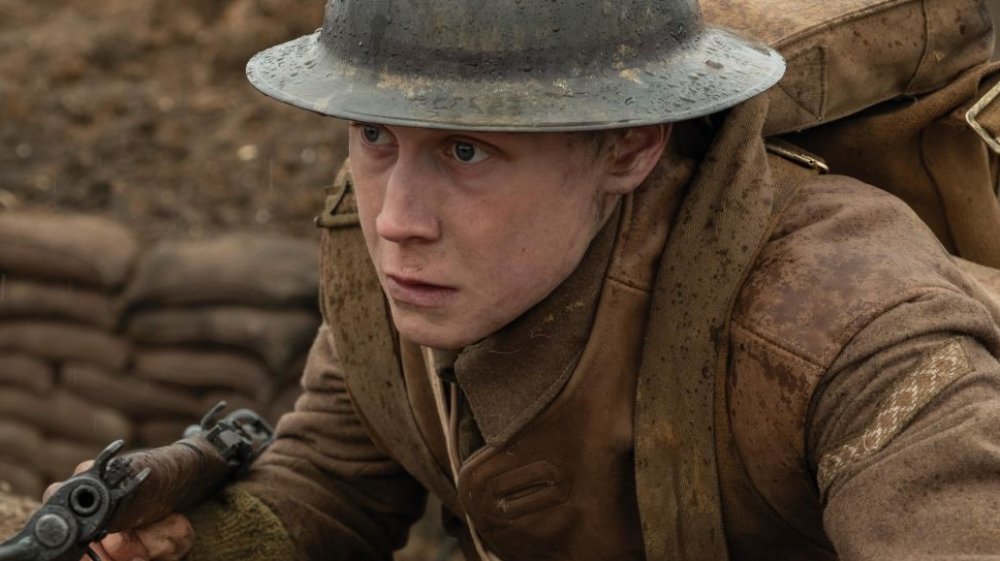 From the moment pre-release marketing began for 1917, it was evident Sam Mendes' World War I film was destined to appear on the Oscars stage, and clearly intended to dominate the 2019-2020 awards season. Its clever cinematography and editing process meant to disguise cuts and make the entire narrative appear as one take has been much-touted and reported on; as such, it was laser-targeted for a number of technical Oscars at the 2020 ceremony. The nomination list was long: 1917 was up for Best Director, Best Original Screenplay, Best Production Design, Best Sound Editing, Best Sound Mixing, Best Original Score, Best Cinematography, Best Makeup and Hairstyling, Best Visual Effects, and, of course, the coveted Best Picture Oscar.
The story 1917 tells is a relatively simple yet brutal one. Two soldiers on the Western Front at the tail end of WWI, Lance Corporals Tom Blake (Dean-Charles Chapman) and William Schofield (George MacKay), are tasked with a dangerous mission: they must make their way on foot across the front to call off an attack at dawn that will be devastatingly countered by German artillery, mostly likely killing all the men in the battalion. The film travels with the men every second of their journey, ratcheting up the tension in this story of determination and survival. Since its release, many have regarded 1917 as one of the best war movies ever made.
Here's what 1917, which was surprisingly inspired in part by James Bond, took home from the 2020 Oscars.
1917 won Best Sound Mixing at the 2020 Oscars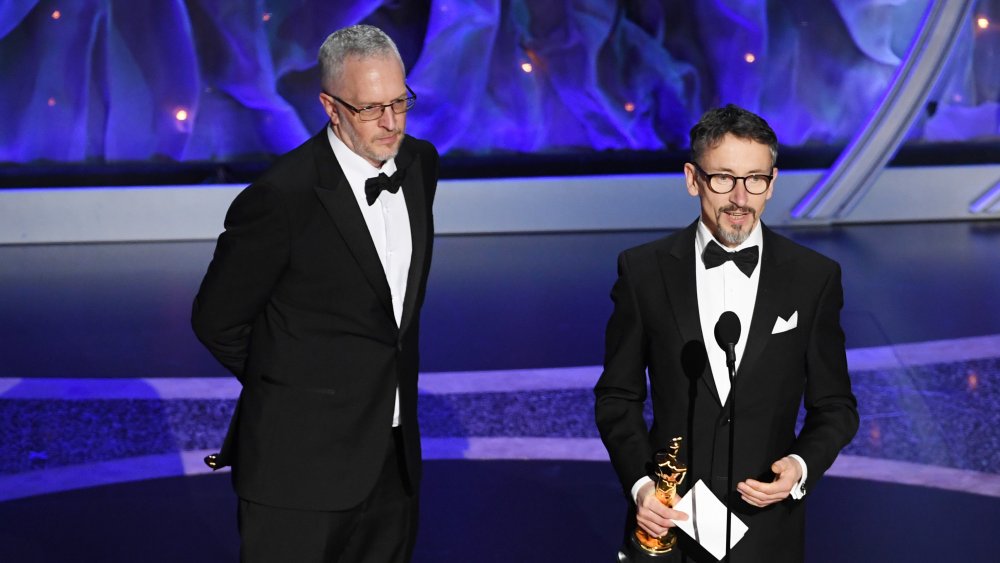 Kevin Winter/Getty Images
The first award of the night for 1917 came in the form of appreciation for its sound mixing. Re-recording mixer Mark Taylor and production sound mixer Stuart Wilson accepted the Oscar.
The difference between this award and the slightly more immediately understandable Best Sound Editing Oscar is a fine one, but think of it in terms of 1917's context. Since it's a war movie and assembled to appear as filmed in one take, its principle actors are doing a lot: talking to each other, constantly on the move, amongst others who are shouting and screaming, near explosions and gunfire, and passing multiple forms of motorized vehicles. That's all before you add in the score, too. All of that is a cacophony, and sussing out what sounds are most important to hear in any given moment of a movie is the job of the audio mixer. They modulate each level of an audio stream as appropriate to the director's wishes. An editor is more in charge of choosing the sounds to add, remove, or replace in post-production. 
1917 took home the Oscar for Best Cinematography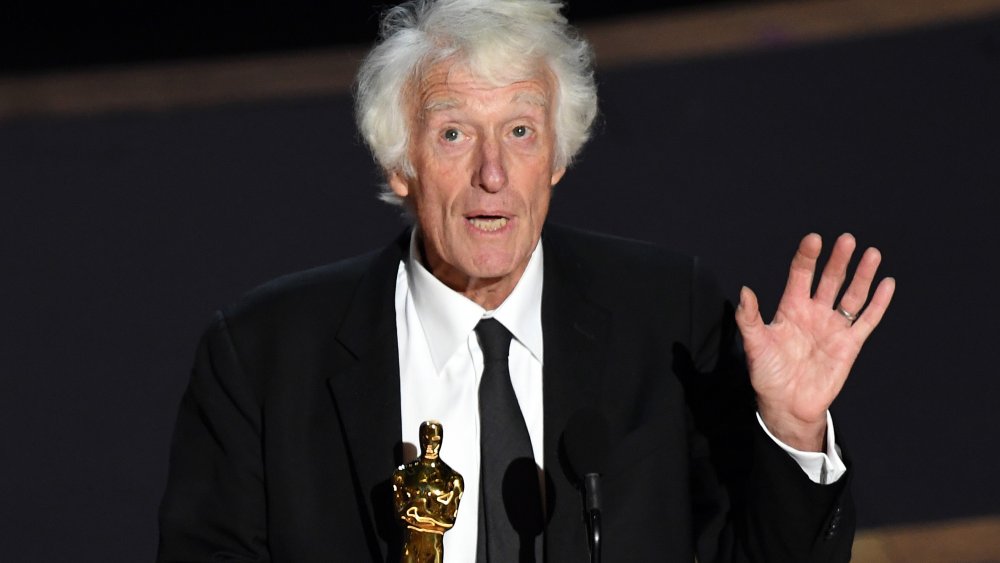 Kevin Winter/Getty Images
As anticipated by many, 1917 indeed took home the golden statue for Best Cinematography at the 2020 Oscars. 
If the distinction between director and cinematographer is a little fuzzy for you, it's like this: the director has an overall creative vision for moving through each scene according to how the script is written; the cinematographer chooses the cameras, lighting, lenses, and other particular tools to execute that vision, and often operates the camera themselves. 
Roger Deakins, 1917's cinematographer who won the Academy Award, is regarded as the best of the best in the industry. He's helped put together other highly celebrated films such as Skyfall, A Beautiful Mind, and several Coen Brothers movies, but he only recently garnered true Oscars recognition for his inimitable skill when he finally took home his first Academy Award for Blade Runner 2049 in 2018. 1917 is his second win of 15 nominations. 
Before editing even began, it was Deakins' job to ensure every take of 1917 was lined up and lit correctly — and most important, consistently — to hide the cuts that editing would eventually need to make in order to create the illusion that the film never actually stops focusing on its actors' journey. That considered, this award is richly deserved.
1917 won the Oscar for Best Visual Effects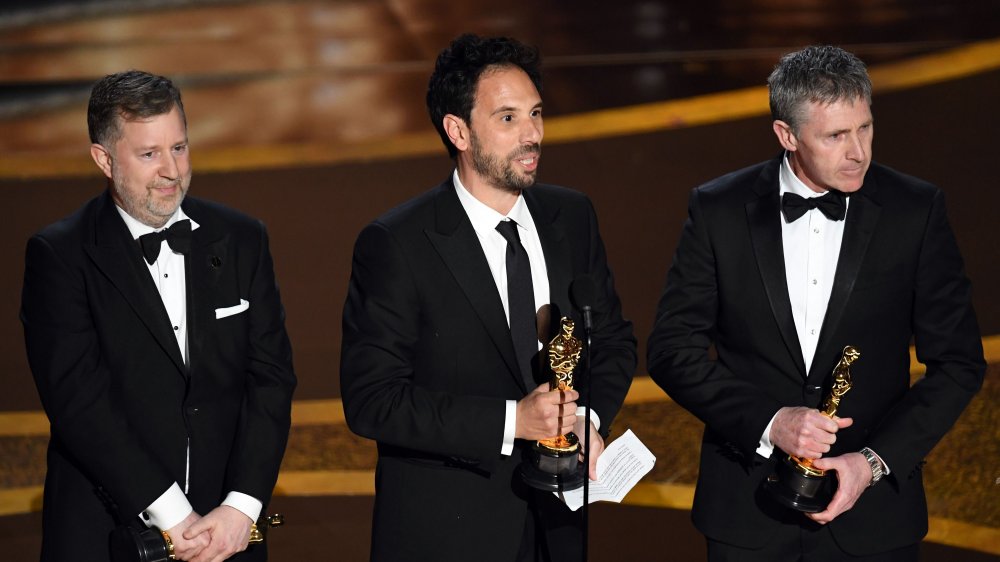 Kevin Winter/Getty Images
1917's banner night continued when it won the Oscar for Best Visual Effects. Guillaume Rocheron, Greg Butler, and Dominic Tuohy took home the award, each nabbing their own statue. 
In this day and age, visual effects can encapsulate many different things, both digital and practical. We all tend to think of the former first, with glitzy post-production effects that are unachievable with your average explosion or simulated set design. A lot of quote-unquote genre offerings like sci-fi and fantasy films take home Oscars here where they aren't usually recognized in the higher-profile categories.
The Best Visual Effects win for 1917 can again cite that illusory one-take narrative for a substantial part of the reason — hiding cuts is, in and of itself, a visual effect after all. But keep in mind, too, that this film features a whole bunch of simulated explosions, done in succession, with talent running around among the chaos. That's a very fine — and potentially astronomically expensive — brush to paint with, because if the take is ruined, all that has to start over again. Sometimes there are no extra takes with explosions, and everything is bet on getting it right in one. It's is a bit of an old-fashioned return to what "visual effects" means, but that still needs to be celebrated today as much as the best green-screen post-production work.