Paul Bettany's Latest WandaVision Tease Has Us Hyped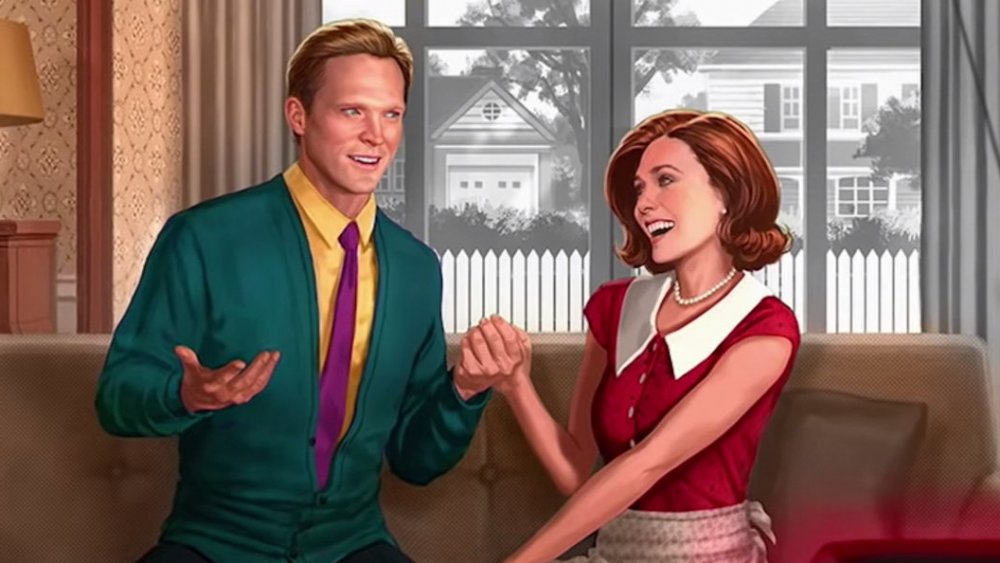 Disney/Marvel
The Vision has a couple of choice words about his upcoming Disney+ series.
Paul Bettany, who portrayed everyone's favorite Infinity Stone-powered android in the films of the Marvel Cinematic Universe, recently spoke about the upcoming series WandaVision — which will reunite him with Elizabeth Olsen as Wanda Maximoff — during a conversation with filmmaker and huge comic book geek Kevin Smith at the Sundance Film Festival. 
Bettany had high praise for Marvel Studios head honcho Kevin Feige for taking a chance on what is shaping up to be a singularly weird series, and for writer/showrunner Jac Schaeffer (Captain Marvel) for her deft touch in the writers' room. Overall, though, Bettany was apparently bursting at the seams to report that WandaVision will be — well, we'll let him explain it, and you tell us which two words jump out at you.
"I am such an admirer of Kevin Feige, he has taken such a risk with the show, and the concept of this show," Bettany said. "It's beautifully written by [Schaeffer] and her staff of writers — and it is f***ing bonkers. I mean, it's so out there and nuts, the choices that they are making. And fans will not have to wait that much longer... they'll [have] much more of an insight, very, very, soon as to what it may look and feel like" (via ScreenGeek).
Based solely on what we knew of WandaVision before we got our first look, we would have felt comfortable describing the show in exactly the same terms. That Disney+ Marvel trailer that dropped on Super Bowl Sunday, though, gave us that first look — and hoo boy, Bettany is not whistling Dixie.
What can the Disney+ Super Bowl spot tell us about WandaVision?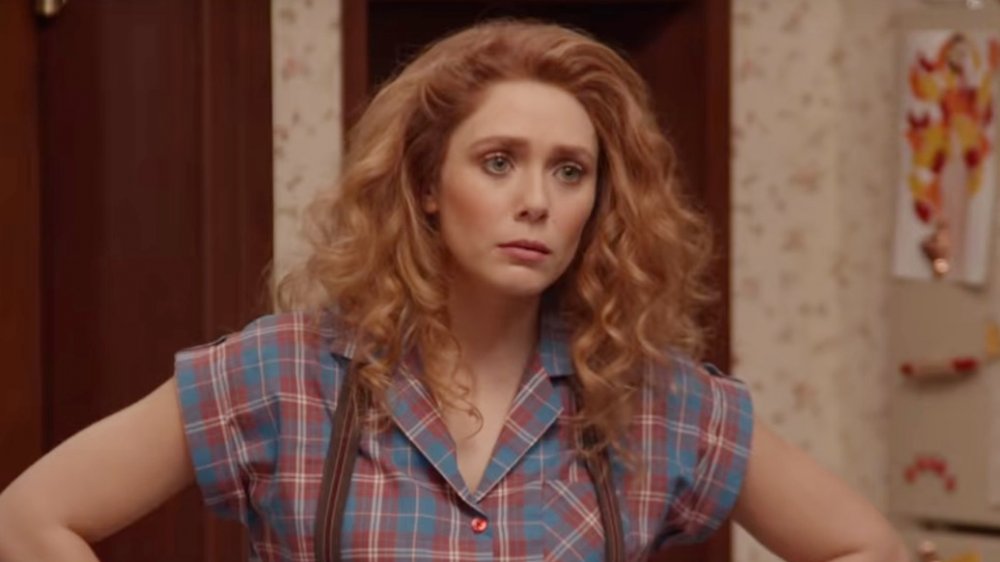 Disney/Marvel
The trailer contained brief teases for Falcon and the Winter Soldier and Loki as well as WandaVision, and a surprising amount of scintillating info was packed into its 30 seconds. It's been widely theorized that WandaVision will take place in some kind of alternate or pocket universe which Wanda has created and/or manipulated, since Vision was rather dead the last time we saw him (having met his demise at the hands of Thanos in Avengers: Infinity War); not only does this appear to be the case, but it appears that Wanda is a huge fan of sitcoms.
The spot depicts the Avenger as she would appear in your typical TV comedies throughout the decades. We see her in black-and-white as a '50s housewife, in a hippie-ish getup which would be right at home in the '60s, as a no-nonsense '70s gal, and even in her classic Scarlet Witch costume from the comics. 
At one point, Wanda appears to be watching herself on an old-timey TV; her black-and-white doppleganger cheerfully answers the phone, "Vision residence!" right before present-day Wanda, looking rather panicked, turns the television off (and comes face-to-face with a black-and-white version of Vision).
All of this is to say that if there's a better, less profane description for WandaVision's aesthetic than the one Bettany put forth, we're at a loss to come up with it. Yes sir, Mr. Vision, we're compelled to agree that WandaVision does indeed look completely f***ing bonkers, and we absolutely cannot wait to feast our eyes on it.
Although no formal release date has been announced, the series' launch was recently pushed up from spring 2021 to sometime this year. We'll be keeping a close eye out for that date, and we'll keep you informed.