New Set Photo For The Batman Reveals Good News
Cameras are officially rolling on The Batman.
Director Matt Reeves took to Twitter to share an image of his Bat-clapboard, along with a caption reading simply "#DayOne #TheBatman." While photos from the flick's London set have previously leaked, it was apparently just this week that images were finally put to film for the long-awaited reboot.
The set pics that hit the internet in early January have already given us an idea of The Batman's production design: a grounded, real-world approach, with the flick likely set sometime in the mid-'00s. We got a look at Gotham PD vehicles, "Action News" trucks and vans, and even some of the cast — including some Gotham cops, Colin Farrell's Oswald Cobblepot, and even star Robert Pattinson (with his face mostly obscured) astride a motorcycle.
In short, it appears that Gotham will be portrayed as a city that could exist in our real world, and not as the stark, rainy Goth capital of the planet (as in Christopher Nolan's Dark Knight trilogy) or as someplace that could really only exist in a video game (as in the Tim Burton/Joel Schumacher movies). While it remains to be seen how The Batman will connect to the other films in the DC Extended Universe, it's safe to say that this solo outing for the Caped Crusader is likely to look and feel quite a bit different than it might have if Warner Bros. and DC Films had stayed the course in the wake of 2017's Justice League.
The Batman had a rocky road to production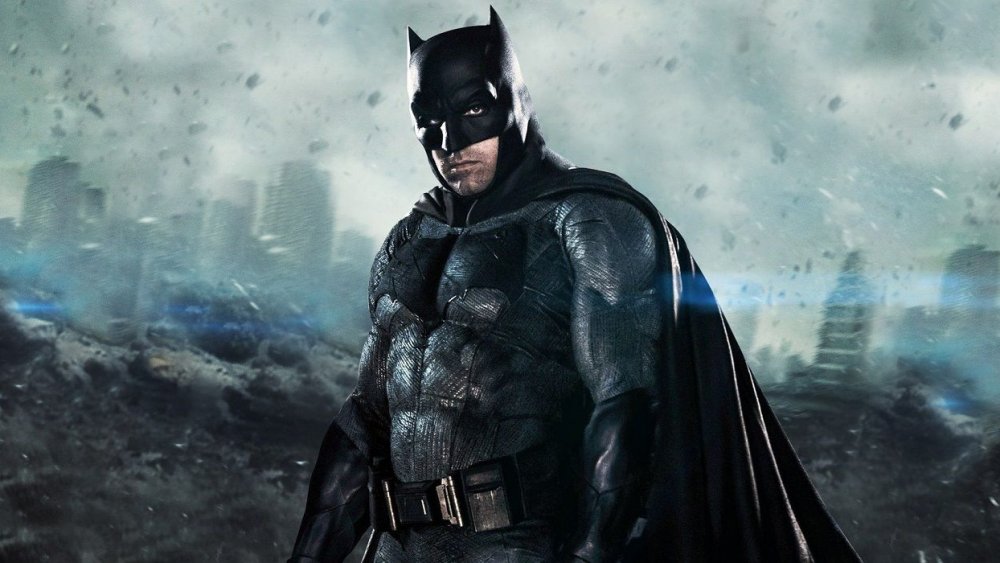 Warner Bros./DC Films
The early films of the DCEU were shepherded to the screen by Zack Snyder, who is a gifted visual stylist, and is also virtually incapable of shooting his characters and settings as anything but larger than life. Snyder gave us an older, grizzled Batman portrayed by Ben Affleck, who first appeared going toe-to-toe with Henry Cavill's Superman (and a hideously rendered CGI Doomsday) in 2016's Batman V. Superman: Dawn of Justice.
Even though it divided fans, the flick performed well at the box office, and Affleck's take on his character was well-received enough that Warner Bros.' plans for him to direct and star in in a solo Batman film remained in place throughout that year. Then, in early 2017, Affleck dropped out of helming the picture, saying that he wanted to focus on his performance without the additional demands of directing.
The whispers about Affleck's possible departure from the DCEU began almost immediately, but they became full-throated shouts when Justice League — which endured near-legendary production troubles of its own — became the lowest-grossing picture in the franchise to date, despite being the first live-action iteration of the iconic, titular superhero team. Affleck exited the Batman solo picture in 2018, as reports were surfacing that Reeves — who was assigned to write and direct The Batman not long after Affleck relinquished the director's chair — was going with a story involving the Dark Knight's early years, one which would likely require the casting of a younger actor.
Pattinson was cast in the title role in May 2019 to much heated online discussion, and now — nearly five years after the project was first announced — The Batman is finally before the cameras. 
The Batman will be more of a detective story than previous movies
While Batfleck fans enjoyed the physical, intimidating style of Affleck's performance, those of us who are psyched for Battinson to take his place understand that Reeves' Dark Knight will have to display a bit more psychological depth. The director has gone on record saying that his take on Batman will lean into his status as the World's Greatest Detective, an aspect of his characterization that hasn't been fully explored onscreen before.
The plot of The Batman is said to involve Bats' investigation into a series of brutal murders taking place in Gotham, and with an extensive rogues' gallery including Catwoman (Zoë Kravitz), the Riddler (Paul Dano), and the Penguin (Farrell) opposing him, this younger Batman will likely have his mental fortitude severely tested as he goes about getting to the bottom of the grisly spree.
Pattinson may still be best-known for his role in the Twilight franchise, but he has spent the last several years proving not only that he's dedicated to his craft, but that he may be one of the best actors of his generation. (For evidence, look no further than the Safdie Brothers' 2017 flick Good Time, the 2018 sci-fi drama High Life, and last year's The Lighthouse). We have been and remain confident that he'll bring dimensions to the character of Bruce Wayne that no previous actor has quite managed.
Now that production on The Batman is officially underway, we're hopeful that some concrete plot details will make their way from the set to our ears. We'll be all over any news worth reporting, so don't change that Bat-channel.