Why Birds Of Prey Is Rated R
Surprise, surprise — Warner Bros. and DC Films are looking to score another adult-oriented smash.
Birds of Prey (And the Fantabulous Emancipation of One Harley Quinn) has received its official rating from the MPAA, and like October's billion-dollar hit Joker, it will indeed be rated R. According to a bulletin released by the organization, the flick will carry the rating on account of "strong violence and language throughout, and some sexual and drug material."
The news certainly doesn't come as a towering shock; the trailers which have thus far been released for Birds of Prey made it clear that if the film were to be rated PG-13, it would be bumping up hard against the limits of that rating. It likely bodes well for the movie's creative and financial success that the filmmakers apparently weren't forced to restrain themselves, because if any character other than the nefarious Mr. J ever begged for an R-rated live-action starring vehicle, it's his former flame Ms. Q.
Harley (Margot Robbie) was pretty much the lone bright spot in director David Ayer's 2016 DC flick Suicide Squad, which was not only a case study in clashing tones, but which utterly failed to let Robbie's interpretation of the beloved character live up to its potential. We're now more convinced than ever that Birds of Prey will atone for this with an absolute vengeance; our only question now is whether writer/director James Gunn's soft reboot The Suicide Squad, which will also feature Robbie's Harley and is slated to hit screens in August 2021, will also be rated R.
It'll be quite interesting to see how DC's second consecutive R-rated feature lands with fans, because despite the fact that the Joker and Harley are inextricably linked in DC lore, it's apparent that the differences between Birds of Prey and the Joaquin Phoenix-starring Joker could not be more stark. Joker was a singularly unique take on the character which was inspired far more heavily by the gritty, psychologically intense works of Martin Scorsese than by any version of the Clown Prince of Crime seen in the comics' pages; Birds, by contrast, seems to be aiming to give comic fans the version of Harley Quinn that Suicide Squad failed to, with an irreverent, none-too-serious tone and larger-than-life characterizations (particularly that of Ewan McGregor's Black Mask, if those trailers are any indication).
So, while it may appear on the surface as if DC is trying to follow up Joker's success by trotting out another R-rated flick in its billion-dollar wake, we feel safe in saying that this isn't the case. Rather, we're thinking that Birds of Prey writer Christina Hodson and director Cathy Yan have simply made a raunchy, bloody, profane, funny movie, and there's certainly nothing wrong with that.
Birds of Prey isn't the only adult-oriented Harley Quinn on the block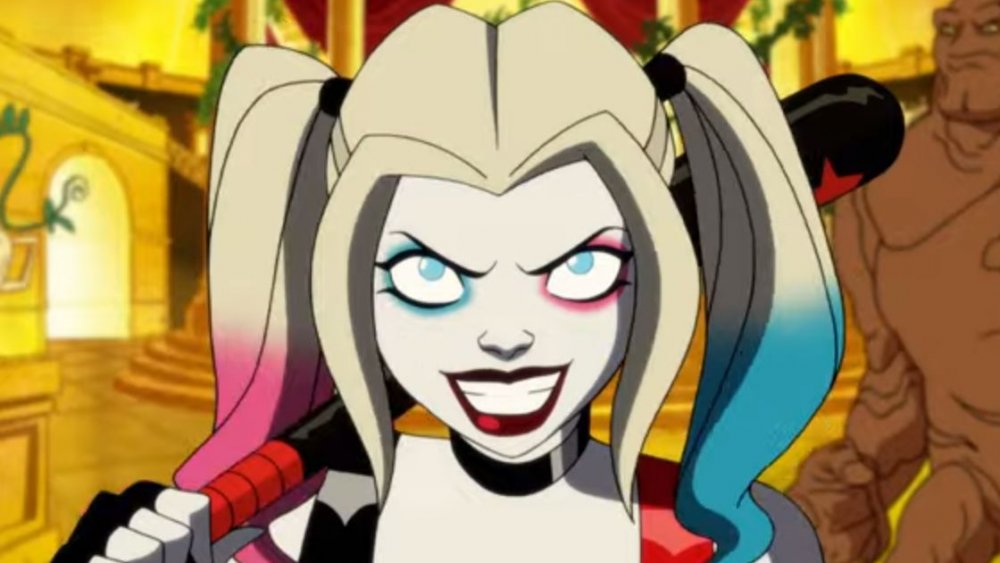 DC Universe
Harley has always seemed like the kind of character who would be best-served by untethering her from the demands of... well, appropriateness, and this has been proven recently. DC Universe's animated series Harley Quinn can be seen as a kind of preview of/companion piece to Birds of Prey; it even sports a similar premise (Harley strikes out on her own after breaking up with the Joker), and the character's design is much more in line with Robbie's version of the character than, say, the classic version from Batman: The Animated Series.
The DC Universe show is just as gleefully violent and profane as Birds of Prey is shaping up to be, and in addition to top-notch animation and writing, it sports an absolutely insane voice cast. Holding down the title role is Kaley Cuoco (The Big Bang Theory), and boy, does she ever have excellent support. The series features (pardon us while we take a deep breath): the hilariously deadpan Diedrich Bader (BoJack Horseman) as Bruce Wayne/Batman; Lake Bell (Spider-Man: Into the Spider-Verse) as Pamela Isley/Poison Ivy; Alan Tudyk (Tucker & Dale vs. Evil, Firefly) as Joker, Clayface, and Calendar Man; Wayne Knight (Seinfeld) as Oswald Cobblepot/Penguin; Giancarlo Esposito (Breaking Bad, The Mandalorian) as Lex Luthor; Sanaa Lathan (Family Guy) as Selina Kyle/Catwoman; Jacob Tremblay (Doctor Sleep) as Damian Wayne/Robin; and James Wolk (Watchmen) as Superman, among others.
We honestly cannot recommend this series enough, especially if you're planning on catching Birds of Prey, which you should be. The DC Movie Universe really seems to be finding its footing now that it's shifted its focus from universe-building to just making the best standalone films possible, and if fans want Warner Bros. and DC Films to stay this course, there's a really great way to let them know: by opening their wallets, and getting their butts in theater seats.
Birds of Prey (And the Emancipation of One Harley Quinn) hits the big screen on February 7, 2020.