What Tommy Flanagan Has Been Doing Since Playing Chibs On Sons Of Anarchy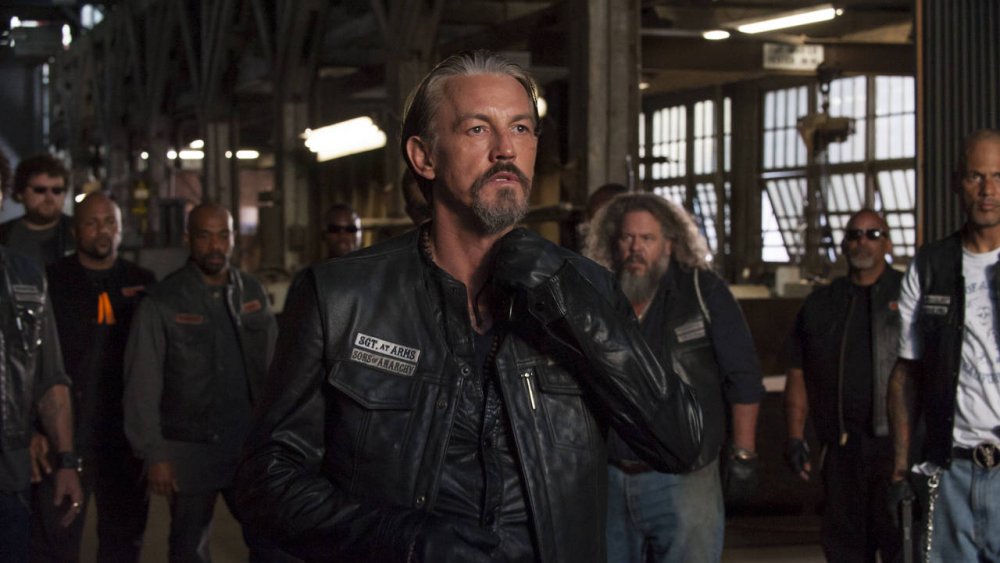 FX
Throughout Sons of Anarchy's blistering and bloody seven seasons, dozens of faces came and went among the brothers of SAMCRO and their ever-expanding swathe of foes. Few of those faces were quite as memorable as that of SAMCRO's own Filip "Chibs" Telford, played by Tommy Flanagan. Over the course of Sons of Anarchy's general, ahem, anarchy, Flanagan's distinctively scarred facade and pure-blooded Scottish accent helped him stand out against a stacked cast headed up by Charlie Hunnam, whose Jax Teller was the SAMCRO brother with whom Chibs most frequently threw his lot in. Fans of the series will, of course, recall that Chibs' steadfast loyalty to Jax and the SAMCRO brotherhood was rewarded at the end of Sons of Anarchy's brutal final season when Chibs ascended to the throne of club President — a title he apparently still owns (more on that later).
It's been five years since FX's beloved biker drama Sons of Anarchy rambled into the honored realm of rerun-land, and it should come as no surprise that time has been kind to the man who ended his run at the top of the heap. Here's what Tommy Flanagan has been doing since playing Chibs on Sons of Anarchy.  
Tommy Flanagan got some Revenge on the small screen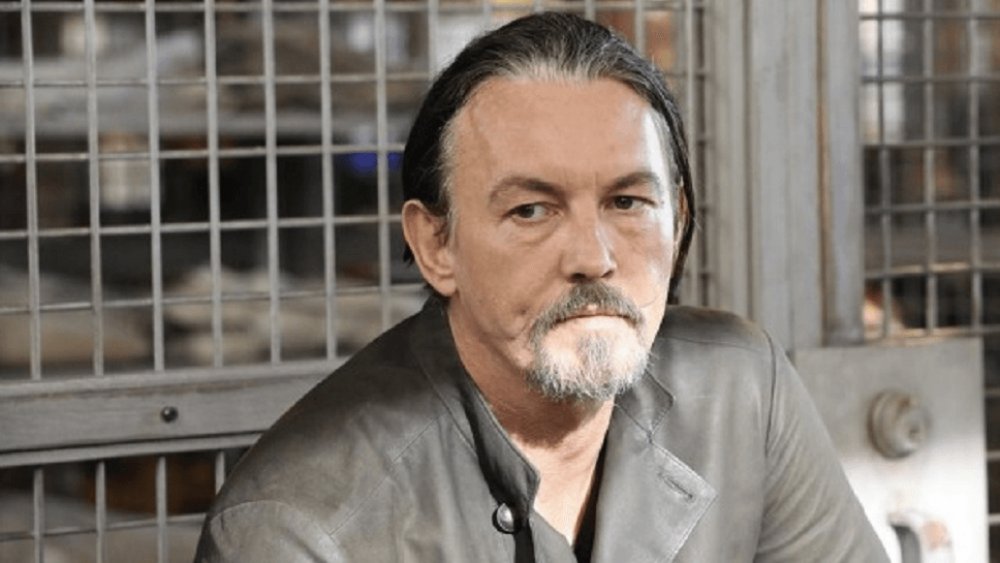 ABC
Viewers were likely already familiar with Tommy Flanagan's work before he slid into his badass leather SAMCRO jacket for Sons of Anarchy – if only because he'd had quite a successful run in a handful of big-name projects in the decade-plus prior. (Braveheart, Gladiator, and Sin City are just a few high-profile projects on Flanagan's filmography.) It came as no surprise then that Flanagan wasted little time booking acting gigs in the wake of SoA's conclusion. 
The first of those gigs came via ABC's simmering melodrama Revenge. Though Flanagan only appeared on three episodes of Revenge, he made his presence felt as the nefarious mobster-slash-arms dealer Malcolm Black. If you'll recall, Black was a key figure on the series, and may have had a hand in many of dealings that ultimately set the winding Revenge narrative in motion. He was also one of the few bad boys on Revenge whose motivations were at least a little bit sympathetic. Either way, fans of the series vividly remember Flanagan's dexterous portrayal of Black as much as they do his grisly demise.   
He rotted in vain for Korn
Throughout his now-decades-old career, Tommy Flanagan has played his share of weirdos on screens big and small. That being said, the actor got a little weirder than usual for one of his post-Sons of Anarchy performances: a music video for nu metal demigods Korn. Said video was for the band's 2016 track "Rotting in Vain," and found a dead-eyed, mascara-wearing Flanagan portraying a dapper sort of bloke with a penchant for, shall we say, the darker side of life. 
Though the video itself is a bit tamer than that setup would have you believe, it sees Flanagan kicking around an unfinished house while huffing some mysterious gas, drinking booze, and playing with ravens, snakes, and a bevy of steam-punky devices. It also finds Korn playing music that sounds decidedly like Korn — which is totally cool if that's your thing. As for Flanagan, he's as good as you'd expect him to be, and is frequently the most intriguing thing about the "Rotting in Vain" video.
Tommy Flanagan played with the Guardians of the Galaxy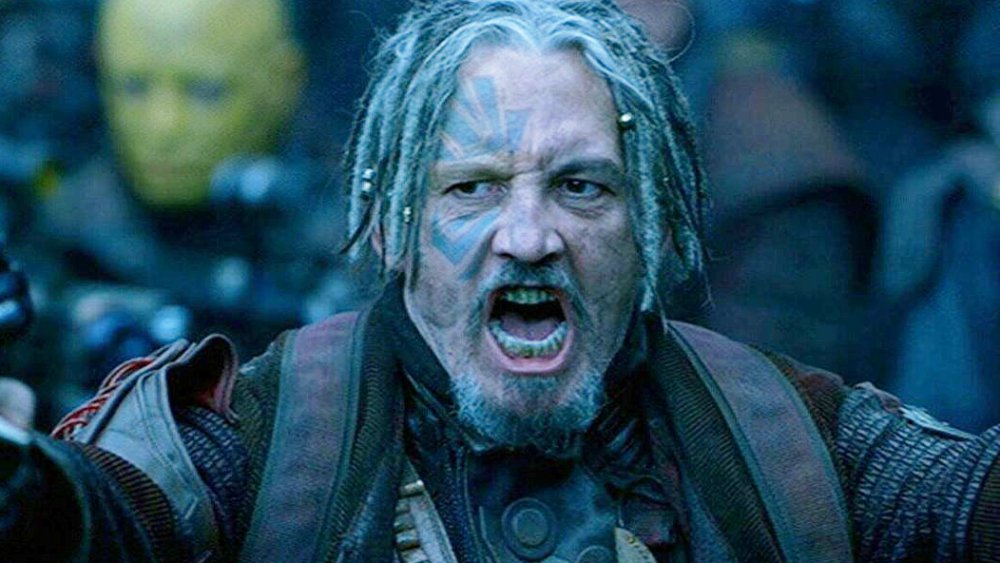 Marvel/Disney
Like so many actors these days, Tommy Flanagan has made an appearance in the ever-expanding Marvel Cinematic Universe — and most people would agree that Flanagan's supporting turn as Tullk in Guardians of the Galaxy Vol. 2 ranks among the more memorable of his after-Sons of Anarchy gigs.
If you've already ventured into the goofy, surprisingly heartfelt deep-space drama of Guardians of the Galaxy Vol. 2, you'll remember Flanagan's appearance in the film as a longtime member of the Yondu Ravager Clan. Tullk was also one of the most loyal members of Yondu's (Michael Rooker) crew — which is important to note because one of the subplots of the film involved an all-out mutiny among the Ravagers, and those Ravagers who remained loyal to their captain didn't fare particularly well in the fracas. As it is, Flanagan's final moments in Guardians of the Galaxy Vol. 2 remain some of the most unexpectedly touching ones in the entire film. 
Tommy Flanagan helped an old biker buddy break out of jail in Papillon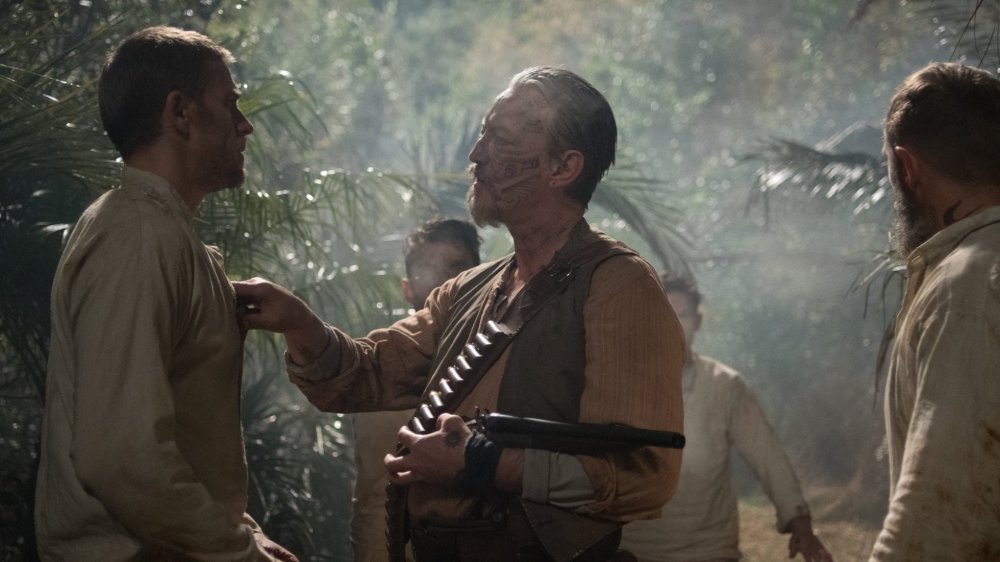 Bleeker Street Media
While Charlie Hunnam's struggles with letting go of Sons of Anarchy have been well-documented since the show went off air, it's safe to say that a definite bond of brotherhood ran through the series' cast and crew. As such, it's become far from uncommon to see some of the SAMCRO brothers appearing on screen together in the years since Sons ended.
That said, Tommy Flanagan's appearance opposite his old biker boy buddy Charlie Hunnam in 2017's remake of Papillon was hardly a shocker. The film, based on real events, finds Hunnam's Henri "Papillon" Charrière attempting a series of daring prison breaks with fellow inmate Louis Dega (played by Rami Malek). During one of the escapes, "Papillon" is aided in his endeavor by a savvy gent with a shotgun and face full of tattoos. He's known simply as Masked Breton, and he's played by Hunnam's former second-in-command Flanagan. 
Going full Wu for Netflix's Wu Assassins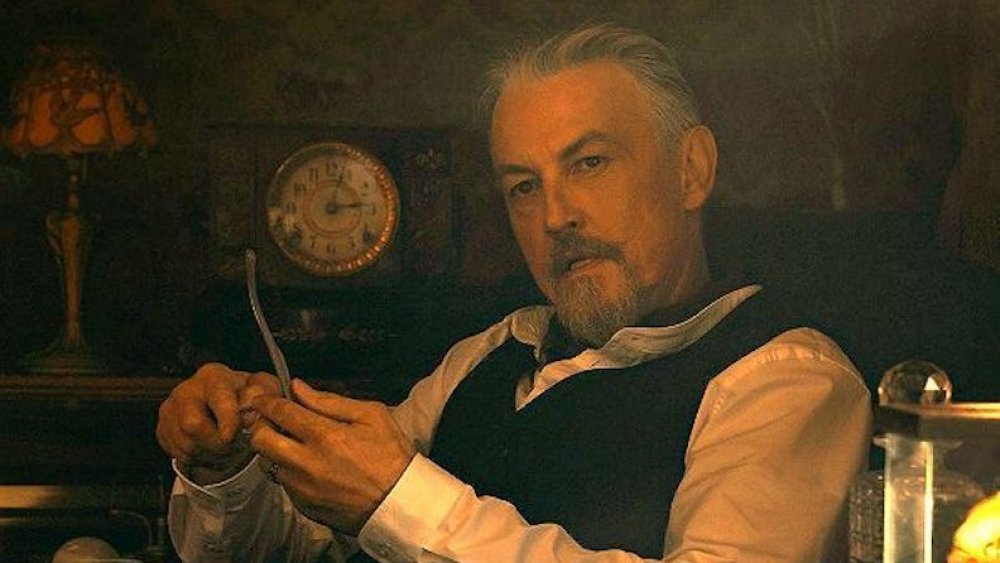 Netflix
After the end of Sons of Anarchy, Tommy Flanagan joined the ranks of actors who've made an appearance in a project for streaming giant Netflix. Unfortunately, Flanagan's Netflix run was shorter than most, as his kung fu drama Wu Assassins lasted a mere 10 episodes. That early cancellation was likely more algorithm-driven than anything, since Wu Assassins seemed on track to become one of the more intriguing action confections available in Netflix's overstuffed vault of original content. Still, it seems not many people actually watched those 10 episodes of Wu Assassins, which means most missed out one of the great Tommy Flanagan performances. 
The series is set in San Francisco, and finds a warrior named Kai Jin (martial arts star Iko Uwais of The Raid, Man of Tai Chi, and The Night Comes for Us fame) who's tabbed to become the last of the titular assassins and restore balance to the streets of Chinatown. Flanagan's crime boss Alec McCullough is largely responsible for the imbalance on those streets, which pits him in direct opposition to would-be Wu hero. Flanagan clearly had a blast breaking bad for Wu Assassins, and ultimately delivered what might've become his signature villainous turn had more people seen it. 
Riding as Chibs once again on Mayans M.C.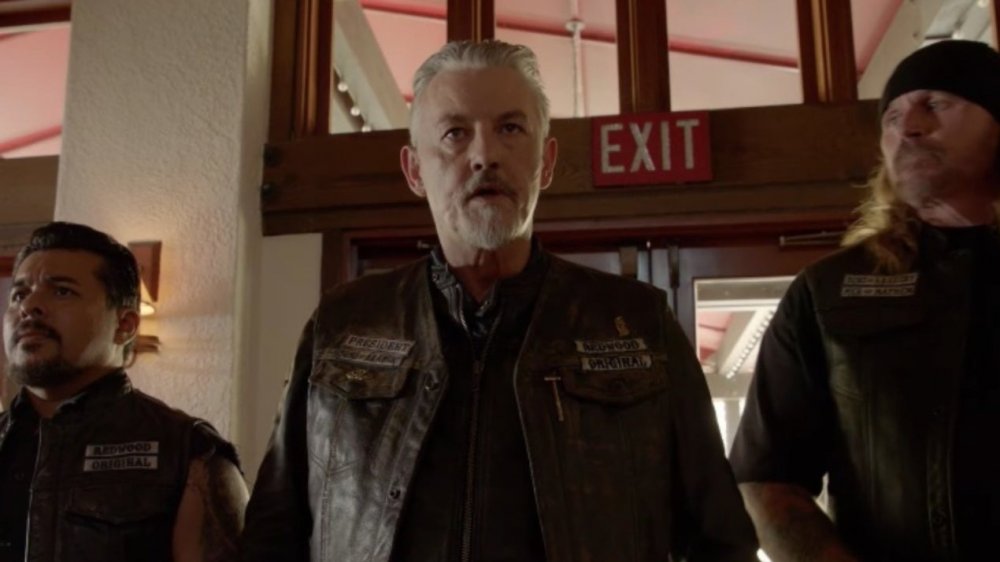 FX
They say "you can't go home again," but apparently Tommy Flanagan didn't get that message. Not only did the esteemed character actor go home again when he reprised the role of Chibs on the Sons of Anarchy spin-off Mayans M.C., but he also absolutely owned the screen when he did. 
While many Sons of Anarchy fans fully expected a crossover episode when series' creator Kurt Sutter announced his Mayans spin-off, that crossover didn't actually happen until late in the show's second season. Titled "Kukulan," the episode in question was directed by indie darling Allison Anders (Gas Food Lodging, Things Behind the Sun) and finds the Mayans crew honoring one of Jax Teller's final requests by sitting down with the SAMCRO brothers and hammering out details about a lucrative deal. As you can probably imagine, things to don't quite go according to plan. Even so, it was beyond brilliant to see Flanagan channel his inner Chibs for the episode, and we're sincerely hoping Mayans M.C. can find another reason to bring the great Tommy Flanagan back for a future episode.