What The Critics Are Saying About Jumanji: The Next Level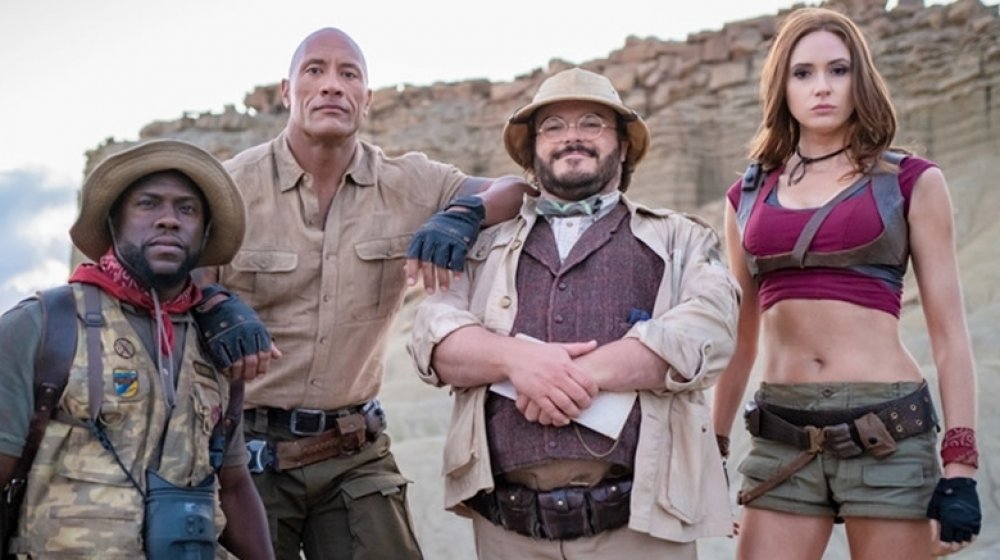 Sony/Columbia
The Jumanji franchise is apparently taking action-comedy to... well, it's right there in the title.
The third film in the series, Jumanji: The Next Level, has screened for critics — and while they're not yet allowed to pen formal reviews, many of them have taken to social media to offer their praise. Singled out for heaping helpings of accolades: Kevin Hart, who spent much of 2017's Jumanji: Welcome to the Jungle channeling a teenage girl, and spends most of the sequel channeling Danny Glover.
If you find this a bit confusing, you may need a brief primer. The 1995 classic Jumanji dealt with the plight of two children who discover a jungle-themed board game which unleashes its hazards — swarms of mosquitoes, stampeding rhinos, and the like — on the real world as they play. They soon discover that it's possible to get physically sucked into the game, as they set free a man (Robin Williams) who had been stuck in the game since he was a child. In order to restore order, they must play the game to completion — an increasingly difficult and hazardous task.
The 2017 sequel Jumanji: Welcome to the Jungle ingeniously expanded the original film's lore by positing that the game could appear in a form which would be enticing to whomever finds it; morphing into a video game, it's discovered by teenager Alex Vreeke (Mason Guccione), who is sucked into the game in 1996. Two decades later, four bored teens stumble upon the game during a stint in detention at their high school, and find themselves not only transported into the game's world, but transformed into its avatars: Dr. Smolder Bravestone (Dwayne Johnson), Professor Sheldon Oberon (Jack Black), Franklin "Mouse" Finbar (Hart), and Ruby Roundhouse (Karen Gillan).
The teens happen upon a now-adult Alex, piloting a fifth avatar: Jefferson "Seaplane" McDonough (Nick Jonas). They help him to conquer the game's Big Bad, Professor Russell Van Pelt (Bobby Cannavale) and retrieve a magical jewel known as the Jaguar's Eye, finishing the game and restoring everything to normal (which includes sending Alex back to 1996 to pick up his life where he left off).
Jumanji: The Next Level finds the teens forced to once again jump back into the game when one of them becomes trapped therein during a stay at the home of his grandfather (Danny DeVito) and his friend (Glover). The two old folks are involuntarily brought along for the ride and assigned the avatars of Finbar and Bravestone, respectively — presenting lots of opportunities for Hart and the Rock to flex their comedic chops.
How does Jumanji: The Next Level stack up to its predecessor?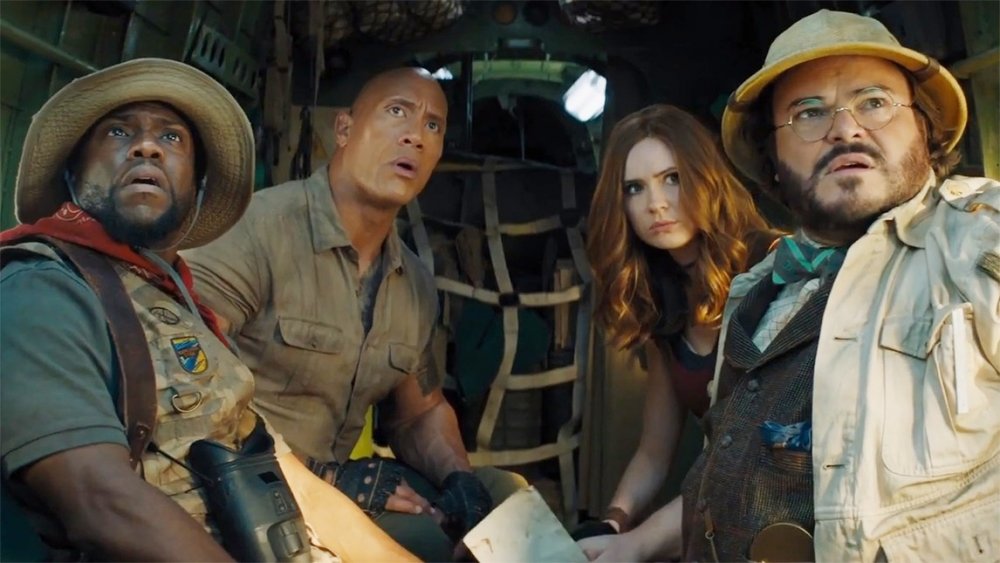 Sony/Columbia
Critics who took to Twitter to offer up their assessments of the flick were near-unanimous in opining that Jumanji: The Next Level is absolutely a worthy sequel to the pure blast of action-packed hilarity that was Welcome to the Jungle, and Hart just nailing the well-known mannerisms of Glover was roundly considered to be a highlight.
Wrote Sean O'Connell of CinemaBlend, "[Jumanji: The Next Level] has some huge surprises and introduces a LOT of story that's fun to explore. The best reason to go back into the game? @KevinHart4real channeling Danny Glover. That joke kept making me laugh long and hard!"
TV personality Tara Hitchcock concurred. "Hard 2 top @jackblack as a teenage girl in the last... film, but @KevinHart4real as Danny Glover DOES IT! Omg — I could listen 2 him tell me the backstory of wild animals all day!"
The Hart-felt praise (sorry) rolled on with Rebecca Brayton of WatchMojo, who wrote, "Just came out of the Jumanji: The Next Level screening! Super fun, higher stakes, more emotional moments. For me, the first one belonged to @jackblack; this one is @KevinHart4real's. But everyone was stellar as always. Also, great surprises in store!"
Almost slipping through the cracks in all of the adoration for Hart was the fact that Johnson was tasked with being similarly convincing as DeVito in the Rock's body, and he also came through. "Here's what's next level about [Jumanji: The Next Level] — @KevinHart4real as Danny Glover," wrote Today Show film correspondent Nikki Novak. "The set pieces — brilliant! This time you really feel you are immersed in a video game. Danny DeVito charms and @therock goes [off] in channeling him. What a blast!"
Of course, not every critic on Twitter was there to heap praise on Hart and Johnson; some were there to dole it out to the entire cast. "[Jumanji: The Next Level] is hilarious," wrote ComicBook.com's Brandon Davis. "It's impossible to pick one cast member who stands out above the rest. It has some unexpected heart, too. Big time. Everyone is so damn funny.
The sentiment was echoed by Collider's Perri Nemiroff, who wrote, "Body swap movies are the greatest — especially a body swap movie with an A+ ensemble like [Jumanji: The Next Level]. The action is fun but I could watch Johnson, Hart, Gillan and Black play with that format for hours. And now with Awkwafina too! Such a great addition to the group!"
The overall response was perhaps best summed up best by TV personality Maude Garrett, who offered pretty much the highest praise any sequel could ask for. "[Jumanji: The Next Level] does what few sequels can do... make a movie that's just as good, if not better than the first," she wrote. "They kept what was fun and built on it, with hilarious changes that left me laughing out loud often. Worth seeing."
Of course, we'll have to see if the rapturous response to the flick holds up when the actual reviews start coming in; generally speaking, critics who really dug a movie are more apt to jump on social media after an advance screening to talk about it than those who didn't. But so far, all signs point to Jumanji: The Next Level being just as great a time at the movies as Welcome to the Jungle — which is to say, pretty darn great. The flick hits the big screen on December 13.