Why Anthony Daniels Is Disappointed By The New Star Wars Movies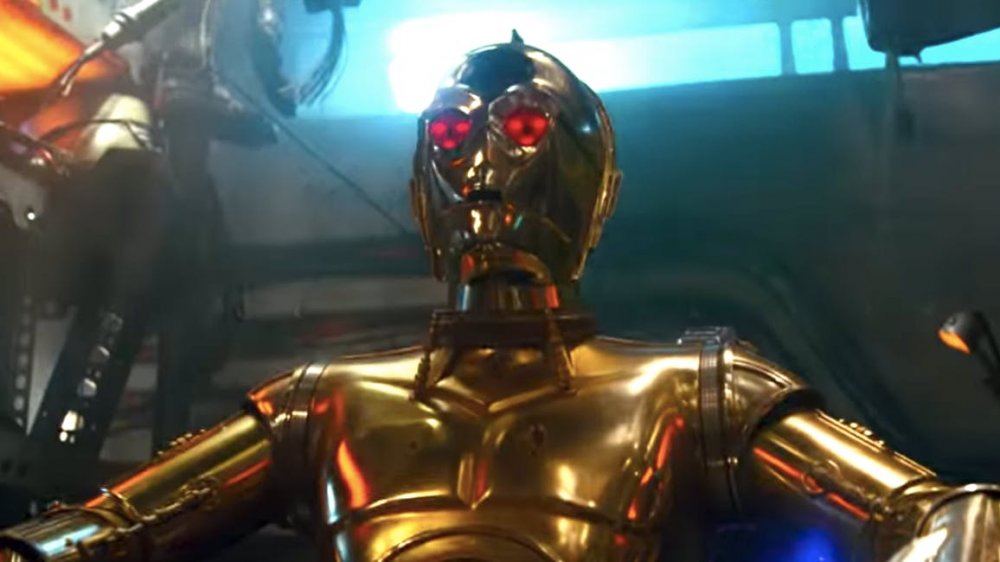 Has Anthony Daniels given himself over to the dark side?
Probably not, but in a recent interview with Express Online, the Star Wars legend who's portrayed the metallic busy body C-3PO through all nine films in the Skywalker Saga (including the upcoming saga-closer The Rise of Skywalker) threw some shade in the general direction of franchise. 
Now, Daniels isn't throwing in with the arguably toxic fandom sprung from the fiercely divisive Last Jedi. Rather, he has one particular bone to pick regarding C-3PO's role in the new Star Wars films — chiefly that his character doesn't have much to do in them.
Speaking with the UK-based entertainment site while promoting his new book I Am C-3PO, Daniels offered a surprisingly blunt assessment about C-3PO's place in the new films and admitted that he's disappointed in the current trilogy. 
"In these new movies, I have felt like a table decoration. And that is difficult because I recognize this character [C-3PO] is worth so much more. But I understand it is a whole film, not a feature about C-3PO," said Daniels. "That is just my personal disappointment. I get paid whether or not he does anything, but it would be nice for him to have a purpose."
If you've seen both of the new Star Wars flicks, The Force Awakens and The Last Jedi, it's hard to argue with Daniels' "disappointment" about C-3PO's place in the narrative. Many felt the character's reemergence in The Force Awakens was a bit forced. In fact, C-3PO's introduction and inclusion in The Force Awakens has been regularly touted as one of the elements that made the film feel more like straight Star Wars fan-service rather than an exciting new chapter in the franchise. 
While writer-director Rian Johnson shook things up with his refreshingly twisty tale The Last Jedi, he gave C-3PO even less to do than J.J. Abrams did in The Force Awakens – and at times, the character felt less like a vital character and more like a "decoration," as Daniels put it. 
But even with little to do in the current trilogy, it's hard to imagine a Star Wars movie without C-3PO's quippy presence. Despite a lack of real relevance in the new films, C-3PO has still managed to provide a handful of memorable, unmistakably Star Wars moments. And from the sound of things, C-3PO's seeming irrelevance through the first two chapters of the new Star Wars trilogy is about to change dramatically. Fans got a telling glimpse of what's to come for C-3PO in a moment included in the latest Rise of Skywalker trailer — one that found the ever-faithful droid taking "one last look" at his friends. Previously released Rise of Skywalker footage also showed C-3PO sporting deep red eyes that may or may not tease a turn to the dark side. 
Addressing those moments in his Express interview, Daniels was understandably vague — offering simply that The Rise of Skylwalker will feature a bold new direction for his character: "C-3PO has a major arc. I am very satisfied with what I had to do in this movie and I am very satisfied with everything I know about this movie."  
While we can't glean from Daniels' comments much about what exactly is going on with C-3PO in The Rise of Skywalker, it's encouraging to hear that he's quite pleased with the upcoming film. 
He's not crazy about the Star Wars prequels either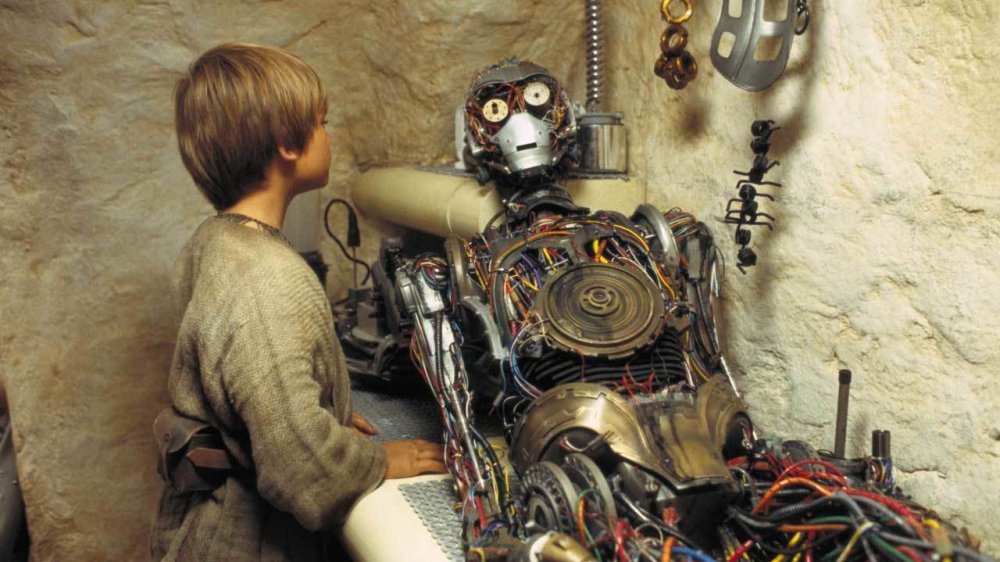 Daniels then went on to address the growing toxicity surrounding the Star Wars franchise in the wake of The Last Jedi. Without directly joining in the madness, he offered, "I do understand why the fans are unhappy... It speaks to a devotion that they care so much that they mind if someone messes with it. I understand people being critical of the films." And despite his personal dissatisfaction with The Force Awakens and The Last Jedi, Daniels noted that he doesn't agree with fans spewing hate: "People should be respectfully critical. The toxicity was so shocking and unpleasant. And often wrong. To be venomous and cruel is against the ethos of a story about goodness."
The actor also addressed fans who claim they would never watch another Star Wars movie after seeing The Last Jedi: "I bet they do. And I hope they do because from everything I have seen so far, it [The Rise of Skywalker] is very good."
In true C-3PO fashion, Daniels' candid appraisal of toxic fandom, comments on the new Star Wars films, and praise for The Rise of Skywalker came immediately after a few barbed words directed at another collection Star Wars flicks. No, not the O.G. trilogy that made George Lucas a movie-god in the '70s and '80s — the one that largely tarnished the film series in the '90s and 2000s, the Star Wars prequels. 
Regarding his involvement in the prequel movies, Daniels admitted that he didn't have the greatest time filming them. He shared, "It was certainly a bit weird in the prequels. But I accepted the storylines were very different. I was very glad to be there although they weren't that much fun to do."
We can all likely agree that the Star Wars prequel trilogy wasn't much fun to watch either, and that regardless of how you feel about the new Star Wars films, they've at least been mostly a lot of fun to sit through. If Daniels is to be believed, we're all in for a welcome surprise when J.J. Abrams' saga-closing The Rise of Skywalker hits theaters on December 20. Here's hoping the Force is indeed with cast and crew for this final chapter, as it's apparently the last we're going to get for the foreseeable future. Unless, of course, we get that C-3PO standalone film after all?