Rick And Morty Meets Death Stranding In Hilarious Crossover Video
If there's one thing Rick and Morty loves, it's unorthodox crossover promotions. 
The Adult Swim series has done a number of unexpected ads for other media, and it generally consists of the titular characters not taking the promotion seriously and going off on a tangent that makes you, the viewer, question why whatever company they're promoting thought the ad would be a good idea. Like, for example, the Rick and Morty ad for Alien: Covenant, which devolved into an argument between Rick and Morty about drinking drugs (not drinking and drugs — drinking drugs). 
Still, the ads must provide some good buzz, because a new one has arrived: Rick and Morty meets Death Stranding.
In the 30-second spot, Rick and Morty are seen walking through an animated version of the landscape of Death Stranding, the highly anticipated (and highly confusing) upcoming video game developed by Kojima Productions. Rick looks like his normal self, while Morty is dressed like the protagonist from the soon-to-release game — Norman Reedus' Sam Porter Bridges – complete with a floating baby in a tank on his chest. Rick remarks that Hideo Kojima — the writer, director, designer, and producer of Death Stranding – has enlisted their help to try to repair the game's dystopian world. Rick then gets distracted by "all these ghosts," which Morty soon informs him are "the Death Stranding."
Then, the duo's attention turns to the baby as they try and decipher its purpose. Is it an upgrade? Some sort of health potion? In the end, they decide to take the only logical action: They're going to eat the baby. We warned out — it's a seriously twisted ad for a very weird game. 
Rick and Morty + Death Stranding = A match made in heaven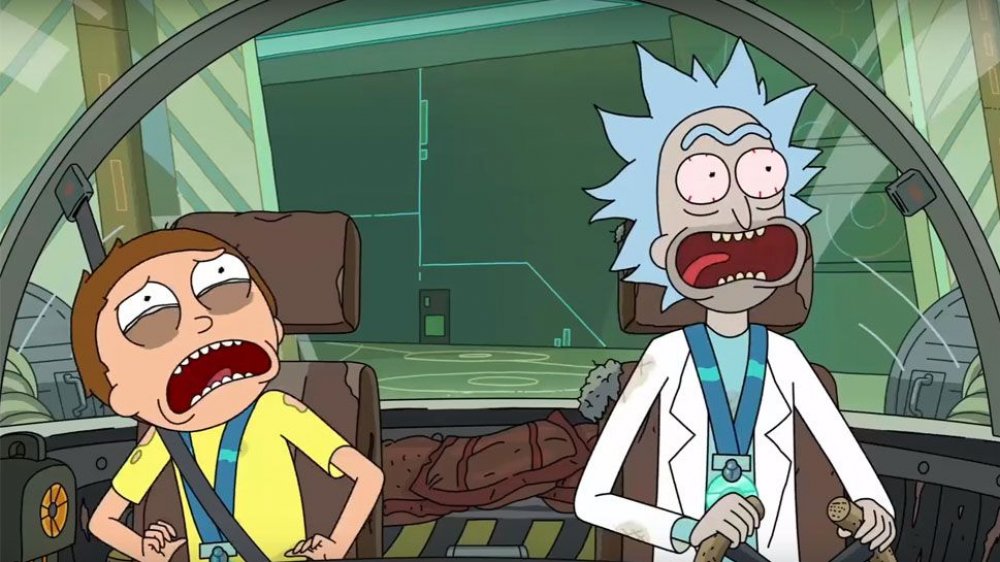 Adult Swim
At first glance, a Rick and Morty and Death Stranding crossover may feel like an odd match. After all, one is an animated comedy series that doesn't take itself too seriously (despite often delivering some serious truths), while the other is a dramatic video game that takes itself extremely seriously. But when you think about it, these two properties actually go together pretty well — and not just because of their sci-fi connections. Rather, it's because they're both really weird.
Rick and Morty is pretty mainstream. It's probably the most popular Adult Swim series ever, and it has one of the most dedicated fanbases of any show currently on television. Every time a new Rick and Morty season is announced, it's basically treated like an event, and few other shows can match the excitement it generates. With the series' popularity, it's easy to forget just how strange Rick and Morty is. This is a show that has turned its protagonist into a pickle, featured a giant anthropomorphic jellybean-slash-criminal, and woven a complex serialized narrative that involves a multiverse and lots of science jargon that may or may not actually make sense.
Pretty much the only current, mainstream piece of entertainment that surpasses Rick and Morty in weirdness is Death Stranding. Seemingly no one can adequately describe what the game is about – its ludicrously complex story involves a post-apocalyptic America, invisible ghosts, babies in jars that can spot said ghosts, and a delivery man who will somehow save the world. Plus, Conan O'Brien's in it? Honestly, it sounds like a Rick and Morty episode.
Rick and Morty season 4 is almost here
As with any new piece of content that involves Rick and Morty, the new Death Stranding ad serves as a reminder that the long-anticipated fourth season of Rick and Morty is just around the corner. The upcoming season was confirmed in May 2018, when Adult Swim announced that an additional 70 episodes of the series had been ordered — likely consisting of seven 10-episode seasons. It was another year before it was announced when Rick and Morty season 4 would debut, with the timeframe of November 2019 given. Then in October 2019, the season's first full trailer finally arrived... and revealed that only five episodes were ready to go starting in November, with no date given for when the second half of season 4 might premiere.
Now, those first five episodes are nearly here, and fans will undoubtedly be happy to take what they can get. The season's first episode, titled "Edge of Tomorty: Rick Die Rickpeat," is set to debut on Sunday, November 10. The episode's title is a play on the Tom Cruise action film Edge of Tomorrow: Live, Die, Repeat, meaning it's possible the series may parody the film as it parodied Mad Max on season 3's "Rickmancing the Stone." Or maybe the episode will parody a movie that's nothing like Edge of Tomorrow, since "Rickmancing the Stone" had nothing to do with the film Romancing the Stone. Who knows! All we can say for sure about Rick and Morty season 4 is that we'll be able to watch it very soon.
Meanwhile, those interested in picking up Death Stranding can do so when the game launches just ahead of Rick and Morty season 4 on Friday, November 8.