Rick And Morty Season 4 Release Date Announced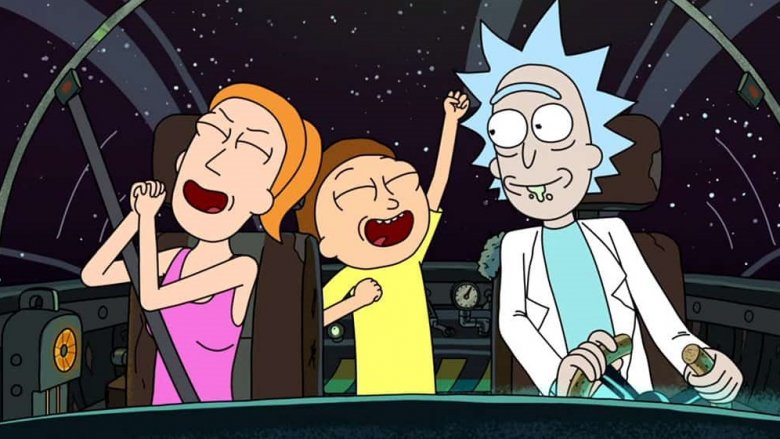 The long wait for more Rick and Morty is almost over.
In a short video posted to Adult Swim's Twitter account, the stars of the show themselves (one of them somewhat reluctantly) appeared to tell faithful viewers that season 4 of the animated series will be coming our way in November 2019.
We heard some of you were interested in this information. #WarnerMediaUpfront @rickandmorty pic.twitter.com/UkUINBmw9a

— [adult swim] (@adultswim) May 15, 2019
The series' fan base — for which the descriptor "rabid" seems to have been invented — have been waiting a long time for this news, as is typical. The second and third seasons famously took something like forever to make it to the screen; a post-credits stinger after the credits rolled on the second episode's final season even featured the fourth-wall-breaking character Mr. Poopybutthole urging fans to tune in for season 3 "in like a year and a half, or longer." By the time season 4 drops, it will have been over two years since the third season's last episode aired — but the good news is, we can expect a bit of a shorter wait in the future.
This is because in May of last year, Adult Swim saw fit to renew the series for an unprecedented, gargantuan 70 episodes, securing the services of creators and voice actors Dan Harmon and Justin Roiland for the foreseeable future. As Harmon explained to GQ in shortly following the renewal, uncertainty about Rick and Morty's future was always a major factor in the delay between seasons, and the security offered by the massive deal means that the pair won't be constantly weighing other opportunities. 
"I have a very special relationship with Rick and Morty, and getting a 70-episode pickup means that I can actually really focus on it, and loving it won't be taking away from anything else," Harmon said. "I can let Rick and Morty take away from everything... I just needed enough episodes and the right kind of deal structure that would give us permission to do what we want to do, which is truly focus on the show. We got all that, and we're both very excited."
Of course, the pair are also notorious perfectionists when it comes to Rick and Morty, which may also have something to do with why previous seasons have taken so long to materialize. But Harmon went on to say that knowing that he and Roiland have Adult Swim's full confidence will allow them to breathe much easier, and not indulge their perfectionism to the point where it becomes overthinking.
"The way we finished up season three, it felt like a real final lesson that clicked — it became very objectively measurable, the amount of perfectionism you could apply to something in the earliest stages of writing something that actually ends up making it to the final product at all. And it's much less than you'd think," he said. "Neither Justin nor I [want to be] the one that drives anyone insane anymore, [and] I believe that — even though we can now focus on it exclusively — it won't be that much of a drain. Because when you are healthy and happy, I think you do end up getting home by sundown."
Season 3 was comprised near-completely of standout episodes with a wide variety of tones. "The Rickshank Redemption" saw Rick assuming control of the family by orchestrating Beth and Jerry's separation, "Vindicators 3: The Return of Worldender" played fast and loose with the tropes of the superhero genre, the anthology-style "Morty's Mind Blowers" offered a look at all of the bizarre adventures we never got to see (because Rick erased them from Morty's memory), and the season-ending "The Rickchurian Mortydate" saw Beth and Jerry reunite to Rick's chagrin (oh, and also featured a superpowered brawl between Rick and the President of the United States). And let's not forget "Pickle Rick," the episode that spawned a thousand memes and featured perhaps the most singularly bizarre premise (Rick literally turns himself into a pickle to avoid going to family therapy) in a series that hangs its hat on extreme weirdness.
Virtually nothing is known about what's in store for season 4; a teaser trailer was released back in January, but, well, check it out below and see if you can make heads or tails of it, because we certainly can't. Will there be an undersea adventure? Will Rick become Godzilla? Will Evil Morty return? Or is it all just a gigantic mind-screw? We suppose these things are not mutually exclusive, but at least now we know how long of a wait we have before we find out. We'll keep an eye out for any Rick and Morty news that trickles out between now and November, and keep you up to date.
Rick. Morty. Rick. Morty. Rick. Morty. pic.twitter.com/kQPqGVQ62m

— Rick and Morty (@RickandMorty) January 3, 2019