Rick And Morty Season 4 Trailer Reveals Official Release Date
It's time to get schwifty. 
Adult Swim has dropped a new trailer for Rick and Morty season 4 — which not only teases what the titular grandfather-and-grandson duo will get up to next, but also reveals the official release date for the new episodes. 
Rick and Morty season 4 will premiere on Adult Swim on Sunday, November 10 at 11:30 PM ET. 
The interesting thing about this official release date announcement is the mention that only five episodes of Rick and Morty season 4 will begin airing in November. As the voiceover in the trailer explains, it's half the season viewers deserve but all the season that the Rick and Morty team could handle at this time. This suggests that there will be a midseason finale and subsequent premiere, though it remains to be seen just how long fans will have to wait for the second half of season 4. Are all 10 episodes done as we speak and the latter five will simply drop after a short holiday season hiatus? Or is the back half of the season not yet finished, and fans will be in for an extended wait to see the final five episodes of Rick and Morty season 4? 
It could swing either way, but considering the lengthy wait between seasons 3 and 4 of the beloved adult animated series, we're willing to bet that the staggered release of the new batch of episodes isn't because things aren't complete. Instead, it seems, at least from our perspective, that rolling out the 10 new Rick and Morty episodes in two halves is a way to further boost hype for the long-long-long-awaited season and ensure that each episode is as great as it can be.
Rick and Morty season 4 will be worth the wait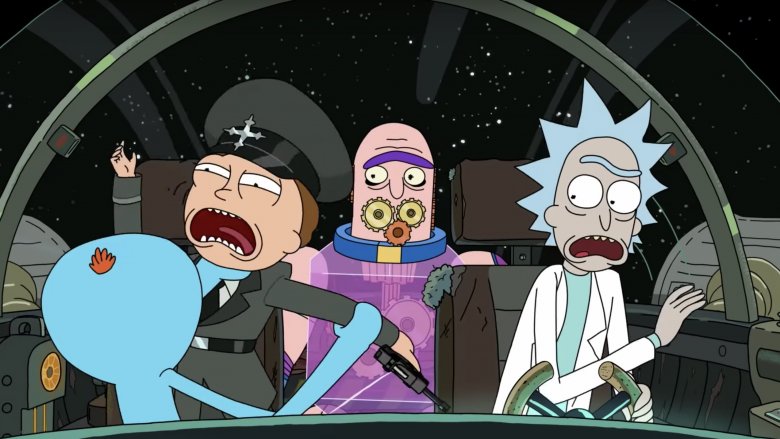 Fans have indeed been chomping at the bit for a new season of Rick and Morty, all but drooling over the prospect of fresh adventures and mind-melting storylines since the series' third season concluded in October 2017. The hold-out for season 4 came down to co-creators Dan Harmon and Justin Roiland (who voices both Rick Sanchez and Morty Smith on the series) waiting for a contract that would give them either "immortality" or "many, many, many more seasons," plus enough money to where Rick and Morty could be their sole focus and they wouldn't have to pick up any extra jobs to remain financially stable. That contract came in May 2018, when Adult Swim handed Rick and Morty a 70-episode renewal, presumably good for seven additional seasons of the show given that past seasons have all been 10 episodes long. 
With the super-sized contract in their pockets, Harmon and Roiland swiftly got to work on Rick and Morty season 4. Not much about the new season has been revealed to the adoring masses — probably for good reason, as there's nothing worse than saying too much about a hotly anticipated project — but what we do know is that the wait will be well worth it. 
"It's exciting, it's a little surreal [...] The ideas are ... it's going to be great," Roiland teased of the upcoming season. He added in an interview with Entertainment Weekly, "This season's been good. Pretty excited about this season [...] Without giving anything away, we have serialized stuff we check in on now and then that's sprinkled over the top of strong episodic episodes. To fans of the show, they're going to want to watch them in order."
Even better is the news that there will no longer be lengthy waits between full seasons of Rick and Morty. As Harmon explained to Entertainment Weekly, "I think it's safe to say without fear of being wrong that the gap between seasons 3 and 4 will be the longest and last time that it's ever so long that it's ridiculous. I don't know how fast we can do it, but I know it will never be this long again."
Catch the premiere episode of Rick and Morty season 4 on Sunday, November 10 at 11:30 PM ET on Adult Swim.