Jumanji: The Next Level Character Posters Introduce A New Player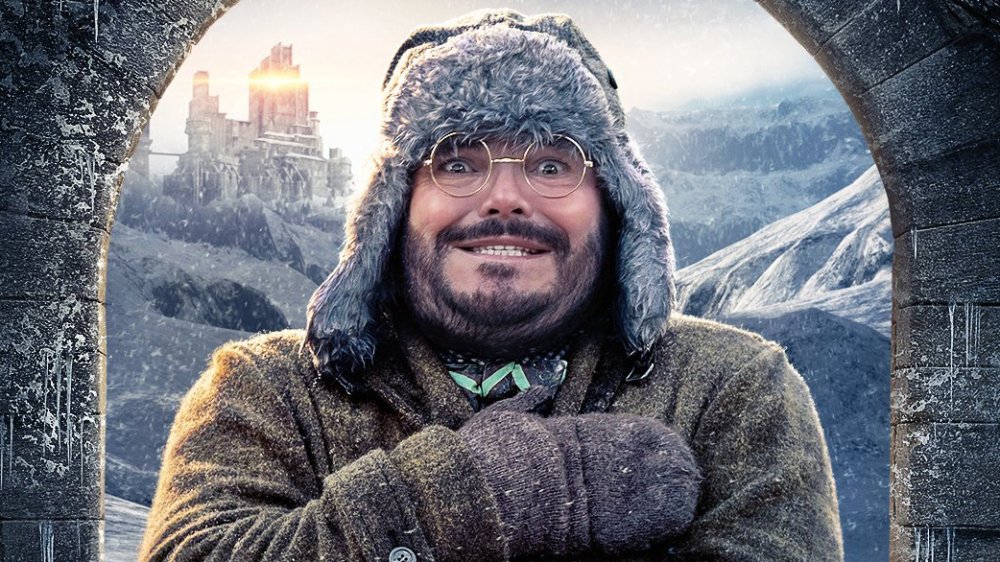 Sony Pictures Releasing
Jumanji: The Next Level is almost here, and we've got a fresh and hilarious batch of character posters to get you psyched — along with one for a mysterious new character (and another for a horse).
The gang (of avatars in the most perilous video game you will ever play) is all here: Franklin "Mouse" Finbar (Kevin Hart), Ruby Roundhouse (Karen Gillan), Professor Sheldon "Shelly" Oberon (Jack Black), Jefferson "Seaplane" McDonough (Nick Jonas), and the absolutely brilliantly named Dr. Smolder Bravestone (Dwayne Johnson, of course). As for the new addition, we don't yet know her name, or whether she's a player avatar or an NPC — but she'll be portrayed by the suddenly ubiquitous Awkwafina (Crazy Rich Asians).
Oh, and did we mention a horse, you ask? Yes, yes we did — and if you've seen the final trailer for the flick, then you know that there's a darn good reason for the steed to have its own character poster. If you haven't, we won't spoil the surprise for you, and you may not want to click that link.
Just in case you're uninitiated, or need a brief refresher: in 2017's Jumanji: Welcome to the Jungle, a group of five teens find themselves sucked into a jungle-themed video game that must be completed before you can escape it (and which was a board game in its previous form, as seen in the 1996 classic Jumanji). Spencer (Alex Wolff) finds himself controlling Bravestone, Bethany (Madison Iseman) is stuck with Professor Oberon, Anthony "Fridge" Johnson (Ser'Darius Blain) gets "Mouse" Finbar, and Martha (Morgan Turner) lucks out with Ruby Roundhouse, the game's most kickass character.
Together, they discover that a boy named Alex (portrayed by Mason Guccione as a teen and Colin Hanks as an adult) has been trapped in the game for over 20 years, piloting the avatar of "Seaplane" McDonough. They must help him to retrieve an in-game artifact known as the "Jaguar's Eye" from NPC Russell Van Pelt (Bobby Cannavale), the game's villain, and finish the game before the jungle finishes them.
This time around, the entire young cast is returning — but there's an interesting new wrinkle. When Spencer repairs the game (which the teens smashed at the end of the first film) and inadvertently re-enters it, his friends come to the rescue — but unfortunately, only Martha and Fridge make it, and Martha is the only player controlling the same avatar as last time. Fridge winds up with the portly, ineffective Professor Oberon, and Spencer's grandfather Eddie (Danny DeVito) and his friend Milo (Danny Glover) are accidentally brought along for the ride, controlling Bravestone and Finbar, respectively.
The trailers reveal that this gives Hart and Johnson room to really flex their comedic chops in channeling Glover and DeVito's personas — and that there'll be an intriguing change of setting or two at some point, from the jungle to the desert. (This hilariously doesn't square with Fridge's new avatar, whose weaknesses are revealed to be endurance, heat, sun, and sand.) The posters also indicate that our heroes may have to contend with some bitterly cold locale along the way.
The new character posters for Jumanji: The Next Level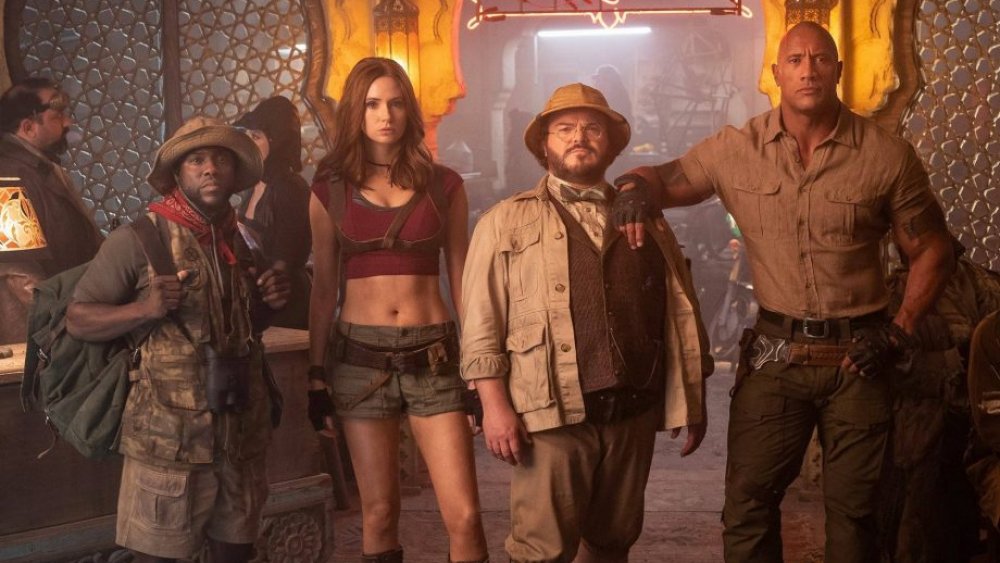 Sony Pictures Releasing
Case in point: this poster featuring Professor Oberon, who looks absolutely psyched to be someplace that could in no way be described as sunny, sandy, or hot. A little bit chilly, sure, but psyched nonetheless.
Here's "Mouse," looking about as confounded as you would be if you were a septuagenarian grandpa who suddenly found yourself transported into the world of one of those newfangled video games. We only briefly hear Hart's impersonation of Glover in the trailers, but boy, is it ever spot-on.
Next up: Gillan as Ruby Roundhouse, looking as badass as ever. We can't help but point out that it will never stop blowing our minds that this is the same actress who portrays Nebula in the Marvel Cinematic Universe, and it "only" takes about 3-5 hours in the makeup chair to render her completely unrecognizable (but even more badass).
Here's Jonas as "Seaplane" McDonough. This time around, it'll be Spencer controlling the avatar, although Hanks will return as the adult version of Alex, who had the dubious honor of being stuck as "Seaplane" for a couple of decades.
Ah yes, and here's the horse — although it is not just a horse (of course, of course). It's actually an avatar, and that's all we're going to say ... although fans of Welcome to the Jungle have probably figured out who will be at the controls through the process of elimination.
Here's Awkwafina's new character, who is seen only briefly in the trailer, making it tough to parse out her motivations. She appears to be an NPC, and it's even possible that she's the game's new villain, particularly since it seems that Cannavale's Van Pelt won't be returning for this flick. She certainly looks a bit sinister, although that could simply be misdirection.
Finally, here's the smoldering Dr. Bravestone. Remember, it's an elderly grandpa played by Danny DeVito at the avatar's controls this time — and the trailers suggest that if you ever had any doubts as to how gut-bustingly funny the Rock can be, you'll soon be putting them to rest.
It's worth noting that in addition to the jungle, the desert, and a snowy forest, there are a couple of additional settings depicted here; Awkwafina's character looks to be hanging out in a small, well-kept, old-timey house, and Bravestone is in a more modern town complete with motorcycles and a neon sign in the background. It seems that the titular next level will entail facing all kinds of setting-based challenges, and personally, we can't wait to see what the game throws at our heroes this time.
Jumanji: The Next Level is directed by Jake Kasdan, who also helmed Welcome to the Jungle; he co-wrote the screenplay with returning scribes Jeff Pinkner and Scott Rosenberg (Venom). In addition to those mentioned, the cast includes Dania Ramirez (X-Men: The Last Stand), Massi Furlan (Supernatural), and Ashley Scott (The Flash); veteran actress Bebe Neuwirth will also reprise her role as Nora from the original 1996 film. The flick hits the big screen on December 13.