The Banker Trailer: Samuel L. Jackson, Anthony Mackie Make History In New Apple TV+ Film
Samuel L. Jackson and Anthony Mackie are teaming up once again for a new historical drama.
The first trailer for The Banker, which stars the two Marvel Cinematic Universe alumni as the first two black bankers in American history, has arrived — and it shows off the pair's partnership as real-life figures Joe Morris (Jackson) and Bernard Garrett (Mackie). Both of the actors will serve as producers on the film as well.
The Banker, set to stream exclusively on the brand-new service Apple TV+ after hitting theaters, sees Jackson's Joe Morris and Mackie's Bernard Garrett attempting to buy a bank despite restrictive race laws before the advent of the civil rights movement. Garrett desperately wants to succeed in finance and business — specifically, real estate — but doesn't have the capital to do it. By becoming the country's first black banker, he sees an opportunity to elevate his community as well as his own status.
Along with his wife Eunice (Nia Long), Garrett and Morris turns to Matt Steiner (Nicholas Hoult) — an average, no-name white man who represents them and their interests to white bankers as they try to fight a rigged system from within. However, while Garrett and Morris try to teach Steiner to play the part of a successful white man while accomplishing their plan, the government finds out about their scheme, which threatens to take down their entire house of cards.
A Marvel-ous reunion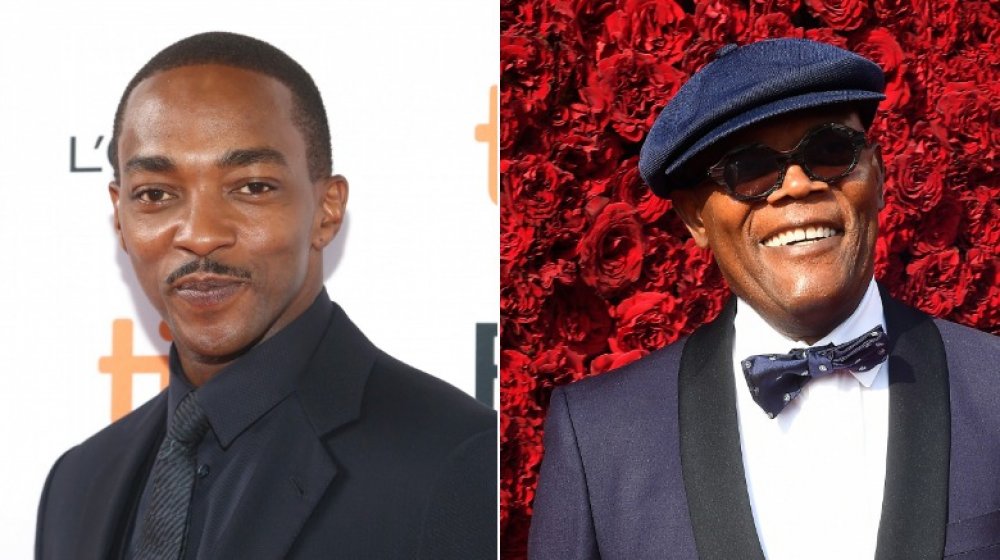 Tommaso Boddi, Paras Griffin/Getty Images
Of course, The Banker is far from the first time Mackie and Jackson have appeared on-screen together. The pair have teamed up several times in the Marvel Cinematic Universe throughout several standalone movies and Avengers films. Since 2014, Mackie has played Sam Wilson (a.k.a. Falcon), who was recently positioned in Avengers: Endgame as the successor to Steve Rogers as the new Captain America. Jackson has appeared in countless MCU films as Nick Fury, making his first appearance in the post-credits sequence for Iron Man in 2008.
Mackie will continue his tenure in the MCU as the cinematic powerhouse moves into its highly anticipated Phase 4, where he'll lead his own show on Disney+ — The Falcon and the Winter Soldier — which will find him attempting to take up Captain America's mantle alongside Bucky Barnes (Sebastian Stan).
Meanwhile, Jackson, who has turned out unforgettable performances in everything from Pulp Fiction to Snakes on a Plane, recently helped out his good friend Brie Larson (who also appears in the MCU as Captain Marvel) by appearing in her directorial debut, Unicorn Store. The actor will reprise his role as Nick Fury in another Marvel Disney+ series, What If...? Jackson also made waves recently when he lent his signature voice to Amazon's Alexa technology, allowing his fans the chance to have him (lovingly) yell at them in the privacy of their own homes.
The Banker will first premiere on November 21 at the AFI Film Fest in Los Angeles, then arrive in theaters nationwide on December 6 before it finds its exclusive home on Apple TV+ in January 2020. Get ready for this glimpse into a true, historical tale told by Jackson and Mackie.