We Finally Know Who To Blame For GoT's Coffee Cup Blunder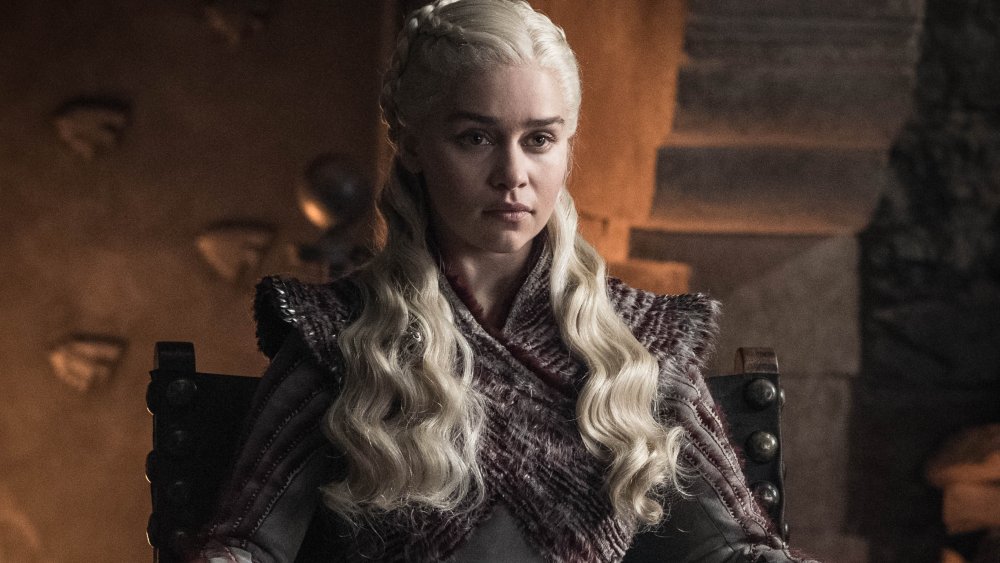 Game of Thrones left plenty of unanswered questions in its wake when it concluded its eight-season run on HBO in May of 2019, but at least one of those mysteries has been solved. 
During a recent appearance on The Tonight Show Starring Jimmy Fallon, Emilia Clarke, who played the tempestuous and ultimately destructive Dragon Queen Daenerys Targaryen for the show's entire tenure, spilled the (coffee) beans over one of Thrones' most public season 8 mistakes. 
Clarke sat down with the late-night host to promote her upcoming holiday rom-com Last Christmas, but the conversation shifted to the subject of Game of Thrones' "Starbucks scandal," wherein a coffee cup was very visibly left behind in a shot of "The Last of the Starks," the fourth episode of the final season. 
The (Star)buck has certainly been passed around a lot in this blooper's aftermath. (It should be noted that the coffee didn't actually come from Starbucks but from a local java shop in Northern Ireland, where Thrones season 8 was filming at the time. Still, the "Starbucks scandal" name stuck with fans.) Clarke's co-star Sophie Turner, who played the inimitable Sansa Stark, once blamed Clarke for the error – then also pointed a finger at Kit Harington, who portrayed Sansa's adopted sibling and Daenerys' nephew-slash-lover Jon Snow. With all of this turmoil, it makes sense that Clarke would want to settle the matter once and for all.
In conversation with Fallon, the actress said she received a confession from a previously unconsidered suspect: Conleth Hill, who played the appropriately cunning Lord Varys on Game of Thrones. Clarke explained that Hill spilled the news during a Thrones Emmys party: "We had like a party before the Emmys recently, and Conleth, who plays Varys, who's sitting next to me in that scene, he pulls me aside and he's like, 'Emilia, I've got to tell you something. I've got to tell you something, love. The coffee cup was mine!' It was his! It was Conleth's coffee cup. He said so."
Clarke went on to say that Hill apparently enjoyed flying under the radar while she took the dragon's share of the blame: "He's like, 'I think so, I'm sorry darling, I didn't want to say anything because it seemed [like] the heat was very much on you. And I was like, 'What?!'"
Even so, Clarke said she can't be entirely sure Hill was serious, considering that he "might have been drunk. But, as she maintains, "he said it."
It feels particularly true to Hill's character that he would be able to keep such a huge secret under wraps for so long — Lord Varys' loyalties often wavered, and he trafficked in secrets and information as he tried to boost his own profile within Westeros. 
Plus, if Hill is indeed responsible for the coffee cup seen 'round the world, it makes sense that he wouldn't want to openly take the blame. The actor attracted enough attention in the aftermath of the Thrones finale when HBO aired its making-of documentary The Last Watch, in which Hill can be seen angrily tossing his script and crossing his arms during a table read that reveals Varys' grisly death (at the hands of one of Daenerys' dragons, no less). Hill was clearly unhappy about his character's demise, so it checks out that he didn't want to take the heat over that lone coffee cup.
Game of Thrones' many mistakes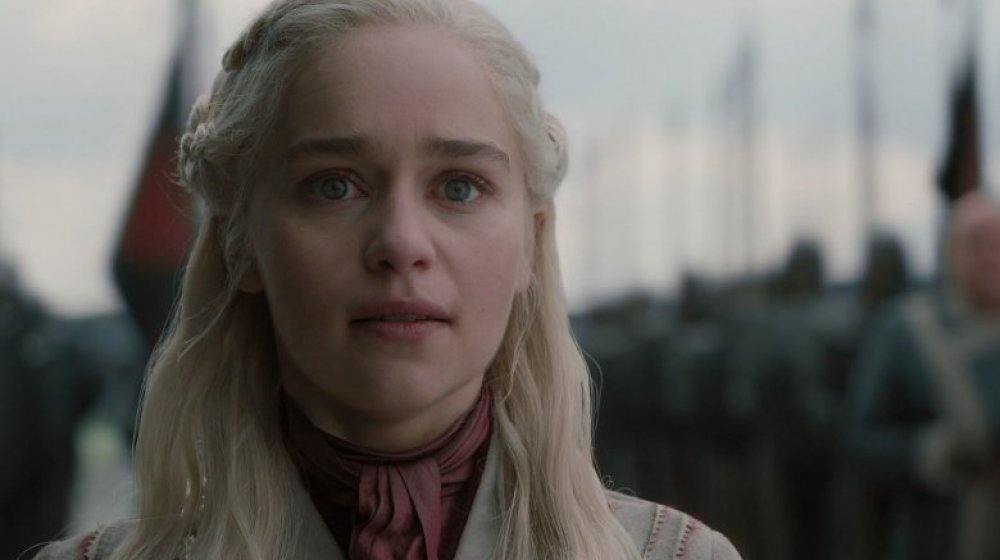 With a production as enormous and ambitious in scale as Game of Thrones, it makes sense that there would be occasional goofs and gaffes that slip through the cracks. But in case you've already forgotten, that grande latte wasn't the only big mistake that showed up on screen during Thrones' eighth and final season.
Just two episodes later, on the series finale "The Iron Throne," two different water bottles were spotted lurking at the feet of different cast members during a final council that would determine the next leader of the Seven Kingdoms. After the coffee cup controversy, one might think that the minds behind Thrones would search through the rest of the final season footage with a fine-toothed comb, but apparently, that wasn't a huge priority.
However, these silly on-screen blunders were just a small part of why the final season of Game of Thrones was so disappointing for fans and critics alike. After years of buildup, intrigue, backstabbing, and drama, Game of Thrones fans had high expectations for the show's swan song, and even a middling final season might have satisfied some. Unfortunately, showrunners David Benioff and D.B. Weiss, in their apparent haste to move onto other (now-canceled) projects, just didn't deliver.
The biggest complaints about Thrones' final season focused on messy, inconsistent character development and an extraordinarily rushed pace, the latter of which definitely affected the former. Fan-favorite characters like Bronn (Jerome Flynn) popped in and out of the narrative with no discernible purpose, many character deaths were ultimately underwhelming, Daenerys' descent into madness felt entirely unearned, and the final reveal that Bran Stark (Isaac Hempstead-Wright) would rule Westeros felt, to many, like an unsatisfying, wildly odd choice.
Fans of Game of Thrones will likely never get answers to some of the biggest unsolved mysteries — from forgotten prophecies to Westeros' apparent tear in the time-space continuum – but at the very least, the coffee cup debacle has been settled... unless Hill places the blame elsewhere.