The Absolute Worst Thing Tig Trager Ever Did On Sons Of Anarchy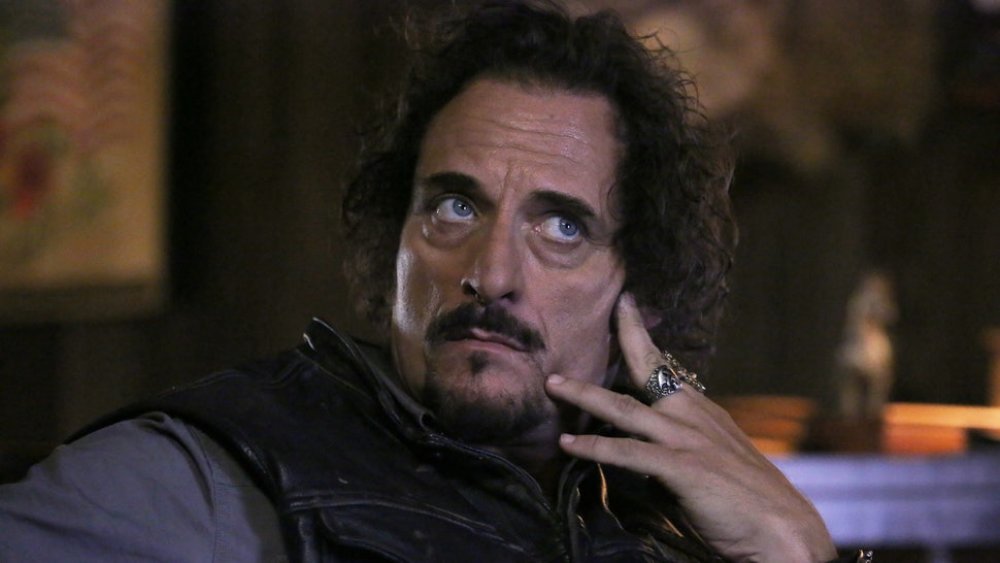 He had that wild hair, those even wilder eyes, and an unapologetically barbed tongue fit for spewing venom in the face of any man or woman who dared to enter his range. He also had one hell of a mean streak that led to some of the more brutal showdowns on a show that pretty much reveled in them.
The man was the one and only Tig Trager, played by the inimitable Kim Coates — and for seven seasons of FX's hard-nosed biker drama Sons of Anarchy, his nose was frequently the hardest of all. Though the character was also often relegated to the vast "supporting player" stable on the series, Tig was just as frequently one of the series' most intriguing personas. 
Like the majority of the SAMCRO (Sons of Anarchy Motorcycle Club Redwood Original) crew, Tig was hardly a good guy. But he wasn't always the bad guy either. Somewhere in the middle, the fiercely devoted biker bro served as an odd sort of moral compass in a band of brothers where morality didn't always feature too heavily in their day to day lives. (Such is the life of a biker with deep ties to the gun trade, drug cartels, and the pornography biz.) Like most of his SAMCRO brethren, Tig had quite the colorful past to protect. He was once arrested for indecent exposure inside of a livestock truck. He also drowned a man in a vat of urine. He even set into motion a series of events that would lead to the death of his own daughter. 
Still, Tig often touted a skewed sense of morality and a profound level of devotion to SAMCRO. He did so by decrying the use of "unnecessary" violence employed by Jax Teller (Charlie Hunnam), getting himself arrested to enable the escape of his biker brothers when the crew found themselves in a particularly prickly pickle, and even offering himself up as tribute to make peace with drug kingpin Damon Pope (Harold Perrineau) when the crew was behind bars. 
We all know by now that it wasn't Tig who ultimately paid the price for the club's mistakes — it was his fellow SAMCRO brother Opie (Ryan Hurst), whose fate tragically intertwined with Tig's on a number of occasions. The first time such an entanglement happened, Tig found himself on the wrong end of a violent act he spent the rest of Sons of Anarchy's run wishing he could undo.
What was the absolute worst thing Tig Trager ever did on Sons of Anarchy, you ask? Hands down, it has to be killing Opie's wife Donna Winston (Sprague Grayden) on the first season of the show.
Why did Tig Trager kill Donna on Sons of Anarchy?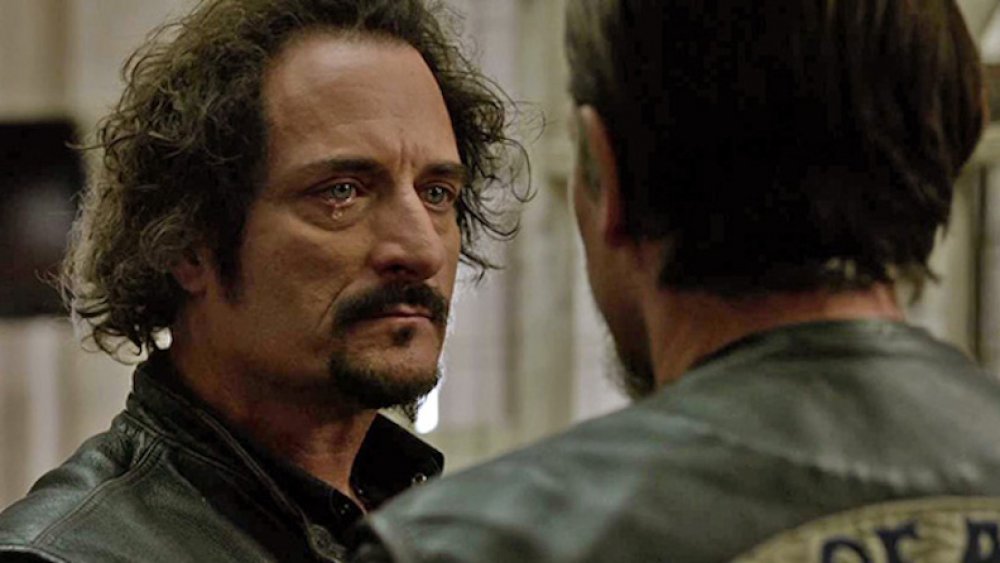 So, why did Tig Trager kill Donna Winston? Truth be told, it was a legitimate accident. Donna wasn't Tig's target that fateful evening — Opie was. Then-SAMCRO president Clay Morrow (Ron Perlman) suspected Opie had turned his back on the club and become an informant, and so he ordered Tig to kill the recently released-from-prison Opie. Clay's info was far from accurate, as it turns out, and had come from an ATF agent bent on toying with Clay and his crew.
Either way, the ever-loyal Tig carried out his orders, opting to shoot first and ask questions later. Problem is, he didn't kill Opie. When he rolled up on Opie's truck to do the deed, Donna was driving instead, which meant that "shoot first and ask later" approach backfired in the most tragic way possible. The ripples of that tragedy would be felt for many seasons to come on Sons of Anarchy.
Not surprisingly, Opie was the hardest hit — struggling to maintain his family, his sanity, and especially his sobriety in the wake of Donna's untimely death. Though he'd eventually get his house back in order, he never really got over Donna as the series went on — a fact that proved particularly devastating when he tried to love again with former adult film star and Cara Cara girl Lyla (Winter Ave Zoli), whom he married on season 4 of Sons of Anarchy. Fittingly, after Opie's own brutal death came on season 5 of the show, he was eventually laid to rest next to the first Mrs. Winston.
As for Tig, well, he sort of never recovered from his tragic act of violence either. In fact, the dogged tough guy seemed to carry that grief just under the surface for the remainder of Sons of Anarchy's run. Tig's grief was exacerbated when Opie was cleared of being an informant, making Donna's death all the more unnecessary. Of course, Opie also eventually found out that Tig had been the trigger man that night, and took his anger out on his SAMCRO bro in particularly brutal fashion. 
But just like Opie could never fully let go of Donna, Tig continued to suffer for his actions. Sons of Anarchy fans will be quick to point out that Tig's guilt boiled over during one of the character's most heartbreakingly human moments later in the series' run. The moment found Tig tripping on mushrooms and tearfully apologizing to a doll as if it were Donna incarnate. 
Suffering aside, Donna's murder remains one of Sons of Anarchy's most shocking deaths. And even if Tig appeared to carry a profound sense of shame over the act for the entirety of Sons' seven-season run, it also stands as the single worst thing he did on the show.