Why Some Fans Are Upset Over The First Bloodshot Trailer
With a bullet to the face and a bunch of traumatic memories rising to the surface, the first trailer for Sony's Bloodshot is finally here. And after what's felt like an eternity of waiting, the footage surely should have been met with thunderous applause and about a thousand posts per minute on social media. Vin Diesel playing Ray Garrison, a murdered Marine who comes back to life and is infused with nanotechnology to become the killing machine known as Bloodshot? Academy Award-winning screenwriter Eric Heisserer joining forces with scribe Jeff Wadlow to pen the script? First-time feature film director Dave Wilson bringing the famous Valiant Comics character to the big screen for the first time ever? Sounds like a recipe for comic book movie success that would start with the release of the first trailer.
But when Sony dropped the first Bloodshot trailer on Monday, October 21, many fans were left disappointed by what they saw. Here's why.
The Bloodshot trailer spoils the whole movie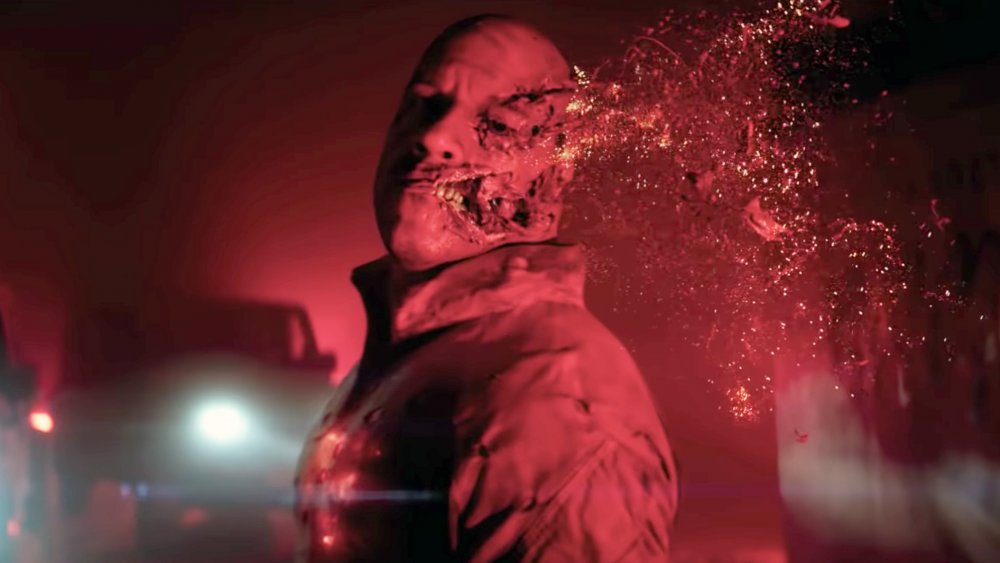 The biggest gripe some fans have about the first Bloodshot trailer is that it doesn't feel like a trailer at all — it feels like an entire film condensed into 2 minutes and 40 seconds. Many people across Twitter and in the comments section of the trailer on YouTube expressed dissatisfaction over the trailer seemingly spoiling all the narrative beats of the film. 
"Whoever made this trailer, should be fired. Spoiled the entire movie in just 2 min," tweeted user @AndyTheQuarian. Another wondered why the trailer didn't show off just "a few action sequences" instead of apparently laying all its cards out on the table: "Seriously why do they give away the whole plot? Only a few action sequences should be enough to build some hype."
Over on YouTube, even more people were upset over the evidently spoiler-heavy trailer. 
"I really hate when a trailer reveals the plot twist," one viewer wrote. Someone else joked that while Marvel puts fake scenes in movie trailers, Sony "puts [in] the whole story to avoid the movie." Another commented, "When the movie comes out I'd say I watched already just from this trailer." Added another viewer, "When they put the whole movie into one trailer you know it sucks."
Bloodshot could have a few tricks up its sleeve to unveil in the theatrical cut of the film, but it may have lost a number of fans with this spoiler-y first trailer.
In the Bloodshot trailer, Vin Diesel doesn't look like the comic book version of Bloodshot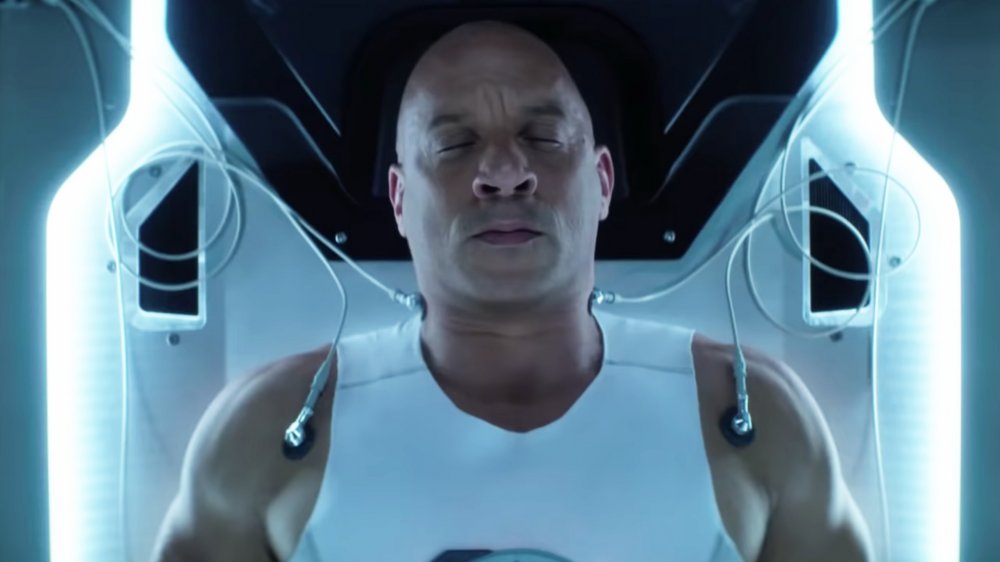 Another reason some fans were let down by the brand-new Bloodshot trailer? They feel Bloodshot doesn't look like Bloodshot — he just looks like Vin Diesel. 
"Looks very generic, I would have preferred something that embraced its comic origins more. I mean, he doesn't look like Bloodshot at all, it's just Vin Diesel," wrote a Twitter user by the name of Andy Haigh. "In not embracing the look of the comic they've made it seem way more bland and generic." 
Someone else tweeted, "I don't know a ton about Bloodshot, but I'm fairly sure he doesn't just look like regular Vin Diesel."
More responses of the same nature came pouring in following the release of the first Bloodshot trailer: "Why doesn't #Bloodshot look like Bloodshot?" from @theartistmoore, "Love how Bloodshot doesn't look like Bloodshot at all" from @DrawsTom, and "He doesn't even LOOK like Bloodshot from the comics, just Vin Diesel" from @uneducatedpop.
One fan on Reddit was particularly displeased with the character design — or, perhaps more accurately, lack thereof — shown in the first Bloodshot trailer. They wrote in a thread on the r/movies subreddit, "I'm usually not a stickler for this sort of thing, but the most core aspect of the character design is that his body is pure white, he has a giant red dot on his chest, and his eyes are red, and that was completely abandoned for peachy Vin [Diesel]. I guess it just feels like they didn't even really wanna try to make this an adaptation of the comic. Maybe I'm bitter, I just wanted more from this. When watching the trailer there's clearly references to it but, truly it's just pathetic and lazy."
Of course, there's a strong chance that the reason why Bloodshot simply looks like everyday Vin Diesel in this first trailer is because his transformation into the pale-skinned, red-eyed character fans know from the Valiant Comics will happen elsewhere in the film, during a sequence not shown in the trailer. Since the footage did reveal quite a bit about the plot of Bloodshot, perhaps the film's team is holding off on revealing Bloodshot in all his glory until later. 
Other fans are excited about Bloodshot nonetheless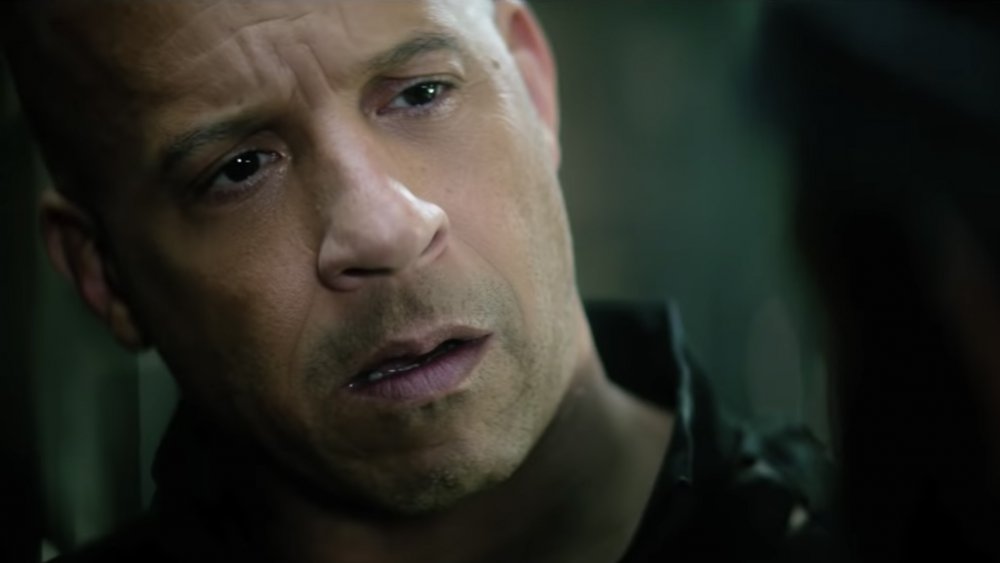 Though many fans have voiced their disappointment over the first Bloodshot trailer, others haven't let the footage stifle their excitement. In fact, some were eager to pick up what Sony put down, getting truly hyped over the upcoming comic book movie. 
"I'll admit I may have watched the #BloodshotMovie trailer around 50+ times tonight. @ValiantComics & @SonyPictures have an insanely awesome flick here!" one fan wrote on Twitter. 
Another tweeted that the first trailer for Bloodshot actually made them more interested in the film, as they were previously on the fence about their feelings toward it: "I wasn't sold on Bloodshot at first but after seeing the trailer now i'm fully sold on it because damn it looks cool."
Plenty more had positive things to say about Sam Heughan, who portrays Corporal Harlan "So Long" Shifflet in the film. One fan gushed, "What an amazing Bloodshot trailer. I'm truly speechless and Sam has become a bionic masterpiece. And I can't say enough he [is] my badass hero!!"
In other corners of the Twitter-sphere, some were neither entirely disappointed nor totally impressed with the first look at Bloodshot — like Twitter user @MasterTainment, who tweeted, "That Bloodshot trailer gives me mixed feelings. I'm SUPER excited to see a [Valiant] movie but... I'm worried about the story and acting. I don't know. I'm gonna wait for the next trailer. BUT... I am PUMPED. I've been waiting for this for so long."
Thankfully for Sony executives, the Bloodshot cast and creative team, and fans at home, this is just the first taste of the forthcoming flick. As Bloodshot nears its February 21, 2020 release date, there will likely be several more trailers, teasers, TV spots, and promotional material rolled out to boost anticipation. If you weren't blown away by this initial trailer, perhaps a future one will change your mind. 
Until that happens, count down the days until Bloodshot – also featuring Guy Pearce, Eiza González, Toby Kebbell, Lamorne Morris, Talulah Riley, Alex Hernandez, and Jóhannes Haukur Jóhannesson — blasts into theaters in February 2020.