What's The Song In The Zombieland: Double Tap Red-Band Trailer?
Zombieland's back... all right!
A new red-band trailer has been released for Zombieland: Double Tap, and if you're not familiar with what the term "red-band" means, then please be aware that the spot is very, very NSFW. The movie looks like it simply has it all: comedy, mayhem, new faces, familiar faces, lots and lots of zombies, and Bill freakin' Murray. 
Its opening moments are also soundtracked by a bouncy pop tune that you may not quite be able to put your finger on — unless, of course, you were a big fan of boy bands back in the '90s. (Or, alternatively, if you're currently a fan of '90s boy bands. We will not judge.) Since you landed on this article, you're probably dying to know: just what the heck is that song in the Zombieland: Double Tap red-band trailer?
Well, we're here to help you out: the song is titled "Everybody (Backstreet's Back)," and it became a smash hit for the Backstreet Boys in 1997. Somewhat confusingly, it is the third single to be released from the first album the Boys dropped in the U.S., so one could be forgiven for wondering just where in the heck they had come back from. This is explained by the fact that the band had first released their self-titled debut album internationally in 1996; this album was released stateside, with a slightly different track listing, around the same time that their sophomore effort Backstreet's Back hit record store shelves. 
That album had received a prior international release, and while it included "Everybody," its track listing was once again rejiggered for release in the States, and for whatever reason, the Boys' triumphant ode to their own return ended up on what U.S. listeners know as their first album. Confused? Good, so are we. We had always wondered why the Backstreet Boys were proclaiming that they were back in a song from their first record, and now that we know, it somehow makes even less sense.
At any rate, the song was among the first of a massive onslaught of hits to be written and produced by Swedish producer and songwriter Karl Martin Sandberg, who is better known to the world at large as Max Martin. He's a guy who has probably had at least one song on the Billboard charts at any given time during the last two decades, and that ridiculous run pretty much began with the Backstreet Boys. 
Since 1997, Martin has written and/or produced hit tunes for (excuse us while we take a deep breath): Robyn, *NSYNC, Britney Spears, Celine Dion, Nick Carter, Kelly Clarkson, Bo Bice, Pink, Avril Lavigne, Enrique Iglesias, Daughtry, Katy Perry, Carrie Underwood, Adam Lambert, Kesha, Miranda Cosgrove, Usher, Pitbull, Jessie J, Nicki Minaj, Maroon 5, Justin Bieber, Taylor Swift, Carly Rae Jepsen, Shakira, Ariana Grande, The Weeknd, Demi Lovato, Selena Gomez, Ellie Goulding, Adele, Nick Jonas, Lana Del Rey, and Ed Sheeran, and that is an incomplete list. 
Love him or hate him, it's a simple fact that when they guy blows his nose, a hit song comes out, and the Backstreet Boys album was his first major success in the States — so if you have any issues with the way pop music has sounded for the last 20 years or so, please direct your ire toward that record, which went Platinum fourteen times over and made Martin one of the most in-demand producers on the planet.
What does the song have to do with Zombieland: Double Tap?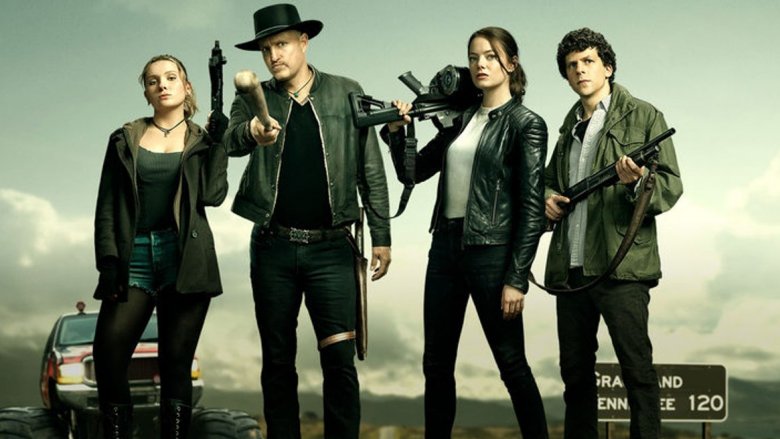 One might rightly wonder what context there could possibly be for "Everybody (Backstreet's Back)" appearing in the Zombieland: Double Tap trailer. Does the song make some sort of reference to roving hordes of the undead, one that we somehow missed the first 20,416 times we heard it? Does Nick Carter make a cameo in the movie? Has Woody Harrelson always been a lifelong fan? Does the man have a tattoo of the cover of the Backstreet Boys' debut album on his rear end?
Look, that's a pretty wild rumor, and we're honestly not sure where you could have gotten it from. (Oh, yeah... from us, just now.) But normally, those who put together the trailers for big Hollywood productions will choose musical selections that mesh well with the themes of the film being advertised. With that in mind, let's look at a sampling of lyrics from "Everybody (Backstreet's Back)":
"Everybody / Rock your body / Everybody / Rock your body right / Backstreet's back, alright / Oh my God, we're back again / Brothers, sisters, everybody sing / We're gonna bring the flavor, show you how / I've gotta question for ya / Better answer now / Am I original? / Am I the only one? / Am I sexual? / Am I everything you need? / You better rock your body now"
Okay, yeah, there's obviously no context whatsoever here beyond what's right on the surface: much like Backstreet, the Zombieland gang is back, and it's alright. It's the perfect non-offensive musical soundtrack to go with the red-band trailer, which is gory, profane, and hilarious — all things that the Backstreet Boys were not, which results in a pleasingly jarring juxtaposition of music and images. Oh, and just in case you were also wondering what that other song is that plays during the back half of the spot, we've got you covered there, too.
Zombieland: Double Tap looks like the rare belated sequel that will prove to be a necessary continuation, not to mention well worth the wait. Fans don't have much longer to brush up on the Rules: the flick hits theaters on October 18.