Horror Movies That Should Never Be Remade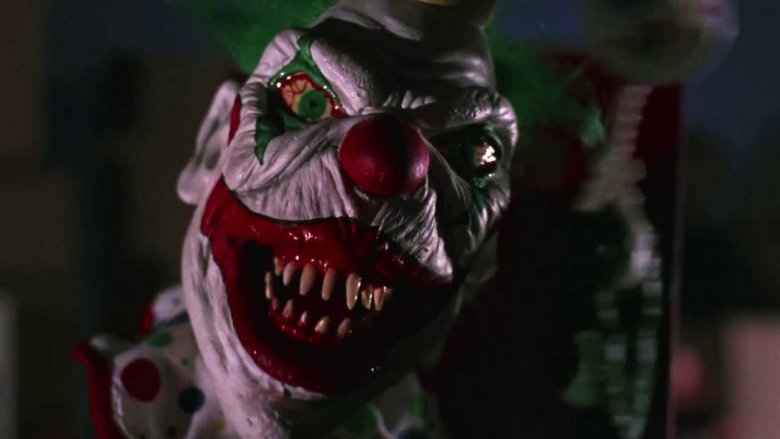 Hollywood can't seem to keep their hands off of old movies. In the past few years, they have resurrected classic horror films like Child's Play and even have tentative plans to necromance the likes of Sleepaway Camp, apparently. It's true that for the most part, what was scary in decades past remains scary today: cannibals, killers, and ghosts are eternally frightening. But there are some horror films that should, for lack of a better term, stay dead. 
A choice few of these films are so scary-good that they hold up to this very day. There is no need to take a second pass: the movie is perfect as is, even if it wasn't filmed in 4K complete with all the latest in computer graphics. What outnumbers the good, however, is the bad: downright cheesy, strange, ill-conceived plots that have no place in the modern era. We beseech Hollywood: please don't remake these movies when we're left wondering why they were even made in the first place.
We scream in horror at Ice Cream Man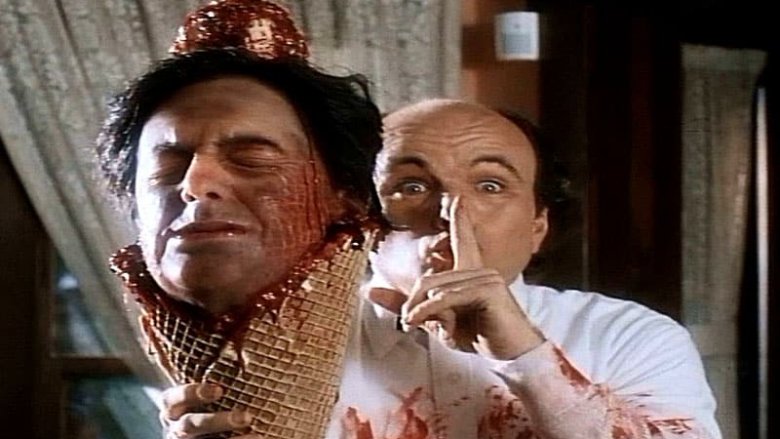 The old phrase "I scream, you scream, we all scream for ice cream!" was perhaps the inspiration behind the grotesque 1995 horror-comedy Ice Cream Man. Emphasis on the screaming. The film follows Gregory Tudor, the ice cream man himself, and the neighborhood kids that patronize his musical truck. Here's the twist: Gregory was driven crazy after witnessing the death of his own local ice cream man. When memories of this, and his extensive stay at a mental institution, are triggered, he decides that his frozen treats are missing an essential ingredient: people. 
We'd argue that in this day and age, parents are pretty protective of their children. Ice Cream Man operates on the idea that these meddling kids are riding around unsupervised, and that people with PTSD are utter nutjobs. We'll venture to say that this concept wouldn't be too well received in the modern day. Maybe that's why Ice Cream Man 2 failed to gather funding on Kickstarter.
Jack Frost should be left out in the cold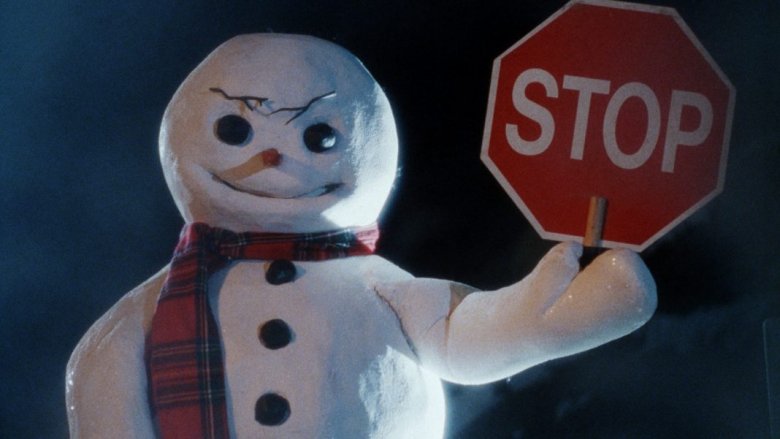 Jack Frost tells the tale of a man dying in a car crash, his lifeblood spilling out onto the snow and then possessing it. He is reincarnated as a sassy snowman. Here, we're talking about the 1997 horror-comedy rather than the 1998 family film, which operates on the same premise and title. Confusing, we know. 
In the horror film, a serial killer becomes a snowman, free to continue his killing spree with his newfound ice-related powers. Aptly named Jack Frost, the killer is able to melt and reform, freeze people and things, and is practically invulnerable as he wreaks havoc on the small town of Snowmonton. His kills are played up for laughs, including a horrifying sexual assault involving a carrot (of course). The comedy is off-color, the effects are cheesy, and we find that we'd rather be watching the heartwarming holiday version of Jack Frost, which has just as many snowman puns, but this time without the extended assault scene. There's no need to resurrect such a bad film with bad jokes and an un-scary bad guy. Seriously, who's afraid of the big bad snowman?
The Birds should be left alone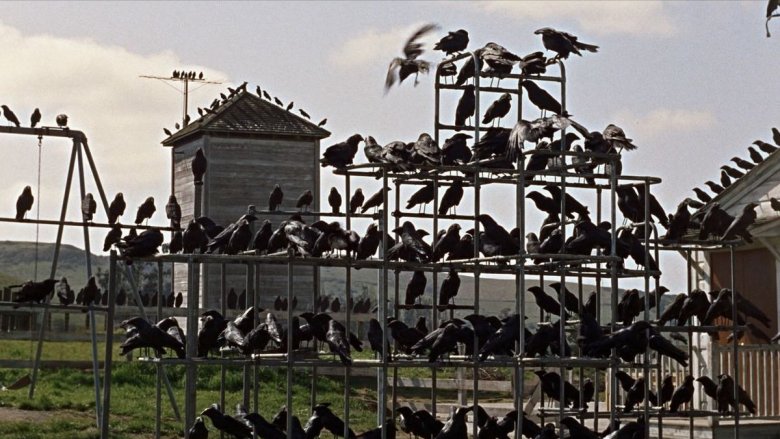 Horror legend Alfred Hitchcock's The Birds was revolutionary at the time of its release. The effects were state of the art, and narratively, the film went where no other had before: it's slow, slow build to the inevitable terror shocked audiences. The Birds kept its secrets, too, as to why the titular flock behaved the way it did. Ambiguity leaves a lasting impression, something in short supply in today's media. 
The Birds might not be technically impressive by today's standards, but it certainly holds up. Were The Birds to see a 21st century remake, we'd be worried that the production would become obsessed with the movie magic of CGI, or worse, explaining why the birds attacked in the first place. We don't need to know. We don't need to see gruesome, up-close-and-personal scenes of beaks tearing at flesh. A remake could come off as cheap, and besides, are we really going to try to remake a classic Hitchcock film? The Birds is better off left untouched.
Don't hurt the doggy: Cujo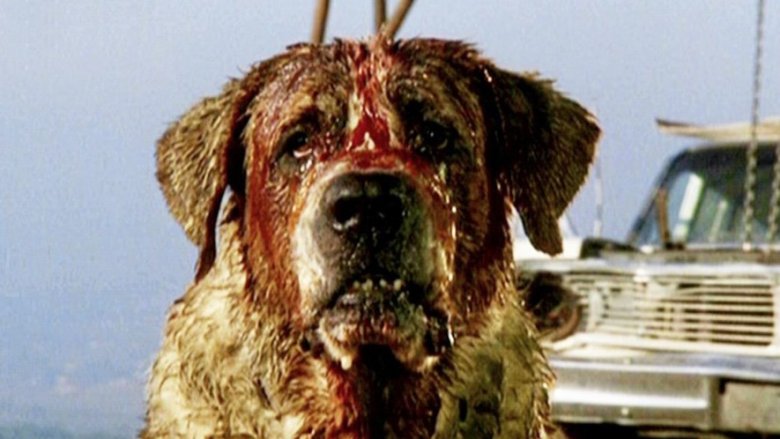 There is an entire site dedicated toward informing moviegoers whether or not the film's dog dies, because let's be real: no one wants to see a dog get hurt. Although Stephen King's Cujo tells a somewhat realistic tale of the horror of rabies, it's not a fun film for dog lovers or a movie we'd want to see remade. The original 1983 film just made us feel bad for Cujo, the sick and dirty dog driven mad by a bat bite. A remake would do the same, just in a higher definition. 
Cujo was hard to produce in 1983 and would still be hard to produce today: dog attacks are apparently difficult to stage, even with the added magic of CGI. We don't really see fans lining up to see a CGI dog — that cute wrinkly face! — rip into a throat or two. It's no wonder that an apparent remake is stuck in development hell and has a whole new, mysterious premise and title: C.U.J.O.: Canine Unit Joint Operations. When it comes to the question of a true remake, the first time around was brutal enough, and arguably holds up today. If you're into seeing the dog die, that is.
Demonic Toys has a devilishly bad plot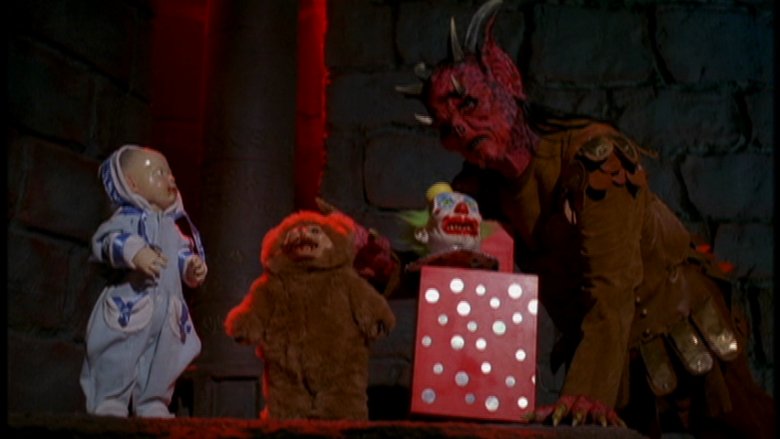 Demonic Toys isn't just about demonic toys, but maybe it should have been, because the plot of this unfunny horror-comedy is too convoluted to explain. But here goes: during a sting, a police officer is gunned down at a toy warehouse. The criminals hide in the warehouse, pursued by a pregnant officer named Judith. One of the two partners in crime is shot and killed, his blood apparently bringing to life a gang of ugly, demonic toys that begin killing off anyone left in the warehouse. Who is unlucky enough to be in the warehouse that night? The security guard and the kid delivering his fried chicken. Also a runaway girl hiding in the air vents, Aliens-style. 
Demonic Toys is a blatant rip of Chucky, sans any of the charm and wisecracks. The effects are bad — we see a whole lot of the puppeteer's forearm as teddy bears maul unsuspecting victims. The whole thing culminates in a Satanic near-rape that is halted by the spirit of Judith's unborn child. Or something. This movie, its weird story, and weirder effects aren't worth a remake. Toys, even the demonic kind, aren't really all that scary. Unless we're talking about Furbies ...
Please pledge never to remake Uncle Sam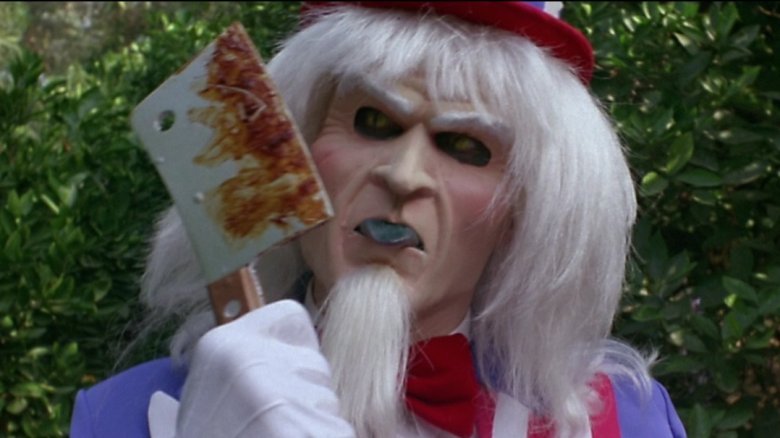 You know good old Uncle Sam? The iconic avatar of patriotism, the stars and stripes, the American Way? Now imagine him as a zombie bent on slaughtering anyone who isn't America's number one fan. That's the premise behind the 1996 horror-comedy Uncle Sam, which manages to make take this simple idea and overcomplicate it, resulting in a film that's confusing at best, boring at worst. 
The crazy killer Uncle Sam is actually an uncle: the undead body of little Jody's uncle springs to life after being killed in action. The zombie makes it his mission to brutally destroy anyone who isn't patriotic enough, including kids who don't have the national anthem memorized. Yikes. There's also a weird psychic link involving a blind kid, but that never gets explained because the production was too focused on making every kill as bloody as possible. Uncle Sam was politically charged, controversial, and just plain weird. It should be left to rest in peace, unlike the titular Uncle Sam himself.
Hard Rock Zombies (now featuring Hitler)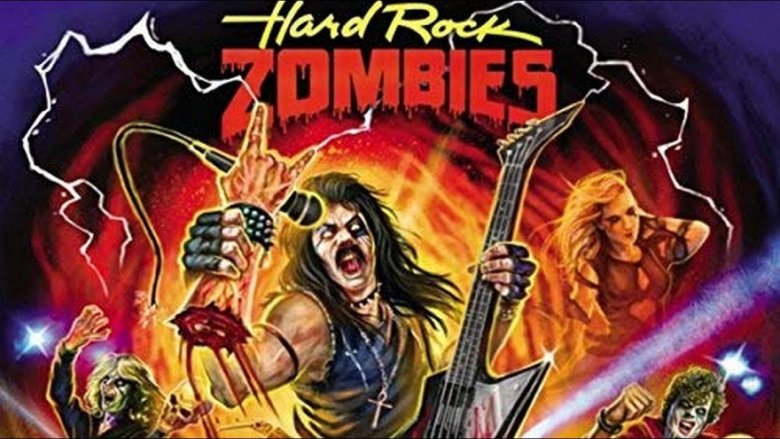 Here's the formula for a bad horror movie: mix a bad script with cheesy effects, add in some poor performances, and you've got yourself a real stinker. 1985's Hard Rock Zombies takes it to the next level by inexplicably adding in Hitler and his undead sex life. Yes, you read that right. Somehow a band of hard rockers is lured by a bodacious, blonde hitchhiker into a house of horrors containing an undead Hitler and a werewolf-ified Eva Braun. The Nazis kill the bandmates, but they're resurrected by the power of rock 'n roll. Or something. 
This movie is exactly as cringe-inducing as it sounds. The plot can't decide if it wants to revolve around the rise of the undead Fourth Reich or the mundane trials and tribulations of a band trying to make its big break, which also happens to be undead. Hard Rock Zombies is campy in the worst way. It manages to almost be funny — viewed as a horror-comedy — but takes things too far. We would thoroughly like to un-see the sex scene between Hitler and Braun, lovingly watched over by their misshapen offspring. Ew.
Which is scarier: spiders or Slugs?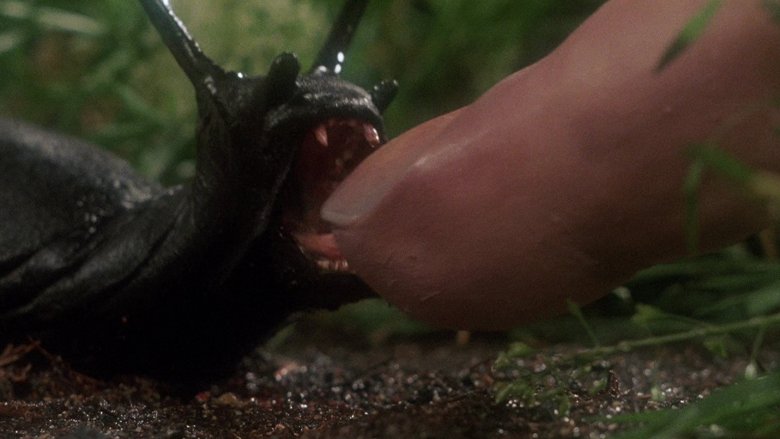 There have been plenty of seriously scary movies about spiders. Creepy crawlies and eight-legged freaks have inspired fear on the silver screen for decades, so why not give slugs a chance to shock and terrorize audiences? Because they already tried that in 1988, and it was a venture that didn't exactly work out. Slugs, based on the 1982 novel of the same name, tried to make those slimy little garden creatures into flesh-eating monsters. 
The movie takes itself very seriously: mutant slugs are eating the people of a small, idyllic town. How? They're in the water system and crawling into homes where they slowly, slowly crawl onto people and bite them. The solution here is obvious: either walk briskly away or toss some salt on the creatures. Instead, the town resorts to bad, bad acting to deal with the death toll, flailing this way and that as candy-colored blood leaks from their faces. The trailer purports that this might be "the most shocking movie you'll ever see," but the only shocking thing about it is that Slugs got a theatrical release.
Microwave Massacre left a bad taste in our mouth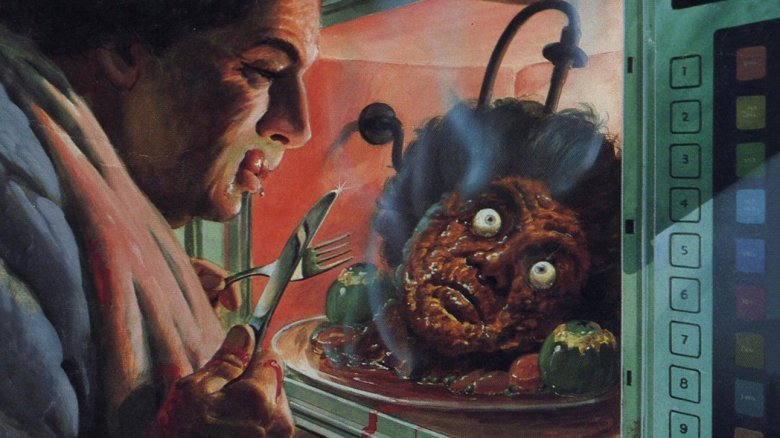 Part comedy, part horror movie, and part porn, Microwave Massacre misses the mark on being funny, scary, or sexy. Instead, the 1983 movie is a grotesque amalgam of bad one-liners and rubbery body parts. The plot is centered around Donald and May, whose marital bliss is apparently destroyed by May's obsession with gourmet meals. Donald just wants plain sandwiches. He does the sensible thing and bludgeons her to death, making her the main course instead of her hoighty toighty fare. 
Donald becomes an all-out cannibal, even sharing his meals with his co-workers at the construction site. When May is all eaten up, he turns to butchering prostitutes, whose flesh he calls "Peking chick" (so hilarious!). The movie relies on bad jokes like this to make up for the lack of good gore, but even the excessive nudity doesn't distract from what a trainwreck Microwave Massacre really is. Best left to rot in the '80s, we hope that this failure of a film doesn't get a remake any time soon.