The Rules The American Pickers Must Obey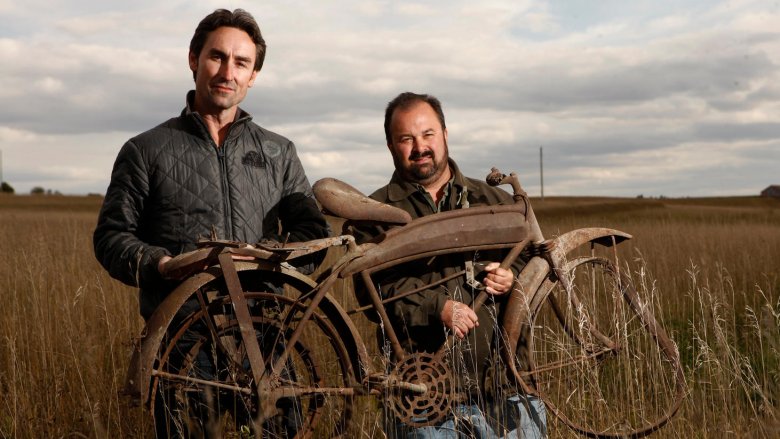 For Mike Wolfe and Frank Fritz — the stars of History Channel's beloved reality series American Pickers — pickin' ain't easy, but it's necessary. It's also a lot more complicated than it looks. 
Since breaking into pop-culture consciousness nearly a decade ago, the pair we've come to know as the American Pickers have built an antiquing empire out of their undying love of taking one man's trash and turning it into another's treasure. Wolfe and Fritz (who each own and operate separate antique stores of their own) have also used their time in the spotlight to turn the world on to the fine art of "picking." Though in doing so, though, they've often left many in the dark regarding the standards of the picking game. And yes, there are many rules the American Pickers must obey if they hope to make a buck on the often busted and rusted out treasures they seek. 
In an ABC News interview, Wolfe finally laid out some of the more important restrictions — some of which fall under the actual rule of laws — on the series' beloved treasure hunts. 
Money rules on American Pickers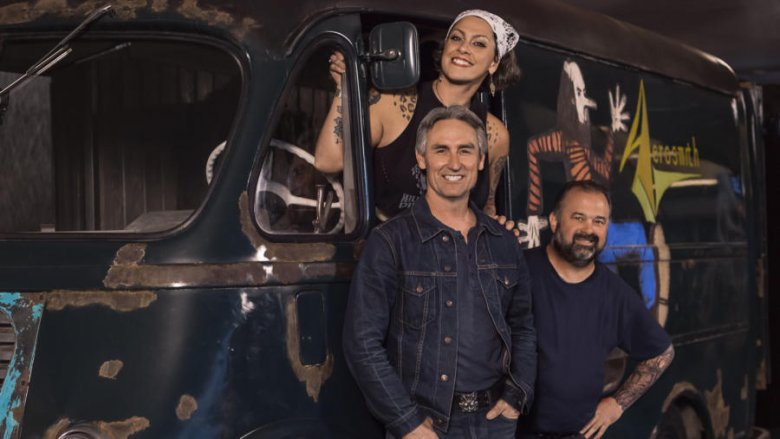 Lauren Dukoff/History Channel
At the top of the list of rules the American Pickers must obey is the simple fact that profit must be king in the pair's picking endeavors. While Wolfe and Fritz spend their lives essentially digging through dilapidated and discarded relics from the past, their business model is built around turning that perceived garbage into cold, hard cash. As they're staking their own money on that prospect, they've got to be careful about balancing the "risk and reward" element of each purchase, and are therefore quite careful about how much money to put into each artifact.
You've gotta be smart and sincere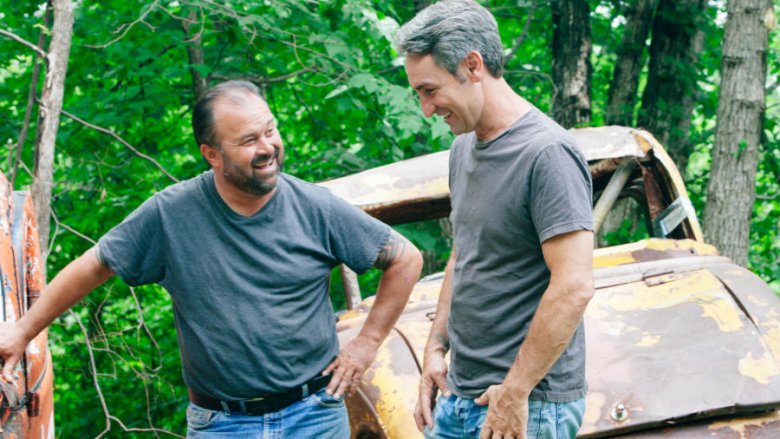 History Channel
Wolfe and Fritz also have to be certain about their expertise towards whatever items they're bidding on. This restriction is vital to the success of a "picker" for the simple fact that if they don't know exactly what they're bidding on, they don't actually know what they're getting. It's especially true with items that may need a little more repair than others, as unexpectedly costly repairs could easily turn a profit into a loss. 
As American Pickers is indeed a television show watched by millions, the other side of expertise is the fact that Wolfe and Fritz are patently not allowed to fake it, since that could make the look the duo look manipulative towards the folks they're trying to buy from. Luckily, the duo are usually up on their histories, and are quick to impart their knowledge in the general direction of the camera. On the rare occasions they're in the dark on an item's past, Wolfe and Fritz seem to take sincere pleasure in hearing that history straight from the folks looking to part with a bit of their own. 
No pushing on American Pickers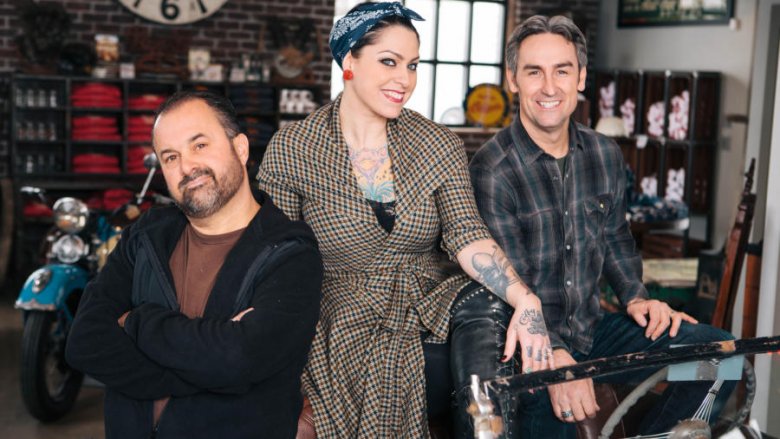 Amy Richmond/History Channel
One of the most vital rules of American Pickers is that Wolf and Fritz are categorically restricted from forcing a sale. Being seen as a liar or manipulator would be bad enough for a picker — or anyone in the antiques game for that matter — but being perceived as a bully who's practically robbing a prospective seller blind would be much worse. While Wolfe and Fritz are typically aggressive when they see an item they know they can flip, they're usually happy to walk away when it becomes clear a client really doesn't want to part with an item. 
Tell it straight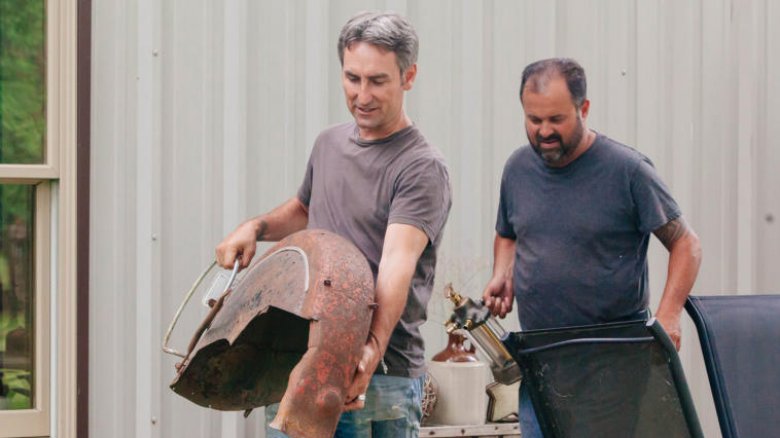 History Channel
If nine seasons of American Pickers has taught us anything, it's that one of the key rules Wolfe and Fritz live by is knowing knowing that sometimes junk is simply junk. That also means the two must know the market for any item they're bidding on, since buying and restoring something that doesn't sell is obviously bad for business. Also bad for business: fabricating the deals they make on the show. As already mentioned, Wolfe and Fritz aren't just TV personalities. They actually run successful antique businesses of their own (Wolfe's is called Antique Archaeology, and Fritz operates Frank Fritz's Finds), so anytime they score a deal on American Pickers, viewers might one day stumble into their shops and find the picked treasures for themselves. With that in mind, it's vital that the deals made on the show are done by the men themselves and not set up ahead of time by producer. In the world of antiques, the perception of authenticity is everything.
The legal rules of American Pickers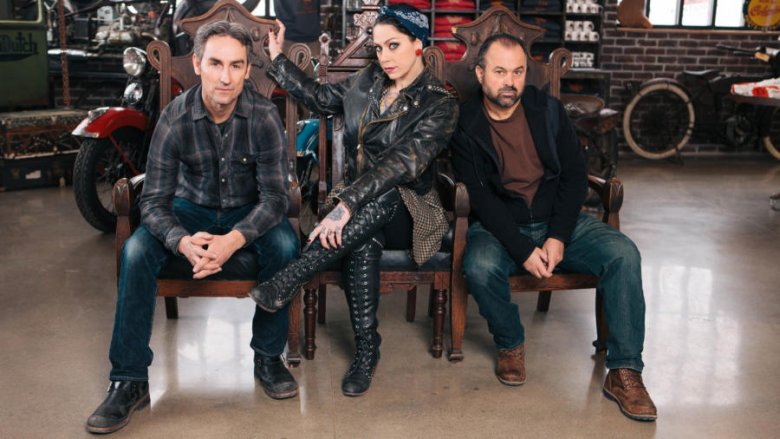 Amy Richmond/History Channel
Though American Pickers producers aren't allowed to set up deals on behalf of their stars (and Wolfe and Fritz are forbidden from doing any in-advance string-pulling themselves), they're actually required to call potential sellers ahead of time and get permission to visit and film on any property Wolfe and Fritz visit. This is more a legal matter in regards to trespassing laws, which, if broken, would certainly land the series and its stars in a heap of trouble — and depending on the area, possibly even chased by a guard dog or on the wrong end of a firearm. 
Other obvious legal restrictions apply to their livelihood as well. Little things like the fact that Wolfe and Fritz can't dig up a body and rob a grave. Nor are they permitted to purchase any item with a criminal history. There are also a few FCC and History Channel regulations that restrict the use of foul language and the depiction of inappropriate images on American Pickers.
But hey, laws are laws, and rules are rules. At the end of the day, as long as the American Pickers are picking fair, we're all more than happy to keep watching them do it — and wondering what battered treasures might be lingering in our own backyards.