The One Time American Pickers Got Totally Ripped Off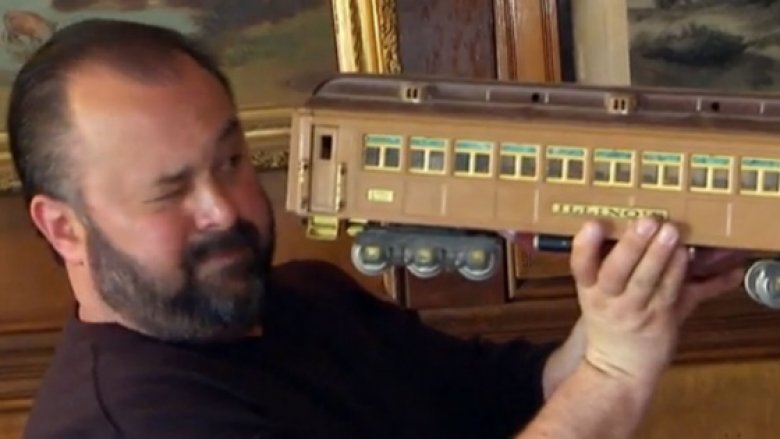 For nearly 20 seasons of the History Channel hit American Pickers, old friends and junk lovers Mike Wolfe and Frank Fritz have driven around the country in their van in pursuit of unique, rare, and (most of all) valuable cultural artifacts and classic vehicles in out-of-the-way secondhand stores, garage sales, estate sales, and dusty outbuildings. American Pickers is a reality-based TV show, but a TV show nonetheless. That means each episode has to be completed in a timely fashion, on a budget, and with an easy-to-follow story arc. While the show isn't exactly staged, it is "juiced" a bit — helped along by producers to get TV-ready results. Fritz and Wolfe don't just drive around the country trying to spot junk-loaded barns — according to Ken Young, owner of Pickers spot Ken's Toys, his shop was scouted by producers to look for intriguing items weeks before Fritz, Wolfe, and a camera crew showed up.
Not only are the picks less than spontaneous, so are the prices. An IGN user who claimed his collector father made a deal with American Pickers said that the prices of the junk he sold were predetermined, in advance, over the phone. He also said the show tried to "hardcore rip [them] off" with insultingly low offers on their valuables. 
That all makes for a very calculated and consistent happy ending for American Pickers. Viewers see the deal being made, but they don't see Fritz or Wolfe selling the item later — a voiceover or chyron delivers an estimate of what the item will sell for at auction or just a vague note that it's been "sold." This gives the impression that Fritz and Wolfe make some kind of profit on most every single item. But once in a blue moon, they'll mess things up and take a financial hit.
On the first episode of American Pickers' seventh season in 2012, the duo traveled to the Kentucky home of Cecil Hopper, a collector who'd saved (and cared for) every toy from his childhood (1939 to 1949) and then some. This was heaven for Fritz, an old toy aficionado, who got very excited when he discovered Hopper's beautiful, well-maintained Lionel toy train set dating to 1931. (It wasn't from Hopper's childhood stash; he'd bought it in the late '90s.) The train, one of the best the famed Lionel ever made, consisted of four cars and an engine, and boasted a brown-and-tan paint job with intricate interior detail. Fritz simply had to have it, but before he agreed to Hopper's asking price of $7,000 to $8,000, he sent the photos to a train expert named Bill Hill, who told him that $8,000 was a good price for the set, and that it could be worth double that amount. Wolfe, feeling things might be too good to be true, asked Hopper if the train had been restored at all (which can decrease the value of antiques). Hopper said he didn't know, but that he hadn't done any work to it. Fritz tried to haggle Hopper down to $7,000, but he remained firm at $8,000. And so, Fritz paid $8,000 for the whole set, making for one of American Pickers' biggest payouts ever. 
Later, co-star Danielle Colby arranged for an appraisal by train expert John Speck. He liked what he saw, citing the train's "high, high, high quality" and pointing out just now rare it is — Lionel only made one brown train for every 1,000 green ones produced. Speck explained that only 12 are known to exist, and that in mint condition it could fetch $30,000. But this train was not in mint condition — Speck pointed out a number of chips, as well as spots where the train had been repainted and was missing parts. Speck's value estimate: $7,000 to $7,500... far less than the $8,000 Fritz paid. 
However, Speck offered to send the Lionel to a train auction, where he figured it could go for somewhere between $5,000 and $10,000. So, did the Pickers turn a profit in the end, or at least get their money back? No, they did not. A buyer ultimately purchased the train at that auction for just $3,400, less than half of what Fritz paid for it. Adding to that face plant: a face palm. It turns out that the train went for such a steal because Colby forgot to set a reserve (or minimum) price on the item. So, some toy lover out there got a deal on that imperfect but still amazing train... it just wasn't Frank Fritz from American Pickers.