Milla Jovovich's Stunt Double Sues Resident Evil Producers After Losing Her Arm In 'Horrific' Accident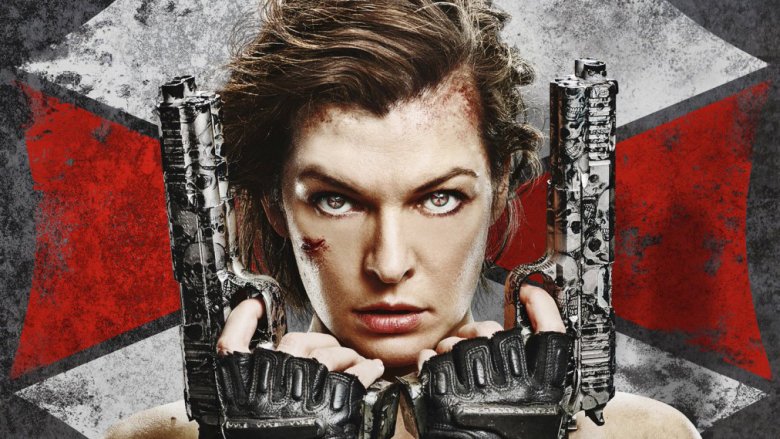 Sony / Screen Gems
Resident Evil turned into real-life horror for one stunt performer.
Olivia Jackson, who has done stunt work in a number of high-profile films over the last decade, is suing the producers of 2016's Resident Evil: The Final Chapter over what she describes as unsafe on-set conditions which led to a career-ending injury. (via The Hollywood Reporter)
Jackson was the stunt double for star Milla Jovovich on the film, and a complaint filed on her behalf described how she was pressed into shooting a hurriedly conceived sequence in dangerous conditions that left her in a medically-induced coma after a camera rig collided with her upper body.
"On September 5, 2015, Plaintiff suffered a horrific on-set injury, which was a by-product of Defendants' practice of elevating financial considerations over safety," the complaint reads. "Plaintiff was originally slated to shoot a fight scene that day. However, in a last-minute change, she was asked to perform a dangerous and technically complex motorcycle scene in adverse weather conditions.The scene involved a vehicle fitted with a mechanical crane attached to a camera driving toward Plaintiff, as she sped on her motorcycle directly at the camera. The camera was supposed to elevate safely above Plaintiff's head before she reached it. But the haphazardly planned stunt went terribly wrong."
That, dear reader, is putting it mildly. If you're the squeamish type, you may want to skip over this next paragraph, because to paraphrase the great Roger Ebert, it will make you squeam. The complaint continues, "The crane operator failed to raise the camera in time, and as a result, the camera smashed into Plaintiff, slicing through the bone of her forearm and tearing the flesh off her cheek, leaving her teeth exposed. The blow was so forceful that it twisted Plaintiff's shoulder blade backward, ripping-out five nerves connected into her spinal column at the root. Among other catastrophic injuries, which are too numerous to even summarize here, Plaintiff's left arm had to be amputated and cerebral spinal fluid seeped from an opening created by the nerves tearing from her spinal column."
Jackson was placed in to a coma so that doctors could perform the surgery that saved her life — but during her medical ordeal, the suit claims that things went from bad to worse. It alleges that producers had failed to secure a sufficient level of insurance for such a stunt-heavy production, and that as a result, only $33,000 dollars was paid out to cover Jackson's injuries. For the benefit of those who have never seen the inside of a hospital or do not live in the U.S., this is an amount that barely scratched the surface of the costs incurred by Jackson to treat her injuries.
The suit went on to allege that prior to her hiring, the flick's producers had knowingly concealed from Jackson the fact that they'd skimped mightily on insurance coverage, knowing full well that if the in-demand stunt performer had had any idea what she was walking into, she would have passed on the job in a heartbeat.
"Plaintiff was lukewarm on performing in The Final Chapter to begin with," the complaint asserted. "She had already secured the role of stunt double for a leading cast member in [the 2017 feature] Wonder Woman, and didn't need the work. Defendants knew Plaintiff was hesitant to accept the role but had an urgent need for a replacement stunt performer. They concealed from Plaintiff the true nature of the woefully deficient insurance coverage, which they knew would be a deal-breaker for her."
On top of all that, the complaint alleges that while Jackson was in a coma, producers assured her husband that they would be covering all of her medical costs, saying that he "should not be worrying about that." As it turned out, he should absolutely have been worrying about that, for it's alleged that when the bill arrived for Jackson's care, the movie's producers simply bailed.
"After skimping on insurance and causing Plaintiff's nightmarish injuries, Defendants shamelessly abandoned Plaintiff and welched on their promise to provide financial support to cover her medical expenses," the complaint concluded. "Plaintiff was left without the financial means to cover the medical care she desperately needed for her grievous injuries, while Defendants, for their part, continue to enjoy the abundant profits generated by The Final Chapter."
As a grim aside, Jackson's complaint noted that while she'll never be able to work in her chosen profession again as the result of negligence on the set of Resident Evil: The Final Chapter, she still got off easy compared to crew member Ricardo Cornelius. On December 3, 2015, Cornelius was crushed when a Humvee slid off of the rotating platform on which it was parked and pinned him against a wall. Cornelius was rushed to the hospital, but died; the incident wasn't reported until a few weeks later, after The Final Chapter had completed production.
Named in the lawsuit are Bolt Pictures and producer Jeremy Bolt, production company Tannhauser Gate, and the flick's director Paul W.S. Anderson. Jackson is seeking unspecified damages, and it's worth mentioning that the incident cut short a promising career. Although she'd only been in the business for five years at the time of her injury, she'd already doubled for Karen Gillan in Guardians of the Galaxy, Elizabeth Olsen in Avengers: Age of Ultron, and Charlize Theron in Mad Max: Fury Road, among other credits.
We'll keep an eye out for developments in this shocking and sad story, and we'll keep you up to speed.