Here's How Much Money Charlie Hunnam Made From Sons Of Anarchy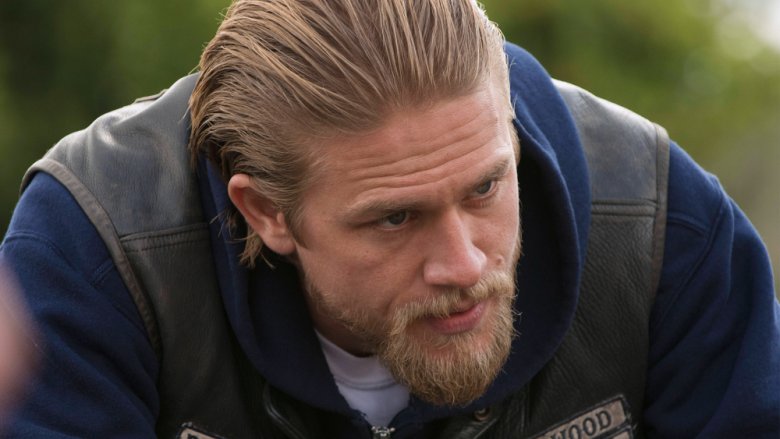 Some folks would have you believe that crime doesn't pay. Former Sons of Anarchy star Charlie Hunnam would likely disagree with that sentiment. The actor did, after all, spend seven full seasons breaking bad as Sons of Anarchy's baddie with a heart of gold Jax Teller — and he made big bucks doing it.
After Sons of Anarchy premiered in the fall of 2008, Hunnam (behind his chiseled good looks and effortless charm) quickly found himself the face of one of FX's best loved dramatic series — not to mention an overnight sex symbol that Hollywood immediately earmarked for superstardom. If you've been following Hunnam's career in the years since Sons of Anarchy took that last great ride to the land of reruns and residuals, then you know superstardom has eluded the gifted English actor to date. Don't feel too bad for Mr. Hunnam, though, because the years he spent tearing up the asphalt and busting up biker joints left him with a hearty little nest egg — which will, given the show's continued popularity, likely be paying the actor's bills for years to come.
So, how much money did Charlie Hunnam actually make from his time on Sons of Anarchy? 
Exact figures are hard to come by, but we can tell you that at the time the show ended in 2014, Hunnam's net worth was an estimated $8 million — which isn't half bad for seven years (and 92 episodes) of work. 
It's worth noting that the actor had been working steadily in the years leading up to his big break, so the $8 million he had to his name in when Sons of Anarchy ended wasn't all from the series. Hunnam was a relatively known commodity in Hollywood before series creator Kurt Sutter set him on the path to stardom, having delivered memorable turns on screens big and small. Most notably, pre-Sons of Anarchy Hunnam appeared on a couple of TV series — popping up on 10 episodes of the hit Showtime drama Queer as Folk, and playing the starring role on Judd Apatow's short-lived college comedy Undeclared. He'd also scored accolades on the big screen for his work as the title character in 2002's adaptation of Charles Dickens' Nicholas Nickleby, as well as for his performance as a rough-and-tumble football fanatic opposite Elijah Wood in Green Street Hooligans. He even scored a supporting role in Alfonso Cuaron's sci-fi masterpiece Children of Men.
Though he infamously walked away from the lead in 50 Shades of Grey, Hunnam didn't exactly stop claiming roles once Sons of Anarchy took off either, appearing opposite Eric Bana and Olivia Wilde in 2012's icy thriller Deadfall before taking a shot at the big time in Guillermo Del Toro's fascinating but underwhelming "giant monsters vs. giant robots" opus Pacific Rim. Even if neither of those films set the box office ablaze (though Pacific Rim was hardly a failure), they both raised Hunnam's profile — and most certainly helped pad his bank account.
Hunnam has been keeping busy since leaving Jax behind as well — continuing to balance his time between challenging, smaller-scaled fare like The Lost City of Z and The True History of the Kelly Gang, and bigger projects like Del Toro's Crimson Peak and the blockbuster epic King Arthur: Legend of the Sword (which sadly reigns supreme as the biggest bust of Hunnam's career). 
Despite the handful of misses among Hunnam's post-Sons of Anarchy oeuvre, the actor has still managed to make bank since saying goodbye to Sons. In the past five years alone, Hunnam's net worth has reportedly doubled to a whopping $16 million. With a slate of intriguing, star-studded projects on the horizon, there's little doubt that Hunnam's wealth (and talent) will continue to grow. Either way, we're pretty sure ol' Jax would be proud — even if Hunnam has claimed his loot on the right side of the law.