Joker 2: Will Joaquin Phoenix Return For A Sequel?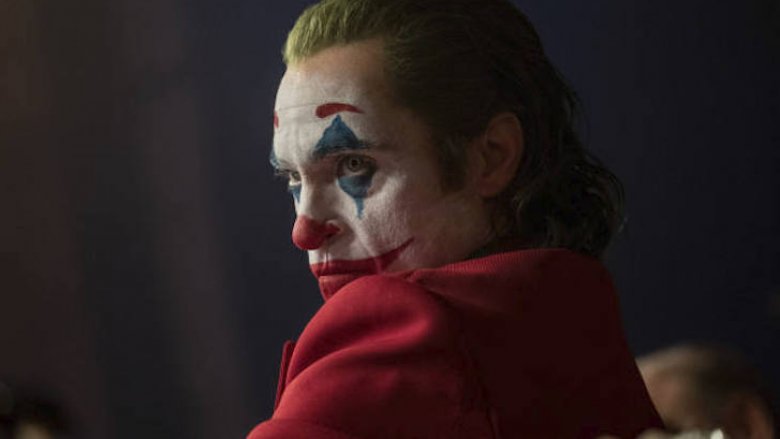 Guess who might be looking to put on his happy face again, bringing a little laughter and a lot of anarchy to the mean streets of Gotham. 
In the eight decades since making his appearance in the pages of Batman #1, he's been called everything from "The Clown Prince of Crime, to "The Ace of Knaves," to "Puddin'." He's also been called psychopath who "just wants to watch the world burn." Todd Phillips and Joaquin Phoenix are calling him Arthur Fleck, though most of us have come to know him simply as Joker. By the end of director Phillips and star Phoenix's new film, Joker, that's presumably the name and villainous persona their Arthur will take. While the pair's anxiously anticipated film (initially conceived as a standalone project in the Warner Bros./DC canon) is still weeks away from release, it's already generating a whirlwind of mostly positive press on the festival circuit — with many critics praising Phoenix's turn as the titular baddie as the best incarnation of the Joker yet. Some are even speculating Phoenix's performance may well net him the Best Actor statue that's somehow eluded the actor throughout his lauded career.
Understandably, that sort of praise already has Tinseltown buzzing about whether or not there will be a Joker 2, and whether or not Phoenix would be open to reprising his role for that sequel. 
So, will we ever see a Joker sequel? Let's discuss.
As mentioned, Joker was pitched and produced as a standalone project, so we can tell you right off the bat that there is no immediate plan for a Joker follow-up. That being said, director Todd Phillips recently went on the record with Total Film (via GamesRadar+) to state he would be more than willing to make another Joker movie if Phoenix were on board for the project — and he certainly makes it sound like Phoenix might be considering the possibility.
"One thing I will tell you: I would do anything with Joaquin, any day of the week. There's nobody like him," said Phillips. "If he was willing to do it, and if people show up to this movie, and Warners came to us and said, 'You know what? If you guys could think of something...' Well, I have a feeling that he and I could think of something pretty cool." 
There's a lot to unpack in that quote, so before we get too far ahead of ourselves, we can tell you that Phoenix himself has neither confirmed nor denied his interest in appearing in a Joker sequel. We can also tell you that — since, again, Joker was produced as a standalone film — neither Phillips nor Phoenix are contractually obligated to be involved in any sequel. So at least for the time being, there's no official news about Phoenix bringing his maniacal laugh back to Gotham.
What's interesting about Phillips' statement is how clear it is that both he and Phoenix had a ton of fun bringing their version of Joker to life. Furthermore, if one were inclined toward a bit of conjecture (and who isn't these days?), you could also take Phillips' "feeling" that he and Phoenix "could think of something pretty cool" as confirmation that the pair have likely already thought of an idea and are just waiting to see how Joker plays before bringing it to a sequel.
For Phillips' part, he's seemingly already brought a game-chasing concept to the fray for this first Joker. As has been well covered in the press, Joker is not just as a standalone film, but also as a version of the character that has nothing to do with any Joker that's appeared before. Free from the shackles of comic book lore — and television variations, and cinematic canon — Phillips and Phoenix set out to make the most of their blank slate and craft a version of Joker that's never been seen.
By all accounts, that's exactly what the pair accomplished with Joker. One look at the film's trailer is all the proof you'll need of that fact. Their hyper-realistic, down-and-dirty take on the iconic Batman baddie (and even Gotham itself) leaves one thinking Joker owes more to the films of Martin Scorsese (who also served as producer on the film) than to 80 years worth of comic book yarns and wildly different interpretations via screens big and small. Scorsese's influence hasn't been lost on critics either, with many commending Phillips' ability to borrow heavily from the master's near unimpeachable filmography (particularly 1982's The King of Comedy) and spin something wholly original from the mix. 
Just in case you haven't been following Joker as fervently as us, the film follows the tale of a deeply disturbed failed standup comedian named Arthur Fleck (Phoenix), a man cast aside by an uncaring society. As fear, loneliness, and isolation begin to envelope Arthur, his mind spins out of control, and a fearsome new persona begins to take shape — one spawned of an unhinged laugh, a thick layer of clownish makeup, and a desire to incite chaos that begins along the fringes of Gotham City.
Now, that synopsis hardly sounds like the making of a superhero (nay, supervillain) flick. But that's sort of the point, as Phillips originally conceived Joker as a gritty character study that just happens to take place in a superhero's world. That low-key, character-first approach is exactly what drew Phoenix to the role. From the looks of things, Phoenix brings the same sort of intensity to Arthur as you'd expect, imbuing the character with all the emotional turmoil and unhinged energy as a character from one of the many indie features he's appeared in over the years. That approach seems to have spawned a Joker for the ages. 
As for whether or not Phoenix will return for a Joker sequel, we'll just have to wait and see. Robert Pattinson certainly stoked the fires of rumor-ville by inadvertently alluding to a possible cameo of Phoenix's Joker in his upcoming The Batman, but Phoenix has been quite vocal about the emotional toll the role took on him. He told reporters during a Venice Film Festival presser that while playing Joker, "you start to go a little mad." It seems that Phoenix's return to the Joker is far from a given. 
While it may be a challenge for Phoenix to step back into the makeup for Joker 2, Phillips' remarks also imply that Joker's box office take and critical reception may well influence Phoenix's decision. Critics are already being very kind to the film — but the rest, as it seems, is up to the moviegoing public. If you want to see Phoenix and Phillips return for Joker 2, make sure you show Joker a little love when the film finally arrives in theaters on October 4.