What RJ Mitte From Breaking Bad Is Doing Now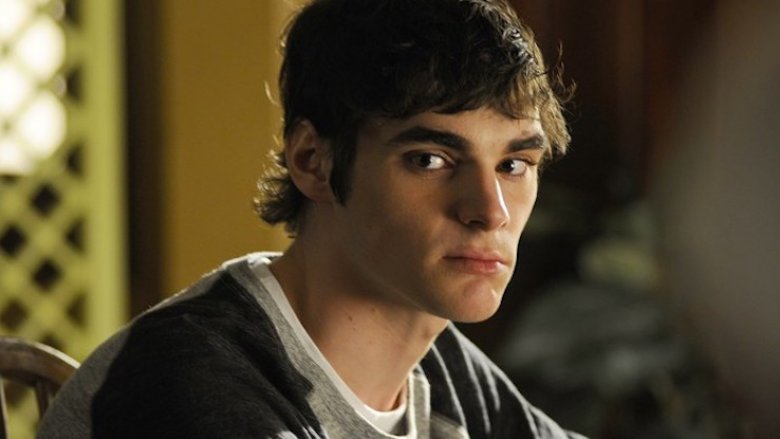 Ryan Pierse/Getty Images
In case you hadn't heard, the recent trailer drop for El Camino finally confirmed that the world will soon get to see that hotly-anticipated Jessie Pinkman-centric Breaking Bad spin-off film. As we all continue to wonder how exactly the folks behind the soon-to-be-released movie managed to shoot the entire thing completely under the radar, it's safe to say the news of a new chapter in the white-knuckle Breaking Bad saga (accompanying the ongoing, near-flawless AMC spin-off show Better Call Saul) has more than put the iconic series back at the forefront of pop culture consciousness. 
With that awareness, fans of the beloved show — and its equally adored characters — have taken the opportunity to check in with some of the actors who brought those characters and stories to life over Breaking Bad's five-season run. While some of those actors have continued to soak up the spotlight (Bryan Cranston, Aaron Paul, and Bob Odenkirk) in other projects since the series officially moved on to that great meth-lab in the sky, many (including Odenkirk, Jonathan Banks, Giancarlo Esposito, and Mark Margolis) have resurrected their Breaking Bad characters on Better Call Saul. And some others have spent the ensuing years quietly plugging away on the margins of Hollywood. 
Count RJ Mitte — who earnestly portrayed Walter White's breakfast-loving, crutch-bound namesake Walter "Flynn" White Jr. over the show's run — as one of those actors who've yet to fully regain their footing since Breaking Bad ended. It may just be a matter of time before Mitte is back on the radar, though, as the young thespian has more than kept busy since leaving Walter Jr. behind. Here's a look at what RJ Mitte has been up to since Breaking Bad.
Not surprisingly, the actor has been doing what actors do — acting — and he's been a lot busier than his relatively low-profile lifestyle might lead you to believe. Since Breaking Bad aired its final episode in 2013, Mitte has quietly built an impressive resume for himself, appearing in the low-budge horror flick House of Last Things the same year before turning up in a one-off turn on the now-defunct CBS series Vegas (opposite Michael Chiklis and Dennis Quaid). A year later, Mitte ditched his Breaking Bad crutches to play the wheelchair-bound do-gooder Campbell on the ABC Family series Switched at Birth, and has continued to portray characters with disabilities in the years since.
If you're wondering why Mitte seems to be drawn to characters with disabilities, it's because the actor was diagnosed with cerebral palsy when he was three years old. Mitte has a less severe case of the disorder — he hasn't needed to use crutches (like Walter Jr., who also had cerebral palsy, used on the series) or any walking devices since he was a teenager. Understandably, he's been steadfast in trying to bring characters with disabilities to the forefront of Hollywood. As such, Mitte has spent much of his time off screen advocating for the rights of actors with disabilities, as well as serving as a celebrity ambassador for United Cerebral Palsy, a nonprofit charity that supports adults and children with disabilities.
Those noble endeavors are just part of what Mitte's been doing since Breaking Bad ended. Luckily for fans, he's continued to claim roles on the big screen. 
The actor most recently appeared in 2018's underrated horror thriller Time Share, and turned in a memorable performance on Starz's (sadly cancelled) series Now Apocalypse. Mitte also has a full slate of flicks in various stages of production — including All the Little Things We Kill, The Oak Room, Carol of the Bells, Triumph, Hunt for Me, Escape from Paradise, and Someone Like You — so you'll be seeing a lot more of Mitte's face in the years to come. 
As for whether or not you'll witness Mitte reprise his role as Walter Jr. (or Flynn, if you prefer), that remains up in the air. The actor initially wanted Walter's first-born to meet a brutal death during the series' final season, but he's also got an intriguing idea for what a Walter Jr. spin-off movie or show might look like. (Spoiler: It involves Walter Jr. joining the DEA, just like his late uncle Hank Schrader, and hunting down his father and Jesse.) Here's hoping Breaking Bad creator Vince Gilligan is keeping in touch, 'cause Walter Jr. is one of those characters that could easily carry a bold new storyline in the ever-expanding Breaking Bad Cinematic Universe.