Why Mike From Breaking Bad And Better Call Saul Looks So Familiar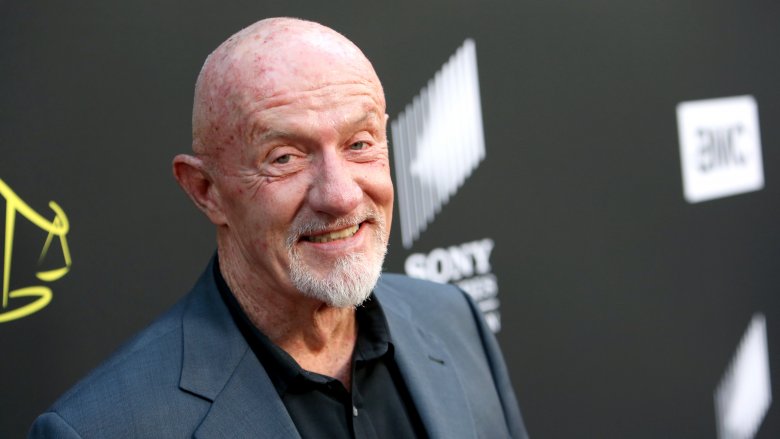 Getty Images
Breaking Bad and Better Call Saul's Mike Ehrmantraut has become one of the best characters on television, and he's perfectly brought to life by veteran character actor Jonathan Banks. Though it's hard to picture him as anything but the morally ambiguous and ingenious Ehrmantraut, Banks has appeared on our screens for over 40 years. Let's take a look back and see why he's so recognizable.
Linda's Film on Menstruation (1974)
Jonathan Banks' screen debut was a far cry from the hard men he'd end up playing. In Linda's Film on Menstruation, he plays a confused boyfriend who—at a bowling alley, for some reason—gets a chance to learn all about what happens to ladies that time of the month. This educational film finds Banks playing a young teen learning the ways of adulthood, but he still has a haunted look in his eyes that's way beyond his years. (Also, some of this info is a bit outdated; please know that it's not normal to use two tampons at the same time.)
Airplane! (1980)
The creative triumvirate known as Zucker/Abrahams/Zucker created a genre with Airplane! As a spoof of the super serious Airport disaster films, it marked the first madcap parody to hit the big screen. Unlike many of the films that followed Airplane!, the movie is just as funny today as it was more than 25 years ago. Banks plays the radar man Gunderson, who gets off a couple of pretty great lines. His deadpan delivery fits the comedy perfectly; we only wish he had a bigger part.
The Gangster Chronicles (1981)
In 1981, NBC ran a 13-part miniseries based on the lives of mafia members Lucky Luciano, Bugsy Siegal, and Al Capone called The Gangster Chronicles, and Banks had a featured role as real-life gangster Dutch Schultz. A German-Jewish mafia member, Schultz's interests were threatened by other gangsters and potential tax convictions; when he tried to handle things on his own, the mafia took him out. Playing a 1930s gangster seems a lot closer to Banks' wheelhouse than an educational film or a crazy comedy, but The Gangster Chronicles was no Breaking Bad.
The miniseries suffered problems from the start, including an actors' strike and budget woes that left the sets looking about as historically accurate and gritty as Sesame Street. The original director died and the writer wanted his name removed from the script, so it's not surprising that we don't sing the praises of The Gangster Chronicles in the same breath as Goodfellas.
48 Hrs.(1982) and Beverly Hills Cop (1984)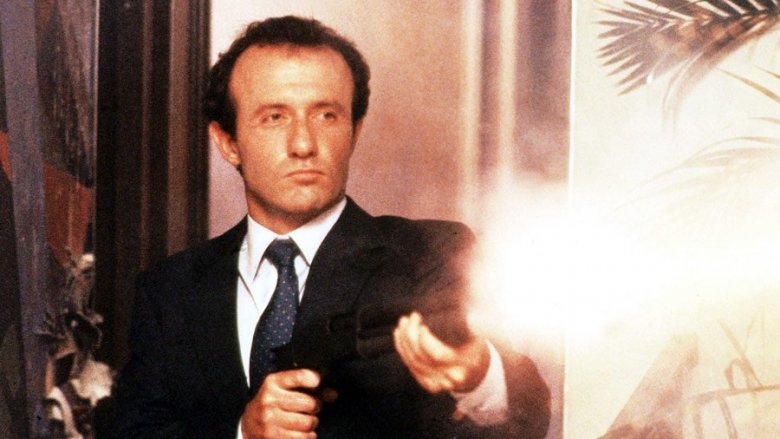 Eddie Murphy was insanely popular from his time on Saturday Night Live, but 48 Hrs. proved he could carry a film. By the time Beverly Hills Cop debuted, he was officially a huge star. Maybe the supporting work of one character actor helped Murphy's career? Banks appeared in both 48 Hrs. and Beverly Hills Cop, so we'd like to believe he had something to do with Murphy's amazing success. Banks talked to the Huffington Post about working with the young star; as he saw it, "Eddie was a kid, he was learning... He would watch actors." See? Murphy learned everything he needed to know about acting from Jonathan Banks (and everyone else in his first two films).
Gremlins (1984)
Another in Banks' long line of cop characters, the befuddled Deputy Brent in Gremlins gave him an opportunity to revisit his comedic side. Though they're both cops, Brent is no Ehrmantraut—he lets one of the Gremlins go, and the creature then goes on to kill an old woman and cause all other sorts of problems. Mike would have shot that thing at first sight and taken out his whole crew in under an hour.
Banks spoke to the A.V. Club about his time on the set, and in a sweet example of one character actor praising another, he singled out the enjoyment he derived from working with classic film and TV star Scott Brady. "When we shot that movie, he was on one of those breathing machines. The guy was dying. But he was still tough, you know? ... Really out of the old school, where you drank a lot and got in a fight."
Designing Women (1987)
The female-driven hit sitcom Designing Women doesn't seem like a likely place for a Jonathan Banks cameo, but it happened: he appeared on one episode as a man who wins the interior design services of the leading women. Somehow, their styles don't mesh well. Banks has done a lot of TV work over the course of his career, and if you're tempted to think Ehrmantraut is the only type of character he can play, think again—as his Designing Women guest spot proves, he can be downright hilarious when it's called for.
Wiseguy (1987-1990)
Another day, another cop part for Jonathan Banks. Playing FBI Senior Agent Frank McPike on this '80s hit, Banks finally got a chance to follow a prominent character through a multiple-season arc on a dramatic series. Entertainment Weekly placed Wiseguy at number 74 on their list of top 100 new TV classics. More importantly, Vince Gilligan, creator of Breaking Bad and Better Call Saul, loved Banks' work on Wiseguy, which helped him land the Ehrmantraut role.
In addition to featuring Banks in a major role, the program showcased Stanley Tucci, Steven Bauer, and Kevin Spacey, all before they were major names. Music rights fees may have contributed to the show's fade into semi-obscurity by making it prohibitively expensive to stream or repackage, but in today's reissue-friendly market, it's probably only a matter of time before Wiseguy makes its way back.
Fired Up (1997-1998)
Though Banks typically plays gruff characters, in reality, he loves his job. Most interviews with the star are all about how he loved the crew or how great it was to work on a project—but he hasn't loved all of them.
Fired Up was a short-lived sitcom starring Leah Remini and Sharon Lawrence as recently sacked employees who decide to start a business together. That description may not quite capture the cheesiness of the show, but the tagline does: "First she got fired, then she got fired up."
Banks played the owner of the bar that the main characters commonly congregated in and had the hilarious character name of "Guy Mann." This wasn't his favorite project. As he told the A.V. Club, "My biggest problem with most situation comedies is that they're just not funny, and when people make it a real task, when other actors are really just ripping the script apart all the time, it makes for a long f*****g day." It's worth watching the intro just to see Banks give a forced sitcom smile at the end of the theme song.
Crocodile Dundee in Los Angeles (2001)
Yes, a Crocodile Dundee movie really did come out in the 2000s—and Banks starred as the villain, not that many people saw his work. 2001's Crocodile Dundee in Los Angeles was roundly ignored by audiences and almost universally panned by critics; as the Orlando Sentinel put it, "The best thing about Crocodile Dundee in Los Angeles is that it took 13 years to get made."
The upside to the movie is it does feature Banks doing a Russian accent and nearly being mauled to death by a lion. It's funnier than it sounds.
Lots of TV
Before Breaking Bad, Banks appeared on a ton of TV shows, including (but definitely not limited to) CSI, ER, Alias, Dexter, and Castle. When he wasn't popping up on intense dramas, he also had short roles on Modern Family and Two and a Half Men.
When he finally started Breaking Bad, it was never intended that he'd stick around for long. In fact, Mike was never meant to be there in the first place. He first appears on Breaking Bad as "the Cleaner" who comes to take care of Jane's body. Originally, Saul was supposed to do it, but actor Bob Odenkirk wasn't available that day, so they wrote in a new character to take over, and Mike was born.
Community (2014)
Between his time on Breaking Bad and Better Call Saul, Banks had some fun with 11 episodes of Community. As irascible professor Buzz Hicks, Banks' gravelly delivery played perfectly with the outsized characters of the show.
In one episode, Banks decides to play Dungeons and Dragons with the gang in order to get closer to his adult son (played by David Cross). Hearing Professor Hicks say "Hey. I'm Tiny Nuggets" while interrogating a goblin is a pure joy.
Voice roles in Major Lazer (2015), Gravity Falls (2015), and Skylanders Academy (2016)
With a voice as distinctively authoritative as Banks,' it's no surprise he's landed a lot of voiceover work in recent years. With roles in Major Lazer, Gravity Falls, and Skylanders Academy, he's making his way through all the best animated shows. In Skylanders Academy, he plays a lava creature named Eruptor who's not afraid to explode with rage at an alien waiter voiced by Norm Macdonald. Basically, he's Mike with a shorter temper and the ability to shoot out magma.
Though Banks has been in the business for a long time, he shows no signs of slowing down. In addition to continuing on Better Call Saul, he continues to pursue outside projects, including big-screen outings like the 2018 thriller The Commuter, starring Vera Farmiga and Liam Neeson. We can only assume he's either a cop or a villain—or both—and it'll be one of the better parts of the movie.