Richard Linklater's Next Film Is A Musical That Will Be Shot Over 20 Years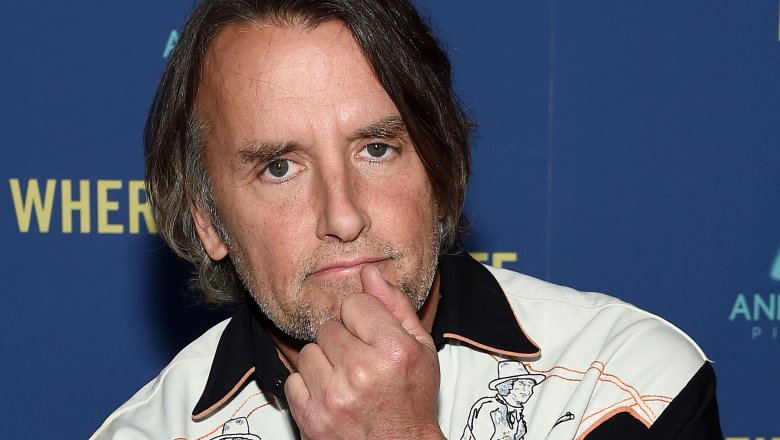 Jamie Mccarthy/Getty Images
Lauded director Richard Linklater's next long-term project is officially rolling.
Linklater — whose body of work includes high-concept films like Boyhood, the Before trilogy, and Waking Life as well as crowd-pleasers like School of Rock, Dazed & Confused, and Everybody Wants Some!! – will helm an adaptation of Stephen Sondheim's beloved musical Merrily We Roll Along. 
Beanie Feldstein, Ben Platt, and Blake Jenner are set to star in the film, which will be shot over a 20-year span. Jason Blum of Blumhouse Productions, known for horror films like Get Out, will serve as a producer. The Hollywood Reporter confirmed the news.
True to form, Linklater chose a particularly difficult piece of source material to adapt for the big screen. Sondheim's musical takes place throughout the life of Franklin Shepard, a prolific Broadway composer who becomes a huge Hollywood producer and abandons his loved ones in the process. The musical starts off at the height of Shepard's success and moves backwards to show exactly how he arrived at this point. Jenner will take on the role of Shepard, while Feldstein will play Shepard's friend and theatre critic Mary Flynn. Platt will play Charlie Kringas, a writer who is Shepard's former best friend.
Feldstein is best known for her supporting role in Greta Gerwig's Lady Bird and her starring role in Olivia Wilde's Booksmart, and she has plenty of other projects on the horizon. She'll appear in an upcoming adaptation of Caitlin Moran's book How to Build a Girl as well as the new season of Ryan Murphy's American Crime Story, on which she'll play Monica Lewinsky. Feldstein is also a Broadway veteran who appeared in a recent revival of Hello, Dolly!. 
Platt is a star on the rise as well, thanks to his Tony-winning turn in Broadway's Dear Evan Hansen and his supporting role in the Pitch Perfect films. His new Netflix series, The Politician (also created by Ryan Murphy), will arrive on the streaming service on September 27. 
As for Jenner, he worked with Linklater previously on Everybody Wants Some!!, and can be spotted in Netflix's original series What/If.
Linklater is no stranger to extraordinary shooting schedules — each film in the Before trilogy is separated by nine years, and he filmed the Academy Award nominee Boyhood over the course of 12 years — and Merrily We Roll Along will be his longest one yet. But if his previous movies are any indication, it'll be yet another worthy effort from the director, who specializes in intimate, thoughtful films. A musical might seem like a dramatic departure from Linklater's filmography, but there's no doubt that he can handle pretty much any challenge he sets for himself.
If you need your Linklater fix before the next 20 years are up, his latest film, Where'd You Go, Bernadette?, is currently in theaters. Beyond that, fans of both this devoted director and Sondheim will have to wait couple of decades before Merrily We Roll Along hits theaters.