American Crime Story Season 3 Tackling Clinton Impeachment, Starring Beanie Feldstein As Monica Lewinsky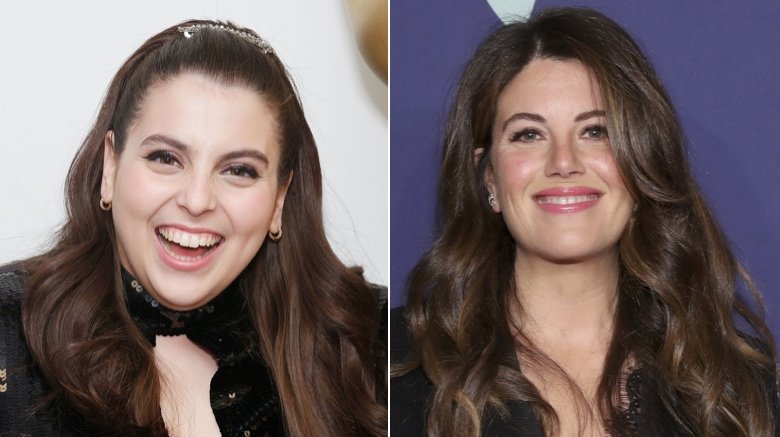 Getty Images
Ryan Murphy, the mastermind of American Horror Story, is about to boldly go where no American Crime Story tale has gone before: inside the not-so-hallowed walls of the Oval Office.
The third season FX's American Crime Story anthology, also created by Murphy, is going to spend a bit of time in one of those little side rooms in the wings of the Commander in Chief's office. That is, after all, where former President Bill Clinton and Monica Lewinsky held the clandestine meetings that led to the Clinton's impeachment hearings in the late '90s. 
Titled simply Impeachment: American Crime Story, the third season of the ACS series will take a behind-the-scenes look at the complicated (and controversial) relationship that spawned those Congressional hearings (which eventually led to Clinton's impeachment) in 1998. Thanks to a report by Entertainment Weekly, we can confirm the new season of the series will feature rising star Beanie Feldstein as the infamous intern on the other side of that illicit relationship.
Just as a quick refresher, then-president Clinton and Lewinsky (a White House intern at the time) did, in fact, have a secretive sexual relationship during the young woman's tenure in the West Wing. Clinton was eventually impeached because it was believed he had lied under oath at a congressional hearing on the nature of the relationship. Though Clinton remained in office for the remainder of his Presidency, you can imagine what a field day news outlets (respectable and otherwise) had covering such a public scandal surrounding a sitting president. If you're wondering why Murphy would feel the need to revisit such a controversial moment in history, well, we'd urge you to turn on a television, or maybe even read a newspaper.
This news actually isn't quite as surprising as it may seem. Murphy has been eyeing Lewinsky's tale for adaptation adaptation for some time now, but decided not to pursue the project because he felt strongly that Lewinsky should be directly involved. Thankfully, Lewinsky has officially boarded Impeachment: American Crime Story as a producer. As for how Murphy finally got Lewinsky on board, it seems he ran into her at a party in 2018, and spoke frankly about the project. Murphy reportedly said to his would-be creative partner, "Nobody should tell your story but you, and it's kind of gross if they do. If you want to produce it with me, I would love that; but you should be the producer, and you should make all the goddamn money." 
Seems that frank talk was enough to convince Lewinsky to revisit what's likely the most complex (and potentially the darkest) moment of her entire life.
"I was hesitant, and truthfully more than a little scared to sign on. But after a lengthy dinner meeting with Ryan, I came to understand even more clearly how dedicated he is to giving a voice to the marginalized in all of his brilliant work," said Lewinsky. "I'm privileged to work with him and the other talented people on the team, and I'm privileged to have this opportunity."
In bringing that tale to the screen, Murphy and Lewinsky have turned to Jeffrey Toobin's 1999 insightful book A Vast Conspiracy: The Real Story of the Sex Scandal That Nearly Brought Down a President for further insight on the intensely divisive subject matter. 
In what appears to be a bit of spot-on casting, Murphy and Lewinsky tapped up-and-coming starlet Feldstein to play the younger Lewinsky. If Feldstein looks familiar, it's probably because you saw her tearing up graduation night on the big screen in this summer's raucous, grossly overlooked coming-of-age comedy Booksmart. You might also have seen her in Taiki Waititi and Jemaine Clement's TV adaptation of What We Do In The Shadows, which also airs on FX, or a little Oscar-nominated 2017 flick called Lady Bird. Though she's mostly known for comedic turns, there's little doubt Feldstein can handle the heavy drama inherent to Lewinsky's story. 
While more casting news is expected soon, we can confirm that Feldstein will be sharing the screen on Impeachment: American Crime Story with Murphy regular Sarah Paulson, who is set to portray another of Clinton's victims, Linda Tripp. No word yet on who will star as the former president.
As for the show itself, Murphy (who also has a new season of American Horror Story on the way) has never been one to shy away from controversy, and has seemingly mined the '90s for yet another timely small screen tale. (The first two seasons of American Crime Story covered heavy topics like the trail of O.J. Simpson, and the murder of Gianni Versace.) From the sound of it, Murphy fully intends to keep pushing buttons with the new season. Here's hoping he and Lewinsky find a way to tell this story they way it deserves to be told.
We'll be sure to keep you posted as new details surround Impeachment: American Crime Story are released.