WandaVision: Kat Dennings, Randall Park Join Disney+ Series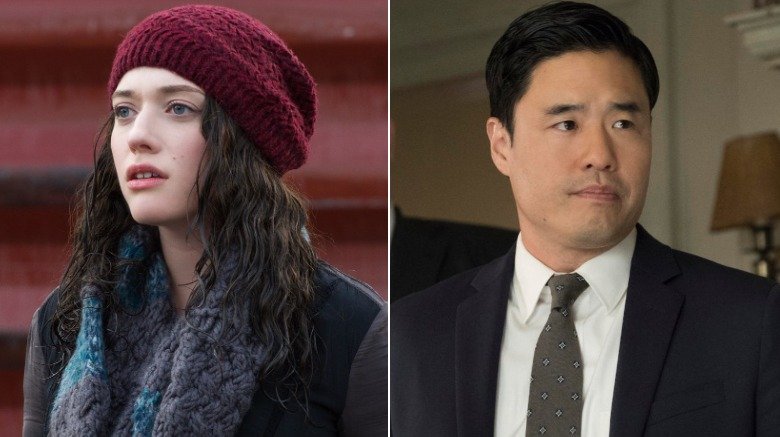 Two Marvel standouts are circling back to the MCU. 
Kat Dennings and Randall Park will reprise their respective roles as Darcy Lewis and Jimmy Woo on the upcoming Disney+ series WandaVision. Marvel Studios made the announcement during this year's D23 Expo in Anaheim, California. 
Fans will remember Dennings' Darcy Lewis as the hilarious assistant to Natalie Portman's Jane Foster, having appeared in both Thor and Thor: The Dark World. Darcy was M.I.A. from Thor: Ragnarok, as was Jane Foster, and there's been much intrigue over whether Dennings would ever return to the Marvel Cinematic Universe as Darcy again. Now we have the official answer to that question: yes, indeed. 
The same answer applies to concern over whether Park's Jimmy Woo — the government agent who appeared in Ant-Man and the Wasp as the guy charged with tracking down Hank Pym (Michael Douglas) and Hope van Dyne (Evangeline Lilly) – would show his face on screen again. He will, starring alongside Dennings as Darcy, Elizabeth Olsen as Scarlet Witch (a.k.a. Wanda Maximoff), Paul Bettany as Vision, and If Beale Street Could Talk actress Teyonah Parris as Monica Rambeau for WandaVision. 
But Dennings, Park, Olsen, Bettany, and Parris aren't the only people who make up WandaVision's roster. The ever-funny Kathryn Hahn, perhaps best known for her work in Step Brothers and We're the Millers, has also joined the Disney+ series as Wanda's nosy neighbor who apparently doesn't have any concept of privacy or personal space. Hahn's comedic chops will lend themselves perfectly to the role, and will add another layer to WandaVision's "half classic sitcom, half MCU spectacular" vibe. The actress recently provided the voice for Olivia Octavius (a.k.a. Doctor Octopus) in the Academy Award-winning film Spider-Man: Into the Spider-Verse, so it'll be wonderful to see her take on another Marvel role with the upcoming superhero show. 
With so many fantastic faces on board, WandaVision is shaping up to be a heavy-hitter on Disney+. And that's not just a good thing but a crucial thing. WandaVision is one of many series Marvel Studios is developing for the streaming platform, and won't so much face direct competition with the other superhero shows as it will need to stand out amongst them. This dazzling cast paired with the promise that the series is "unlike anything" Marvel has done before signals that WandaVision won't be one to miss.
Mark your calendars fo WandaVision to premiere on Disney+ in spring 2021.