Bond 25 Official Title Revealed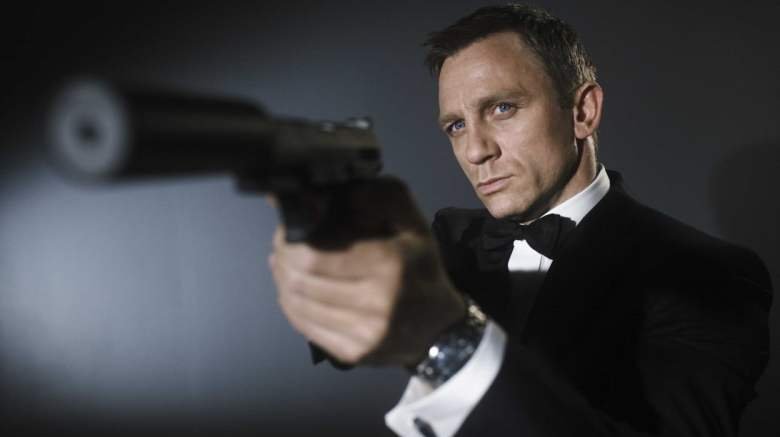 MGM
Finally, we can stop referring to the next 007 adventure as Bond 25.
Studio MGM has revealed the upcoming flick's official title: No Time to Die, an elegant and provocative moniker that fits in perfectly with the venerable series' long tradition of ear-catching titles. The Hollywood Reporter broke the news.
The reveal came with a spiffy new synopsis from the studio, which gives us a better idea of the film's plot. No Time to Die will see Bond (Daniel Craig) enjoying some well-deserved R&R in Jamaica, but of course, his peace and quiet doesn't last long. He's approached by his old CIA buddy Felix Leiter (Jeffrey Wright, reprising his role from 2006's Casino Royale and 2008's Quantum of Solace) for assistance in finding an important scientist who has been kidnapped — a seemingly simple mission which turns out to be a great deal more complicated than expected. Bond soon finds himself going head-to-head with a nefarious new villain — an exceedingly cunning one who has armed himself with dangerous cutting-edge technology.
The highly-anticipated movie seems to be coming along nicely after what could charitably be called a rough start to its production. First, there was the matter of convincing Craig to return for one final go-round in the role of 007 — which was likely no easy feat, given remarks that he made following the completion of the previous Bond film, 2015's Spectre. Speaking with Time Out in October of that year, the actor had a famously extreme response when asked if he could imagine doing another Bond movie: "I'd rather break this glass and slash my wrists," he said. "No, not at the moment. Not at all. That's fine. I'm over it at the moment. We're done. All I want to do is move on."
That seems pretty definitive, and we may never know exactly why Craig changed his mind — but change it he did, saying during an appearance on Late Night With Stephen Colbert that he was now keen to "go out on a high note," and lamenting his "stupid" remarks of two years prior. (via Vanity Fair)
With Craig secured, and scribes Neal Purvis and Roger Wade hard at work on the screenplay, MGM turned its attention to finding a director. Danny Boyle (28 Days Later) was tapped for the job in May 2018, but unfortunately, his tenure lasted all of around three months. In August of that same year, it was announced that Boyle was departing due to those pesky "creative differences." Boyle's longtime writing partner John Hodge, who had jumped in to assist with the script, followed the director out the door.
The production then found a highly competent replacement in Cary Joji Fukunaga of Maniac and True Detective fame — but trouble once again reared its ugly head in early 2019. The script, which had been partially reworked by Hodge, was found to be in need of some fairly major surgery. To that end, MGM brought Purvis and Wade back on board, and they were soon joined by Scott Z. Burns (The Bourne Ultimatum) and Paul Haggis (Crash), who had contributed to the scripts for Casino Royale and Quantum of Solace. Further crowding the writers' room, Phoebe Waller-Bridge (Killing Eve) was brought in to punch up the script's dialogue.
With the screenplay finally whipped into satisfactory shape, production was set to begin — and once it did, more roadblocks popped up. In May, Craig suffered an ankle injury which knocked him out of commission for two weeks; mere days later, a crew member was injured in a freak accident during the filming of an explosion.
Even then, fate wasn't done messing with the production. Rami Malek, who will be portraying the flick's villain, barely managed to get all of his scenes shot due to scheduling conflicts with the final season of his USA Network series Mr. Robot; Fukunaga was forced to publicly respond to rumors (which have been vehemently debunked by the movie's cast and crew) that he contributed to production delays by goofing off in his trailer, playing video games; and to top it all off, a man was arrested for allegedly planting hidden cameras in women's bathrooms at Pinewood Studios, where the film's London shoot was taking place.
All of these things considered, it's something of a minor miracle that No Time to Die's release date has been pushed back only twice. Originally slated for a November 2019 release, the flick was first shuffled to February 2020 before landing in its current slot: Wednesday, April 8, 2020.
What's more, we've recently been treated to a short video giving us a behind-the-scenes look at the movie's Jamaica shoot, as well as set photos from the production's time in London — and we're pleased to report that No Time to Die is shaping up to be every bit as awesome as its title would suggest. Assuming that the film's production troubles are in the rearview (and the law of averages dictates that they really should be), only one burning question remains: who will sing No Time to Die's theme song? If Craig gets his way, it'll be ubiquitous pop songster Ed Sheeran, whose music the star was introduced to by his young daughter — and an anonymous source recently let slip to Esquire that producers are seriously considering the request.
At any rate, we are officially excited as heck for this movie. Craig has made a fine James Bond, and we trust that he wasn't just whistling Dixie when he expressed his desire to end his tenure with a bang. Unless some other unfortunate occurrence — an earthquake, perhaps, or a meteor strike — arises to complicate matters, we'll be first in line to buy tickets when No Time to Die hits the big screen next April.