Big Mouth Scores Three-Season Renewal At Netflix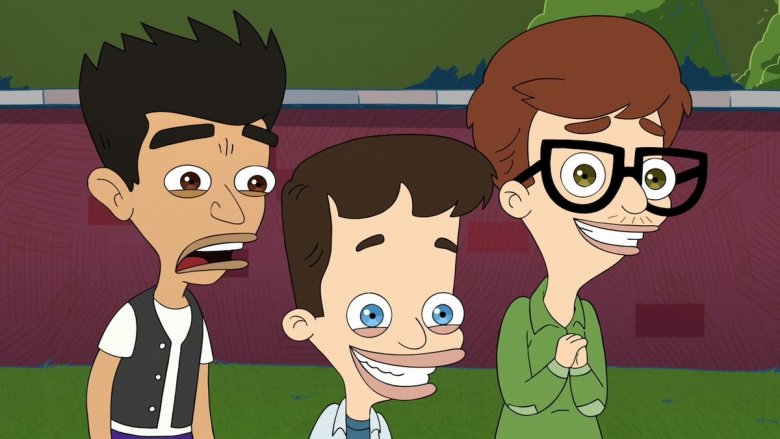 The creative minds behind Netflix's Big Mouth just scored themselves a Big Deal.
The animated series was picked up for three more seasons — its fourth, fifth, and sixth — by the streamer as part of an overall deal with Brutus Pink, the production company recently formed by the series' creators. (via Variety)
Big Mouth is the brainchild of Nick Kroll (Sausage Party), Andrew Goldberg (a former writer for Family Guy), and the husband and wife team of Mark Levin  and Jennifer Flackett (who penned 2008's Journey to the Center of the Earth). The series is loosely based on the experiences of Kroll and Goldberg, childhood friends who apparently had one heck of a weird childhood; it focuses on the adventures of seventh-grade buddies Nick Birch (Kroll) and Andrew Glouberman (John Mulaney), who navigate the minefield that is puberty with the assistance — if it can be called that — of "hormone monsters," advice-dispensing beasties that only those they attach themselves to can see.
The show is as jaw-droppingly vulgar and inappropriate as it is hilarious, and it sports an amazing voice cast that features the likes of Jason Mantzoukas (The League), Jenny Slate (Parks and Recreation), Fred Armisen (The Lego Ninjago Movie), Maya Rudolph (The Angry Birds Movie 2), and horror maestro and Twilight Zone creator Jordan Peele, who voices the ghosts of Duke Ellington and Freddie Mercury, among other characters.
The new deal will allow for Brutus Pink to pitch and develop additional animated shows and feature films for Netflix, and given Big Mouth's unique tone and animation style, we can hardly wait to see what the quartet of creatives comes up with next. In a joint statement, the four expressed their appreciation for the vote of confidence (and, presumably, the truckload of cash).
"Netflix has given us the best creative experience imaginable, and we've been able to build an amazing community of talented writers, actors, producers and artists," they said. "We're thrilled to be continuing with everyone for years to come."
Mike Moon, head of adult animation for Netflix, gushed over the show and its creators in a statement of his own. "Big Mouth brilliantly captures the most awkward phase in a person's life, puberty, in a hilarious yet heartwarming way," he said. "We couldn't be more excited to continue our relationship with Brutus Pink and bring more stories, more humor, and more hormones to Netflix members around the world."
The news is a bit surprising, considering that just a couple days ago, Netflix announced that it would not be picking up the critically exalted adult animated series Tuca & Bertie for a second season. That series, which starred Tiffany Haddish and Ali Wong, hailed from Lisa Hanawalt and other key members of the creative team behind Bojack Horseman, which is getting set to drop its sixth season on October 30. Given its pedigree, rave critical notices, and absolutely bonkers aesthetic, it seemed like Tuca & Bertie season 2 would be a no-brainer — but alas, it is not to be. (Seriously, it is completely unlike anything else on television; if you haven't already, you should give it a watch.)
Big Mouth is no less unique and critically adored; all three seasons have a sterling 100% rating on Rotten Tomatoes. Netflix hasn't released viewership numbers for either series, but it's safe to say that in terms of scoring with viewers, Big Mouth apparently succeeded where Tuca & Bertie failed.
Of course, no release dates were announced for any of the upcoming three seasons, but we'll be keeping an eye out for the news, and we'll keep you informed.