New Watchmen Series Details Revealed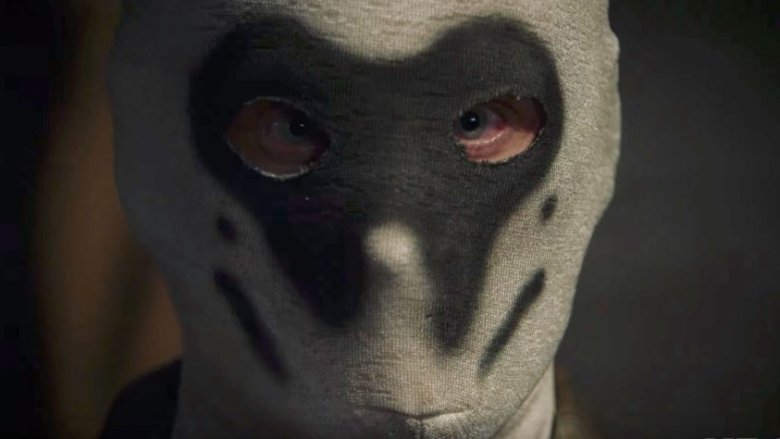 Alternate timeline, similar issues.
Damon Lindelof, creator of HBO's forthcoming Watchmen series, recently offered up a few details about the show during a Television Critics' Association presser. Although the series will take place in 2019, it'll be quite a different 2019 from the one we're stuck in. (via Collider)
Speaking to members of the press who had just screened the pilot episode, Lindelof gave a little clarification on what they'd just seen, and the world in which his story takes place: a world where Robert Redford has been president for over a quarter-century, the late costumed vigilante Rorschach has inspired a racist cult of worshipers at war with the police, and the internet doesn't exist.
"It is not supposed to be a world that you recognize," Lindelof said. "What is actual history and what is alt-history... [starts] to get blended in the middle."
Lindelof went on to explain that he had taken his cues from Alan Moore's classic 1987 graphic novel Watchmen in exploring the state of the modern world years after its events. The book took place in an America where the emergence of costumed heroes in the 1940s created a kind of ripple effect which altered a good number of significant events in contemporary history; the U.S. won the Vietnam War, for example, and Richard Nixon (having abolished term limits) remained president throughout the '70s and '80s.
In creating the setting for his series, Lindelof imagined how the last 25 years or so would have played out in this world. Explaining that he wanted to explore "what would happen if a well-intentioned liberal white man was... president for too long," he crafted a history in which Nixon died while still in office, leading to Gerald Ford becoming president over a decade later than he did in our world; the famously middle-of-the-road Ford was then defeated in the 1992 election by Redford, who has remained in office ever since.
As in our world, though, even the most seemingly well-intentioned politicians can fail to be champions for the people in the world of Watchmen. The fact that there's no internet or social media isn't just a random detail; it's because as the technology started to develop in the '90s, the government saw its potential for widespread, unfettered communication among the masses — and summarily shut it down.
The strongest parallel between Watchmen and reality, though, lies in the issue of racism, an issue which Lindelof seems determined to explore in detail in the new series. It may be tough to see how the figure of Rorschach, with his stark black-and-white morality and tendency toward extreme bluntness, could have his worldview twisted around to inspire acts of racial violence — but then, this may be precisely the point.
"There is no defeating white supremacy, it's not going away," Lindelof said, suggesting that the racist Rorschach cult won't be dealt with through butt-kicking superheroics. Rather, the issue of racism (in any world) is one that must be faced by each one of us on an individual level, and Lindelof's comments seemed to suggest that Watchmen's world — in which it's rarely easy to distinguish heroes from villains — was the perfect one in which to explore this notion.
Of course, the line of questioning then turned to the famously combative Moore's opinion of the whole endeavor, and HBO president Casey Bloys, who was sitting in on the panel with Lindelof, offered up a succinct assessment: "He's not thrilled." Lindelof admitted that his approach to the material in light of Moore's attitude had been a little bit tentative at times.
"I don't think I've made peace with it," Lindelof said. "I have made personal overtures to connect with him to explain what I'm doing, and he's made it clear he doesn't want that. I went through a very intensive period of terror of f–-king it up, and I'm not entirely sure I'm out of that tunnel... [but] if I was too reverent, then I wouldn't be able to do anything that was risky."
Ironically, Lindelof also implied that the influence of Moore's "punk rock spirit" on him was probably responsible for his following through with the Watchmen series. "I'm channeling the spirit of Alan Moore," he said, "to say, 'F–k you, I'm doing it anyway.'"
Watchmen stars Regina King (If Beale Street Could Talk), Don Johnson (Brawl in Cell Block 99), Louis Gossett, Jr. (Hap and Leonard), Adelaide Clemons (Voltron: Legendary Defender), Jeremy Irons (Justice League), Yahya Abdul-Mateen II (Aquaman), Frances Fisher (Masters of Sex), Jean Smart (Legion), and Tim Blake Nelson (The Ballad of Buster Scruggs). The series does not yet have a formal release date, but according to the (completely bonkers) trailer recently unveiled at San Diego Comic-Con 2019, episodes will begin dropping on HBO in October.