It: Chapter Two: Pennywise Is 'Smarter, More Manipulative' In Sequel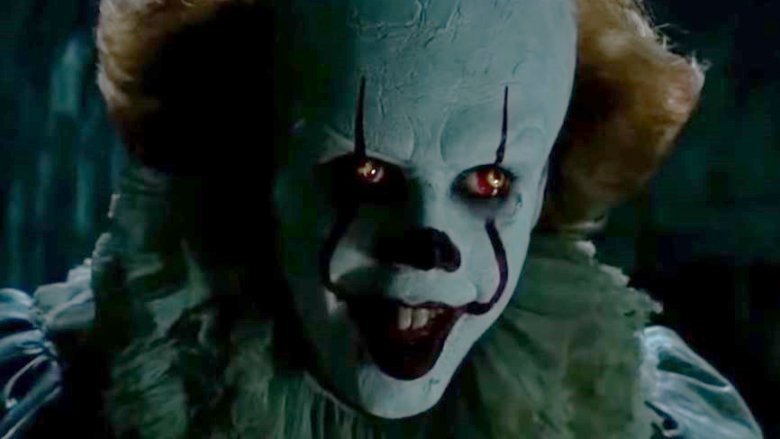 Pennywise is back and will be more brutal than ever in It: Chapter Two.
In an interview with Collider during San Diego Comic-Con, director Andy Muschietti and producer Barbara Muschietti sat down to discuss Pennywise's return to the big screen in the aftermath of It, which premiered to glowing reviews in 2017 and ultimately became the highest-grossing horror movie of all time. 
Since the success of the first movie, Andy has been given much more creative freedom to create bigger and better set pieces — and naturally, that starts with the film's resident sinister clown. After suffering near defeat at the hands of the Losers Club in the first film, Pennywise must stage his return to Derry, Maine for It: Chapter Two. Andy has promised that when Pennywise does resurface, he'll be more powerful than ever, as the 27 years he's spent in hiding have only imbued him with more strength and terrifying cunning. 
"We talked for hours, Bill [Skarsgard, who plays Pennywise] and I talked for hours to discuss the character. One, [there's] a larger, bigger plan for Pennywise on this one," said Andy. "[We wanted to] make sure that he came with a very specific and focused feeling of revenge against the Losers and he just comes — there's a bigger plan, there's a step ahead that he didn't have in the first movie and there's also a deepened sense of manipulation and perversion, as well as smarts and intelligence this time."
Pennywise, who can feed on fears to torture children (and eventually murder them), is already one of literature and film's most frightening villains — so the knowledge that he'll return to be more formidable than ever is even more horrifying.
It: Chapter Two finds the children who were once terrorized by Pennywise all grown up, and after a young cast led the first film, the star-studded roster for the sequel includes James McAvoy, Jessica Chastain, Bill Hader, and more. Every 27 years, evil returns to the small town of Derry, so the Losers return as well to face their demons, reunite after going their separate ways, and vanquish It once and for all.
The final trailer for It: Chapter Two dropped during SDCC, and the film itself will be released on September 6, capping off the summer with plenty of scares.