Star Trek: Discovery Season 3 Casts David Ajala, Will Feature Huge Time Jump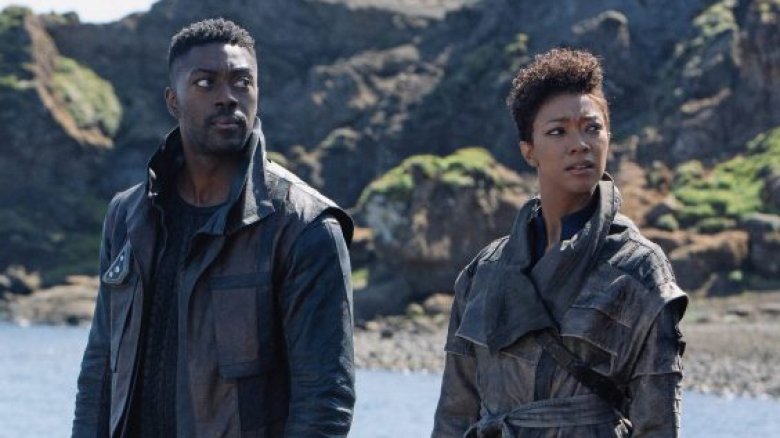 Set phasers to stun, Trek-heads. The Starfleet team has beamed into Hall H, and they brought with them a treasure trove of new info about the third season of Star Trek: Discovery.
As expected, the 90-minute Star Trek panel was one of the most anticipated events to grace San Diego Comic-Con 2019, and current Trek guru Alex Kurtzman did not disappoint the anxious Hall H crowd. Of the sci-fi series — originally set 10 years before Captain Kirk and crew first head off to the final frontier — Kurtzman offered a few big-time details about what fans can expect from season 3. 
The first of those tidbits is the casting of Supergirl alum David Ajala as a new character (and series regular) for the upcoming season of Star Trek: Discovery. The second nugget is a bit of a doozy, too: Kurtzman confirmed that after the shocking time jump on the season 2 finale, season 3 will unfold 1,000 years in the future. 
Feel free to take a quick moment to digest that information before reading on, because we certainly needed to. 
Now that we've all caught our breath, let's actually take a look at that time jump nugget to start — because the heart-pounding, gloriously cinematic season 2 finale absolutely left the collective jaws of Star Trek: Discovery fans firmly planted on the floor. As a quick refresher, the episode found the crew of the U.S.S. Discovery teaming up with the Enterprise crew in a desperate fight to neutralize the nefarious Control. Ultimately, it saw the gang jump centuries into the future (via a handy wormhole) to rendezvous with Sonequa Martin-Green's Michael Burnham for (presumably) a vital new mission. That, of course, is just the CliffsNotes version of the madness that went down in the "Such Sweet Sorrow" two-parter. 
From the sound of things, Kurtzman and the Discovery gang are going to keep that crazy train rolling throughout season 3, and we really have no idea what's in store for the series' time-traveling crew. Of what's up ahead in that unknown narrative territory, Kurtzman did offer a couple of hints, noting specifically of the millennial jump that season 3's mysteries will unravel in a time that's "the farthest that any Star Trek has gone before." He also stated that Burnham and crew will face "big problems" on the upcoming season — chief amongst them is that they will apparently not be in the same place to start. Kurtzman further noted that, with the season's far-distant future setting, "there will be things you recognize and don't recognize." 
As for Ajala, he's an element of the new season that Star Trek: Discovery viewers may not immediately recognize — at least not from the series. Thanks to Deadline's report, we know that Ajala's character will be a totally new face for Discovery, and that he will answer to the name Cleveland Booker (or "Book" for short). Ajala's Book will also be a series regular moving forward, though it remains to be seen if he's going to be featured member of Discovery's crew, or if he's a Starfleet devotee from the future. For all we know, he's not even a Starfleet kid at all — which may or may not jibe with the character's description as being "smart and capable" with a "devil may care attitude that tends to get him into trouble as often as it gets him out."
While Ajala will be a new addition amongst the Star Trek: Discovery crew, the show will hardly be the actor's first go at the action-packed sci-fi game. We already mentioned his work on TV's Supergirl (he plays Manchester Black), but Ajala is also an alumnus of the SyFy series Nightflyers and of USA's grossly under-seen Falling Water. He even featured prominently on the politically charged "The Waldo Moment" episode of Black Mirror's second season. So, rest assured — whatever sci-fi hijinks are ahead on the upcoming season of Discovery, Ajala will be more than capable of holding his own.
Mum is still the official word regarding when we'll actually get to see those antics with our own eyes, as no official premiere date has been set for season 3 of Star Trek: Discovery. Odds are that Discovery will be back in action sometime in early 2020, so keep your eyes and ears open for news about when the show will finally return to CBS All Access.