Gamora's Fate Is Finally Revealed After Tony's Snap In Endgame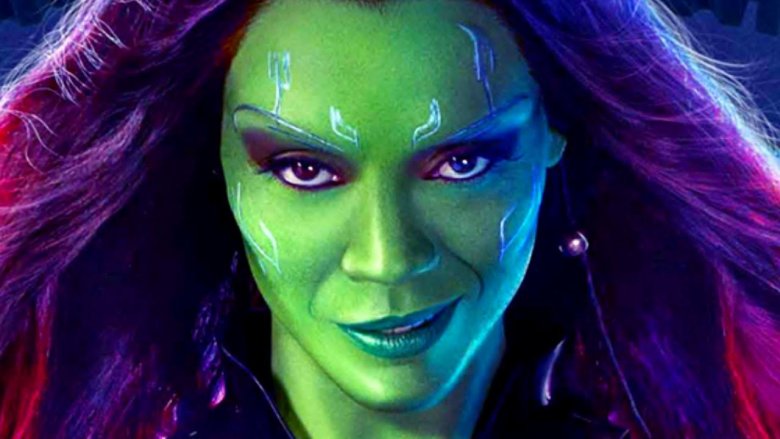 Fans of the greenest girl in the Marvel Cinematic Universe don't have to worry about her post-Endgame fate anymore. 
After a panel with Avengers: Endgame writers Christopher Markus and Stephen McFeely and directors Joe and Anthony Russo at San Diego Comic-Con 2019, we finally know what happened to one of the Guardians of the Galaxy.
Per Vanity Fair, Markus and McFeely revealed that Zoe Saldana's Gamora is alive and well after Tony Stark's (Robert Downey Jr.) snap that took out Thanos' (Josh Brolin) entire army of evildoers and creepy creatures.
Some fans were concerned that they lost Gamora to Tony's snap — considering that, thanks to some time-travel antics, Avengers: Endgame featured a past version of Gamora who was still working with her adoptive father, Thanos. Marvelites don't need to be reminded of present-day Gamora's emotional death in Avengers: Infinity War, where Thanos sacrificed her to snag the Soul Stone and power his Infinity Gauntlet during his quest for universal domination. Watching her die in Infinity War was difficult — and thinking that past Gamora was a goner as well after the events of Endgame was even more devastating.
Ever since her first appearance in Guardians of the Galaxy, Saldana's Gamora has charmed audiences thanks to her intense fighting prowess, her sharp wit and intelligence, and, of course, her romantic entanglement with Peter Quill (Chris Pratt), also known as Star-Lord. However, Star-Lord's fury over his fallen love is one of the factors that led to Thanos' "Snappening" at the close of Infinity War in the first place. When Quill attacked Thanos in the aftermath of Gamora's death, it gave the supervillain the opportunity to overpower the Avengers and snap away half of all life across the entire universe. 
Five years after Thanos' fateful Decimation, the Avengers reunited in Endgame to attempt a "time heist" in hopes of saving all of their vanished friends and loved ones. Despite several mishaps, it ended up working out — but one surprise guest returned along with everyone else who was originally dusted. Suddenly, Gamora was back in play, but not the version of Gamora that died in Infinity War; rather, it was the 2014 Gamora who was still firmly on her dad's side.
For this reason, fans heavily debated whether or not Gamora was spared during Tony Stark's sacrificial snap during Endgame's big battle scene (by vanishing Thanos' army and keeping his friends alive, Tony ended up losing his life). Even though it was possible that Tony's snap didn't dust her and that she was still around somewhere, Gamora didn't show up on Star-Lord's radar when he searched for her in the final moments of Endgame.
The argument was still raging in May of 2019, when the creative team behind Avenges: Endgame simply stoked the flames by saying that Gamora's fate could go either way. During a chat with Business Insider, the Russos said that Gamora may have been dusted, but it was also possible that she survived the snap. They then stated that fans would just have to wait until Guardians of the Galaxy Vol. 3 arrives in theaters to see for themselves. To make matters more stressful, the Russos also said Quill, who was looking for Gamora at the end of Endgame, didn't know what had happened to her either. 
At that time, the Russo Brothers seemed happy to put the burden of this particular reveal on James Gunn, who is returning for the third Guardians movie, but thankfully they've changed their tune and revealed the truth.
However, now that we know for sure that Gamora is alive, there are still some obvious complications: since she's the 2014 Gamora, she doesn't know anything about the Avengers; she doesn't know who Peter Quill even is; and she's probably still on Thanos' side, which could present some pretty awkward problems. She and her sister Nebula (Karen Gillan) would also still be at odds, despite the friendship they forged throughout the Guardians and Avengers films.
Saldana hasn't officially confirmed her return in Guardians 3, but she did recently say that she would love to play a more villainous version of her signature Marvel character in the upcoming sequel, so it stands to reason that Gamora would be included in the final film of this whimsical, irreverent film trilogy. And since she was also one of the stars who petitioned to reinstate Gunn after old tweets initially got him fired from the third Guardians film, that's no longer preventing her from returning. 
For now, it remains to be seen just what type of role Gamora will play in upcoming Marvel films, but at the very least, it's comforting to know that the MCU's favorite verdant warrior is still out there somewhere, planning her next move.