SDCC 2019: Preacher Panel Pokes Fun At Game Of Thrones' Divisive Final Season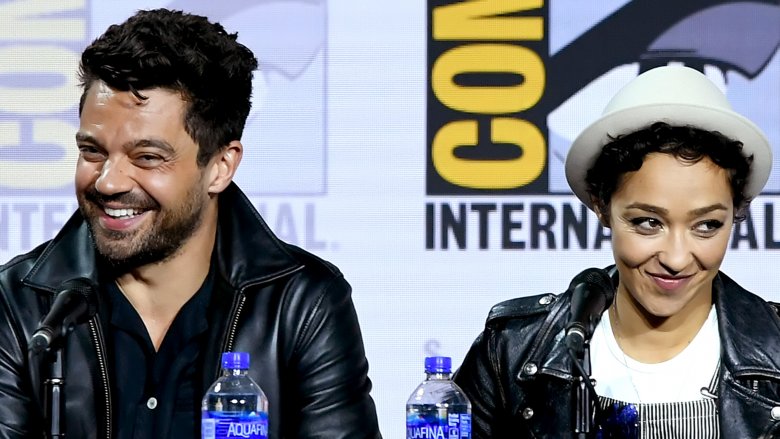 Kevin Winter/Getty Images
The Preacher peeps poked some fun at a fellow show during their 2019 San Diego Comic-Con panel. 
Series executive producer Seth Rogen headed up Preacher's Hall H presentation on Friday, where he got to talking about how the fourth and final season of the Vertigo Comics-based adventure will play out (via Entertainment Weekly). In doing so, Rogen, who developed Preacher for television alongside Sam Catlin and Evan Goldberg, called to mind another series that aired its concluding chapter earlier this year: Game of Thrones. 
The HBO series held its SDCC panel just an hour and a half earlier, without showrunners David Benioff and D.B. Weiss (plus a few cast members) in tow, so Game of Thrones was fresh in attendees' heads. And after the controversial, rage-inducing, love-it-or-hate-it finale the series put out in May after a string of what many felt were increasingly slipshod season 8 episodes, it's basically impossible to talk about a final season of a show without bringing up Thrones.
Joined on stage by Dominic Cooper (who plays the supernaturally powered small-town preacher Jesse Custer), Ruth Negga (who plays Jesse's on-again-off-again girlfriend Tulip), Julie Ann Emery (who portrays Grail operative Lara Featherstone), and Mark Harelik (who plays literal God), Rogen began taking relatively harmless jabs at Game of Thrones after panel moderator Terri Schwartz asked whether the final season of Preacher would be more satisfying than the final season of HBO's fantasy epic. 
Rogen laughed, "I'm here, at least, so I think that's a good sign. I'm willing to show my face." 
This was, of course, a reference to Benioff and Weiss' last-minute backing-out of Comic-Con. 
Rogen took things a step further when explaining that he and the Preacher team "100 percent" went into the fourth season of the show knowing it would be the final one. Rogen first alluded to the criticisms that Thrones' concluding season was poorly written, carelessly plotted, and rushed by saying, "There was a world where we could have maybe extended [Preacher] longer, but to us it felt like [it was good] having a show where nearly every episode was propelling the story forward, and moving towards a final conclusion... in a plotted-out way that was hopefully fast-paced and satisfying — you know, like the end of a TV show!"
Then, Rogen got explicit (not in that way, though he does have a penchant for colorful language) by addressing the show directly, offering his thoughts on how it ended: "I'd also like to say, I imagine they regret making Bran the king. Because ultimately he doesn't have the best story."
Making good on his previous promise to answer Preacher panel attendees' questions regarding Game of Thrones, Rogen admitted that he thought it was a mistake to have Jaime (Nikolaj Coster-Waldau) and Cersei Lannister (Lena Headey) die beneath King's Landing under an avalanche of bricks rather than see Jaime kill his twin sister before the two of them ever got in that situation. A brother-on-sister murder would have ended the hold Cersei had on Jaime for so long, allowing him a chance at a better life free from her mental and emotional grasp. Rogen added that it was unfulfilling to see Jaime and Cersei die in the way that they did after viewers had invested so much time into their stories. 
All this fun-poking was entertaining, for sure, but there was a bigger reason for it: to highlight the not-so-great parts about Game of Thrones' final season, and then affirm that Preacher will end in a completely different manner. Rogen teased the crowd with a promise that the series' conclusion will be satisfying in saying, "People like this show the most when it's moving forward fast. I think early on in the series we kind of experimented with a slightly more measured pace, and I think we found that that was not our strength and that just a sheer mass of insanity was more the thing that people seemed to like about the show, in combination with the characters and the stories, it seemed like people just liked it to move at a pace that was exciting and we tried to do that more this season, for sure."
Preacher season 4 premieres on August 4 on AMC.